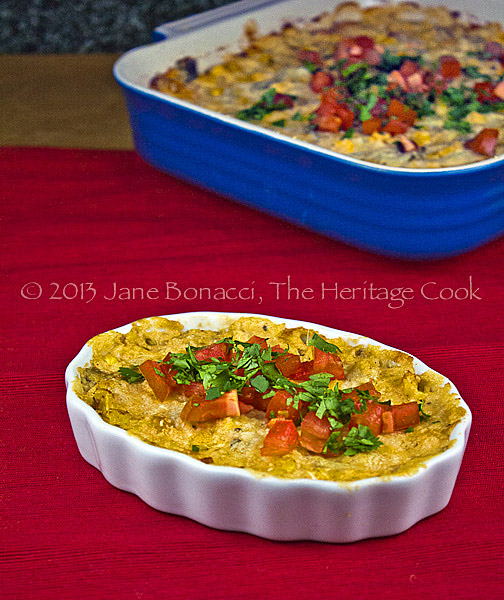 Who's excited about the Super Bowl? I am!
It has been a long time since the 49ers have been in the big game and the whole Bay Area is decked out in red and gold. If you are driving around the City after dark, the Embarcadero Center buildings, City Hall, Coit Tower, the Ferry Building Clock Tower and many more businesses are bedecked with red and gold lights. I have lived here my entire life and I have never seen this much support – the upcoming game has the air in the City pulsing with excitement and anticipation.
Of course it is no surprise that I will be cooking the entire meal for our gang of rabid Niner fans. The Artist and I look forward to having help eating all the food I make for The Heritage Cook, LOL. I invite you to cook along with me for your own celebration!
Everyone loves a good hot dip to snack on while we are watching the game and commercials and this Sunday I will be serving today's recipe for a spicy artichoke and cheese dip. It is rich and creamy, full of flavor and just a hint of heat. The artichoke hearts add a nice acidic balance that helps cut the richness. If you are serving a large crowd, you can easily double the recipe. And think about making it in individual ramekins for each person so they can have their own and not worry about double dipping, LOL.
When I was taking the photographs of today's recipe, I didn't realize until I was editing them later that I had inadvertently created images with the colors of the 49ers … red and gold! 🙂
For dinner we are having a fairly classic menu starting with the Green Chile and Chicken Chili I made for Wednesday's post. We had one meal, which was delicious and then I froze the rest. We will reheat it for Sunday's supper and the flavors will be that much better after having the chance to meld and marry.
To go along with the chile and following the Southwestern/Mexican flavor profile, I am making a version of my favorite cole slaw. A combination of green and red cabbage blended with some heat from jalapenos if you want. I think I will add some grated apple for a bright note.
One of my very favorite treats is the honey-laced cornbread from Sherry Yard of Spago Restaurant. It is unlike any cornbread I've ever had. The difference is the melted butter, honey and water glaze that you pour over the pan of cornbread while it is hot. This gets absorbed and infuses the entire pan with the sweet honey flavor. Because it is so dominant, make sure you use a good quality honey that you love. My personal favorite is Tupelo when I can find it. Which is your favorite flavor?
And of course I will bring dessert, but you are going to have to wait until Monday to find out what recipe I am making. How's that for teasing you!
I hope you enjoy your weekend, the game and commercials. Oh, and Beyonce swears she will be singing live during halftime – no lip-synching for her, LOL.
Happy Festive Friday and GO NINERS!!
Jane's Tips and Hints:
Much of this meal can be made ahead, making it perfect for parties. Set up a buffet so your guests can help themselves. You don't want to be locked in the kitchen all day, missing out on the fun and conversation!
Gluten-Free Tips:
Substitute a gluten-free flour blend for the all-purpose and cake flour in the cornbread. If you do not have a favorite commercial blend, you can make your own following one of the many recipes under the Gluten-Free tab at the top of the page.
Hot Cheesy Artichoke and Chile Dip
2015-07-01 15:16:54
Ingredients
1 cup mayonnaise
1/2 cup sour cream
1/4 cup chopped hot New Mexican Hatch green chiles or 1/2 cup mild
1/2 tsp ground cumin
1/2 tsp dried oregano
1/2 tsp garlic powder
Kosher salt and freshly ground black pepper, to taste
1 (14 oz) can artichoke hearts, drained, finely diced and squeezed dry
1 cup shredded cheddar cheese
1 cup shredded Monterey Jack cheese
2 cups frozen corn kernels
2 ripe tomatoes, cored and diced finely, divided
1/2 cup freshly grated Parmesan cheese
Chopped fresh cilantro, for garnish
Chopped green onions, for garnish
Tortilla chips, for serving
Instructions
Preheat the oven to 350°F. Lightly butter or oil a shallow casserole, au gratin dish, 9-inch square baking dish or pie plate. You can also make this in individual dishes such as ramekins or mini au gratins.
In a large bowl, whisk together the mayonnaise, sour cream, chiles, and seasonings. Add the artichokes, cheddar, Monterey Jack, and corn. Stir to evenly distribute. Gently stir in half the tomatoes. Transfer to the prepared casserole dish and sprinkle the top with the Parmesan cheese.
Bake for 25 to 35 minutes or until bubbling and golden brown on top. Remove from the oven and set aside to cool slightly for 5 minutes.
Just before serving sprinkle the top with cilantro, green onions, and remaining tomatoes. Serve hot with tortilla chips or crackers for dipping.
Notes
Yield: 6 to 8 appetizer servings
The Heritage Cook ® https://theheritagecook.com/
Create a New Tradition Today!
Unauthorized use, distribution, and/or duplication of proprietary material on The Heritage Cook without prior approval is prohibited. This includes copying and reprinting content and photographs. If you have any questions or would like permission, I can be contacted via email: theheritagecook (at) comcast (dot) net. Feel free to quote me, just give credit where credit is due, link to the recipe, and please send people to my website, www.theheritagecook.com. Please see the Disclaimers page (under the "About" tab above) for additional details.
Thank You!