While I am at the IACP conference I won't have a chance to write new posts, so today I am sharing one of my favorites:
Many people have heard of Ghirardelli Chocolate but few realize that there was a chocolate factory in San Francisco run by the Ghirardelli family for over a century. The company transferred the chocolate-making business to another location, but the original brick building that housed the factory remains today in the area now known as Ghirardelli Square. Full of stores and boutiques, little remains to remind us of its heritage, but there is one shop that holds true to its beginnings, the Ghirardelli Ice Cream and Chocolate Shop.
Always a treat when we were children, The Chocolate Shop is a little like walking into Willy Wonka's magical factory. As you enter, candy bars and treats surround you, with brightly colored, tantalizing wrappings. But for most people it is the jaw-dropping ice cream sundaes that stop them in their tracks. Towering above the rims of their dishes, they dare you to try to consume them. I seldom can do them justice, but I always tried my best to conquer the mountain of ice cream, whipped cream, and nuts.
My favorite sundae at Ghirardelli is called "The Emperor Norton," named after a colorful character in San Francisco's past. It has piles of vanilla ice cream with sliced bananas, drenched with hot fudge sauce and topped with pillows of whipped cream. A sprinkle of chopped nuts covers the top and it is finished with a perky cherry. It's like a banana split for purists – those who want the flavors of vanilla and chocolate to shine!
Ghirardelli is at the end of the Powell Street Cable Car line and is the perfect destination for tourists and holiday shoppers. Every December, my friends and I would drive over to The City, hop on a cable car and sing Christmas carols all the way from one side of San Francisco to the other. There is nothing like Cable Car Caroling! Happy and hungry, we would pile into the Chocolate Factory and eat our way through copious amounts of ice cream before climbing aboard another cable car to ride back across the hills, this time more quietly. It is one of my most cherished memories and unique to San Francisco.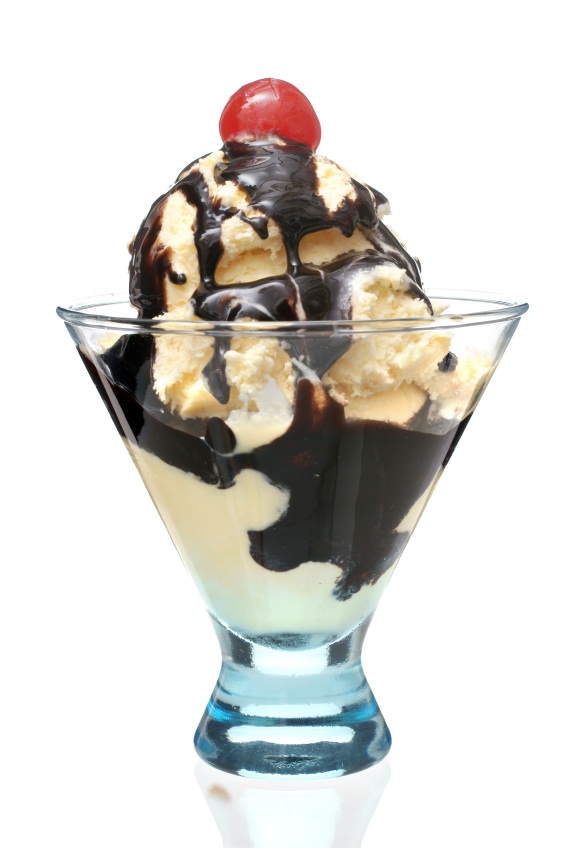 I come from a long line of ice cream loving people. My mother's father was the one and only pharmacist, called a "druggist" in those days, in their little town of Shelbyville, Indiana. That made him a very important man because not only did he dispense medicines, but he also had the town's only soda fountain in his store! When she was a girl, my mother was a bona fide soda jerk, making old-fashioned sodas with syrup and soda water, root beer floats, and of course ice cream sundaes. Her right arm was more muscular than her left and she always blamed it on scooping rock hard ice cream for all the soda fountain treats. She worked hard and earned a whopping 25-cents and hour!
Today you have a choice of chocolate ice cream from the incomparable David Lebovitz or vanilla ice cream from the uber-talented and always delightful Emily Luchetti. Or live large and make both! And just in case you didn't have enough goodness on this Chocolate Monday, an amazing Hot Fudge Sauce from the Culinary Institute of America. If you are making your own ice cream, make it at least 2 or 3 days ahead so it has time to firm up in the freezer.
David is one of this country's finest pastry chefs and cookbook authors, and was a pastry chef at Chez Panisse. I highly recommend all of his cookbooks and suggest you subscribe to his blog. He lives in Paris and always has fun anecdotes of life in the City of Lights. He is also very responsive to questions, something I really appreciate! He is incredibly generous with his talents and knowledge, and answers questions posted on his blog.
You will love this version of vanilla ice cream from Emily Luchetti. Those of us lucky enough to live in the Bay Area have the opportunity to enjoy Emily's creations at Farallon and Water Bar. If you have the chance, get reservations at either restaurant, even if you only go for dessert. You will definitely thank me! There is nothing boring about this ice cream – luscious and oozing with amazing full-bodied flavor it will change everything you ever thought about vanilla. Choose your style of vanilla carefully. As much as Tahitian is touted, in my opinion the floral overtones are not as well suited for ice cream and I prefer Madagascar Bourbon Vanilla. Good vanilla ice cream can also be used as a base for many other flavors, so check out the variations listed or stir in your favorite additions (chocolate shavings, chopped pecans, or chopped fresh fruit for example) and add even more options to your sundaes.
The classic hot fudge sundae brings together vanilla ice cream and a dense, chocolate sauce. Add in some chocolate ice cream and you have a triple whammy. Then you are only one step away from the ever-popular Banana Split. Add a scoop of strawberry ice cream and split a banana in half lengthwise … voila! Would you like your sundae to look like a pro made it? Add whipped cream, chopped salted nuts, a sprig of fresh mint, maybe some chocolate shavings, buy some beautifully shaped cookies and tuck them in the top and don't forget the ubiquitous Maraschino cherry. Use a special container like a colorful bowl, crystal cocktail glass, casual glass jars, or even a waffle cone! A silvery julep cup leftover from the Kentucky Derby Mint Juleps would be gorgeous! Some chopped fresh fruit adds color, texture, and makes them a bit healthier – always a great idea! Think about a variety of textures, temperatures, colors, and heights. How creative can you get? Go all the way!
Happy Chocolate Monday everyone – have a fantastic week!!!
Jane's Tips and Hints:
If you love ice cream and have the room, keep the bowl of your ice cream machine in the freezer at all times. That way when the mood strikes you, the bowl is already well chilled and your ice cream will freeze much more quickly. No more waiting for everything to be cold before starting!
Kitchen Skill: Making the Base Custard for Ice Cream
The key to creamy, silky ice cream is the custard base you make first. You must be patient and keep stirring it as it cooks so the eggs don't scramble. And just as important, make sure it has no lumps in it. I always pour the custard through a wire sieve at least twice before chilling it. The first pass is through a wider wire grid, the second with a fine sieve. That way I am sure I got all of them out!
When you are making your own ice cream this is not the time to skimp on ingredients. Remember, a high fat cream will give you a much more satisfying mouthfeel, and you can eat less ice cream while still getting the same satisfaction. In the Bay Area we are lucky to have a local artisan creamery called Strauss' that makes a velvety heavy cream. I always use it when making ice cream because the extra butterfat really shines. When making vanilla ice cream I always spend the money and use vanilla beans. They truly make a world of difference in flavor and visual appeal.
Thick and Rich Chocolate Ice Cream
2015-07-16 17:40:18
Ingredients
2 cups heavy cream
3 tbsp unsweetened Dutch-process cocoa powder
5 oz bittersweet or semisweet chocolate, chopped
1 cup whole milk
3/4 cup granulated sugar
Pinch of salt
5 large egg yolks
1/2 tsp vanilla extract
Instructions
Warm 1 cup of the cream with the cocoa powder in a medium saucepan, whisking to thoroughly blend the cocoa. Bring to a boil, then reduce the heat and simmer at a very low boil for 30 seconds, whisking constantly. Remove from the heat and add the chopped chocolate, stirring until smooth. Then stir in the remaining 1-cup cream. Pour the mixture into a large bowl, scraping the saucepan as thoroughly as possible, and set a mesh strainer on top of the bowl.
Warm the milk, sugar, and salt in the same saucepan. In a separate medium bowl, whisk together the egg yolk. Slowly pour the warm milk into the egg yolks, whisking constantly, then scrape the warmed egg yolks back into the saucepan.
Stir the mixture constantly over the medium heat with a heatproof spatula, scraping the bottom as you stir, until the mixture thickens and coats the spatula (170°F on an instant-read thermometer). Pour the custard through the strainer and stir it into the chocolate mixture until smooth, then stir in the vanilla. Stir until cool over an ice bath.
Chill the mixture thoroughly in the refrigerator, then freeze it in your ice cream maker according to the manufacturer's instructions. (If the cold mixture is too thick to pour into your machine, whisk it vigorously to thin it out.)
Notes
Yield: about 1 quart
The Heritage Cook ® https://theheritagecook.com/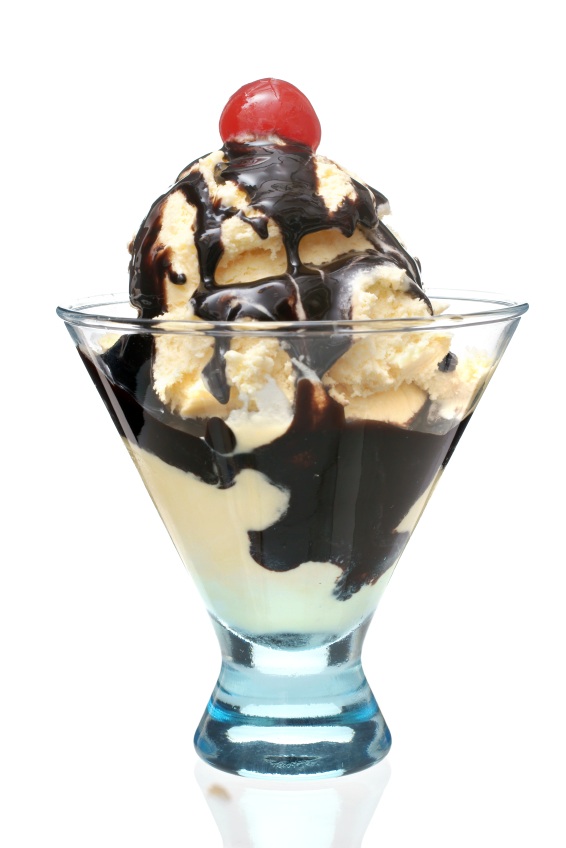 Extraordinary Vanilla Ice Cream
2015-07-16 17:42:30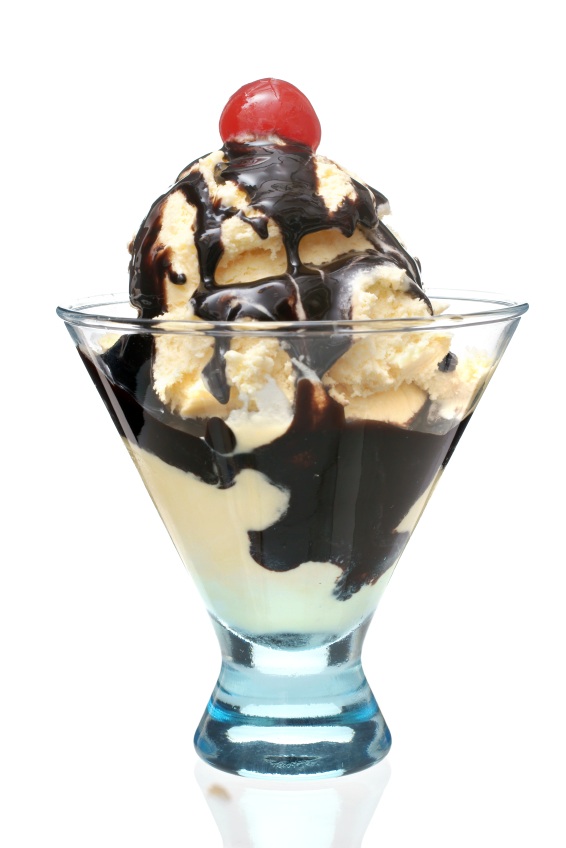 Hot Fudge Sauce from the CIA
2015-07-16 17:43:04
Unauthorized use, distribution, and/or duplication of proprietary material without prior approval is prohibited. If you have any questions or would like permission, I can be contacted via email at: heritagecook (at) comcast (dot) net. Feel free to quote me, just give credit where credit is due, link to the recipe, and please send people to my website,
www.theheritagecook.com.
Thank You!