This is the warmest winter in California in my life and may go down in the record books as the warmest ever in history. So far we've had no measurable rain since last winter and are heading into the worst drought since the 80s. It is going to be a really rough year if we can't get some storms soon.
But despite the unseasonably warm days, and in support of my friends across the Northern Hemisphere who are buried under snow and ice, I was in the mood for some tomato soup. When I first had to switch to a gluten-free diet, I really missed my childhood favorite, grilled cheese sandwiches and tomato soup. But with the good gluten-free breads on the market and canned tomatoes available all year long, I can still have this comforting meal any time I want!
Today instead of the standard canned tomato soup, I pumped up the seasonings, adding oregano, onions and garlic to make it taste like a pasta sauce-flavored soup, and using cream and butter to smooth it out and add a luscious richness. There is no need to add sugar to reduce the acidity of the tomatoes because the cream will balance it. This tastes almost as good as the soup I make in the summer with the tomatoes from my garden and is much faster and easier to make.
Canned tomatoes are one of the greatest conveniences that came out of the post-war transition to processed foods. Suddenly fruits and vegetables were available all year long – a real luxury compared to eating seasonally. In the late 50s scientists started using BPH to create resin lining for tin cans to reduce the metallic flavor in foods. In recent years it has been discovered that BPH can disrupt the endocrine system in children and adults. The acidity in tomatoes tends to leach BPH out of the can lining. To avoid this, look for tomatoes in glass bottles or paper boxes. My favorite brand is Pomi. Packaged in paper boxes, this Italian company makes a truly superior product that is available worldwide.
This soup improves when made ahead, giving the flavors time to meld together and get richer. It only takes about 45 minutes to make from scratch and once made, is just as fast to reheat for your family as opening a can of soup and much, much healthier and better tasting.
I love homemade soups in the cold months and this is one of my top choices. If you've never made soup from scratch, you will be amazed at how easy it is and how much more delicious. Plus you can customize the seasonings any way you like. Flexibility and creativity always appeal to me!
The Artist and I really enjoyed this luxurious version and will be having it again this weekend – probably with grilled cheese sandwiches while we watch the football playoff games.
Have a fabulous weekend and GO NINERS!!! 😉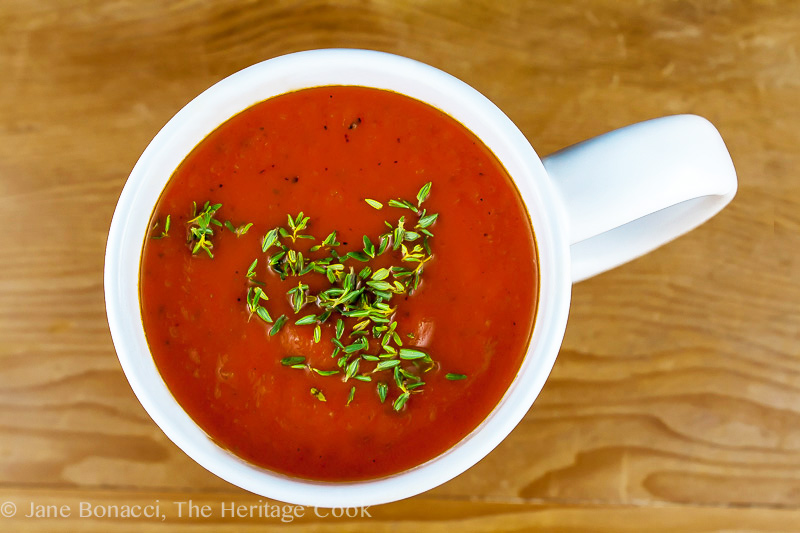 Italian Cream of Tomato Soup (Gluten-Free)
2015-06-29 12:46:43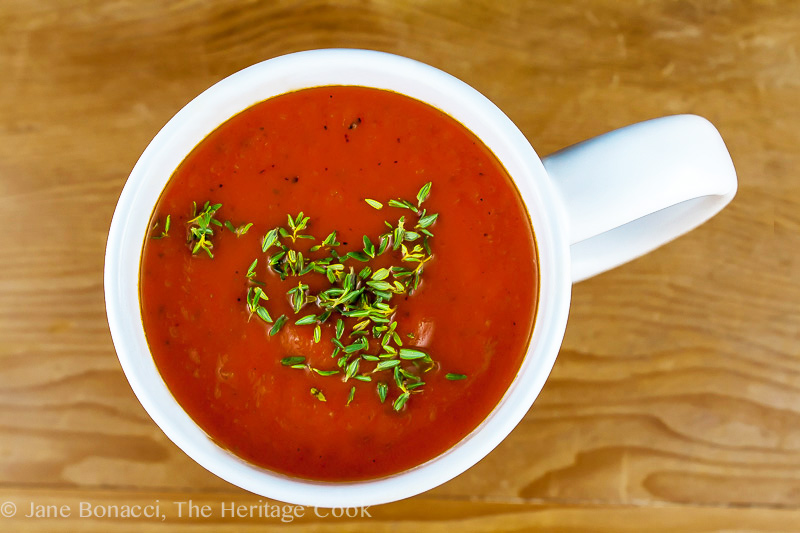 Ingredients
1/4 cup (1/2 stick or 4 tbsp) plus 2 tbsp butter
1/2 lb (about 1 large) onion, peeled and coarsely chopped
3 cloves garlic, peeled and halved, core discarded
3 tsp dried oregano
2 tbsp tomato paste
2 (26 oz) cartons Pomi chopped tomatoes (or 28 oz cans)
1/2 to 1 cup heavy cream
Kosher or sea salt and white pepper, to taste
Instructions
In a large (4-quart or larger) stainless steel saucepan or enameled Dutch oven, melt 1/4 cup of the butter over medium heat. Add the onions, garlic and oregano. Cover with a lid and sweat the vegetables about 3 minutes or until softened, stirring occasionally.  Remove the lid, add the tomato paste and smear it into the onions. Cook for about 5 minutes, stirring occasionally, until the tomato paste is slightly toasty smelling and is somewhat melted into the onions. Stir in the tomatoes, reduce the heat to medium-low and cook for about 30 minutes or until the tomatoes are soft and the onions have nearly dissolved. Stir it occasionally. Taste it and if it still tastes "raw" or sharp, put it back on the stove for a little longer. Remove the soup from the heat.
The Heritage Cook ® https://theheritagecook.com/
Create a New Tradition Today!
Unauthorized use, distribution, and/or duplication of proprietary material from The Heritage Cook without prior approval is prohibited. This includes copying and reprinting content and photographs. If you have any questions or would like permission, I can be contacted via email at theheritagecook (at) comcast (dot) net. Feel free to quote me, just give credit where credit is due, link to the recipe, and please send people to my website, www.theheritagecook.com. Please see the Disclaimers page for additional details.
This site is not intended to provide medical advice. The suggestions here are not intended as dietary advice or as a substitute for consulting a dietician, physician, or other medical professional. It is the reader's sole responsibility to determine which foods are appropriate and safe for their family to consume. Always consult your doctor or health professional. The author makes no claims regarding the presence of food allergens and disclaims all liability in connection with the use of this site.
Thank You!