There are many of Justin's fans who were disappointed at the outcome of this year's Grammy Awards. To soothe their frayed nerves and possibly help them feel a little better about the results, today's recipe is for Justin's favorite meal. This may not be the exact recipe that Justin grew up eating, but I think once you taste it you will agree that it is a great one! If you have young ones who have Bieber Fever, this might be a fun opportunity to have them learn how to cook. Then they can brag to their friends that they can make Justin's favorite meal when he comes to dinner at your house!
Bolognese sauce originated in the city of Bologna, the capital city of Emilia-Romagna. Located in the Po River Valley in Northern Italy, Bologna is home to the oldest university in the world, the University of Bologna, founded in 1088. It is often ranked among the top cities in Italy for its quality of life. It is a lively city with a history rich in art, cuisine, music, and culture. During the Roman era its population reached as high as 30,000 occupants and was one of the most important cities in the Empire with various temples, baths, a theater, and an arena. After being severely damaged by fire, Emperor Nero rebuilt it in the first century AD.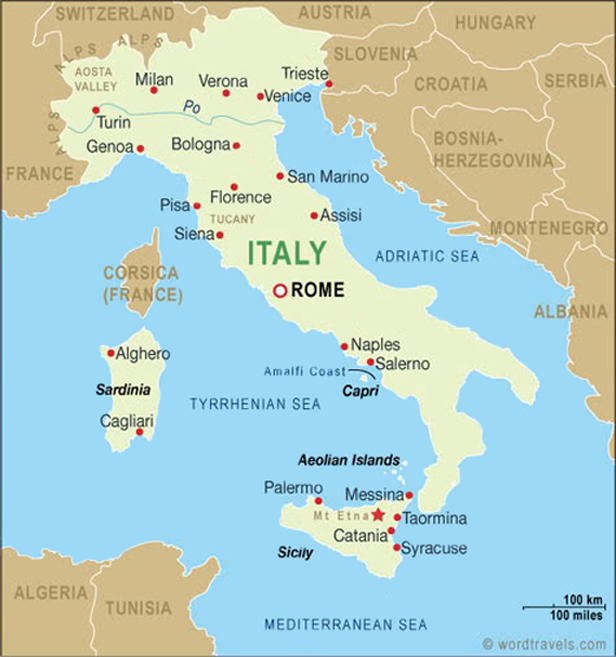 Several versions seem to be accepted as "real" but authentic recipes have only a small amount of tomato concentrate mixed with beef and pancetta. This ragu, a meat-based sauce, is cooked slowly for many hours, concentrating the flavors. Any number of meats may be used for special occasions. You might see pork, sausage, chicken, rabbit, goose, or veal combined with the soffritto for flavor. The milk (not cream) is added to smooth out the flavor of the meats. Cooked slowly until it evaporates, it adds a delicate flavor unmistakable in a real ragu.
This sauce also makes an amazing lasagne. Layered sheets of pasta filled with various cheeses a bechamel sauce, and the meat sauce, create one of the world's ultimate comfort foods. The other Italian pasta sauce, made with only tomatoes, olive oil, and herbs is called Marinara. An inexpensive sauce common in the poorer parts of the country, it is equally delicious and because it cooks very quickly, perfect for weeknight meals. You can try my version, taught to me by my husband's father.
Rather than being served with spaghetti – a practice common in many parts of the world except for Bologna – the traditional pasta is tagliatelle, a medium-width flat noodle closer in appearance to fettuccini. Of course you can use any pasta you prefer, my family loves penne and children love farfalle, wagon-wheels, spaghetti, etc. Spaghetti is a pasta that comes from Naples, and the ragu from that region, a meat-flavored thick tomato sauce, is the one that is often confused with traditional Bolognese sauce. Whichever one you prefer, pasta served with a meat and tomato sauce is a favorite all around the world.
My husband's great aunt and uncle make a similar sauce that is heavenly. They simmer ground veal and pork in a tomato sauce for many hours and then combine it with a bechamel sauce flavored with chopped walnuts. They combine the two sauces and toss them with cooked tagliatelle. Unlike most American versions, Italians always stir the cooked pasta into the sauce, lightly but thoroughly coating and fully flavoring it rather than serving a pile of naked pasta topped with the sauce. You wind up using less sauce, thus saving money, while serving a pasta that tastes so much better!
So whether you are a Justin Bieber fan or just love pasta served with a tomato-meat sauce, this recipe is certain to become one of your family's most requested. Perfect for these cold days, it fills your home with incredible aromas that will have everyone salivating. I hope you enjoy this as much as we do and that a piece of my family's heritage will become a tradition in yours. Mangia!
Jane's Tips and Hints:
As with many slowly cooked dishes, this tastes better the day after it is cooked. The flavors have a chance to blend together and become more intense. Prepare the sauce, let it cool, cover and refrigerate overnight. Enjoy it the following day or freeze for future meals.
Rich Bolognese Sauce
2015-07-20 18:22:57
Ingredients
2 tbsp olive oil
1/3 cup butter, softened
3/4 cup finely chopped yellow onion
2 cloves garlic, peeled and finely chopped
1 cup finely chopped carrots
1 cup finely chopped celery
1/2 lb pancetta, very finely chopped
2 lb ground veal, beef, pork, or a combination
2 cups whole milk
1/2 tsp nutmeg
2 cups dry red wine
1 cup beef or chicken stock
1 (6 oz) can tomato paste
1 bay leaf
3 tsp dried oregano
Salt and freshly ground pepper to taste
Freshly grated Parmesan cheese
Instructions
In a large stockpot or Dutch oven over medium-low heat, heat the oil and butter together. When the butter melts, add the onion and saute until onion is translucent, about 5 to 8 minutes. Add garlic, carrots, and celery, and cook until they are softened, about 10 minutes. Transfer vegetables to a bowl and set aside.
In the same pan, cook pancetta until it has rendered its fat and then add the ground meat(s), breaking it up finely. Cook until completely browned. Return vegetables to the pot; stir in the milk and nutmeg. Reduce heat to low and simmer until all the liquid has evaporated, stirring often to keep it from scorching. Depending on your stove, this can take up to 1-1/2 hours.
Add wine and stock, and simmer until they evaporate, another hour or so, stirring often. Stir in tomato paste, bay leaf, oregano and salt and pepper to taste. Reduce heat as low as it will go and cook for about 3 hours, stirring occasionally.
Taste and adjust seasonings with salt, pepper and more oregano if needed. Serve over your choice of pasta or creamy polenta and sprinkle the top with Parmesan cheese.
Notes
Yield: 8 to 10 servings
The Heritage Cook ® https://theheritagecook.com/
Unauthorized use, distribution, and/or duplication of proprietary material without prior approval is prohibited. I can be contacted via email at: heritagecook (at) comcast (dot) net. Feel free to quote me, just give credit where credit is due, link to the recipe, and please send people to my website,
www.theheritagecook.com.
Thank You!