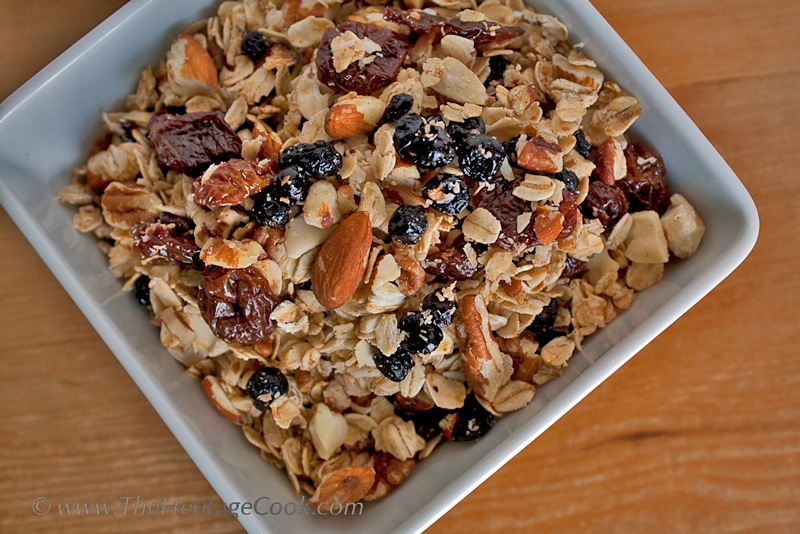 A new recipe can be created for a number of reasons … Because someone has hired me to develop it, I have too much of an ingredient and need to find a creative new way to use it, I am bored and need a distraction, or just because it is Tuesday.
Today I woke up to the banging, drilling, and sawing of carpenters working on our neighbor's house. It sounded like the house was getting a root canal! Tired and grumpy, I wandered into the kitchen looking for something to eat. As I stared at a cupboard cluttered with a variety of food items, two things caught my eye, a bottle of maple syrup and some oatmeal. Hmmm, what could I do with those?
It was too warm for regular oatmeal, so that wouldn't work. I didn't think oatmeal cookies would be the best choice for the "most important meal of the day". 😉 And then I realized that by adding some chopped nuts and dried fruits I could make granola, one of my favorite snacks and The Artist's favorite cereal!
Growing up in California I had never seen any "real" maple syrup from anywhere except Vermont. I love maple syrup – I just never knew it was made anywhere else until I spent a few days in the Hocking Hills of Southeastern Ohio. While on a press tour I learned about the art of making maple syrup. I was fascinated to discover that maple syrup is manufactured across the northern and eastern U.S. and what we tasted that day was as good as anything I had ever tried from Vermont. Shhh, don't tell the Vermont folks!
We were lucky to be in the area just in time for the annual Maple Syrup Weekend. With the entertaining naturalist Pat Quackenbush in the lead, our group wandered through the maple groves in the Hocking Hills State Park, learning about the ingenuity of indigenous people of North America. It was enthralling to hear how they discovered that the sap of ordinary trees could be converted into a sweet and healthy food source.
We were shown which trees to look for in the forest, the methods used over the centuries to tap the trees, how to determine how many taps a tree can handle, what happens within the tree that creates the sugar and why the weather is all important in determining when the sap is running.
While seeing old tin buckets hanging off the trees is quaint and reminiscent of how they collected the sap in my grandmother's era, these days they use a cabling system that makes the trees look like they are listening to tunes on an iPod. It may not be as attractive but it is much more sanitary and helps reduce contamination.
Then we saw the different methods of cooking the sap down into syrup. The different "grades" are all the same product; the only difference is how long the syrup cooks. And at the end we were given a taste of pure heaven. If you have never had real maple syrup, you owe yourself the treat.
At the end of the tour, as we headed to our cars to drive to our next destination, we passed some local vendors who were setting up their tables for the day's sales. I came home with a bag of maple sugar, some buckwheat pancake mix and a jug of maple syrup. That jug was going to be utilized today!
This morning, as I stood in front of my cupboards perusing my options, my mind flashed back to the delightful granola served at the Inn at Cedar Falls. I had all the ingredients I needed to make my own version of that breakfast and I got straight to work.
Granola is really a matter of personal tastes and this morning, utilizing the ingredients I had on hand. I turned to the quintessential "How to Cook Everything." Mark Bittman's technique has a few more steps than most recipes but I think it produces a deeper flavored, crunchier cereal. I have modified it slightly, but I think you will like the results.
The only special piece of equipment that you may not have is an over-sized mixing bowl. I have a 12-quart stainless steel bowl that is perfect for tossing party-sized salads, making caramel corn, and mixing large quantities of ingredients like this granola. If you do much entertaining, it may be worth storage space (I use it to hold other smaller bowls and containers) to have one on hand.
While both The Artist and I love packaged granola, I hate the high fructose corn syrup and huge chunks of nuts in most versions. Making it from scratch let's you control the ingredients and how they are prepared. Remember that you can alter the selection of nuts and fruits to include your favorites. Just don't put the dried fruits in the oven or they will turn pebble-hard and you may break a tooth!
We have a friend coming this weekend for a visit. This granola will be the perfect thing to have on hand for healthier late-night or early morning snacking and it may just save us from hitting the bags of chips and candy! And with the holiday season right around the corner, keep this in mind to have on hand when you have visitors in your home.
The next time you find yourself with time on your hands or the need to be distracted like I was this morning, think about making this granola and enjoy expressing your creativity!
Jane's Tips and Hints:
Never bake the granola once you've added the dried fruit. Do all you baking first and the last thing you add is the fruit – perfect results every time!
Gluten-Free Tips:
Make sure you use gluten-free oats and leave out the wheat germ. You can add chia or flax seeds if you want something to replace the germ.
Maple Granola with Blueberries and Cherries
2015-06-30 11:35:09
Technique inspired by Mark Bittman
Ingredients
1-1/2 cups pure maple syrup, honey, agave syrup, other liquid sweetener, or to taste
1 tsp pure vanilla extract
Pinch kosher salt
8 cups old-fashioned rolled oats (use gluten-free oats if needed)
3 cups chopped mixed nuts and seeds, such as pecans, almonds, sunflower seeds, or hazelnuts
1 cup wheat germ (leave out if gluten-intolerant)
1 cup dried unsweetened grated coconut, optional
2-1/2 cups chopped dried fruits, such as blueberries, cherries, apricots, pineapple, cranberries, golden raisins, currants, etc.
Instructions
Set two racks in the center of the oven and preheat it to 300°F. Set a rimmed baking sheet across two burners on top of your stove. Turn burners to medium-low.
In a glass-measuring cup, combine the maple syrup, vanilla, and salt. Stir to combine. Set aside.
Pour oats onto baking sheet and "toast" them for about 10 minutes, stirring often, until fragrant and lightly golden. Transfer to a very large bowl. Pour maple syrup mixture over the oats. Using a large wooden spoon, stir to evenly distribute the syrup, tossing the ingredients and making sure to incorporate the oats at the bottom of the bowl.
Place nuts on the baking sheet and cook for 2 to 3 minutes, stirring often. Add the wheat germ and coconut, stirring to blend. Continue cooking for another minute or two, until fragrant and lightly toasted.
Add nut mixture to the oats and toss to evenly distribute. Transfer to 2 baking sheets and place in the oven. Bake for 30 minutes, or until oats are fragrant and slightly crunchy, rotating the baking sheets from front to back and top to bottom halfway through.
Remove from the oven and stir in the fruit. Set aside to cool. Store in an airtight container in the refrigerator. This also makes wonderful gifts for family and friends. Place in glass jars with tight-fitting lids and add a brightly colored tag for a gift everyone will love!
Notes
Yield: about 6 quarts
The Heritage Cook ® https://theheritagecook.com/
Create a New Tradition Today!
Unauthorized use, distribution, and/or duplication of proprietary material from The Heritage Cook without prior approval is prohibited. This includes copying and reprinting content and photographs. If you have any questions or would like permission, I can be contacted via email at theheritagecook (at) comcast (dot) net. Feel free to quote me, just give credit where credit is due, link to the recipe, and please send people to my website, www.theheritagecook.com. Please see the Disclaimers page for additional details.
Thank You!