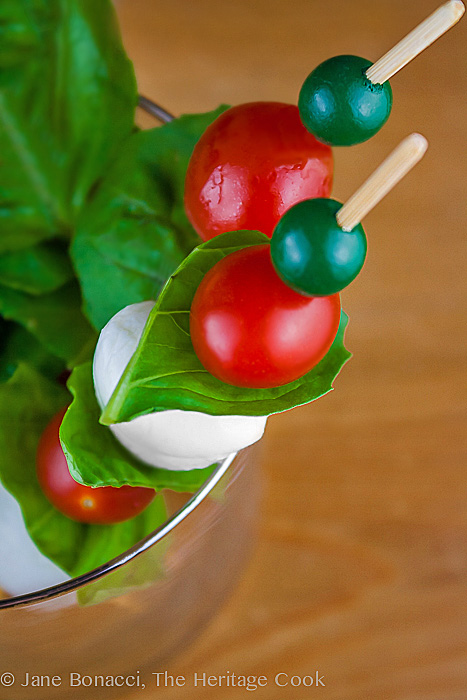 These Caprese Skewers are one of my favorite appetizers to serve my guests. The classic layers of fresh tomatoes, mozzarella, and basil will please everyone. The skewers look gorgeous and fancy but are a snap to put together. They will make a splash at all your summer festivities.
There is no better way to let the gorgeous tomatoes in markets right now shine than combining them with fresh basil and mozzarella cheese. Simple, fresh, and delicious, it is one of my favorite flavor combinations.
Today's recipe is part of a Farmer's Market Virtual Supper with a group of food bloggers . We formed two groups, each creating a meal that you can make for your friends and family. The members of each group choose what we will make and share it with you.
This virtual supper menu can be made with ingredients found at our local farmer's market. It is fun to stretch our own culinary creativity and see what our friends come up with!
There are so many tempting things in the farmer's market that it was hard to pick just one appetizer idea to share with you. With all the beautiful tomatoes showing up, I couldn't resist showcasing them for this supper.
Traditional Caprese salad is usually served with fresh tomatoes and mozzarella sliced with basil leaves tucked between and drizzled with a light vinaigrette.
To make this easier to serve for a buffet, I decided to turn the ingredients into skewers that are really fun to eat and simple to manage if you are having a party where people will be eating off plates on their laps.
While the typical salad is drizzled with vinaigrette, which would be challenging with skewers, I decided to lightly marinate the ingredients instead. A few minutes soaking in the vinaigrette will add tremendous flavor to the mozzarella and tomatoes. I used a dressing made with balsamic vinegar that added a yellow color to the mozzarella. If you want to keep them whiter, use lemon juice or light vinegar instead of the balsamic.
The skewers I used are called "picks" and are about 5-inches long. They make any foods more festive! You can use a simpler version with a twisted top if you prefer. If you can't find the fancy ones, regular bamboo skewers will work just fine.
All the farmers' markets will have tomatoes and basil this time of the year, but if yours does not have a cheese vendor, you can buy the bocconcini at your local grocer. Bocconcini are miniature fresh mozzarella balls in water. Whole Foods and Trader Joe's usually keep them in the refrigerated section. If you can only find the large balls of fresh mozzarella in water, you can cut those into small bite-sized pieces and use those in place of the bocconcini.
These Caprese Skewers are simple to put together, and an appetizer that all your guests will love. While tomatoes are at the peak of their season in the heat of summer, make these skewers for your barbecues, dinner parties, or family reunions. They make a stunning addition to a buffet table or being passed at the table. And if you have children at the party, they will love how these are just their size!
Make sure you check out all these recipes from the other members of the team for a beautiful full summer supper menu!
Did you enjoy this recipe? Let me know in the comments, I love hearing from you!
Members of this Farmer's Market Virtual Supper group and

their shared recipes:
Appetizer
Mozzarella & Tomato Caprese Skewers by Jane Bonacci, The Heritage Cook (you are here)
Salad
Warm Green Bean and Tomato Salad by Renee Chatham, Creative Mama, Messy House
Side Dish
Loaded Mashed Cauliflower by Marlene Baird, Nosh My Way
Entreé
Roast Pork Tenderlion with Mushroom Marsala Sauce and Roasted Potatoes by DB, Crazy Foodie Stunts
Dessert
Vanilla Bean Infused Cheesecake with Peaches in Dark Rum Sauce by Sandi Gaertner, Fearless Dining
The second group has also posted. Here are their beautiful recipes for another delightful Farmer's Market Supper!
Salad: Blistered Tomato, Corn, and Arugula Salad by OMG! Yummy
Entree: Eggplant Pesto Parmesan Casserole by The Wimpy Vegetarian
Side Dish: Summertime Vegetarian Stir-Fry by Peanut Butter and Peppers
Dessert: Striped Heirloom Tomato Spice Cake by ZeBot's Kitchen
Dessert: Peachy Keen Ice Cream Sandwiches by Fork and Swoon
Key Ingredients for Caprese Skewers:
Cherry tomatoes

Bocconcini (small mozzarella balls packed in water)

Fresh basil leaves

Italian salad dressing or vinaigrette
PRO Tip:
You can skip the marinade entirely and these will still be delicious.
How to make Caprese Skewers:
Place tomatoes and cheese in a resealable plastic bag; add enough dressing to cover and seal shut

Set aside for about 20 minutes to marinate; drain the marinade, reserving for later use

Skewer a tomato, basil leaf, mozzarella ball, and basil leaf; repeat once more on each skewer winding up with 2 tomatoes, 2 cheese balls, and five basil leaves on each one

Sprinkle lightly with salt and pepper to taste

Set up on a platter or vertically in glasses to serve or place two skewers on each individual plate
Recommended Tools (affiliate links; no extra cost to you):
Gluten-Free Tips:
This dish is naturally gluten-free, but as always check the labels or ask the merchant to be sure there aren't any hidden gluten ingredients in anything.
Yield: 8 servings, 2 skewers each
Caprese Skewers with Mozzarella & Tomato (Gluten-Free)
These Caprese Skewers are one of my favorite appetizers to serve my guests. The classic layers of fresh tomatoes, mozzarella, and basil will please everyone. They look gorgeous and fancy but are a snap to put together. They will make a splash at all your summer festivities.
Additional Time
15 minutes
Ingredients
32 ripe cherry tomatoes, rinsed
32 fresh bocconcini (small mozzarella balls in water), drained and rinsed
Italian salad dressing, or your favorite
Fresh small basil leaves, rinsed and patted dry
16 appetizer skewers
Kosher or sea salt and freshly ground black pepper, to taste
Instructions
Each skewer will have two cherry tomatoes and two bocconcini, separated by fresh basil leaves. Place the tomatoes and cheese in a resealable plastic bag. Add just enough dressing to coat the ingredients. Seal the bag and set aside to marinate for about 20 minutes, turning the bag a few times to distribute the dressing.
Remove the tomatoes and cheese from the marinade; reserve marinade to use at the table if desired. Start the skewers with a tomato, then a basil leaf and a bocconcini and another basil leaf. Repeat the pattern once more. Each skewer will have two tomatoes, two bocconcini, and five basil leaves. Continue until all skewers are completed. Sprinkle each skewer lightly with salt and pepper.
Stand the skewers upright in a couple of glasses on the buffet or place two on each serving plate. Serve within 30 minutes of assembling if possible.
Recipe Source: The Heritage Cook
Nutrition Information:
Yield:
8
Serving Size:
2
Amount Per Serving:
Calories:

292
Total Fat:

21g
Saturated Fat:

12g
Trans Fat:

0g
Unsaturated Fat:

7g
Cholesterol:

73mg
Sodium:

635mg
Carbohydrates:

5g
Fiber:

1g
Sugar:

3g
Protein:

21g
Create a New Tradition Today!
Welcome! The suggestions here are not intended as dietary advice or as a substitute for consulting a dietician, physician, or other medical professional. Please see the Disclaimers/Privacy Policy page for additional details. Unauthorized use, distribution, and/or duplication of proprietary material from The Heritage Cook without prior approval is prohibited. If you have any questions or would like permission, please contact me. We participate in the Amazon Services LLC Associates Program, an affiliate advertising program designed to provide a means for sites to earn advertising fees by advertising and linking to amazon.com. This page may contain affiliate links. This post was first shared in July 2014. The article was updated in 2021.