Inspired by a meal I had one day at the restaurant at the DeYoung museum in San Francisco, this New Mexican Green Chile Chicken Stew has all the flavors I fell in love with in Santa Fe and Taos and have been dreaming about ever since. One bite and you'll swear you hear mariachi music and smell piñon smoke in the air!
Feel free to adjust the heat level to suit your family's tastes; you can serve the jalapeños separately if you want to let people add their own.
When your calendar is packed and you don't have a lot of time in your busy days, nothing is better than a meal that you can throw together quickly, cooks on its own without monitoring, and can be made ahead. This delicious stew is the perfect way to feed a hungry family!
Many similar stews are made with pork, but I had chicken in the freezer so I substituted it and it was delicious. You can use any protein you like, making adjustments if needed to the cooking times and seasonings. Remember, gluten-free and healthy doesn't have to mean tasteless!
Nearly any kind of stew or slow-cooked meal can be cooked a day or two in advance, refrigerated, and rewarmed. Sloppy Joes, pasta sauce, and meat loaf all taste better on the second day. Today's recipe is also a terrific make-ahead choice. Even the garnishes can be prepped earlier in the day, covered and refrigerated if needed.
I made this a thick eat-in-a-bowl type of chili. I love placing tortillas in a bowl and covering them with the chili; the tortillas absorb some of the liquid and become infused with flavor. If you want to make traditional tacos, leave out the masa harina and use a slotted spoon to scoop out just the cooked meat and eat it in soft tortillas or crunchy taco shells.
Most of the ingredients can be found in your pantry and you can have this assembled and cooking in less than 30 minutes. Then just let it simmer slowly or finish it more quickly if your kids are extra hungry. Make ahead meals are a great way spend more time with your friends and family! Enjoy this New Mexican Green Chili Chicken Stew today and your family will thank you!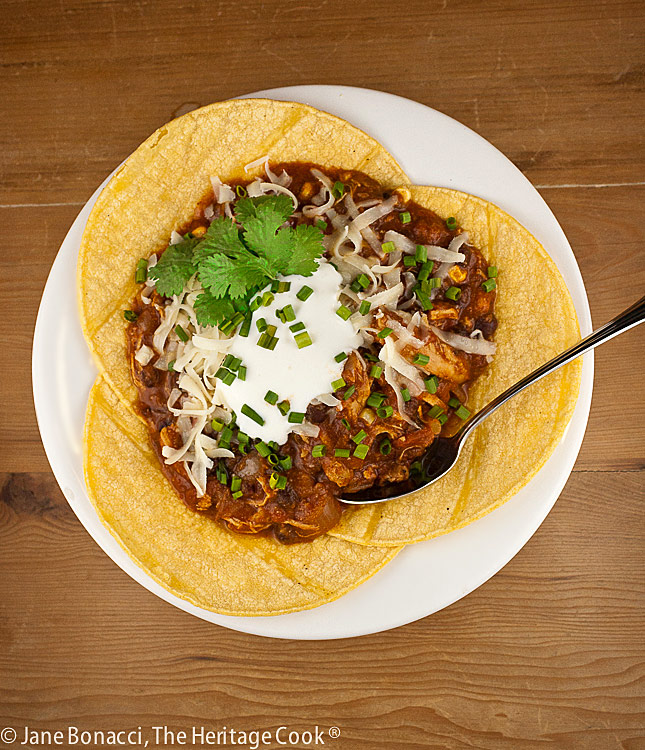 As we head into fall with its cooler, rainy days, this New Mexican Green Chile Chicken Stew is the perfect way to warm up and fill hungry tummies.
Did you enjoy this recipe? Let me know in the comments, I love hearing from you!
Key Ingredients for Green Chile Chicken Stew:
Onions, bell peppers, poblano chile peppers, jalapeño peppers, garlic, chicken

Enchilada sauce, chicken broth, masa harina, coriander, cumin, corn

Black beans, corn tortillas, sour cream, green onions, cilantro
Why are there different peppers in this recipe?
Peppers not only range in heat but they have varying flavor profiles as well. Bell peppers even vary by color – green is much more pungent than red for example. Poblanos have a very mild heat and a pleasant flavor that I adore. And in this case, jalapeño peppers bring the heat. If you like a spicier dish, feel free to use a hotter pepper such as serrano or habanero. You can completely customize this for your family's likes.
How to make Green Chile Chicken Stew:
Sauté the onions and peppers in the oil until softened then add the garlic; add in the chicken and cook until browned

Add the enchilada sauce and chicken stock, bring to a boil, then reduce the heat, cover, and simmer until the chicken is cooked through

Stir in the masa harina, corn, coriander, cumin, salt and pepper. Increase the heat to medium and cook, stirring often, until thickened and the flavors have blended; the stew can be made a day in advance

Lay corn tortillas in your serving bowls, top with some of the stew and add whatever garnishes you like; serve immediately passing additional toppings at the table
PRO Tip:
Cut the chicken into bite-sized pieces that are easier to eat and also will cook more quickly. You can use either breasts or thighs – thighs will maintain their moisture better than breasts will, but use what you have on hand.
Recommended Tools (affiliate links; no extra cost to you):
Gluten-Free Tips:
Read the labels on prepared sauces, ingredients, and seasoning blends to avoid possible gluten ingredients or cross-contamination issues. If you have any questions, contact the manufacturer for additional information. Bob's Red Mill is a good source for safe gluten-free ingredients, including the masa harina for this recipe.
Yield: about 8 servings
New Mexican Green Chile Chicken Stew (Gluten-Free)
This New Mexican Green Chile Chicken Stew has all the flavors I fell in love with in Santa Fe and dream about. Bold without a lot of heat, this stew is satisfying and perfect for cool days. One bite and you'll swear you hear mariachi music and smell piñon smoke in the air!
Total Time
1 hour
5 minutes
Ingredients
Stew
3 tbsp vegetable oil
1 large onion, peeled and finely chopped
2 red or orange bell peppers, seeded, stemmed and finely chopped
4 poblano peppers, seeded and finely chopped
2 jalapeno peppers, seeded and minced, or more to taste
2 cloves garlic, finely minced
2 lb boneless, skinless chicken, cut into 1/2-inch pieces
3 (15 oz; 425g) cans red enchilada sauce (Hatch brand has a gluten-free version)
2 cups low sodium gluten-free chicken broth
3 tbsp gluten-free masa harina or corn flour,
2 tsp ground coriander, or to taste
2 tsp ground cumin, or to taste
2 cups fresh or frozen corn kernels
2 (15 oz; 425g) cans of black beans, rinsed well and drained
1/2 tsp kosher or fine sea salt, or to taste
1/2 tsp freshly ground black pepper, or to taste
Garnishes
Gluten-free corn tortillas, torn into bite-size pieces
Sour cream
Finely sliced green onions
Fresh cilantro leaves, coarsely chopped, plus sprigs
Instructions
In a large high-sided skillet or Dutch oven, heat oil over medium-high until shimmering. Add the onions, bell peppers, poblanos, and jalapenos, and cook, stirring often, for about 5 minutes or until vegetables are softened. Add the garlic, stir in, and cook until fragrant, about 30 seconds. Push the vegetables to the edges of the pan - if they are getting too browned, you can scoop them out and hold them to add back after the liquids have been added.
Add the chicken to the center of the pan and cook, stirring often, until browned. Pour in the enchilada sauce and stock scraping the bottom of the pot to release the browned bits. Be sure nothing is stuck to the bottom of the pan. Bring to a boil, then reduce the heat to medium-low, cover and cook at a simmer until the chicken is cooked through and the vegetables are soft. Timing will vary depending on the size of the chicken pieces.
Stir in the masa harina, corn, coriander, cumin, salt, and pepper. Raise the heat to medium and cook for 15 minutes, stirring often, to thicken the broth and blend the flavors. Taste and adjust the seasonings. Continue cooking and reducing the liquid if you want a thicker sauce.
Divide the corn tortillas equally between 8 serving bowls. Ladle some of the chicken stew over the top of each bowl, add a dollop of sour cream, sprinkle with some of the green onions and cilantro, and serve immediately.
Recipe Source: The Heritage Cook
Nutrition Information:
Yield:
8
Serving Size:
1
Amount Per Serving:
Calories:

445
Total Fat:

16g
Saturated Fat:

3g
Trans Fat:

0g
Unsaturated Fat:

11g
Cholesterol:

103mg
Sodium:

691mg
Carbohydrates:

38g
Fiber:

6g
Sugar:

8g
Protein:

39g
If you enjoyed this recipe, be sure to follow me on social media so you never miss a post:
Click on the link below to find the other participant recipes for fun inspiration!
Create a New Tradition Today!
Welcome! The suggestions here are not intended as dietary advice or as a substitute for consulting a dietician, physician, or other medical professional. Please see the Disclaimers/Privacy Policy page for additional details. Unauthorized use, distribution, and/or duplication of proprietary material from The Heritage Cook without prior approval is prohibited. If you have any questions or would like permission, please contact me. We participate in the Amazon Services LLC Associates Program, an affiliate advertising program designed to provide a means for sites to earn advertising fees by advertising and linking to amazon.com. This page may contain affiliate links. This post was first shared in June 2017. The article was updated in 2021.