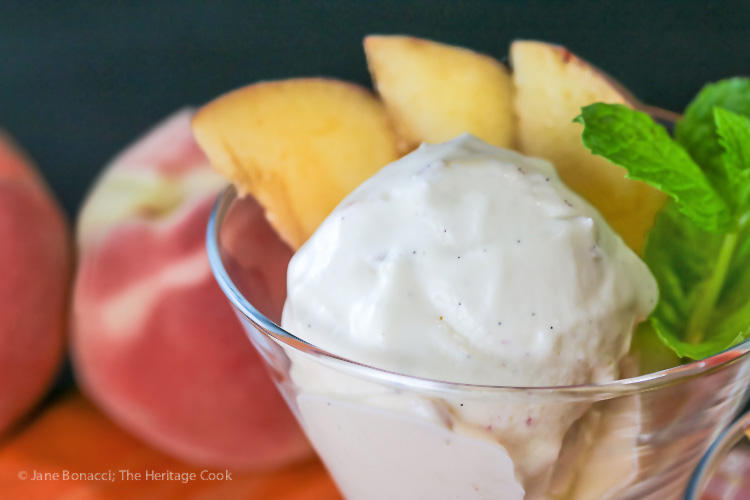 Welcome to this week's Food Network #SummerSoiree celebration of peaches! Did you know that August is National Peach Month? The FN Dish team has come up with a wide variety of ways to enjoy fresh peaches, just wait till you see what they've shared with you (look below the recipe). I knew I wanted to make a frozen dessert because these hot days are demanding refreshing treats. If you like soft serve, you're going to love this ice cream!
The concept of no-churn ice cream has been floating around the Internet for a while now and I knew this was the perfect time for me to give it a go. What a mind-blowing experience! No cooking a custard base, no need to freeze the ice cream churner a day ahead, no fussing with an ice cream maker – all you need is a mixer and you're ready. Whip the cream, whisk in the condensed milk, add any flavorings you like, and presto change-o, you have ice cream!
For today's ice cream, I combined fresh peaches and ginger, one of my favorite combinations. Being able to add a pinch of ginger flakes using Gourmet Garden's Lightly Dried Ginger whenever the mood strikes me is always a pleasure. No hassle, no grating, just reach in the bowl and pull out what I need in any recipe.
If you haven't discovered Gourmet Garden products, look for them in the produce section, often near other herb offerings. They have two styles, Stir-In Pastes and Lightly Dried. The pastes come in tubes and can be kept in the freezer for adding instant fresh herb flavor to any dish. The lightly dried herbs are great for sprinkling on at the end of cooking or just before serving. I often use them to add a spot of color and flavor to my dishes when photographing them for you.
This time I used the lightly dried ginger to infuse the cream with more flavor. Steeping is a fantastic technique to learn – it boosts everything and is a simple way to take your meals to the next level. The longer you leave the flavorings in liquid, the stronger they become so you have a lot of control. Give it a try and see what you think. I'll bet you become a convert!
As a bread baker, I have a bunch of special baking pans and one of them came in very handy while making this ice cream. My pullman loaf pan is long and narrow with a lid that creates perfectly baked flat-topped loaves. This time it was exactly the right size to hold the ice cream and because it is metal, the edges of the pan froze rather quickly. The center was still soft as I got ready to plate and photograph, but the edges were firm enough to scoop out.
Now be sure to check out the links below the recipe for even more ways to use the peaches that are overloading our farmers' markets and grocery stores. What an incredible line up of treats!
Enjoy!
Gluten-Free Tips:
All of Gourmet Garden products are naturally gluten-free! Add tons of flavor with no risk of getting sick!
No-Churn Fresh Peach Ginger Ice Cream (Gluten-Free)
2016-08-18 10:22:19
Ingredients
1 quart (2 pints / 946ml) heavy cream
1/2 cup (118ml) half and half
Pinch kosher or fine sea salt
2 (14 oz) cans sweetened condensed milk (do not use evaporated milk!)
3 tsp vanilla extract or vanilla paste
2 drops Lorann Peach oil, optional
3 tbsp chopped candied ginger
5 large ripe peaches; 4 peeled and chopped; 1 sliced for garnishes
Fresh mint sprigs
Instructions
In a saucepan, combine the cream, half and half, and ginger flakes. Set over medium heat and warm to just below a simmer, stirring often. You are looking for steam starting to rise from the surface and small bubbles around the edges. Remove from the heat and cool to room temperature. If you want you can strain out the ginger flakes at this point, but I like to leave them in. Transfer to a bowl, cover and refrigerate until thoroughly chilled, at least 5 to 6 hours or up to overnight.
Peel and pit 4 of the peaches, cutting them into small chunks. Cover and set them aside to fold into the ice cream mixture.
Pour the chilled cream mixture into the bowl of your standing mixer fitted with the whisk attachment or a large mixing bowl if using a hand mixer. Whisk on medium speed until foamy, add a pinch of salt, increase the speed to high, and whip until you have stiff peaks, about 3 minutes.
In a large bowl, combine the sweetened condensed milk and vanilla, whisking until smooth. Add 1/3 of the whipped cream and whisk in to lighten the mixture. Whisk in the rest of the whipped cream, until there are no more lumps or streaks. Stir in the candied ginger and chopped peaches.
Scrape the mixture into your freezing container (loaf pans or plastic containers work well). Place a sheet of waxed paper on the top and press down gently. Freeze for at least 6 hours and up to overnight. Will last up to 2 weeks in your freezer. For easier scooping, let stand at room temperature about 15 minutes before serving.
When you are ready to serve, cut the final peach into slender wedges for garnishing. Scoop ice cream into serving bowls and tuck a fresh slice or two of peach and a sprig of mint along the edge. Serve immediately.
Notes
Yield: about 1-1/2 quarts
The Heritage Cook ® https://theheritagecook.com/
Disclosure: This post is sponsored by Gourmet Garden. Thank you for supporting my partnerships with brands that I love to work with and whose products I use regularly. As always, all opinions are my own.
Create a New Tradition Today!
This recipe is part of Food Network's weekly Summer Soiree Fest celebration. See the links below for this week's inspiring recipes and check out our Pinterest page for even more ideas!
The Lemon Bowl: Peaches and Cream Overnight Oats
Creative Culinary: Bourbon Peach Jam with Vanilla Bean
The Heritage Cook: No Churn Fresh Peach Ginger Ice Cream (Gluten-Free)
Devour: 5 Peachy-Keen Savory Summer Dishes
TasteBook: Peach Bruschetta with Prosciutto
In Jennie's Kitchen: Peach Blueberry Tart
Let's connect! If you ever need any entertaining or cooking advice, need to alter a recipe for gluten-free, or want recipe suggestions, don't hesitate to email me. Feel free to quote me, just give credit where credit is due, link to the recipe, and send people to my website. Unauthorized use, distribution, and/or duplication of proprietary material from The Heritage Cook without prior approval is prohibited. If you have any questions or would like permission, please contact me.
The suggestions here are not intended as dietary advice or as a substitute for consulting a dietician, physician, or other medical professional. It is the reader's sole responsibility to determine which foods are appropriate and safe for their family to consume. The author makes no claims regarding the presence of food allergens and disclaims all liability in connection with the use of this site. Please see the Disclaimers page for additional details.
Thanks for joining the Heritage Cook Family!