Do you watch the television program "The Chew?" If not, it is a daily show hosted by a team of professional chefs who demonstrate their favorite recipes. There was a discussion on the show today about people who refuse to share recipes. I have to tell you, that is one of my pet peeves.
I have no trouble sharing my recipes (obviously) because I know that a recipe is just a jumping off point in cooking. Just like there are 88 keys on a modern piano, with a very narrow span of notes within the human vocal range, and therefore a limited number of combinations you can make to create songs. It is the same with cooking. All recipes start with a basic concept and method with a variety of variations.
I can hand the same recipe to a dozen people and none of the final dishes will be exactly the same. Very seldom does anyone follow a recipe exactly as written – to the letter. That's because everyone brings their own skills, history, and tastes to the kitchen. When you read a recipe, you automatically make minor adjustments based on what you've learned over the years. The most common variation is in seasoning, but it can also extend to ways of prepping ingredients and actual cooking techniques.
When I was in college, the mother of my best friend baked a fantastic cake for my birthday. We were all ooh'ing and ahh'ing over it and she was reveling in the praise. And then I asked her for the recipe and her smile froze. She refused. No pretense, no kindly explaining that it was an old family recipe she wanted to keep private, nothing. Just no. I was flabbergasted. I wasn't prepared for her coldness. My friend (her daughter) tried to smooth it over, but the atmosphere in the room had become tense and the party ended shortly. In retrospect, she probably had used a box mix and was embarrassed to admit it.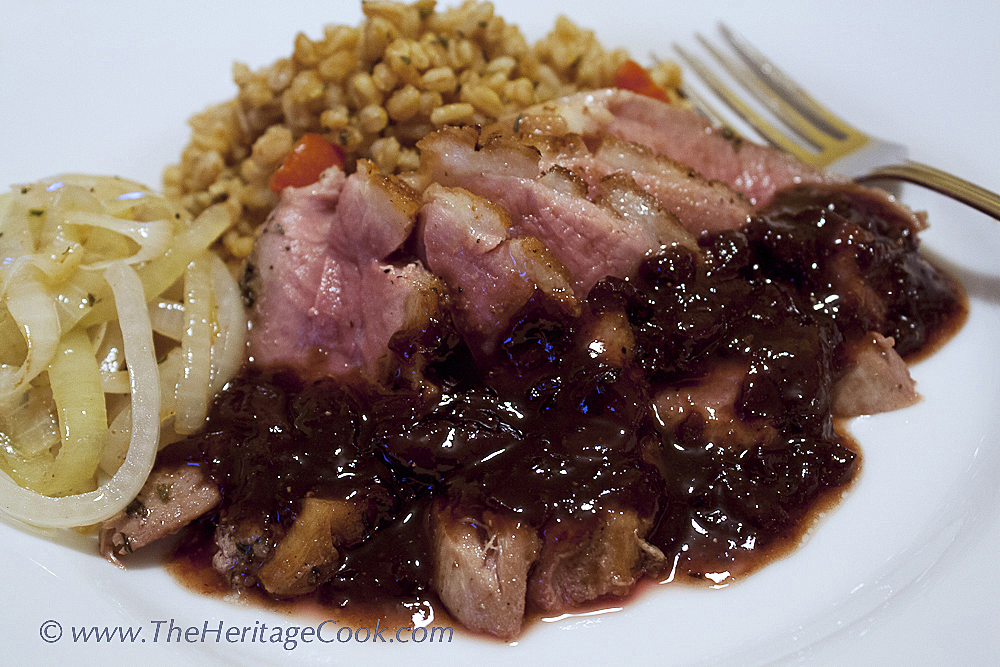 If you are a good cook or baker, never be afraid to share your recipes because no one will ever make it precisely the way you do. Replicating a memorable meal is sharing the joy all over again.
Happy Festive Friday!!
Jane's Tips and Hints:
This recipe changes every time I make it because I use whatever jam or jelly we have open in the refrigerator. This time I used a lovely bing cherry conserve. It wasn't as sweet as normal jams so I added a couple pinches of sugar to the final pan sauce. Always taste your food as it cooks, seasoning it as needed. You'll wind up with better, more balanced flavor in the end.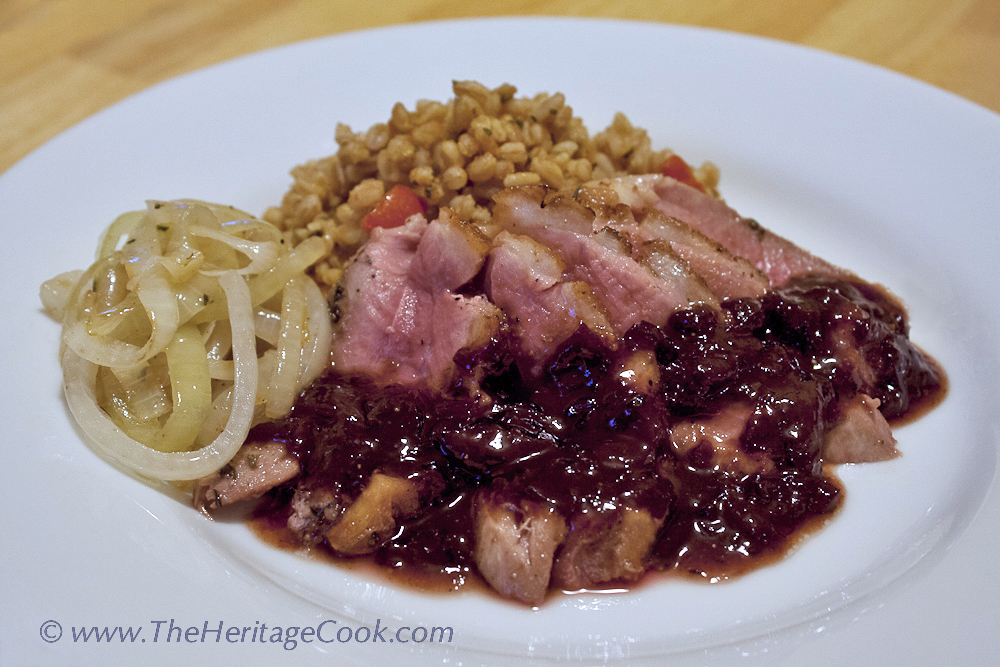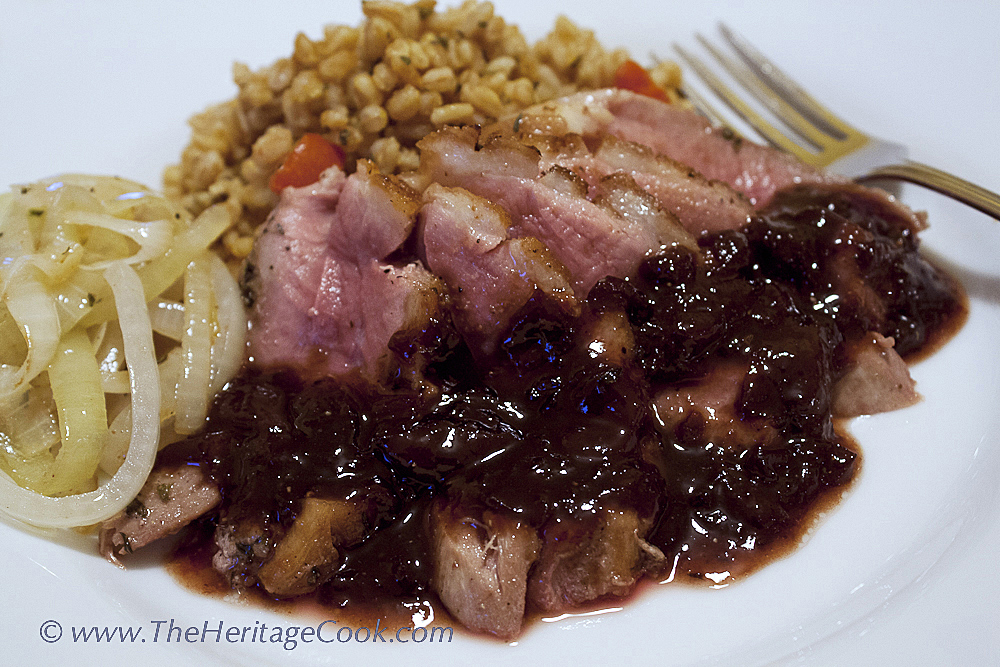 Pan Seared Duck Breasts with Jam-Infused Pan Sauc
2015-07-06 15:51:10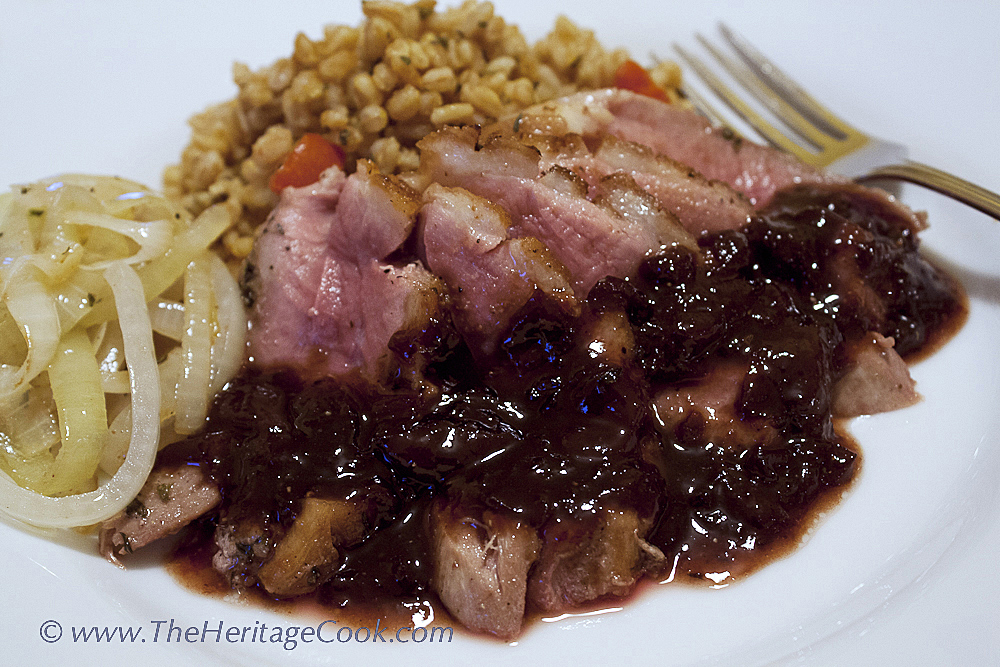 Ingredients
Duck
2 boneless duck breasts, thawed if frozen, at room temperature
Kosher salt and freshly ground black or white pepper
Paprika
1/2 medium onion, sliced thinly
Sauce
1/4 cup orange marmalade, plum, apricot, or cherry jam, etc.
1 tbsp orange juice
2 tsp white wine or dry vermouth
2 tsp pan drippings
1 tsp fresh thyme leaves or 1/4 tsp dried thyme
1 tsp balsamic vinegar, optional
1 tbsp butter
Garnish
Blood orange or navel orange sections, or other fruit that matches the jam you use, optional
Sprigs of fresh thyme or other herbs
Potatoes, polenta, rice, sauteed vegetables, tossed greens, or other side dish
Instructions
Prepare Duck: Preheat skillet over medium heat. Using a sharp knife, cut through the skin and fat on the top of each breast, without cutting into the meat, creating a diamond pattern with 1/4-inch squares. Pat dry with a paper towel and sprinkle both sides with salt, pepper, and paprika. Rub seasoning into slits on the skin.
Start the duck skin-side down in the preheated pan. Immediately reduce the heat to medium-low and cook slowly, rendering the fat. Cook until the skin has browned, about 8 to 12 minutes. Scatter the onions around the edges of the pan about halfway through cooking time.
Using tongs, turn the breast over and cook the second side until duck is medium-rare, about 1 to 2 minutes. Stir the onions regularly. When duck is done, the juices will run clear and the temperature will be 165°F.
Remove duck from pan and set aside to rest for 5 minutes. Continue cooking onions until softened and lightly caramelized, another minute or two. Remove from the pan and keep warm. Drain off any excess fat and reserve for another use.
Make Sauce: Combine the sauce ingredients (except vinegar and butter) in the same skillet, whisking until smooth. Bring to a simmer over medium heat. Cook until thickened, stirring regularly, about 3 minutes. Taste and add the vinegar if you want a more piquant flavor. Adjust seasonings with salt and pepper. Add a pinch of sugar if you want more sweetness. Whisk in the butter just before serving.
Serving: Cut the duck into slices, against the grain on an angle, with a very sharp knife.
Mound the potatoes or other side dish on warmed serving plates. Fan out pieces of duck on top and drizzle sauce around the outside. Garnish as desired. Serve immediately, passing additional sauce at the table.
The Heritage Cook ® https://theheritagecook.com/
I love to hear from you … please leave a comment below (and don't forget to do your math before hitting enter, LOL)!
Unauthorized use, distribution, and/or duplication of proprietary material without prior approval is prohibited. If you have any questions or would like permission, I can be contacted via email: theheritagecook (at) comcast (dot) net. Feel free to quote me, just give credit where credit is due, link to the recipe, and please send people to my website, www.theheritagecook.com.
Thank You!