I put this recipe together after having something similar at a restaurant. I know many of us do this – get an outstanding meal and try to recreate it. The original recipe was served as an appetizer and I wanted to turn it into an entree. Saffron rice and sauteed mushrooms seemed like great additions. I think the combination of flavors works exceptionally well. What do you think?
If you have never tried cooking scallops before, they are a fun treat for dinner parties. You can also easily make this with shrimp instead. A classic Beurre Blanc sauce is the perfect foundation for a wine-butter-mushroom sauce that ties everything together.
When I am having guests over for dinner, I pull out all the stops and never worry about being healthy – delicious is at the top of my list! The Beurre Blanc sauce with this recipe is very indulgent and I certainly don't eat it every night of the week, but it's OK for special occasions.
Have you cooked with saffron yet? It is the world's most expensive spice because every aspect of harvesting must be done by hand. It is tedious work, but the product is worth it! Because it is so expensive, many people (including me) use turmeric in addition to or in place of the saffron in recipes. Turmeric makes everything a beautiful bright yellow color.
I hope everyone has a terrific weekend. Go out and enjoy our summer weather – winter will be here before we know it!
Happy Festive Friday!
Jane's Tips and Hints:
Adding a little butter at the end of cooking a sauce gives it a silky texture and mouthfeel. If you are serving people who are allergic to shellfish (the most common food allergy), you can use boneless chicken in place of the scallops.
Kitchen Skill: Searing
Why: Browning over high heat quickly sears the surface of proteins, sealing in the juices and keeping them moist.
How: Heat your cooking surface over high or medium-high heat until very hot. If you are using oil, add it once the pan is hot. When it is smoking add your protein. Once you have set it down, do not move it.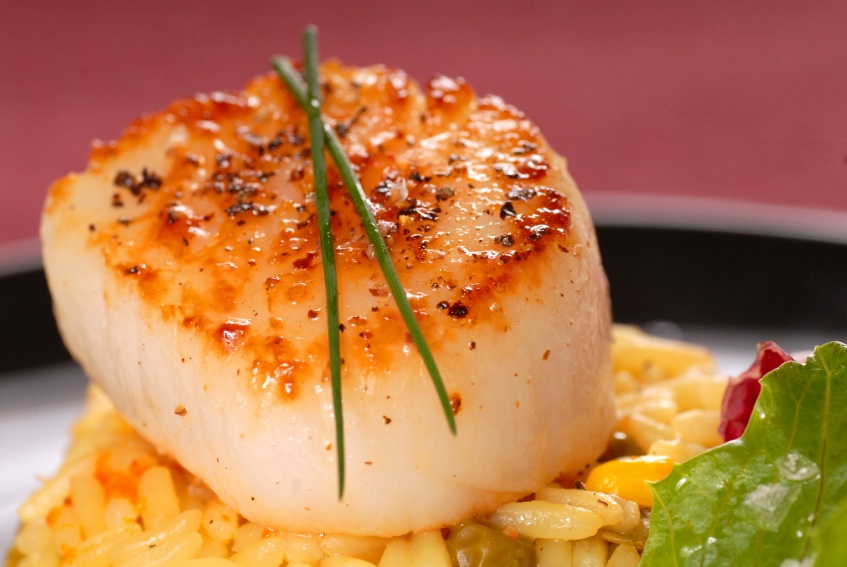 Pan Seared Scallops with Saffron Rice
2015-07-24 16:05:08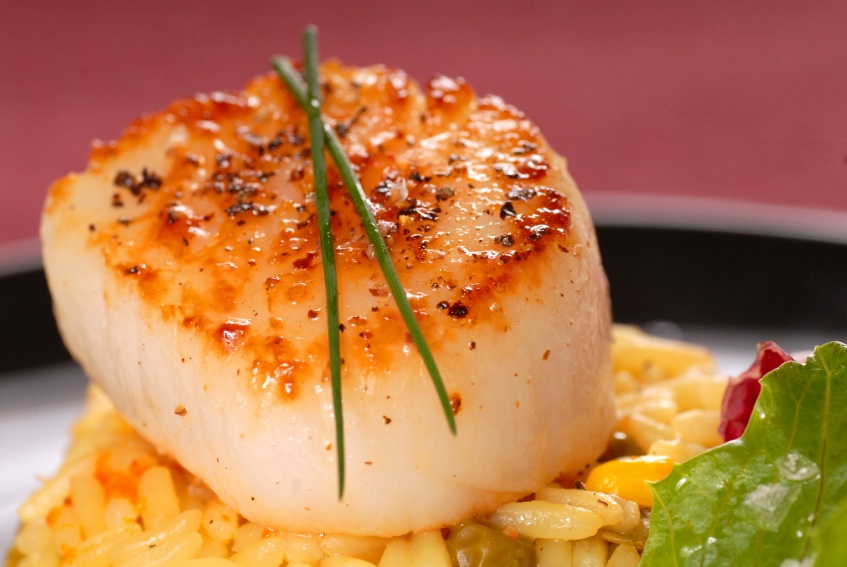 Ingredients
2 cups white basmati or jasmine rice
3-1/2 cups rich chicken stock
4 to 5 drops Sriracha hot sauce, or more if desired (optional if you want mild rice)
1/2 tsp salt
1/2 tsp turmeric
Generous pinch of saffron threads
1 clove garlic, minced
2 tsp freshly squeezed lemon juice
1/2 cup frozen peas, optional
Scallops
3 tbsp olive oil
1 tbsp butter
20 fresh sea scallops (for 5 pieces each serving)
Sauteed Mushrooms
2 tbsp butter
1 to 2 cups sliced shiitake or crimini mushrooms, stems trimmed
1/2 shallot, sliced
Butter-Wine Sauce
1 cup dry white wine or dry vermouth
Juice of 1/2 lemon
Zest of 1/2 lemon
1 clove garlic, minced
1 shallot, minced
3 sprigs of fresh lemon thyme, plus more for garnish
1 lb cold butter, cut into 1/2-inch pieces, kept cold in refrigerator
Instructions
Make Saffron Rice: Pour stock into a medium-size pot (you will also need a tight-fitting lid). Place pot on the stove over medium-high heat. Stir in remaining rice ingredients. When stock is boiling, stir in the rice. Return to a boil, cover tightly, and reduce heat to low. Cook 12 to 15 minutes or until most of the liquid has been absorbed. Without stirring, turn off the heat and, with the lid on, leave the pot on the burner another 5 to 10 minutes. The residual heat will finish cooking the rice. You can keep the rice warm for an hour or more if you need to hold it. Stir in peas if using.
Before serving, fluff with two forks. Adjust seasonings, adding a little salt or another squeeze of lemon juice if needed.
While the rice is cooking, saute the scallops and mushrooms: In a large skillet, heat olive oil and butter together over medium-high heat until just starting to smoke. Quickly add half of scallops to pan, flat side down. When the first side is golden brown, flip over and cook for another minute. Transfer to a baking dish. Repeat with remaining scallops, adding more oil or butter if needed. Having a hot pan will give you the best results. Tent scallops with foil to keep warm.
In the same skillet, saute mushrooms and shallot in the butter until they release their liquid and some of it has evaporated. You want the mushrooms to still be a little firm. Set on a back burner and cover to keep warm.
Make the Butter-Wine Sauce: Heat wine, lemon juice, zest, garlic, shallots, and thyme sprigs in a saucepan over medium-high heat until the liquid boils, then lower the heat to medium-low and continue simmering until the liquid has reduced down to about 2 tbsp, about 10 minutes. (To help know when you've reduced the sauce enough, place 2 tbsp water in a small bowl and use it to estimate the volume.) You can make the sauce to this point and hold it for up to a day. Reheat before continuing.
Remove thyme sprigs, reduce the heat to low, and start adding the pieces of butter, one or two at a time, whisking rapidly. As the butter melts, add more pieces whisking constantly. When you only have a few pieces left, remove pan from heat and whisk in the last few pieces. The finished sauce should be thick and smooth. Season to taste with salt. Add scallops to sauce to reheat them.
To Plate: Place a mound of rice in center of plate and top with scallops. Pour sauce around the edge of plate and scatter mushrooms over the top. Decorate with a sprig of thyme if you like. Serve hot.
The Heritage Cook ® https://theheritagecook.com/