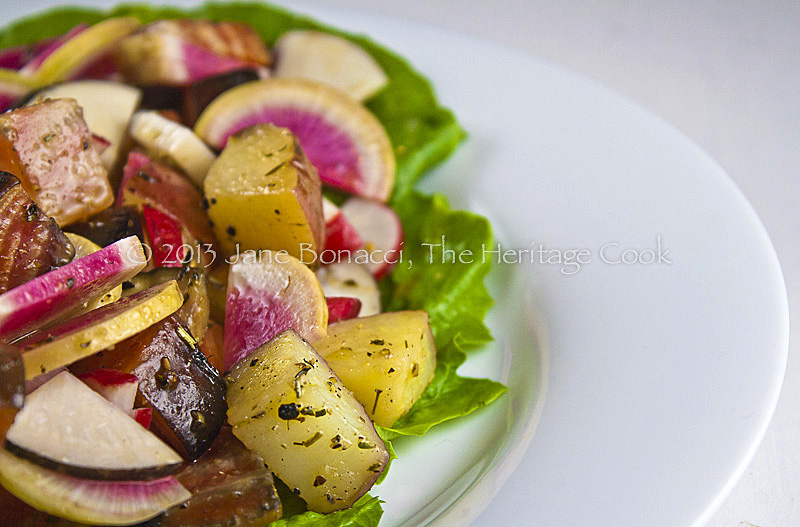 Have you ever gotten an idea for dinner and have it morph into something totally different? Well that's what happened yesterday.
I was out running errands and decided that I wanted a salad for dinner. Then I started thinking about making something warming because the temperatures are dropping and a storm is on its way. This started me day dreaming of roasting vegetables and tossing them with dressing. Mmmm, one of my favorite salads is green beans and potatoes with French vinaigrette. Maybe I can make a variation of that?
So I wandered through the produce section at Whole Foods and found Chioggia beets and red skinned potatoes – the perfect foundation for the salad. Then a beautiful array of radishes caught my eye and the salad took another turn. What if I added a variety of crunchy radishes to the roasted vegetables? Hmmm, that could be interesting. Yep, that's what I made for dinner. The Artist was happy with the vegetarian meal and then we splurged on a decadent dessert!
Have you ever seen a Chioggia beet? From the outside they look similar to regular red or purple beets with a pinker hue. But when you cut into them they are shockingly beautiful. They have concentric fuchsia and white colored rings. When you chop them they look like a pile of candy cane candies. They originated in Northern Italy, near Venice in the town of Chioggia. Unfortunately the vivid colors fade when they cook, but they are still delicious.
In addition to the regular red radishes that are usually available, I found two less common varieties that are fun to play with. Have you ever seen a black radish? No surprise, their skin is black, but the center flesh is creamy white. Beautiful contrast. The other one is always a favorite and fun to have on any crudité platter. It is the watermelon radish. Rather pale and plain on the outside, when you slice into it you discover it has an incredible magenta center. These photographs have not been enhanced – they are that vibrant!
I learned to make a classic French vinaigrette from a Parisian friend who was very particular and insisted I make it exactly the same way every time. Since then I have experimented with minor changes, but I always come back to the original. My friend was right; the classics always stand the test of time.
This dish is perfect as part of a buffet, it makes a beautiful vegetarian/vegan main course, or serve it as a side dish to a steak, chop, or grilled chicken. If you have other root vegetables in your refrigerator, feel free to chop them up and add them. The more the merrier!
So my boring, ordinary green tossed salad completely changed direction and became this filling, healthy, and satisfying meal. What are some of your favorite spur of the moment creations?
Happy Festive Friday! Have a wonderful weekend my friends!!!
Jane's Tips and Hints:
When working with hard, dense vegetables like large beets, make sure you are using a very sharp knife. You don't want it to slip and cut you because you had to put extra pressure on it. Use a steel and tune up the edge of your knife before using it. And as always, cut a slice off one end first to give you a flat surface to stabilize the beet so it won't be rolling around on the cutting board!
Gluten-Free Tips:
This dish is naturally gluten-free!
Roasted Potato, Beet and Radish Salad with French Vinaigrette
2015-07-02 14:47:16
Ingredients
2 medium beets, preferably yellow or Chioggia, peeled and cubed
4 to 5 large red skinned potatoes or Yukon Gold potatoes, scrubbed and cubed
2 shallots, peeled and sliced
2 tbsp organic olive oil
1/2 tsp dried rosemary
1/2 tsp dried thyme leaves
2 cups sliced radishes such as red, watermelon and black varieties
2 to 3 tbsp French vinaigrette
Kosher or sea salt and freshly grated black pepper, to taste
Instructions
Preheat the oven to 400°F.
Place the beet cubes in an ovenproof baking dish or 9x13-inch baking pan. Drizzle with 1 tbsp of the olive oil and sprinkle with salt and pepper. Place in the hot oven and bake for about 20 minutes. Remove from the oven; add the potatoes and shallots, drizzle with remaining 1 tbsp of olive oil and sprinkle with the rosemary, thyme, and a little more salt and pepper. Toss to combine everything and coat them evenly with the oil and seasonings.
Return to the oven and continue baking until the vegetables are fork tender, another 15 to 20 minutes. Set aside to cool to room temperature.
When vegetables are cooled, transfer to a mixing bowl. Add the radishes and toss everything with the vinaigrette. Taste and adjust seasonings. Serve cool or at room temperature.
The Heritage Cook ® https://theheritagecook.com/
Create a New Tradition Today!
Unauthorized use, distribution, and/or duplication of proprietary material on The Heritage Cook without prior approval is prohibited. This includes copying and reprinting content and photographs. If you have any questions or would like permission, I can be contacted via email: theheritagecook (at) comcast (dot) net. Feel free to quote me, just give credit where credit is due, link to the recipe, and please send people to my website, www.theheritagecook.com. Please see the Disclaimers page (under the "About" tab above) for additional details.
Thank You!