When you are looking for a fast throw-together dinner, try cooking with shrimp. They cook very quickly, are low in fat and calories, and high in valuable omega-3, vitamin B-12, and niacin. They are also a good source of iron, zinc, and copper. In the 1990s shrimp got a reputation as being bad for you. Unfortunately that myth has continued, but in subsequent studies it was proven that they actually help lower triglycerides and are a healthy alternative to red meats.
In addition to different sizes, shrimp vary by the area they live in. Small cold water species are succulent and very sweet. They are excellent used in sandwiches and salads. The larger, warm water Gulf shrimp are more strongly flavored and marry well with aggressive flavors such as those in Asian cuisines.
Look for firm meat with a sweet, lightly briny aroma. Any with discolored shells or an ammonia smell should be thrown away. It's a good idea to ask to smell the shrimp prior to buying. Do you watch Top Chef? The contestants always smell everything before they buy it – and in the case of fruits and vegetables, usually taste it too. If your grocer doesn't want you to smell the products before you buy them, they may have something to hide and I wouldn't shop there.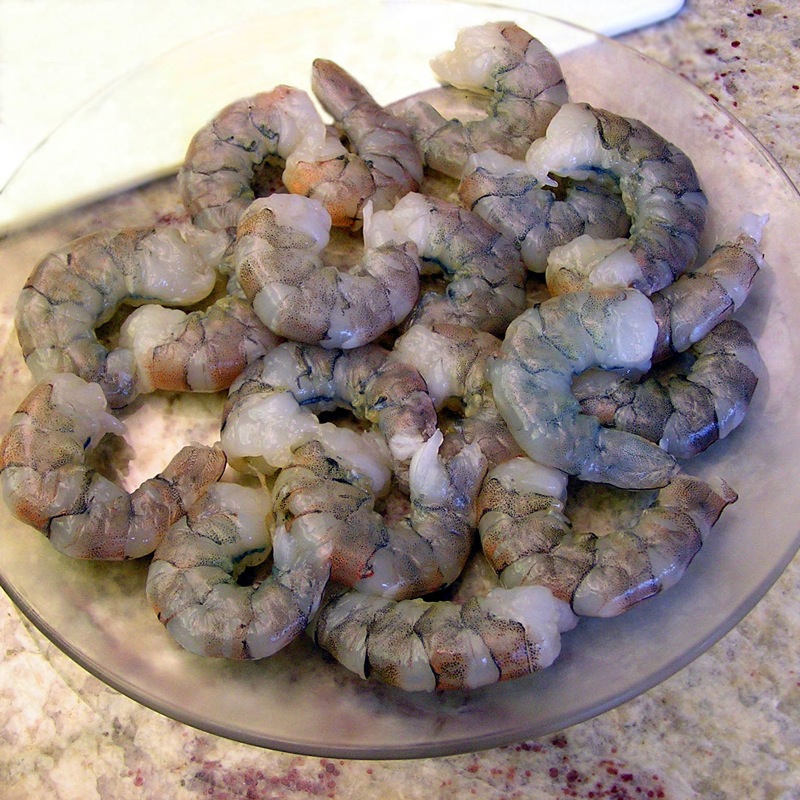 Shrimp are one of the few seafood options that do not suffer from being frozen – as long as they are handled properly. Always look for transparent packaging and avoid any that have ice crystals inside the bag or shrimp with discolored spots which may be a sign of freezer burn. Defrost them in the refrigerator overnight, or if time is tight, leave them in their sealed plastic bag and submerge the whole thing in a bowl of cold water on the counter. They should be ready in less than an hour. Don't soak them in water or they'll lose a lot of their flavor.
They cook extremely quickly and will overcook in an instant. They start out white or grey and translucent, and are done when they turn pink and opaque. When overcooked, they become tough and rubbery. They should always be the last things you throw in the pan, and depending on the size, I often add them off heat. Most of the time the residual heat of the pan and the other ingredients is more than sufficient to cook the shrimp. Take the pan off the heat, add the shrimp, cover with a lid and set aside for a couple of minutes (3 to 5 minutes for larger shrimp) and they'll be perfect every time.
They can be boiled, steamed, grilled, sautéed, baked, or deep-fried. When using direct dry heat methods such as grilling, always cook shrimp in the shell to help protect the delicate meat and keep them moist. If you choose to deep-fry them, they don't have to turn out oily. If the oil is hot enough, the food won't absorb it and turn perfectly crispy.
This is one of my favorite go-to dinners. I can have it on the table in under half an hour and you know what a lifesaver that can be when you have a hungry family anxiously waiting, LOL!
Jane's Tips and Hints:
When you are buying fresh shrimp, they are sold by the size. It sounds like a code and it is … 21-25 means that there are 21 to 25 pieces per pound. It is much more accurate way to order than asking for medium or jumbo shrimp.
Here is a chart of Shrimp Counts (per pound) and their common names:
Name Count (per pound)
Extra Colossal U-10 (under 10)
Super Colossal U-12 (under 12)
Colossal U-15 (under 15)
Extra Jumbo 16 – 20
Jumbo 21 – 25
Extra Large 26 – 30
Large 31 – 35
Medium Large 36 – 40
Medium 41 – 50
Small 51 – 60
Extra Small 61 – 70
Kitchen Skill: Sauteing
Sautéing is simply quickly frying items in a little hot fat. Sauté literally means to "jump." Use a shallow pan over relatively high heat and keep the food moving. Use a spoon or spatula to stir or jerk the pan back and forth. Make sure you don't move the food too often or it won't have a chance to brown the way you want it to.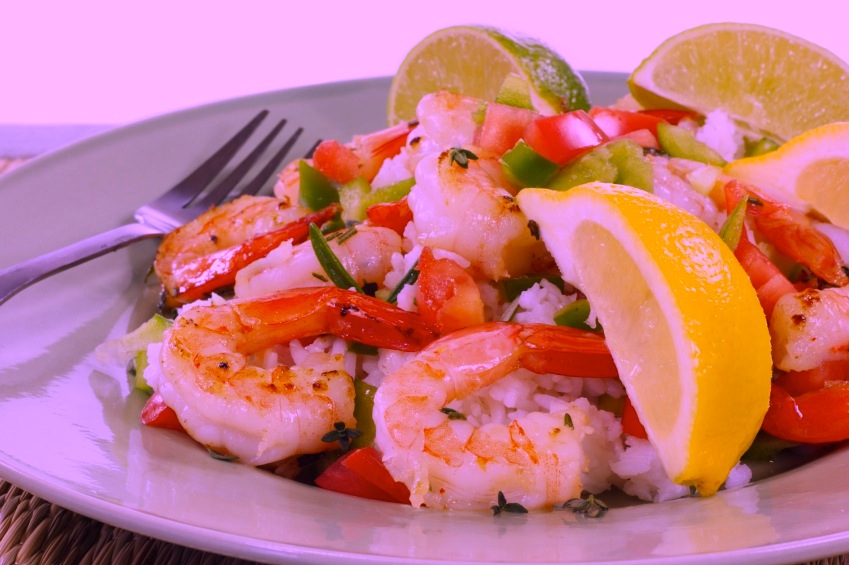 Sautéed Lemon Dill Shrimp
2015-07-21 16:59:20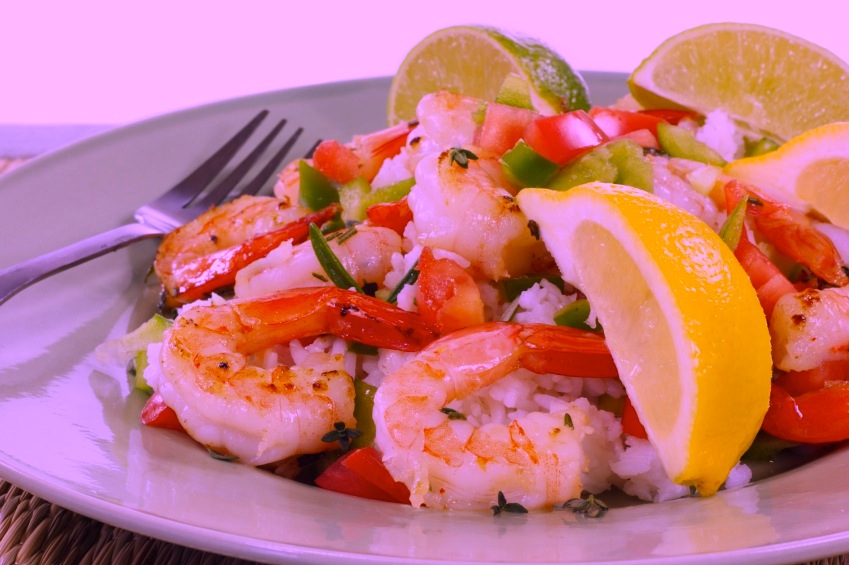 Ingredients
1/4 cup extra-virgin olive oil
1 garlic clove, thinly sliced
3 shallots, sliced
2 lb shrimp (21/25 count), shelled and deveined
Kosher salt and freshly ground pepper
2 tbsp fresh lemon juice
2 tbsp butter
4 tbsp minced fresh dill, or 2 tsp dried dill weed, plus extra for garnish
2 to 4 cups steamed white or brown rice, kept warm
Instructions
In a very large skillet, heat the olive oil. Add the garlic and shallots and cook over medium-high heat until softened, about 1 minute. Add the shrimp and cook, stirring occasionally, until pink and opaque throughout, about 3 to 4 minutes. Season with salt and pepper. Using a slotted spoon, transfer shrimp to a bowl; set aside.
Add lemon juice and butter and cook over low heat until the butter is melted and a sauce is developed. Sprinkle with 2 tbsp fresh dill and toss to distribute. Remove from the heat. Return shrimp to pan and toss to coat with the sauce. Cover and set aside while you get the serving dishes ready. Shrimp will be warmed through when you serve.
Place a portion of rice into 4 warmed serving bowls. Spoon the shrimp and sauce over rice, sprinkle with additional fresh dill. Serve this dish with a side of steamed vegetables such as asparagus, carrots, or broccoli.
Notes
Yield: 4 to 6 servings
For a jazzier presentation, cut out 4-inch circles of brioche bread, lightly brush with butter and toast until golden brown. Place croutons in the bottom of wide, shallow bowls and top with shrimp. Drizzle with some of the sauce and sprinkle with additional fresh dill or garnish with a dill sprig. Serve immediately.
The Heritage Cook ® https://theheritagecook.com/
Unauthorized use, distribution, and/or duplication of proprietary material without prior approval is prohibited. I can be contacted via email at: heritagecook (at) comcast (dot) net. Feel free to quote me, just give credit where credit is due, link to the recipe, and please send people to my website,
www.theheritagecook.com.
Thank You!