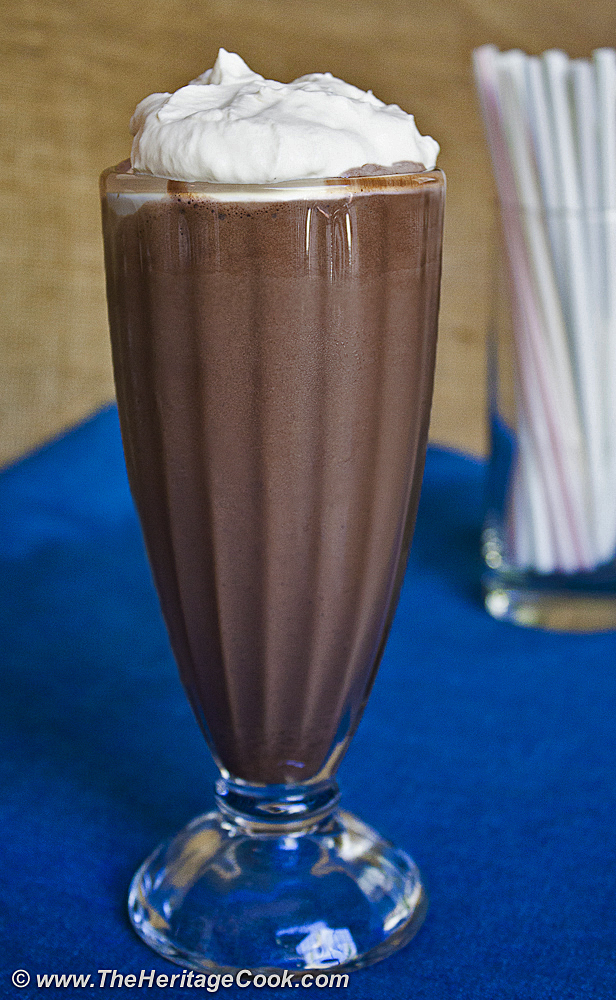 When I was approached to participate in today's The Great Shake virtual shake-a-thon blogging event, I leapt at the chance. Hell yeah I want to 'have' to make milkshakes on a specific day!! J I have had some wonderful malted milk powder in my pantry shouting at me to make something with it, and I found the perfect recipe … from Adam Ried's newest cookbook, Thoroughly Modern Milkshakes, I selected the Serious Chocolate Milkshake utilizing his suggested malt variation!
If you want to chat with Adam, he will be hosting a Twitter Party today at 8 PM Eastern / 5 PM Pacific. We will be talking about our experiences with the shakes we made using the hashtag #GreatShakes. You are welcome to join in the fun and get to know Adam!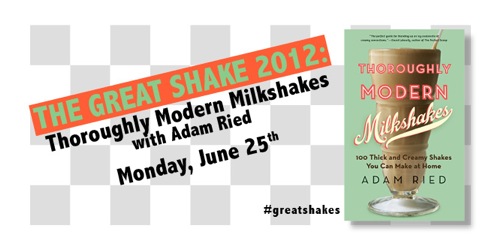 Traditional milkshakes use just ice cream and milk, but Adam is brilliant – he uses a combination of ice cream and sorbet or gelato, which intensifies the flavors and adds incredible depth. I have honestly never had a shake that tasted this good!
Adding the malted milk powder is optional, but if you like malted milk balls, you will love the nuance it adds to the chocolate shake. It was like stepping back into my childhood … all that was missing were a few spaces where my teeth would have been and pigtails! 😉
If you like milkshakes, you are going to really enjoy Thoroughly Modern Milkshakes. Not only does Adam cover the tried and true favorites, but he branches out to wonderful new combinations that are creative and tantalizing. And if you think milkshakes are limited to only ice cream concoctions, you will be surprised and delighted by his international icy drinks. Many are made with fresh fruit and are very refreshing on hot summer days.
Break free from your milkshake rut and try some of Adam's more unusual combinations such as Raspberry-Rose Shake, Bananas Foster Shake, Mango, Chile and Lime Shake, Minted Cucumber-Lemon Shake, or the fascinating Sweet Corn and Basil Shake. I promise you won't look at a milkshake the same way again after reading Thoroughly Modern Milkshakes. This is a delightful book and would make a fantastic gift for yourself or someone special.
The Artist and I were both excited as we gathered the ingredients (it only takes four things plus the malt powder!), rinsed out the blender, and I rummaged around to find just the right glass and props to make the photo really pop. There is a definite advantage to being married to an artist … he knows which colors complement each other and make a chocolate shake come alive.
These shakes came together in a snap, less than five minutes, and would be perfect for a quick dessert, after school snack, or midnight indulgence. I made ours with half-and-half instead of milk and they were rich and creamy. You can increase the amount of milk if you like yours a bit thinner, or use a touch less to make it thicker and eat it with a spoon!
This is one chocolatey shake, and one that should be on your "Must Make" list. Happy Chocolate Monday everyone, have a wonderful week!!
Disclosure: I was sent a review copy of Thoroughly Modern Milkshakes in advance of this promotion. There was no additional compensation and all opinions are my own.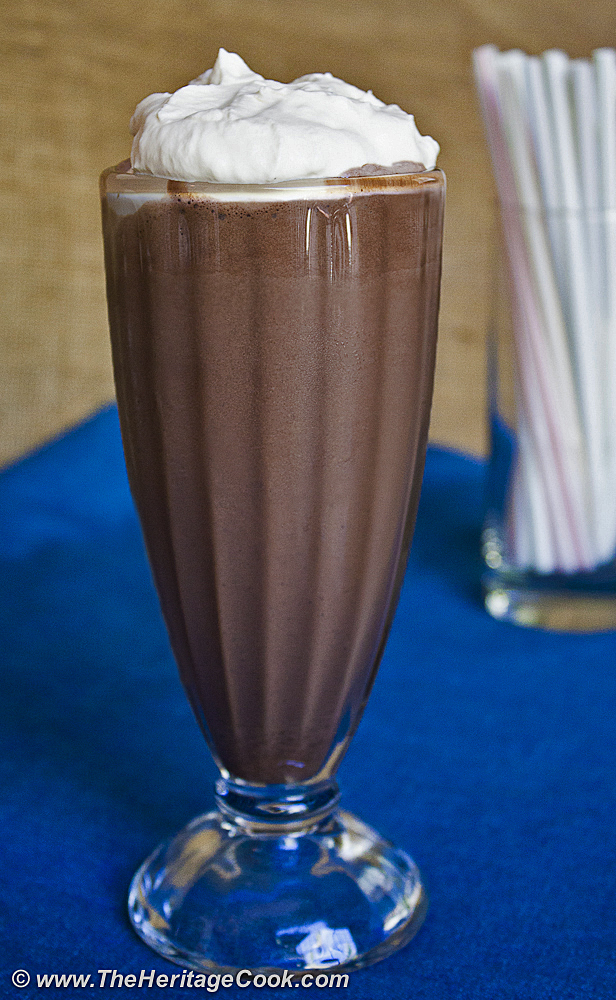 Serious Chocolate Malt Shakes
2015-07-03 15:33:27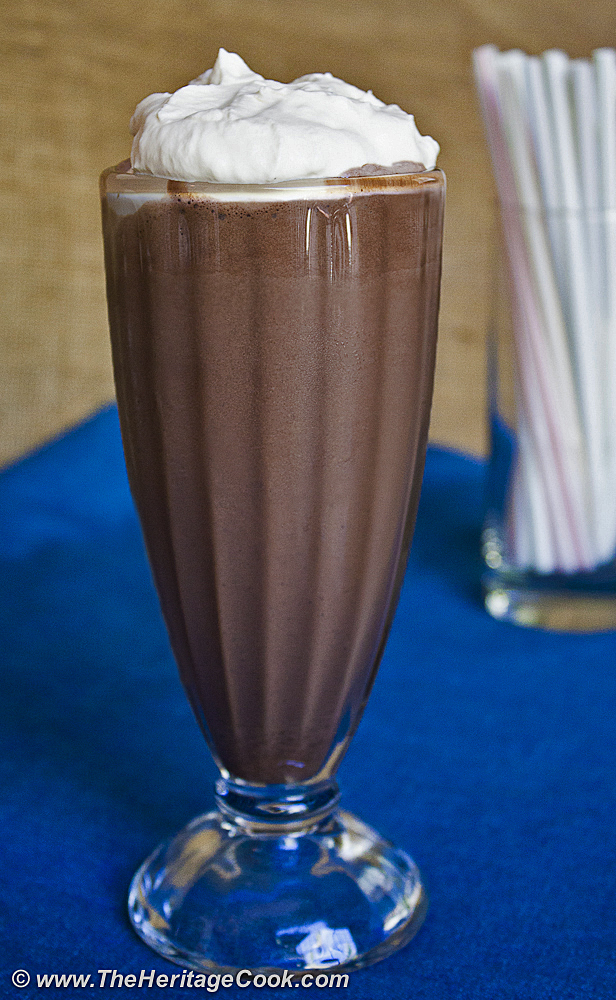 Adam Ried says, "… There is nothing timid about the flavor here - it is chocolate down to its very last corpuscle, just the way I like it!"
Ingredients
1/2 cup (4 oz) cold whole or low-fat milk
1/4 tsp pure vanilla extract
2 tbsp malted milk powder (leave out for pure chocolate milkshakes)
4 medium scoops chocolate ice cream (about 1 pint), softened until just melty at the edges
4 medium scoops chocolate sorbet (about 1 pint), softened until just melty at the edges
Instructions
Place the milk, vanilla extract and malted milk powder in a blender and blend for about 30 seconds. Turn blender off, add the ice cream and sorbet, and pulse several times to begin breaking up the ice cream and sorbet.
With the blender motor off, use a flexible spatula to mash the mixture down onto the blender blades. Continue pulsing, stopping, and mashing until the mixture is well blended, thick, and moves easily in the blender jar, roughly 30 to 90 seconds.
Pour into chilled glass or glasses, and serve at once.
Notes
Yield: about 3-1/2 cups
Extra Rich Variation: Follow the recipe above, substituting cold half-and-half or heavy cream for the milk.
Adapted from Thoroughly Modern Milkshakes by Adam Ried
The Heritage Cook ® https://theheritagecook.com/
Unauthorized use, distribution, and/or duplication of proprietary material without prior approval is prohibited. If you have any questions or would like permission, I can be contacted via email: theheritagecook (at) comcast (dot) net. Feel free to quote me, just give credit where credit is due, link to the recipe, and please send people to my website,
www.theheritagecook.com.
Thank You!