Happy Wednesday everyone! I hope you all had a great time celebrating Mardi Gras last night. If had too much fun, you are probably craving carbs and comfort foods. I've got a fantastic dish for you – an adult version of mac and cheese!
A couple of weeks ago I was watching "The Chew" and Michael Symon was making his favorite version of cheese fondue. The same kind I had in Belgium that makes me smile when I remember my trip to Bruges. If you ever have a chance to go to Belgium, make sure you take the time to visit Bruges. It is a remarkable city and incredibly beautiful.
But I digress … As I was watching the hosts of The Chew dip into the creamy, cheesy goodness, I thought, "How fantastic would that be if it was combined with pasta and baked!" So I put together a new recipe that combines the best of both American macaroni and cheese with Swiss cheese fondue and a technique I borrowed from Chef Symon. And I have to tell you – this one hit it out of the proverbial park.
Take the traditional ingredients for cheese fondue, toss in some techniques from Chef Michael Symon, add some cooked pasta and you've got an adult version mac and cheese!
One of the challenges for people trying to make mac and cheese from scratch is dealing with and conquering the classic French sauce Bechamel. Back in my mother and grandmother's time this was simply called a white sauce and everyone knew how to make it. But times have changed, fewer people are cooking from scratch, and this common skill is becoming a rarity.
The beauty of this recipe is that there is no Bechamel sauce required! Chef Symon tosses his shredded cheese with a little cornstarch (you could use arrowroot if you can't have corn products) and then adds it to a simmering wine/shallot mixture. The cornstarch thickens the wine and then the cheese melts and suddenly you have a luscious, creamy cheese sauce. Miracles happen every day!
I wanted to use the Gruyere cheese that is the most common base for fondue, but I also wanted to add some others to boost the creaminess factor and smooth out the flavors. I wound up with a combination of Gruyere, cheddar, Monterey Jack, and Havarti.
This smelled amazing as I was making it and The Artist kept coming into the kitchen asking when it was going to be ready. That is always a good sign, LOL. It proved to be just as good as it smelled and we both inhaled our portions. When The Artist got up to get himself a second helping he said, "This is real food porn – it's like we're doing lines of coke or something, we can't get enough!" 🙂
When you want something that will appeal to the adults in your crowd (or if you have adventurous kids), make this meal. It is good old-fashioned comfort food, elevated to an exceptional elegance.
Have a fabulous day everyone!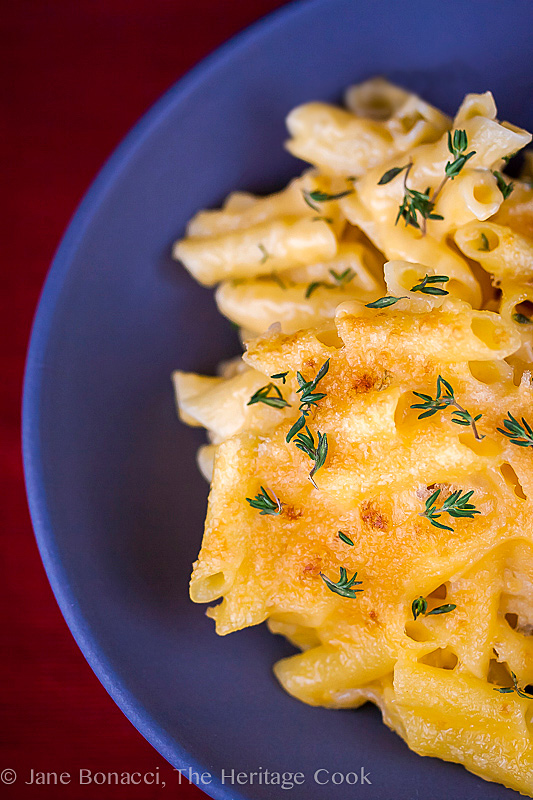 Gluten-Free Tips:
The cornstarch is your thickener, so no gluten to worry about in the sauce. Buy the best quality gluten-free pasta that you can afford – it will hold up better to the heavy cheese sauce.
Swiss Fondue Macaroni & Cheese Casserole (Gluten-Free)
2015-06-26 17:48:04
Ingredients
Pasta
1 lb (16 oz) penne, ziti, rotini, or similar pasta (gluten-free if needed*)
1 tsp kosher or sea salt
Cheese Sauce
1 cup dry white wine, dry vermouth, or chicken stock
1 tbsp bourbon or whiskey, optional (leave out if you are Celiac or extremely sensitive to gluten)
1 shallot, peeled and finely minced
1 tsp fresh thyme leaves
10 oz Gruyere cheese, grated
6 oz medium-sharp cheddar cheese, grated
5 oz Monterey Jack cheese, grated
5 oz Havarti, grated
4 tsp cornstarch
1/2 tsp kosher or sea salt, or to taste
1/4 tsp ground white pepper
1 tsp Dijon or spicy brown mustard
Casserole
1/2 cup grated or shredded Parmesan cheese
Chopped fresh parsley or green onions, or more fresh thyme leaves, for garnish
Instructions
Lightly butter a large 3- to 4-quart baking dish.
Prepare the Pasta: In a large stockpot filled 3/4 with water, bring to a boil over high heat. Add the salt and stir until dissolved. Stir in the pasta and cook until al dente, stirring occasionally, following the suggested times on the package. Before draining, scoop 1 cup of the cooking water into a bowl and reserve.
Drain the pasta in a colander, shaking to remove excess water. Transfer to a very large mixing bowl.
Make the Cheese Sauce: While the pasta is cooking, make the cheese sauce. In a medium saucepan, combine the wine, liquor, and shallots and bring to a simmer over medium-high heat. Reduce the heat to medium and cook for 2 to 3 minutes until slightly reduced. Stir in the thyme.
While the wine mixture is simmering, in a medium bowl, place the grated cheese and sprinkle with the cornstarch. Using your hands, toss the cheese to evenly coat it with the cornstarch. This will help thicken the mixture without using flour and give a creamier mouthfeel.
While whisking, add the cheese one handful at a time, to the wine mixture, waiting until it is mostly melted before adding more. Whisk constantly until all of the cheese is melted. Remove from the heat. Season with salt and pepper to taste, and stir in the mustard. Whisk until thoroughly incorporated and smooth. Taste and adjust seasonings. Add the reserved pasta water to thin the sauce slightly.
Pour the cheese sauce over the pasta and toss until completely blended. Pour the cheese and pasta into the prepared baking dish. Evenly sprinkle the Parmesan over the top of the casserole.
Cook the Casserole: Move a rack to the top of the oven and preheat the broiler on high for about 5 minutes. Place the casserole in the oven and cook until the top of the casserole is browned and bubbling, 3 minutes. Time will depend on the strength of your broiler and how far the rack is from the heating element.
To Serve: Sprinkle the top with parsley, thyme, or chopped green onions. Scoop servings into individual bowls and serve hot.
Notes
Yield: about 6 to 8 servings
*Because gluten-free pasta does not hold up as well as traditional wheat pasta, if you make this casserole with gluten-free pasta, I recommend you only make as much as you will eat at one meal. If you do have leftovers, do not be surprised if the pasta tends to break down when you reheat it. It is still delicious, but the texture will be different.
The Heritage Cook ® https://theheritagecook.com/
Create a New Tradition Today!
Unauthorized use, distribution, and/or duplication of proprietary material from The Heritage Cook without prior approval is prohibited. This includes copying and reprinting content and photographs. If you have any questions or would like permission, I can be contacted via email at theheritagecook (at) comcast (dot) net. Feel free to quote me, just give credit where credit is due, link to the recipe, and please send people to my website, www.theheritagecook.com. Please see the Disclaimers page for additional details.
This site is not intended to provide medical advice. The suggestions here are not intended as dietary advice or as a substitute for consulting a dietician, physician, or other medical professional. It is the reader's sole responsibility to determine which foods are appropriate and safe for their family to consume. Always consult your doctor. The author makes no claims regarding the presence of food allergens and disclaims all liability in connection with the use of this site.
Thank You!