The blending of chocolate, caramel, and nuts is a classic and if you press nuts into softened caramel and cover it all with melted chocolate, you have Turtle Candies! Turtles have always been one of my favorites and I always look for new ways to combine these flavors.
One of the easiest ways to create a new dessert is to combine components from other recipes. You might be surprised what you come up with. I pulled recipes from three different sources to make up today's Chocolate Monday guilty pleasure. I took a recipe for a brownie cheesecake bar and added hot fudge sauce, caramel sauce, and nuts to make a new kind of Turtle treat. Whenever you make a recipe, think about other ways that you might be able to use parts of it to improve common meals.
One of the advocates of this philosophy is Alfred Portale of Gotham Bar and Grill in New York City. In "Alfred Portale's Gotham Bar and Grill Cookbook" he tells you how to use various recipe components with other recipes in the book. It is one of the few cookbooks I've seen that actively does this and it is enlightening. As you read through the book, dozens of new combinations come to your mind at Chef Portale's suggestion. It is a great insight into the way a professional chef thinks about food.
I highly recommend all of Chef Portale's books and know you will enjoy having them in your library!
Alfred Portale's Gotham Bar and Grill Cookbook
Alfred Portale's 12 Seasons Cookbook
Alfred Portale's Simple Pleasures
Gotham Bar and Grill is a New York City institution and has been serving diners for over 25 years. One of the most awarded restaurants in the City, Gotham is constantly reinventing its menu, decor, and wine list while maintaining some customer favorites. Product seasonality as well as a desire to keep things fresh and unexpected are keys to the success of Chef Portale's innovative restaurant. Try the same thing at your own home. Instead of making the same meals over and over, change your menus for every season, adding new and fresh ingredients. Pick a cookbook and select several new recipes to try. This will help keep your kitchen just as fresh as Gotham Bar and Grill!
I hope you enjoy today's oozy, gooey, chocolatey, caramely, nutty, sticky, creamy scrumptious dessert!
Jane's Tips and Hints:
When making cheesecake, always make sure your cream cheese is softened at warm room temperature. If your cream cheese is too firm, it produces clumps that you never seem to be able to completely remove. The last thing you want is lumpy cheesecake so warm your cream cheese ahead and don't take any shortcuts in this step!
Kitchen Skill: Melting Chocolate
Why: Melting chocolate is a seemingly simple procedure that can go horribly wrong in just an instant!
How: Chop chocolate into small pieces to speed the melting process and place them in a heat-proof bowl (glass makes it easier to keep an eye on the simmering water). Using a 2 to 3-quart saucepan, bring about 2 inches of water to a boil and reduce heat until water is just simmering. Place the bowl with chocolate over the pan – the steam will create a gentle heat to melt the chocolate. Anything hotter than this can scorch the chocolate leaving a bitterness that is unpalatable. Stir chocolate occasionally until it is mostly melted, then remove from the heat and let the residual heat finish melting the remaining chunks. This tempers the chocolate, leaving a glossy sheen in the finished product.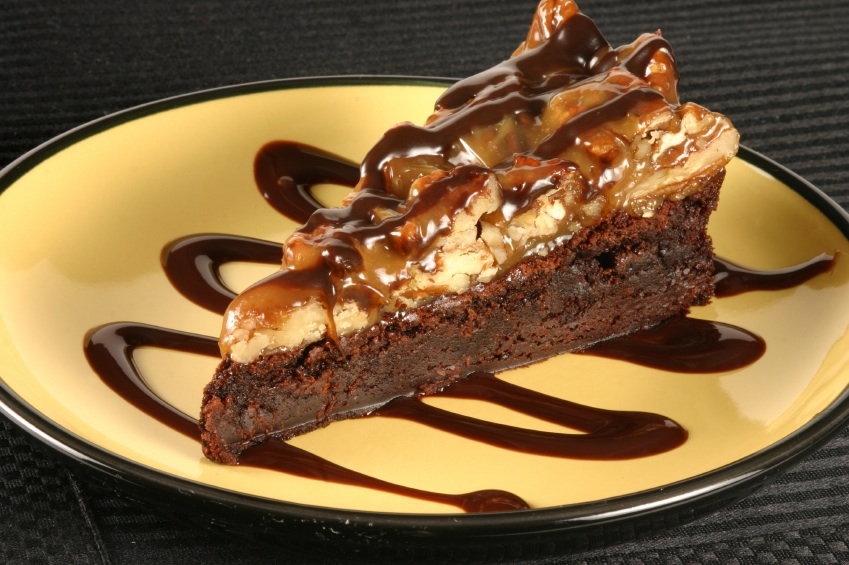 Turtle Brownie Cheesecake Bars
2015-07-24 16:12:56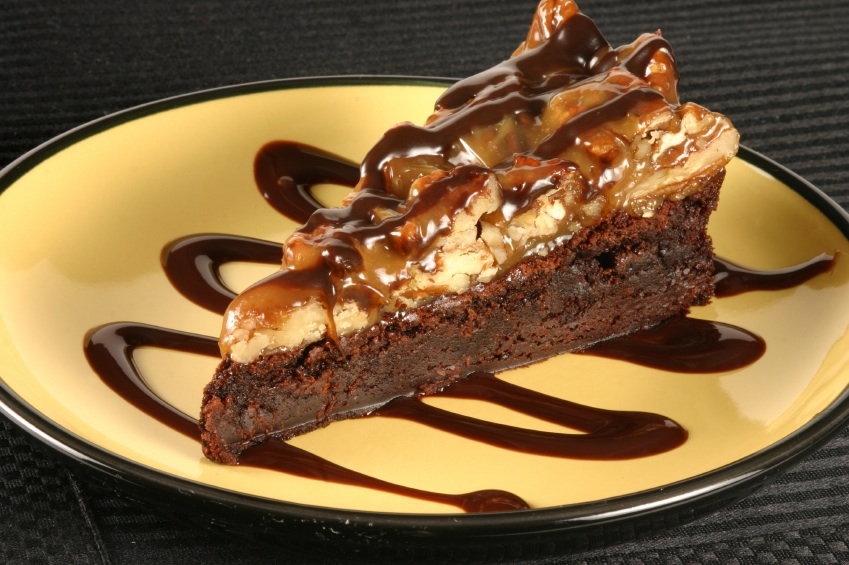 The Brownie & Cheesecake Layers are from Marie Simmons The Hot Fudge Sauce is from the Culinary Institute of America The Caramel Sauce is from Ina Garten, Food Network
Ingredients
Brownie Layer
3⁄4 stick (6 tbsp) unsalted butter
6 oz semisweet chocolate
3⁄4 cup all-purpose flour
1⁄2 tsp baking powder
1⁄4 tsp salt
3⁄4 cup firmly packed light-brown sugar
2 large eggs
1 tsp vanilla extract
Cheesecake Layer
1 package (8 oz) cream cheese, softened to room temperature
1⁄2 cup granulated sugar
2 tbsp all-purpose flour
2 large eggs
3 tbsp Kahlua (or coffee flavoring) or strong coffee
1 tsp vanilla extract
1⁄2 tsp ground cinnamon
1-1/2 cups coarsely chopped pecans
Hot Fudge Sauce
6 oz unsweetened chocolate, melted
1/2 cup cocoa powder
2/3 cup water
1 cup granulated sugar
1/2 cup light corn syrup or Lyle's Golden Cane Syrup (for those allergic to corn products or avoiding HFCS)
8 tbsp (1 stick) unsalted butter
1/4 tsp salt
2 tsp vanilla extract

Caramel Sauce

1-1/2 cups granulated sugar
1/3 cup water
1-1/4 to 1-1/2 cups heavy cream
1/2 vanilla bean or 1/2 tsp pure vanilla extract
Instructions
Heat oven to 350°F. Lightly grease a 13x9-inch rectangular or 10-inch round springform baking pan. Line with parchment paper and butter paper. If using 13x9-inch pan, use parchment long enough to drape over two sides of the pan, to aid in removing baked cake.
Brownie Layer: Melt butter and chocolate in a small saucepan over low heat. (Or microwave in a bowl on high, stirring every 30 seconds until melted.) Set aside to cool.
Stir in cooled chocolate mixture. Mix flour, baking powder and salt. In a large bowl beat brown sugar, eggs, powdered coffee and vanilla until blended. Add flour mixture to chocolate mixture. Spread batter in an even layer in prepared pan.
Cheesecake Layer: Beat cream cheese, sugar and flour in a large bowl with an electric mixer on medium speed until pale and fluffy. Add eggs, one at a time, beating well after each. Beat in liqueur, vanilla and cinnamon. Carefully pour over brownie layer and spread into an even layer. Sprinkle top with chopped pecans. Bake 30 minutes, until top is set. Cool completely on wire rack before cutting in bars or wedges.
Hot Fudge Sauce: Combine the melted chocolate, cocoa powder, and water in a saucepan over low heat and stir gently until fully combined, about 2 minutes. Add the sugar, corn syrup, butter, and salt to the mixture and simmer over medium heat, stirring constantly, until thick and very smooth, 5 minutes.
Remove the pan from the heat and add the vanilla extract. Use the sauce at once, or stir it occasionally as it cools to room temperature. To store the fudge sauce, transfer it to a clean bowl or jar, cover tightly, and refrigerate for up to 2 weeks. Reheat the sauce over low heat or in the microwave before serving.
Caramel Sauce: Mix the water and sugar in a large heavy-bottomed saucepan. Cover and cook over low heat until the sugar dissolves. Increase the heat and boil uncovered until the sugar turns a medium brown, about 5 to 7 minutes, stirring occasionally with a wooden spoon. Watch it carefully at the end, as it will go from caramel to burnt very quickly.
Stand back to avoid splattering, and gradually add the cream and the seeds scraped from the vanilla bean (or vanilla extract). Simmer until the caramel dissolves and the sauce is smooth and thick, about 2 minutes.
Serve warm, or add another 1/4 cup of heavy cream and serve at room temperature.
To Serve: Cut into bars or wedges (depending on the pan you baked these in) and place on serving plates. Drizzle top with caramel sauce and then finish with hot fudge sauce. Serve with a sprig of fresh mint and a scoop of vanilla ice cream or dollop of whipped cream if desired.
Notes
Yield: about 24 pieces
You can make all the components for this decadent dessert, or you can take a shortcut and buy pre-made chocolate and caramel sauces. There are many good ones on the market. My favorites are Fran's Caramel and Fran's Chocolate sauces.
The Heritage Cook ® https://theheritagecook.com/
Other recipes of mine that you might also enjoy: