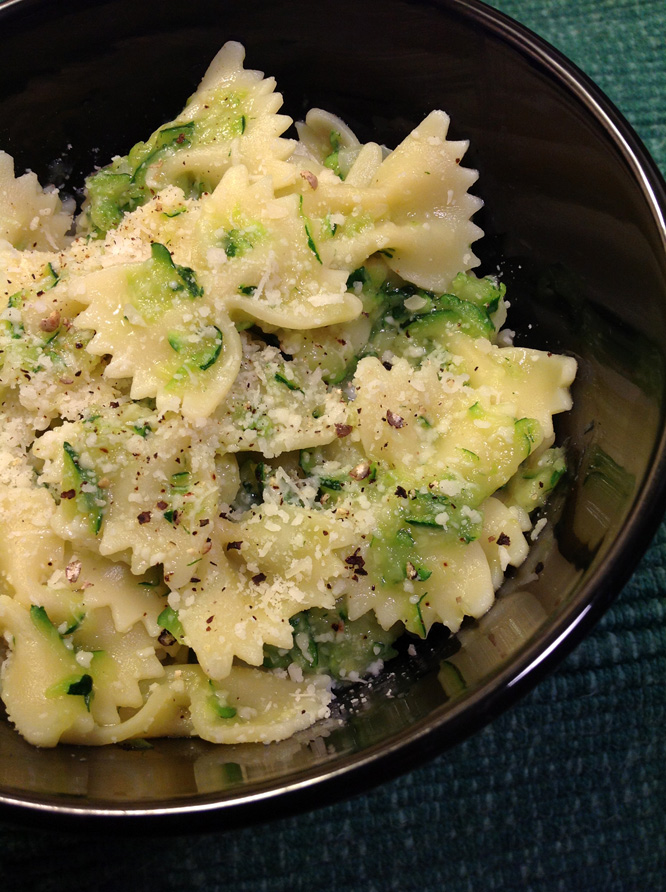 Perry Perkins is another friend I met at IFBC in Seattle. See, there is a lot of value in attending food conferences! A dynamic, fun-loving, and extremely talented chef, Perry always brightens my day. Today he is sharing one of his favorite recipes, perfect for the upcoming months when our gardens are overflowing with zucchini. And this delicious dish can be made any time of the year, making it extremely versatile.
Perry and I share a passion for helping busy families get back to the dinner table. We both love sharing delicious, nutritious meals and with the help of Chef Perry and his site, Simply Smart Dinner Plans, you will find assistance with research, planning, and all the other tasks necessary to pull together amazing meals for you and your families
Thank you Chef Perry!
* * * * * * * * * * * * * *
I love zucchini!
Raw in salads or with dip, sautéed in butter or pan juices, baked in bread…just about any way you cook it, I'll come back for seconds!
This was my first experience in shredding and saucing zucchini, and it was a BIG winner, adding a fresh, green, garden aroma and flavor to this simple sauce.
Oh, and if you get a heap of zucchini from an overzealous farming friend this year, shred some and freeze it in individual baggies for use in sauces like this.
The effect that freezing had on the crispness won't matter a stitch in a recipe like this one!
Enjoy!
Chef Perry
SimplySmartDinnerPlans.com
Bow Tie Pasta with Zucchini Sauce
2015-06-19 20:24:12
Ingredients
2 cups uncooked bow-tie pasta
2 cloves garlic
2 medium zucchini
1 medium shallot or small yellow onion
1 tbsp grapeseed oil
1/2 cup grated Parmesan cheese
1/4 tsp salt
1 tsp Better Than Bouillon chicken base
1 tsp ground black pepper
Instructions
Cook pasta in salted water, according to package instructions. Prepare zucchini sauce while pasta cooks.
Peel and mince garlic; dice the shallot (or onion).
Rinse and grate zucchini.
In a large skillet over medium heat, heat oil. Add onion and minced garlic, with a dash of salt, and sauté until the onion are translucent. Add zucchini, and cook until mixture softens and zucchini yields some liquid, about 5 minutes.
Drain pasta, reserving 1/2 cup cooking liquid. Place reserved pasta water in a bowl and mix in chicken base (with the pasta water) to create broth.
Add 1 to 2 teaspoons of the broth at a time to zucchini mixture. Add drained pasta. Stir, coating pasta evenly with sauce. Add more broth as needed (I used the whole 1/2 cup).
Transfer pasta to large bowl for serving. Sprinkle with grated Parmesan. Season with salt and pepper. Toss to combine.
Adapted from Simply Smart Dinner Plans
The Heritage Cook ® https://theheritagecook.com/
To learn more about Perry, follow his food adventures and discover his delicious recipes, make sure you visit Simply Smart Dinner Plans. And to follow him on social media, click on these links:
Facebook: https://www.facebook.com/simplysmartdinnerplans
Twitter: https://twitter.com/BurninLoveBBQ
Pinterest: http://www.pinterest.com/hautemealz/
Google+: https://plus.google.com/103855183735939220497/posts
Create a New Tradition Today!
Unauthorized use, distribution, and/or duplication of proprietary material from The Heritage Cook without prior approval is prohibited. This includes copying and reprinting content and photographs. If you have any questions or would like permission, I can be contacted via email at theheritagecook (at) comcast (dot) net. Feel free to quote me, just give credit where credit is due, link to the recipe, and please send people to my website, www.theheritagecook.com. Please see the Disclaimers page for additional details.
This site is not intended to provide medical advice. The suggestions here are not intended as dietary advice or as a substitute for consulting a dietician, physician, or other medical professional. It is the reader's sole responsibility to determine which foods are appropriate and safe for their family to consume. Always consult your doctor. The author makes no claims regarding the presence of food allergens and disclaims all liability in connection with the use of this site.
Thank You!