I love cookbooks. I collect them like some women do shoes but instead of closets, I have bookcases lining the walls and I still want more. I am a cookbook addict. The good news is I have a very understanding husband who keeps figuring how to eek out more room in our small home.
This year I wanted to share 15 of my favorites with you. If you are looking for last minute gifts or just want to treat yourself, I know these will bring you hours of delightful reading and years of fabulous meals to share with family and friends.
Enjoy and Happy Holidays!
Matt Lewis & Renato Poliafito / Stewart, Tabori & Chang Publishing
If I never read anything else about this book, just seeing the list of their top 10 favorite ingredients would be enough to have me singing for joy. Peanut Butter, Lemon & Lime, Caramel, Booze, Pumpkin, Malted Milk Power, Cinnamon, Cheese, Chocolate, and Banana. Yep, that is a winning list! Whether it is a cake, a plate of cookies, or the fudgiest brownies, you are going to win friends and influence many with these amazing recipes!
Thomas Keller & Sebasitien Rouxel / Artisan Publishing
When you first flip through Bouchon Bakery it may seem a bit overwhelming. But that is because Thomas Keller explains every single step with the extreme precision and attention to detail that makes his restaurants top notch. Just follow the directions and you will be creating treats that will have your family boasting about your prowess for years to come!
Christopher Hirsheimer & Melissa Hamilton / Andrews McMeel Publishing
If you haven't discovered the Canal House cookbooks, you are in for a treat. Each one is a delightful departure from traditionally produced books, highlighting the home cooking adventures of Christopher and Melissa. While the offerings may seem a bit much for your normal lunch offering, they certainly belong in every home cook's repertoire. Just reading through the recipes will spark your imagination and make you curious to see what you have in your refrigerator to work with. Their books never fail to inspire me to become a better cook.
Robin Robertson / Harvard Common Press Publishing
I know I am the original carnivore/omnivore and including vegetarian/vegan books on my favorites list seems like an oxymoron. But like so many of you, I am trying to make smarter, healthier menu choices. Also, The Artist loves vegetarian meals, so there is extra incentive in my home. Even if you do not eat a vegan diet, you may entertain people who are, or you can always use the recipes as side dishes. Don't make the mistake of ignoring these amazing books – you may be delightfully surprised at how much you enjoy them!
Michael Natkin / Harvard Common Press Publishing
From the first moment I opened Michael Natkin's book, I couldn't stop turning the pages. Not only are the recipes intriguing, but also the photographs make you want to make every single one. I love Michael's style of making vegan and vegetarian cooking approachable and appealing. In addition, he includes notes letting you know when a recipe is gluten-free, vegan, or fit for other special diets. Michael is a gifted chef and writer, weaving his spell around us as we read through his book. I am thrilled to have this in my library!
Alana Chemila / Clarkson Potter Publishing
When I walk down the aisle in the grocery store, I can't help wondering if I could make most of the items myself using better ingredients, fewer chemicals, and ultimately create a healthier, tastier products. If you are interested in creating more of your meals completely from scratch, this is the book for you! From making your own cheeses to canning fruits and vegetables, making condiments, soups, pasta sauces, baking breads and spectacular desserts, you can take more control of what goes into your meals and help get healthier while producing incredibly delicious feasts for your family and friends.
Jessica Fisher / Harvard Common Press Publishing
If you are constantly running around like crazy, trying to put healthy meals on the table for your family, while accomplishing everything on your lengthy to-do list, this is the book for you. Jessica is a cook after my own heart, teaching us how to make delicious meals from scratch, that don't depend on a bunch of chemical-laden ingredients. If you thought you couldn't make a delicious meal without your handy "cream of xxx" soup, you are in for a fun surprise. Jessica knows the value of making batches of ingredients and freezing them for homemade TV dinners that cost less and taste much better than anything in the frozen section of the grocery store. This book will save you time and money, making it one heck of a bargain!
Diane Morgan / Chronicle Books Publishing
Diane Morgan is an accomplished author of more than 10 cookbooks who brings her exceptional experience to our own kitchen with her impeccably written recipes, history lessons, and explanations of unusual ingredients. Roots: The Definitive Compendium is much more than just a cookbook. Diane takes on the role of professor and guides us on a journey of discovery that introduces us to vegetables such as cassava, galangal, salsify and malanga, as well as giving us new ways to use our favorites like beets, carrots and potatoes. With over 225 recipes to choose from, you will have no trouble incorporating more root vegetables in your diet and increasing the nutritional value of your meals.
Adam Roberts / Artisan Publishing
Have you ever dreamed of touring around the country, cooking with the best and most talented chefs? Adam Roberts set out to document his journey through 50 of America's best kitchens, learning the inside tricks of the pros. This book is like a semester at the Culinary Institute of America but without the exorbitant price tag. Whether it is honing your knife skills or making the perfect pie crust, this book will guide you to success in your kitchen with every recipe.
Robb Walsh / Ten Speed Press Publishing
When you think of Texas cooking, most people think of barbecue, and while that is certainly predominant in the culture, that is far from the extent of culinary delights that awaits visitors. Texas Eats covers the standards that we all love, but it also branches out to showcase the vast influences that are surprising and delightful. From the soulful Hill Country and the Panhandle with its cowboy cooking traditions to the coastal seafood feasts, there is more to Texas than just barbecue. With over 200 recipes and stunning photography, this book will have you seeing Texas through new eyes.
Tanya Steel & the Editors of Epicurious / Clarkson Potter Publishing
Epicurious is one of my favorite websites and an invaluable resource for inspiration, techniques, and ways to use unusual ingredients. Now they have put together a collection of their best, all in one place. That makes this a must have on my hit parade list!
Amanda Hesser & Merrill Stubbs / William Morrow Cookbooks
I love the philosophy behind this award-winning website and the books they produce. Recipes are submitted by readers and the most popular ones are then gathered together into cookbooks. So not only are you getting fantastic recipes, but you get to discover some of the world's finest home cooks and their blogs.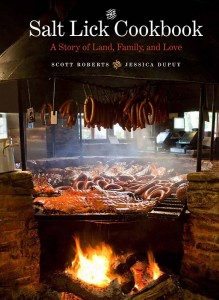 Scott Roberts & Jessica Dupuy / Salt Lick Restaurant
After hitting the Salt Lick on my last trip to Austin, Texas, I have been dreaming of recreating the smoky goodness that arrives on every single platter of food this family serves. Here is our chance to learn about the history and behind-the-scenes world of one of Texas' favorite barbecue houses. Now all I am missing is the ginormous stone pit, LOL!
Deb Perelman / Knopf Publishing
If you have been reading food blogs for any time, you most certainly have heard of Smitten Kitchen, one of the most popular of all time. Deb has finally created what we have longed for, a cookbook of new and favorite recipes. This book has all the charm we became accustomed to with simple recipes that send me running into the kitchen to create them. This is the ultimate book for people who think they can't cook from scratch because they don't have a lot of equipment or have the tiniest of kitchens. Anything is possible with Deb by your side!
Julie Richardson / Ten Speed Press Publishing
This book is a walk down memory lane for me, taking me back to my childhood and the amazing desserts my grandmother used to make for all of us. Some people may be surprised to see me include a baking book that isn't gluten-free on this list. But these classic cakes are a slam dunk for my love of heritage cooking and baking. I have recipes for gluten-free flour blends that you can substitute in these cakes, allowing you to create good-for-you desserts that are as close as possible to the originals.
Unauthorized use, distribution, and/or duplication of proprietary material on The Heritage Cook without prior approval is prohibited. If you have any questions or would like permission, I can be contacted via email: theheritagecook (at) comcast (dot) net. Feel free to quote me, just give credit where credit is due, link to the recipe, and please send people to my website, www.theheritagecook.com.
The intention of the content on this site is for your inspiration and enjoyment. It is not a substitute for advice given by a licensed health-care professional. You are responsible for medically confirming any dietary restrictions and ingredient safety with product manufacturers before consuming or using any product. If you have dietary restrictions, always read the labels before including any ingredient in your cooking.
As an affiliate member, if you click on links in my posts and purchase a product, I may receive a small percentage of the sale. Any commissions received will be used to offset a portion of the costs of running The Heritage Cook. If I have received products for review or had travel expenses covered, I will disclose that in the content of each article where applicable.
Thank You!
What are your all-time favorite cookbooks?