Memorial Day weekend is the beginning of the summer grilling season and a barbecue is the perfect way to kick it off. To make it fun and easy to plan, here are 25 Amazing BBQ Side Dishes!
From potato salads, to slaw to grilled fruits, there are a ton of recipes that will spark your imagination and may just become new family favorites!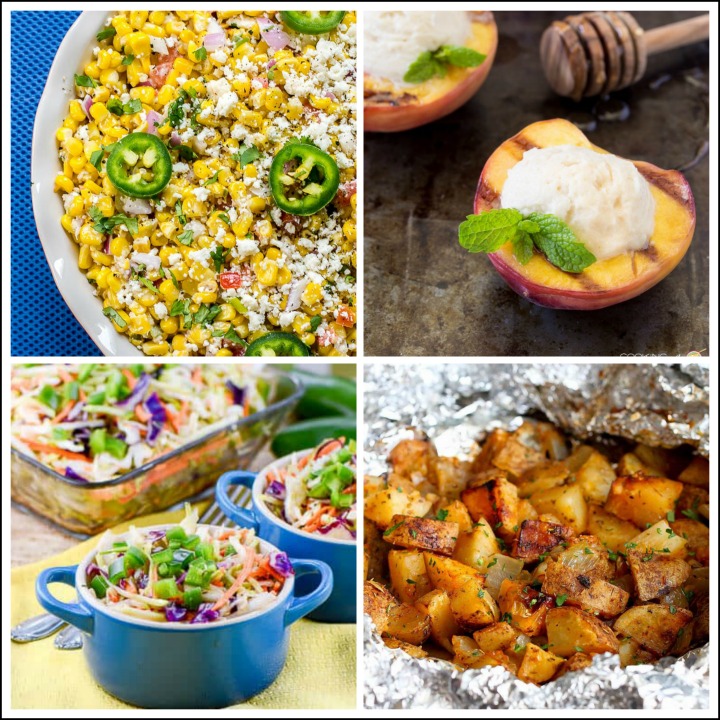 Bacon-Cheddar Potato Salad from Brandie of Home Cooking Memories
Cajun Honey Jalapeno Slaw from Michele of Flavor Mosaic
Cheesy Pull-Apart Pesto Bread (4 ingredients) from Dorothy of Shockingly Delicious
Cherry Tomato Salad from Jenn of Peas and Crayons
Ranch-Flavored Coleslaw (Gluten-Free) from Jane of The Heritage Cook
Citrus and Celery Salad with Kalamata Olives from Karen of Karen's Kitchen Stories
Moroccan Sweet Potato Salad from Taylor of Food Faith Fitness
Creamy Dill Potato Salad from Milisa of Miss in the Kitchen
Creamy Poppy Seed Kale Slaw with Pears, Pepitas, and Raisins from Faith of An Edible Mosaic
Garden Veggie Tortellini Pasta Salad from Jenn of Peas and Crayons
Gluten Free Easy Grilled Polenta with Fresh Mozzarella and Balsamic Tomatoes from Shelley of Two Healthy Kitchens
Gluten Free Grilled Zucchini and Squash Flatbread from Heather of Hezzi D's Books and Cooks
Grilled Asparagus with Tahini Lemon Sauce from Liz of The Lemon Bowl
Grilled Brussels Sprouts with Balsamic Reduction from Tara of Unsophisticook
Japanese Potato Salad with Yukon Gold Potatoes from Karen of Karen's Kitchen Stories
Grilled Corn on the Cob with Cilantro Butter (Elote) from Yvette of Muy Bueno Cookbook
Grilled Eggplant, Zucchini and Gouda Stacks from Lauren of Meals, Heels, and Cocktails
Zesty Summer Pasta Salad from Larisha of We're Parents
Grilled Peaches with Honey from Deb of Cooking on the Front Burners
Grilled Potatoes with Rosemary and Smoked Paprika from Dara of Cookin' Canuck
Mediterranean Low Carb Broccoli Salad from Taylor of Food Faith Fitness
Mexican Street Corn Salad (Elote Deconstructed) from Michele of Flavor Mosaic
Vegan Potato Salad from Marly of Namely Marly
Watermelon Salad with Sweet and Spicy Vinaigrette from Faith of An Edible Mosaic
Potato Salad with Spring Vegetables, Bacon, and Lemon Vinaigrette (Gluten-Free) from Jane of The Heritage Cook
Enjoy these 25 Amazing BBQ Side Dishes and your holiday parties. I'll be with you all in spirit while we celebrate in our home! Happy Memorial Day!
Gluten-Free Tips:
To convert recipes to gluten-free, substitute with GF ingredients where possible or if not crucial, leave it out. If you are baking, use a gluten-free flour blend and use 120 grams per cup of flour called for in the recipe. Add 1/4 tsp of xanthan gum or 1/2 tsp of psyllium husk powder per cup of flour. They both help avoid crumbly baking results. If you have questions, you can find a lot of information by clicking on the "Gluten-Free" tab at the top of the page and you are welcome to contact me for more assistance.
Create a New Tradition Today!
Welcome! Unauthorized use, distribution, and/or duplication of proprietary material from The Heritage Cook without prior approval is prohibited. If you have any questions or would like permission, please contact me. The suggestions here are not intended as dietary advice or as a substitute for consulting a dietician, physician, or other medical professional. Please see the Disclaimers page for additional details. This page may contain affiliate links. Thanks for visiting The Heritage Cook!