I love movies. Sitting in the darkened theater, watching a story unfold before you is magical to me. Directors and writers take you down different paths, eliciting reactions and emotions that may surprise and delight you. I get completely absorbed in the story, not really aware of my surroundings. Sometimes it takes me a few minutes to come back to reality. I love being swept away.
For as long as I can remember I have watched the Academy Awards ceremony, enjoying the gorgeous gowns and applauding when my favorites win. It was an annual tradition for my mother and me. We would spend hours watching, snacking on popcorn, and guessing who was going to win each category. When I met The Artist, one of our first dates was watching the Oscars. It is an integral part of my life and something I look forward to each year.
Today we are celebrating this year's nominees, "Black Swan" and "127 Hours." While vastly different stories, they both take the lead character into a reality they weren't expecting. Tapping into parts of their psyche that are normally latent, they discover aspects of themselves they never knew existed.
In "Black Swan," a young ballerina wins the role of a lifetime that will challenge every aspect of her life. "Swan Lake" is one of the world's great ballets, with music by Tchaikovsky that transports you to another reality. When considering appropriate recipes, swan isn't readily available at the grocery store so we'll go with turkey. Serving it with a complex, dark mole sauce is similar to the oppositional aspects of the roles the ballerina must embrace – the light and the dark, the White Swan and the Black Swan.
The history of mole sauce is fascinating to me. A true blending of the indigenous and European heritages of Mexico, it is said to have originated in the early colonial period when poor nuns were preparing for the arrival of their archbishop. They pulled everything they had together, chile peppers, various spices, bread, and even chocolate, and created a sauce that the archbishop loved. Modern mole contains ingredients from North America, Europe, and Africa and is a true international sensation.
For "127 Hours," the story of a young man whom, while hiking in the wilderness, fell into a chasm. With his arm pinned beneath a boulder, he faces a crucial decision. Does he wait to die or does he cut his own arm off in order to survive? Based on a true story, it is a remarkable example of the human will to live.
When preparing for today's post, my initial thought was about food so good that you would do nearly anything to get it. And when my husband said, "I wonder if there is a recipe that uses an arm…" my wicked sense of humor took over. Osso buco is the obvious choice! Made with veal shanks, it is exactly what I was looking for.
The most prevalent version, Osso Buco Milanese, comes from Milan in the Lombardy region of Italy. Particularly dominant from the 13th to 15th centuries, today Milan is a leading financial and commercial center. Osso Buco is Italian for "bone with a hole," and the cooked marrow is considered a delicacy. It is often served with Gremolata, a garnish made of raw garlic, lemon zest, and parsley which helps cut the richness of the dish and adds a bright fresh spark.
A tough cut of meat, the shank becomes meltingly tender when cooked slowly over a long period of time. It should be served with some form of starch so you can mop up all the incredible sauce. I like to set it on a bed of creamy polenta, but mashed potatoes are also a common accompaniment. Osso Buco is the kind of fare that once you've had it, it lingers in your mind like the memory of your first kiss.
Perfect for family suppers or elegant dinner parties, these entrees are sure to become part of your culinary repertoire. Enjoy both meals during these last cold days of winter. Spring is right around the corner!
Turkey Mole Poblano
2015-07-20 17:58:31
Ingredients
For the Mole
2 dried ancho chiles, stemmed and seeded
2 dried Anaheim chiles, stemmed and seeded
2 dried chipotle chiles, stemmed and seeded
1/4 cup golden raisins
Hot water
1/4 cup whole almonds
1/4 cup sesame seeds
1 tbsp whole black peppercorns
1 cinnamon stick, preferably Mexican, broken in pieces
1 tbsp dried oregano, preferably Mexican
4 sprigs fresh thyme, leaves only
3 tbsp extra-virgin olive oil
2 onions, sliced
3 cloves garlic, chopped
2 serrano peppers, stemmed and seeded
6 plum tomatoes, chopped
2 oz bittersweet chocolate, preferably Mexican, chopped
To Prepare the Turkey
1 lemon, juiced
2 turkey legs and thighs
Kosher salt and freshly ground black pepper
5 tbsp extra-virgin olive oil
2 cups chicken stock
Garnishes
1 onion, thinly sliced
Shaved radishes, for garnish
1 lime, juiced
Oaxacan Cheese, crumbled for garnish
Cilantro sprigs, for garnish
Cooked rice, for serving
Instructions
For the Mole: Tear the ancho, Anaheim, and chipotle chiles into large pieces and toast them in a dry skillet over medium heat until they change color a bit, about 2 minutes. Put them into a bowl with the raisins and cover them with hot water. Soak until softened, about 30 minutes.
In the same skillet over medium heat, add the almonds, sesame seeds, peppercorns, cinnamon stick, oregano, and thyme. Toast for 2 minutes, grind in a spice grinder, and add the powder to a blender.
In the same skillet, over medium-high heat, add the olive oil, onions, garlic, and serrano. Cook until lightly browned, and then add the tomatoes. Cook until the vegetables are soft, about 10 to 15 minutes, then add to the blender. Add the chocolate and the soaked chiles and raisins to the blender along with some of the chile soaking liquid. Puree, adding more soaking liquid, as needed, to make a smooth sauce. (This makes about 4 cups sauce, the recipe uses 2 cups; the extra can be frozen).
Prepare the Turkey: Pour the lemon juice over the turkey in a large bowl and season it well with salt and pepper. Heat 3 tbsp olive oil in a large heavy-bottomed skillet and brown the turkey on all sides Transfer the browned turkey to a plate, leaving the oil in the pan. Pour 2 cups of the mole sauce into the hot skillet and simmer for about 5 minutes. Add the chicken stock and return the turkey pieces to the pan. Simmer, covered, until the turkey is cooked through, about 20 to 25 minutes.
Meanwhile, put the onion and radish slices into a serving bowl. Add the lime juice and remaining 2 tbsp olive oil and season with salt, to taste. Mix well and sprinkle with the cheese.
Serve the turkey over cooked white rice with the onion and radish salad. Garnish everything with cilantro leaves.
Notes
Yield: 4 to 6 servings
The Heritage Cook ® https://theheritagecook.com/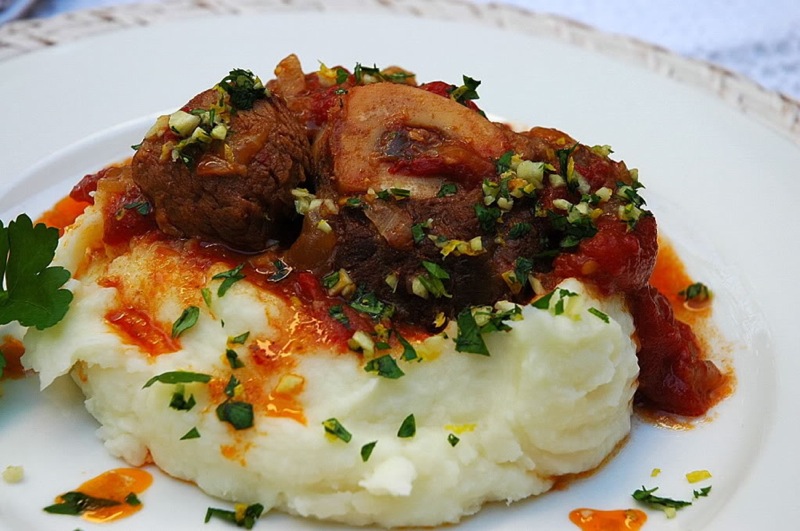 Osso Buco Milanese
2015-07-20 17:59:41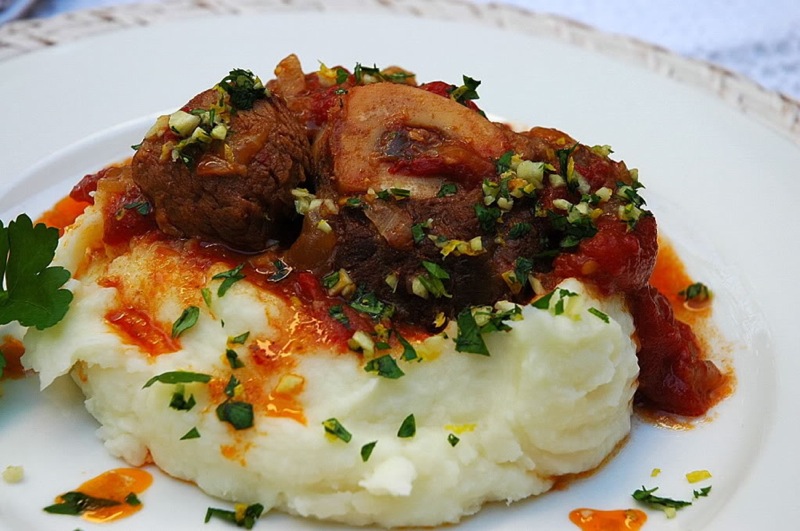 Ingredients
Osso Buco

1/2 cup flour
Salt and pepper, to taste
4 pieces veal shank on the bone, cut 3-inches thick
3 tbsp olive oil
3 tbsp butter
1 onion, chopped
1/2 cup celery, chopped
1/2 cup carrots, chopped
4 cloves garlic, coarsely chopped
2 bay leaves
3 tbsp fresh Italian parsley, finely chopped
1 cup dry Marsala
2 cups veal or chicken stock
2 tomatoes, peeled, seeded and chopped
Gremolata
Grated rind of 1 lemon
Grated rind of 1 orange
2 garlic cloves, minced
2 tbsp fresh Italian parsley, chopped
Instructions
Rinse the shanks and pat dry with paper towels. In a large heavy skillet or Dutch oven, over medium flame, heat the oil and butter. In a large shallow platter, season flour with salt and pepper. Dredge the veal shanks in the mixture and tap off any excess. Sear the shanks on all sides, turn bones on sides to hold in marrow. Add more oil and butter if needed. Remove the browned veal shanks and set aside.
Add onion, celery, carrots, garlic, bay leaves and parsley to the pan and cook until softened. Season with salt and pepper. Raise the heat to high, add the wine and deglaze the pan. Return the shanks to the pan, add the stock and tomatoes, drizzle with olive oil. Reduce the heat to low, cover and cook for about 1-1/2 hours or until the meat is tender. Baste the meat a few times during cooking. Remove the cover; continue to simmer for 10 minutes to reduce the sauce a bit.
For Gremolata: combine all ingredients together in a small bowl. Sprinkle the Gremolata over the Osso Buco before serving.
Serve Osso Buco with Creamy Polenta (recipe follows).
The Heritage Cook ® https://theheritagecook.com/
Zuni Café Polenta
2015-07-20 18:00:49
David Lebovitz' recipe adapted from The Zuni Café Cookbook, by Judy Rodgers
Ingredients
5 cups water or stock
1 cup coarsely ground polenta, preferably Bob's Red Mill Corn Grits Polenta
About 2 tsp kosher salt, or to taste
Unsalted butter, to taste
Parmigiano-Reggiano, for serving (optional)
Instructions
Bring the water to a simmer in a 2-quart saucepan. Whisk or stir in the polenta, then stir until the water returns to a simmer. Reduce the heat until the polenta only bubbles and sputters occasionally, and cook, uncovered, for about 1 hour, stirring as needed, until thick but still fluid. If the polenta becomes stiff, add a trickle of water. Taste. Add salt and a generous dose of butter. [I used 2 tsp of kosher salt and about 2 tbsp of butter.]
Transfer the polenta to a double boiler set over simmering water. Wrap the lid tightly in plastic wrap (or use a piece of parchment under the lid) and cover the polenta. Allow the polenta to rest that way for at least 30 minutes – or up to a few hours, depending on your schedule. If you don't have a double boiler, you can make a close approximation by setting the saucepan containing the polenta on a small, ovenproof ramekin centered inside a wider, deeper pot, and surrounding it with barely simmering water. Cover the pan as directed above.
Serve hot. If you want, grate some Parmigiano-Reggiano on top, though it isn't needed if you serve with the Osso Buco.
Notes
Yield: 4 to 8 servings.
If you have leftover polenta, spread it about 1 inch deep in a lightly oiled baking dish. Allow it to cool, and then refrigerate until you're ready to roast, grill, or fry it.
The Heritage Cook ® https://theheritagecook.com/
Unauthorized use, distribution, and/or duplication of proprietary material without prior approval is prohibited. I can be contacted via email at: heritagecook (at) comcast (dot) net. Feel free to quote me, just give credit where credit is due, link to the recipe, and please send people to my website,
www.theheritagecook.com.
Thank You!