This week's Food Network Sensational Sides theme is asparagus, the queen of springtime vegetables. I never liked it as a child because my mom always use canned vegetables for our dinners (bleh!), but when I got older I discovered how delicious fresh vegetables were and now it is my favorite. There is nothing better than the beautiful pencil asparagus arriving in stores and farmers' markets when the sun is shining and the days are getting longer. Seeing the bright green stalks lets us know that the huge piles of freshly picked produce heaped on each table at the market is right around the corner.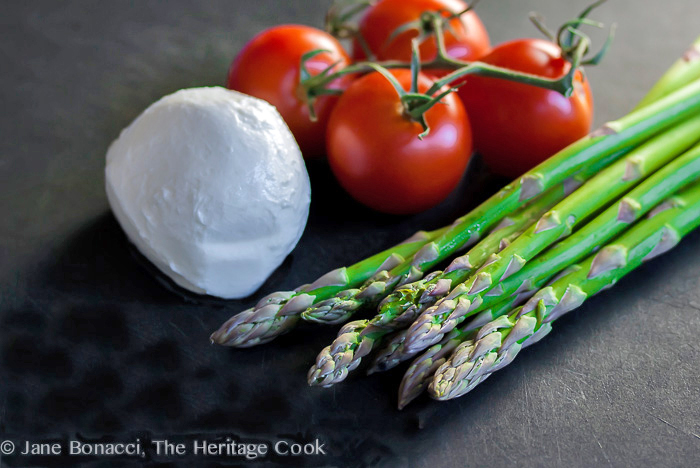 Farmers' Markets are the heartbeat of communities all around the world. Market day brings all our neighbors out to shop for everything that is grown and freshly picked within a few miles of town. Centuries after the concept was conceived, it is still a wonderful time to say hello to other regulars we see each week and marvel at the beauty of the fresh produce. Nothing pleases me more than seeing our street full of colorful pop up tents, people meandering through, sampling bites and choosing the foods that will feed their family for the next week.
As I spy all the gorgeous fruits and vegetables laid out before us, my mind spins with ideas of how to combine them into dishes for The Artist and me to enjoy. Today's recipe is full of the flavors of spring and perfect for brunch, lunch, or dinner on these gently warming days. And best of all it is naturally gluten-free!
I love Caprese Salad, an Italian classic with heirloom tomatoes, mozzarella cheese and fresh basil. There is nothing better when your garden is overflowing with vine-ripened tomatoes. These three ingredients represent the colors of the Italian flag and are often found in a variety of dishes, most notably this salad and Margherita pizza. Once the tomatoes arrive they will be the prominent ingredient, but for today I thought it would be fun to change it up a little and make asparagus the star.
Even though tomatoes aren't at their peak yet, it's OK because marinating them for a few minutes in the vinaigrette gives them a huge bump in flavor. You can use any variety you like, but heirlooms are my personal favorite. When they aren't in season, I usually buy Roma tomatoes (pear-shaped) because they have a lot of meat, few seeds and less moisture. That makes them perfect for most salads.
If you are making this later in the year and can't find asparagus at the market, you can substitute any other vegetables you like such as zucchini, cucumber, summer squash, eggplant, or potatoes, for an equally delightful dish. Have fun making up different combinations for an endless variety of salads your family will love.
On busy days this is a lifesaver. You can throw this dinner together in just a few minutes and have it on the table in about 30 minutes. A little chopping and marinating and it is done! If you leave the cheese out, you have a meal that even your dairy-sensitive eaters will happily dive into.
I had planned on serving this to The Artist as a vegetarian dinner, but he had a long bike ride to recuperate from and needed protein. So we added quickly seared chicken breasts to round out the meal. It was absolutely perfect for our beautiful spring evening. I know we will be creating it often while asparagus is fresh in the markets.
Enjoy!
Gluten-Free Tips:
This salad is naturally gluten-free. If you choose to use a store bought dressing, make sure you read the label and be certain it doesn't have any gluten in it. Dressing are one place where gluten likes to hide!
Kitchen Skill: How to Trim Asparagus
The best way to know where to cut asparagus (part of the stalk is tough and woody) is to hold one stalk at both ends and bend it until it snaps in two. Set the tender stalk next to the rest of the bunch and cut them all to that length. Discard the tough ends.
Asparagus, Tomato, and Mozzarella Caprese Salad with Lemon Vinaigrette
2015-06-17 19:52:39
Ingredients
Lemon Vinaigrette:
1 tbsp freshly squeezed lemon juice
1 tbsp champagne, sherry, or white wine vinegar
2 tsp minced shallots
1 tsp Dijon mustard
6 tbsp organic olive oil
Kosher salt and freshly ground black pepper, to taste
Pinch of sugar, if needed
Salad:
1 bunch fresh asparagus, tough ends trimmed and discarded, remaining stalks cut into bite-sized pieces
2 large or 3 medium tomatoes, cored and cut into small wedges
1 large ball of fresh mozzarella (stored in water), drained, patted dry and cut into small cubes (leave the cheese out for a dairy-free meal)
2 tsp fresh thyme leaves
4 whole large lettuce leaves, preferably butter, red or green leaf lettuce, washed and patted dry
Instructions
Start by making the vinaigrette. In a medium jar with a tight lid, combine the lemon juice, vinegar and shallots. Let it sit and macerate for about 3 minutes. This will take a little of the sharpness off the vinegar and lightly sweeten the vinaigrette. Add the remaining vinaigrette ingredients. Place the lid on the jar, tighten it and shake the jar vigorously until the mixture is smooth and emulsified. Set it aside to let the flavors marry while you make the salad.
Fill a large mixing bowl about half full with water and add ice to chill it.
Fill a 4-quart saucepan about half full with fresh water, bring it to a boil over high heat, salt it lightly and add the asparagus. Cook until the asparagus is just barely tender, about 2 to 4 minutes. The cooking time will depend on the size of the pieces and thickness of the spears. Nibble on pieces, testing until they reach the doneness you like.
Using a slotted spoon transfer the asparagus to a wire strainer. Place the wire strainer in the bowl of ice and water (the strainer will make it much easier to strain the chilled asparagus). Leave in the water just long enough to stop the cooking process and slightly cool the asparagus. Lift the strainer from the water and drain asparagus thoroughly. Transfer to another mixing bowl. Add the tomato wedges* and mozzarella cubes.
With the lid firmly closed on the jar, shake the vinaigrette vigorously to emulsify it again. Pour 1/3 to 1/2 of the dressing over the salad and toss until everything is evenly coated. Taste the salad and add salt and pepper if needed and a little more dressing if you like. Pass the extra dressing at the table and then store any that is left in the refrigerator for up to a week.
Place a lettuce leaf on each serving plate. Divide the salad evenly between the plates, placing it on the lettuce leaves. Serve immediately.
Notes
* If your tomatoes are not ripe and full of flavor, toss separately with some of the vinaigrette and let sit for about 2 to 4 minutes. Then use a slotted spoon to transfer the tomatoes to the bowl with the cheese and asparagus and continue making the salad as directed. You can use the dressing that was on the tomatoes to dress the rest of the salad.
The Heritage Cook ® https://theheritagecook.com/
Create a New Tradition Today!
This recipe is part of Food Network's weekly Sensational Sides series. See the links below for more inspiration and great recipes and check out our Pinterest page for all the recipes we have shared throughout the years!
The Lemon Bowl: 20 Asparagus Recipes for Spring
Feed Me Phoebe: White Asparagus with Herby Sabayon Sauce
Dishing with Divya: Mock Guacamole with Asparagus
Dishin & Dishes: Asparagus Spinach Coconut Soup
Creative Culinary: Grilled Asparagus with Garlic and Parmesan
Jeanette's Healthy Living: Low Carb Pasta with Asparagus Pancetta and Pine Nuts
Weelicious: Italian Asparagus Sticks
The Heritage Cook: Asparagus Caprese Salad with Lemon Vinaigrette
Napa Farmhouse 1885: Roasted Asparagus Nicoise
Red or Green: Spicy Roasted Asparagus & Leek Soup
Swing Eats: Roasted Fingerling Potatoes and Asparagus with Rosemary
The Cultural Dish: Asparagus Milanese
The Wimpy Vegetarian: Asparagus Carbonara with Garlic Crumbs
Taste with the Eyes: Savory Matzo Brei with Asparagus and Smoked Salmon
The Mom 100: It's Simple Roasted Asparagus with Shallots and Parmesan
FN Dish: The Asparagus Motto: The Simpler, The Better
Let's connect! If you ever need any entertaining or cooking advice, need to alter a recipe for gluten-free, or want recipe suggestions, don't hesitate to contact me. Thanks for reading!
Unauthorized use, distribution, and/or duplication of proprietary material from The Heritage Cook without prior approval is prohibited. This includes copying and reprinting content and photographs. If you have any questions or would like permission, I can be contacted via email. Feel free to quote me, just give credit where credit is due, link to the recipe, and please send people to my website, www.theheritagecook.com. Please see the Disclaimers page for additional details.
This site is not intended to provide medical advice. The suggestions here are not intended as dietary advice or as a substitute for consulting a dietician, physician, or other medical professional. It is the reader's sole responsibility to determine which foods are appropriate and safe for their family to consume. Always consult your doctor. The author makes no claims regarding the presence of food allergens and disclaims all liability in connection with the use of this site.
Thank You!