Today I am delighted to share one of my favorites meals with you, Filet Mignon with Homemade Béarnaise Sauce. I hope you all have a lovely holiday! While we are enjoying a day with our families, my mind is on next week's celebration of the end of 2020! Whether you are on your own or with another family member, everyone will be glad that 2020 is finally over.
When I think of New Year's Eve, I always remember my mother's Midnight Suppers. These fillet mignon with Béarnaise sauce would have been the perfect main course. My mom and dad would invite their friends to come to our house around 9pm, mom would have appetizers to go with the wine and champagne, everyone would toast the New Year at midnight and then sit down to enjoy dinner together.
Earlier in the day my mom and I would set the table with the fancy china, silver, and crystal wine glasses. We rarely used the fancy table settings so it was always a treat to see what my mother would come up with for decorations – usually leaning to silver, white, and gold, with fresh greens from the yard for fragrance and color. All the pieces that have been passed down through our family, each with a story and memory of past celebrations. Her tables were always festive and beautiful.
Béarnaise sauce was my father's absolute favorite. He grew up poor and when he finally was making money, he loved steak and ordered it often when he ate out. And if the restaurant offered it, he always had Béarnaise with it. Over the years we tried to make it ourselves, but it never came out as smooth and silky as the restaurant versions. After multiple failures we resorted to packaged sauce mixes that gave us better results but never the flavor we were looking for.
I had pretty much given up hope when I went to a cooking class with J. Kenji Lopez-Alt during the promotion of his award-winning cookbook, The Food Lab. That evening he taught us how to properly cook eggs and served them with a hollandaise sauce he whipped up in a few minutes. While that, in and of itself, isn't that big of a deal, the way he did both was remarkable and dare I say, ground breaking.
If you haven't gotten Kenji's book, you really should. As a chemist who went to MIT he took his knowledge and clinical curiosity and switched to working in restaurant kitchens learning the ropes. He applies science to his passion for cooking, improving the techniques that are commonly taught in kitchens around the globe. While I am certain many classically trained chefs would dismiss his ideas, they are perfect for home cooks and culinary students, helping us make meals that turn out perfectly every time!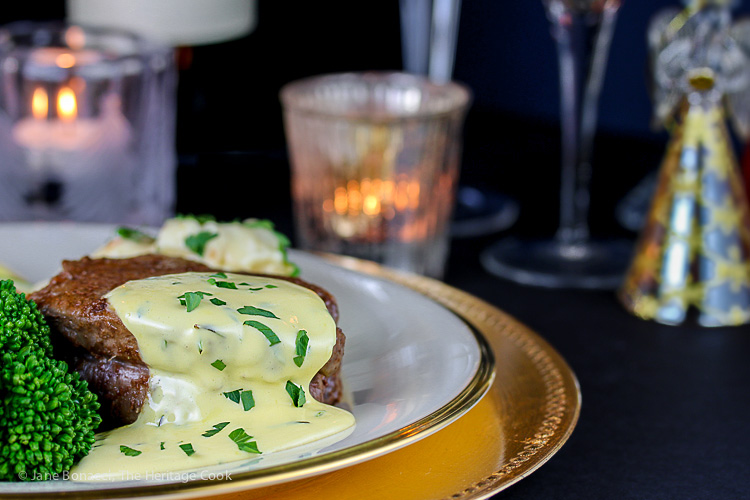 Béarnaise and Hollandaise sauces are emulsions, blends of liquids and fats that do not want to be combined and part of the Master Sauces from France. They are notorious for breaking and causing cooks to pull their hair out. But if you use Kenji's technique, they are stable and virtually foolproof.
The trick is two-fold … add hot butter to the vinegar and egg yolk mixture (instead of the other way around) while using an immersion blender to mix everything together (instead of whisking by hand). This results in a thick and creamy sauce that stays smooth and blended, even when held in a covered pot in a warm place for up to an hour! But do not let the sauce cool and try to reheat it – it won't work. Even with Kenji's technique, it is still an emulsion and they will always be finicky.
Welcome to another edition of Progressive Eats, our virtual version of a progressive dinner party where each course is held at a different home. This month's theme is a New Year's Eve Extravaganza. All of today's recipes from the team are jaw-dropping beauties, ideal for any special occasion, holiday dinners, and the perfect way to ring in the New Year! Make sure you check out the links below the recipe.
Enjoy these recipes for Filet Mignon with Homemade Béarnaise Sauce and may your holidays and 2021 be delicious and bright!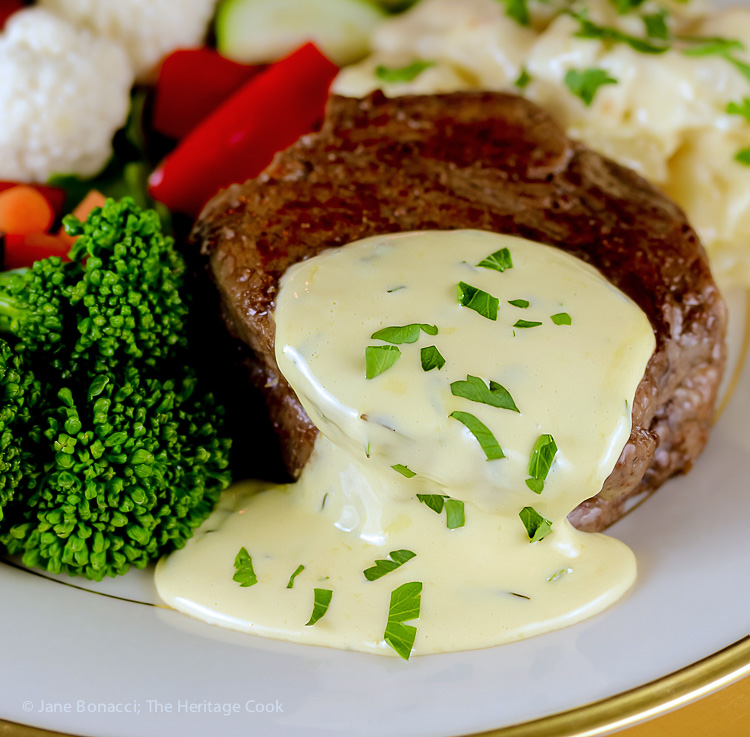 Key Ingredients for Filet Mignon with Homemade Béarnaise Sauce:
Filet mignon steaks

Olive oil

White wine vinegar and dry white wine

Tarragon, chervil or parsley

Shallot

Whole peppercorns

Egg yolks

Unsalted butter
PRO Tip:
If you wind up with extra leftover Béarnaise sauce, you can use it like you would a compound butter, to add flavor to all kinds of recipes. It would also make a terrific sandwich spread with cold sliced roast beef!
How to make Filet Mignon with Homemade Béarnaise Sauce:
Sear the steaks on all sides and edges, then transfer to the preheated oven and roast about 10 minutes or until the center registers 120°F to 125°F on an instant read thermometer

Set steaks aside to rest while you make the Béarnaise sauce; simmer the vinegar, wine, herb stems, shallots and black peppercorns; cook until reduced to about 1-1/2 tbsp

Strain liquid into small bowl through a fine wire strainer, pressing on the solids with a spoon to extract all the liquid

In a tall, straight-sided cup that just fits the head of your immersion blender, combine the vinegar reduction, egg yolks, and pinch of salt

Melt butter and transfer to a 1-cup liquid measuring cup

With the blender running in the cup with the egg yolks and vinegar reduction, slowly pour hot butter into cup, moving the blender up and down as needed; the sauce will be thick and creamy

Season to taste with salt and whisk in the chopped tarragon and chervil or parsley

Serve immediately along with the steaks
PRO Tip:
Make the Béarnaise sauce vinegar reduction earlier in the day, then you can quickly make the sauce while the steaks are resting.
Recommended Tools (affiliate links; no extra cost to you):
Gluten-Free Tips:
These recipes are naturally gluten-free!
The following recipes are part of our monthly progressive dinner party, Progressive Eats. See the links below for more inspiration and great recipes!
New Year's Eve Extravaganza!
Cocktails
Appetizer
Bread
First Course
Main Course
Filet Mignon Steaks with Homemade Bearnaise Sauce from The Heritage Cook (you are here)
Side Dish
Desserts
Create a New Tradition Today!
Welcome! The suggestions here are not intended as dietary advice or as a substitute for consulting a dietician, physician, or other medical professional. Please see the Disclaimers/Privacy Policy page for additional details. Unauthorized use, distribution, and/or duplication of proprietary material from The Heritage Cook without prior approval is prohibited. If you have any questions or would like permission, please contact me. We participate in the Amazon Services LLC Associates Program, an affiliate advertising program designed to provide a means for sites to earn advertising fees by advertising and linking to amazon.com. This page may contain affiliate links. This post was first shared in Dec 2016. The article was updated in 2020.