Welcome to another edition of Progressive Eats, our virtual version of a progressive dinner party where each course is held at a different home. This month's theme is a New Year's Eve Extravaganza and I am delighted to share one of my favorites with you, Filet Mignon with Homemade Bearnaise Sauce.
When I think of New Year's Eve, I always remember my mother's Midnight Suppers. She and my dad would invite their friends to come to our house around 9pm, she would have appetizers to go with the wine and champagne, everyone would toast the New Year at midnight and then sit down to a enjoy dinner together. These fillets and Bearnaise sauce would have been the perfect main course.
Earlier in the day my mom and I would set the table with the fancy china, silver, and crystal wine glasses. All the pieces that have been passed down through our family, each with a story and memory of past celebrations. We rarely used the fancy table settings so it was always a treat to see what my mother would come up with for decorations – usually leaning to silver, white, and gold, with fresh greens from the yard for fragrance and color. Her tables were always festive and beautiful.
Bearnaise sauce was my father's absolute favorite. He loved steak and ordered it often when he went out to lunch or dinner. And if they restaurant offered it, he always had Bearnaise with it. Over the years we tried to make it ourselves, but it never came out as smooth and silky as the restaurants' versions. After multiple failures we resorted to packaged sauce mixes that gave us better results but never the flavor we were looking for.
I had pretty much given up hope when I went to a cooking class with J. Kenji Lopez-Alt when he came through the Bay Area during the promotion of his award-winning cookbook, The Food Lab. That evening he taught us how to properly cook eggs and served them with a hollandaise sauce he whipped up in a few minutes. While that, in an of itself, isn't that big of a deal, the way he did both was remarkable and dare I say, ground breaking.
If you haven't gotten Kenji's book, you really should. As a chemist who went to MIT he took his knowledge and clinical curiosity and switched to working in restaurant kitchens learning the ropes. He applies science to his passion for cooking, improving the techniques that have been taught in kitchens around the globe for centuries. While I am certain many classically trained chefs would dismiss his ideas, they are perfect for home cooks and culinary students, helping us make meals that turn out perfectly every time!
The Food Lab is one cookbook every single cook should have in their library – it is remarkable! It is so good that it won Cookbook of the Year in 2015 by the International Association of Culinary Professionals, is a New York Times best seller and James Beard award winner! And you can find more of Kenji's recipes and guidance at Serious Eats, where he is the Managing Culinary Director.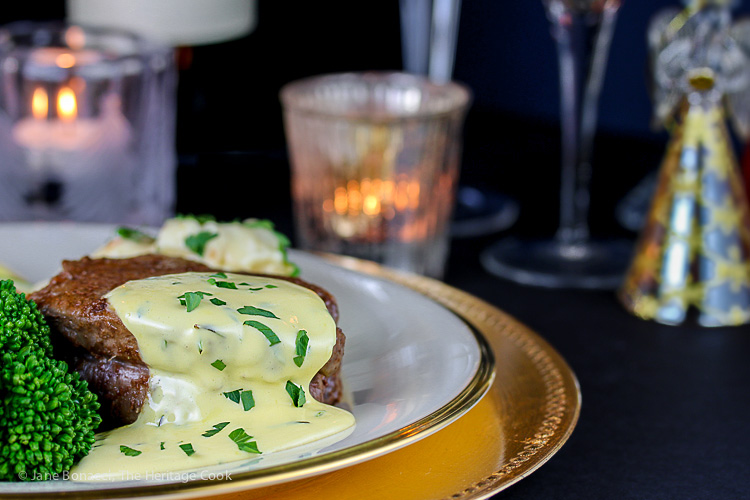 Béarnaise and Hollandaise sauces are emulsions, blends of liquids and fats that do not want to be combined and part of the Master Sauces from France. They are notorious for breaking and causing cooks to pull their hair out. But if you use Kenji's technique, they are stable and virtually foolproof.
The trick is two-fold … add hot butter to the vinegar and egg yolk mixture (instead of the other way around) while using an immersion blender to mix everything together (instead of whisking by hand). This results in a thick and creamy sauce that stays smooth and blended, even when held in a covered pot in a warm place for up to an hour! But do not let the sauce cool and try to reheat it – it won't work. Even with Kenji's technique, it is still an emulsion and they will always be persnickety.
If you wind up with extra leftover sauce, chill it and you can use it like you would a compound butter, to add flavor to all kinds of recipes. It also makes a terrific sandwich spread with cold sliced roast beef!
All of today's recipes from the #ProgressiveEats team are jaw-dropping beauties, ideal for any special occasion, holiday dinners, and the perfect way to ring in the New Year! Make sure you check out the links below the recipe, hopping from blog to blog to check them all out just like you would with a progressive dinner.
May your holidays and the new year be delicious and bright!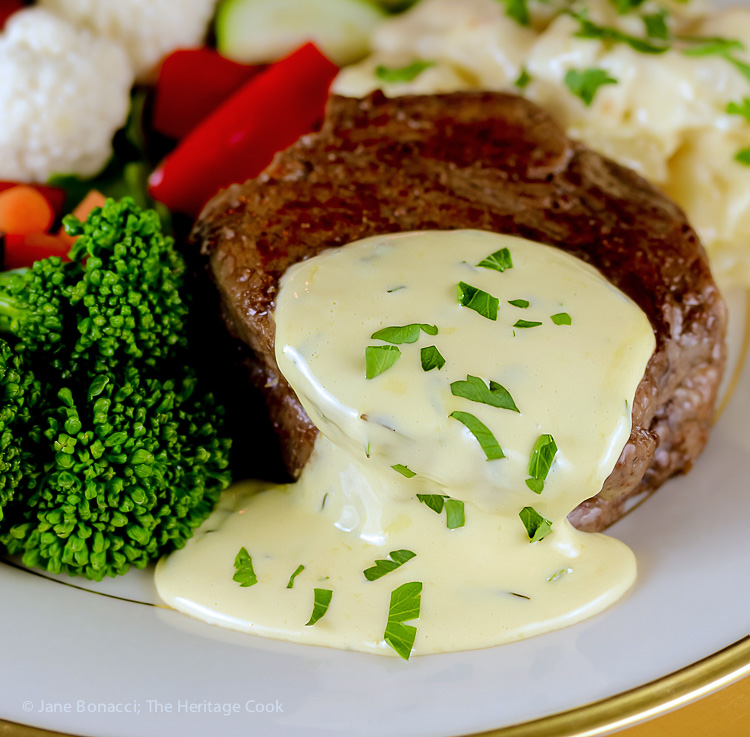 Perfectly Cooked Filet Mignon Steaks
2016-12-18 22:03:54
Technique borrowed from Ina Garten
Ingredients
2 (2-inch thick) filet mignon steaks, tied to keep them round and even
1 tbsp olive oil
Coarsely cracked black pepper
Kosher or fine sea salt, to taste
Instructions
Preheat the oven to 400°F. Heat a large ovenproof skillet (do not use non-stick), such as cast-iron or high-quality aluminum/stainless steel, over medium-high heat for 5 to 7 minutes. You want the pan screaming hot before adding the meat.
While the pan is heating, use paper towels to pat the steaks dry. Brush them lightly with the oil on all sides. Season to taste with the pepper and salt. The steaks should be evenly coated on all sides with the salt and pepper.
When the pan is extremely hot, add the steaks and sear evenly on all sides (top, bottom, and sides) for about 2 minutes per side using tongs to hold them on their edges and turning often. Sear until all sides are deeply browned.
Remove the pan from the heat, set the filets flat in the pan, then place the pan in the oven. Cook the filets for 8 to 12 minutes until an instant read thermometer inserted in the center reads 120°F for rare and 125°F for medium-rare. Transfer the steaks to a platter, cover with aluminum foil, and allow to rest for 5 to 10 minutes. This allows the juices to redistribute into the center of the meat and you can make the Béarnaise sauce while they rest.
Notes
Yield: 2 servings
The Heritage Cook ® https://theheritagecook.com/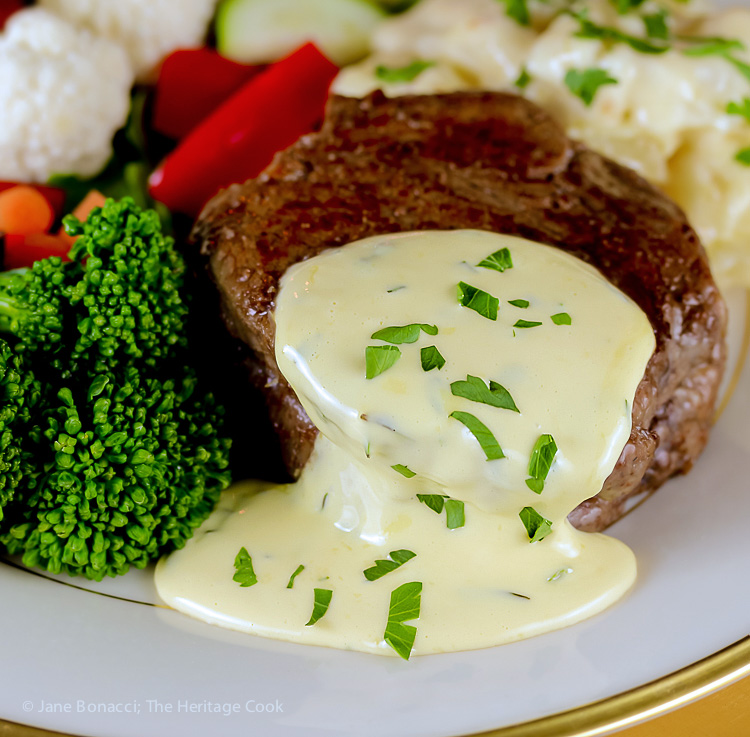 Foolproof Bearnaise Sauce
2016-12-18 22:05:43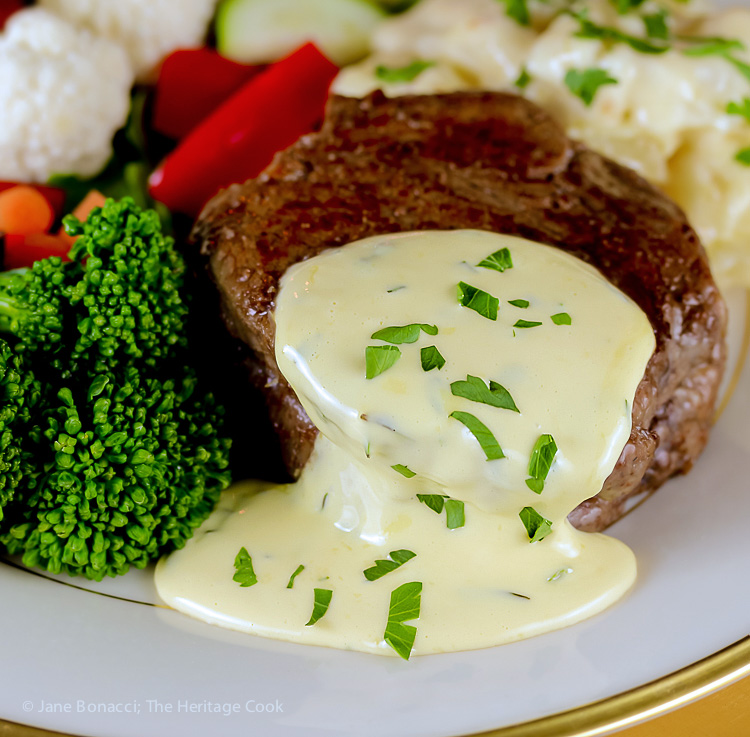 Bearnaise is an herb version of the classic French hollandaise sauce. Usually served over roasted beef or steaks, I love it so much I can eat it by the spoonful! Try it over roasted vegetables, grilled salmon, halibut or shrimp, omelets and eggs Benedict, or baked potatoes. Rich and decadent, a little goes a long way, so add a tablespoon to your foods for a luscious treat.
Ingredients
Vinegar Reduction
1/4 cup white wine vinegar
1/2 cup dry white wine
3 sprigs tarragon, leaves finely minced, stems reserved separately
3 sprigs chervil or parsley, leaves finely minced, stems reserved separately (if not using, add an extra sprig of tarragon)
1 large shallot, peeled and roughly chopped
1/2 tsp whole black peppercorns
Bearnaise Sauce
2 egg yolks
Kosher salt
1-1/2 sticks (12 tbsp; 170.11 grams) unsalted butter
Instructions
Make Vinegar Reduction: Combine vinegar, wine, herb stems, shallots, and black peppercorns in a small saucepan. Bring to a simmer over medium-high heat and lower heat to maintain a gently simmer. Cook until reduced to about 1-1/2 tablespoons of liquid, about 15 minutes. Carefully strain liquid through a fine mesh strainer into a small bowl, pressing on the solids with the back of a spoon to extract as much liquid as possible. (Note: this portion of the recipe can be made earlier in the day. Reheat before continuing.)
Prepare the Béarnaise Sauce: Combine the vinegar reduction, egg yolks, and a pinch of salt in the bottom of a tall, straight-sided cup that barely fits the head of an immersion blender. Melt butter in a small saucepan over high heat, swirling constantly, until foaming subsides. Transfer butter to a 1-cup liquid measuring cup.
Place the head of your immersion blender into the bottom of the cup and turn it on. With the blender constantly running, slowly pour hot butter into cup. It should emulsify with the egg yolk and vinegar reduction. Continue pouring until all butter is added. Sauce should be thick and creamy. If it is thin and runny (emulsion is broken), transfer to a large bowl set over a pot of barely simmering water. Whisk constantly and vigorously until sauce is thickened. Season to taste with salt. Whisk in chopped tarragon and chervil. Serve immediately, or transfer to a small lidded pot and keep in a warm place for up to 1 hour before serving. Béarnaise cannot be cooled and reheated.
To make this easier and less time consuming at the last minute, make the reduction ahead of time and rewarm before using. Then you can whip the yolks and butter together fairly quickly while your steaks are resting, having everything finish at just the right time!
Notes
Yield: about 1-3/4 cups sauce
Adapted from J. Kenji Lopez-Alt's recipe from The Food Lab cookbook
The Heritage Cook ® https://theheritagecook.com/
This recipe is part of our monthly progressive dinner party, Progressive Eats. See the links below for more inspiration and great recipes!
New Year's Eve Extravaganza!
Cocktails
Appetizer
Bread
First Course
Main Course
Side Dish
Desserts
Create a New Tradition Today!
Let's connect! If you ever need any entertaining or cooking advice, need to alter a recipe for gluten-free, or want recipe suggestions, don't hesitate to ask. Feel free to quote me, just give credit where credit is due, link to the recipe, and send people to my website. Unauthorized use, distribution, and/or duplication of proprietary material from The Heritage Cook without prior approval is prohibited. If you have any questions or would like permission, please contact me. The suggestions here are not intended as dietary advice or as a substitute for consulting a dietician, physician, or other medical professional. Please see the Disclaimers page for additional details. Thanks for joining the Heritage Cook Family!