Today, on the last Chocolate Monday of 2020, I thought it would be fun to share your top 20 chocolate recipes for the year, the posts that you found and enjoyed the most often. I hope this list helps you discover some hidden gems from The Heritage Cook and new recipes to try in 2021!
20 Dark Chocolate Brownies (Gluten Free)
Some of the best brownies I've ever made, you will love adding these to your baking repertoire
19 Chocolate Raspberry Sheet Cake (Gluten Free)
One of my favorite flavor combinations, chocolate and raspberry were made for each other! Beware, this is one dessert where you are going to have trouble stopping at one piece!
18 Root Beer Chocolate Cake with Root Beer Glaze
This is a delightful spin on the classic Coke cake. The Root Beer is subtle but it adds depth to the chocolate and definitely is a bonus in the glaze.
17 Secret Ingredient Crispy Chocolate Cookies (Gluten Free)
The secret ingredient in these wonderful cookies is a little peanut butter, just enough to give you a touch of the flavor we all love and crave!
16 Lush Dairy Free Chocolate Gelato (Gluten Free)
The trick to making this luscious chocolate gelato dairy free is using coconut milk. It takes the place of eggs and cream but gives you the same rich, silky mouthfeel in every bite.
15 The Best Chewy Brownies in the World (Gluten Free option)
If you love chewy, decadent brownies, this is the recipe for you. Adapted from a recipe by Alice Medrich, the queen of chocolate, I guarantee you will fall in love with these beautiful brownies. I think they are the best in the world, but you'll have to make them to see if you agree!
14 Chocolate Raspberry Ganache Cake
With raspberry in the ganache and a raspberry syrup, there is a burst of raspberry flavor in every bite. The recipe may seem complicated but you can make all the components in advance and then assemble it before your event. Taking each step, one at a time, makes this much easier to pull off.
13 Boston Cream Pie (Gluten Free)
Boston Cream Pie is a layer cake with a vanilla filling and topped with chocolate glaze. This version uses almond flour as part of the cake's flour blend, lending a richness that is irresistible.
12 Chocolate Covered Peanut Butter Truffles – Homemade Reeses
Truffles are surprisingly easy to make and these peanut butter balls are no exception. They are rich and delicious with a luscious chocolate coating making them a beautiful gift or treat for the family.
11 Vanilla Donuts with White Chocolate Glaze (Gluten Free)
Donuts are one of those foods you think you will never be able to eat again once you go gluten-free. But these baked beauties are a wonderful treat any time of the year. The Artist is always happy when he hears I'm going to make a batch just for him!
10 Tender Yellow Cake with Fudge Frosting (Gluten Free)
Old-fashioned desserts are some of my favorites, less fancy and fussy, they are just plain delicious. This cake is rich and decadent tasting and the frosting is totally indulgent. Just perfect for special occasions or just because you feel like baking!
9 Jeni's Truly Remarkable Darkest Chocolate in the World Ice Cream
If you've been in search of the best chocolate ice cream, you've found it. Jeni uses both cocoa powder and chopped bittersweet chocolate for a deep, chocolate flavor and enhances it even more with brewed coffee. This ice cream will have you dreaming of hot summer days, but it is so good you'll want to make it all year long.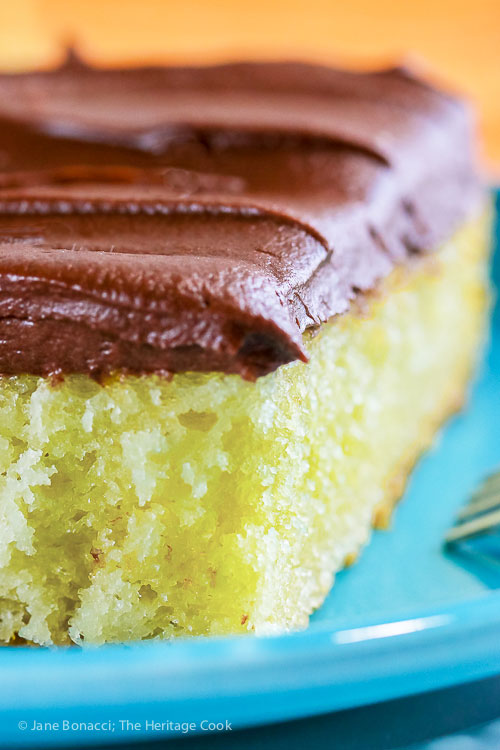 8 Gluten Free Dark German Chocolate Cake
Instead of a mild chocolate cake, this one will satisfy every craving you have for chocolate. The cup plus 2 tbsp of cocoa gives it a deep, rich flavor that stands up to the exceptionally good filling and frosting made with toasted coconut and macadamia nuts.
7 Chocolate Sheet Cake with Chocolate Caramel Frosting (Gluten Free)
This sheet cake is easy to transport if you are tasked with bringing dessert to a get together, my favorite treat to present to the host or hostess. But the real star is the frosting. A blending of cooked caramel with chopped chocolate, it is the best tasting frosting I've ever made!
6 The World's Easiest Fudge (Gluten Free)
This is truly the easiest and most fool-proof method of making fudge that I've ever found. I just made this for the holidays and gave part of it as gifts to friends … it is so good that I am tempted to eat it all myself!
5 Easiest Chocolate Mousse (Gluten Free)
I have been making this chocolate mousse for many years and it is always a hit with my guests. Simple to make, this is a great recipe to use your food processor and mixer with. Pour the mixture into wine glasses for the most elegant presentation – it really is stunning.
4 Chocolate Vanilla Marbled or Pinwheel Cookies
This recipe gives you directions for making easy marbled cookies or if you want a little more challenge, make the pinwheel shape. Both are delicious and eye-catching.
3 Chocolate and Whipped Cream Layer Cake (Gluten Free)
I love this cake. A simple layer cake with whipped cream filling, it is light and refreshing while giving you all the chocolate you are craving. Pour the ganache over the top and let it drip down the sides, no need to frost the whole cake!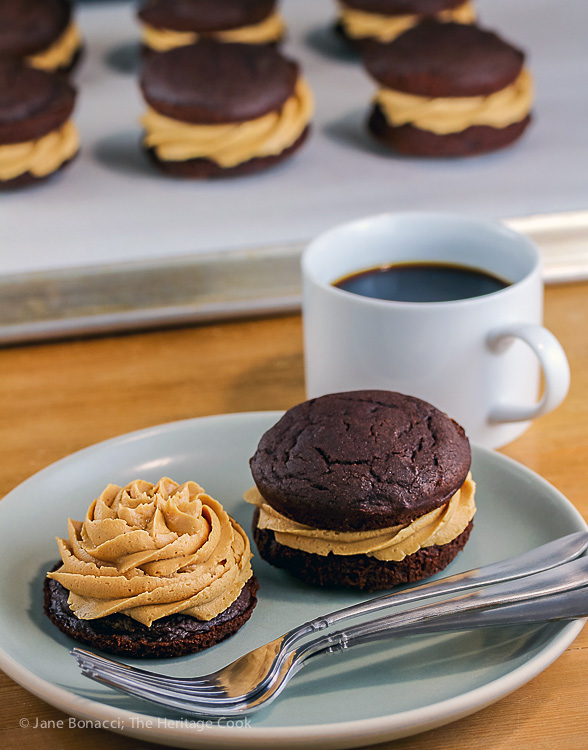 2 Chocolate Whoopie Pies with Creamy Peanut Butter Filling (Gluten Free)
These whoopie pies are such fun to make and serve. Everyone will oooh and ahhh over them, especially if you use a piping bag and tip to pipe the filling onto the cakes – it makes a dramatic and beautiful presentation!
And the number one top 20 chocolate recipes of 2020 is …
1 Gluten Free Chocolate Tiramisu
This is such a great recipe that I'm not at all surprised it is the top chocolate recipe of the year. Easy to make and spectacular to present, this is a real winner. Schar makes a delightful gluten-free version of lady fingers that work especially well in this recipe and lets you safely serve it to your gluten-sensitive/Celiac friends and family.
If you enjoyed these recipes, be sure to follow me on social media so you never miss a post:
Create a New Tradition Today!
Welcome! The suggestions here are not intended as dietary advice or as a substitute for consulting a dietician, physician, or other medical professional. Please see the Disclaimers/Privacy Policy page for additional details. Unauthorized use, distribution, and/or duplication of proprietary material from The Heritage Cook without prior approval is prohibited. If you have any questions or would like permission, please contact me. We participate in the Amazon Services LLC Associates Program, an affiliate advertising program designed to provide a means for sites to earn advertising fees by advertising and linking to amazon.com. This page may contain affiliate links.