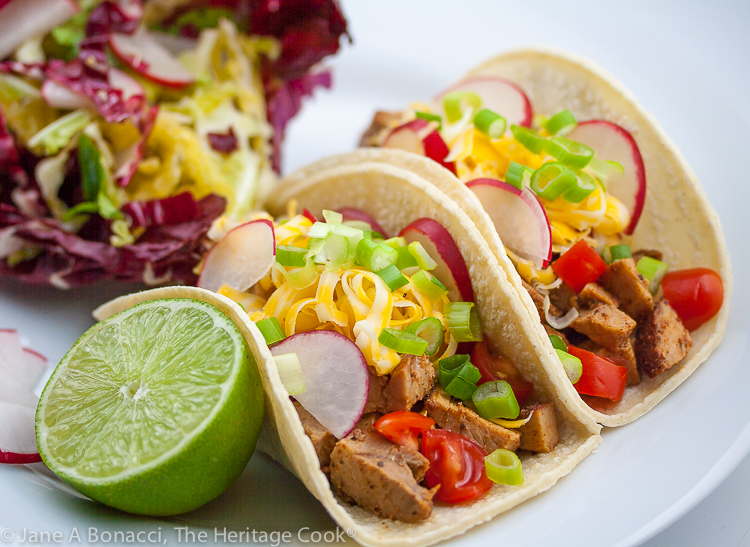 Today I've got a great recipe for you, Carne Asada Street Tacos! Packed with the flavors of Mexico and so easy to make, you and your family will love these for quick weeknight dinners!
When you walk down the streets in Mexico you are instantly surrounded by the cacophony of the street vendors, each hawking their wares. The aromas are incredible, each one more intriguing than the last, luring you on down the passages, tempting you with bites from each food cart you pass.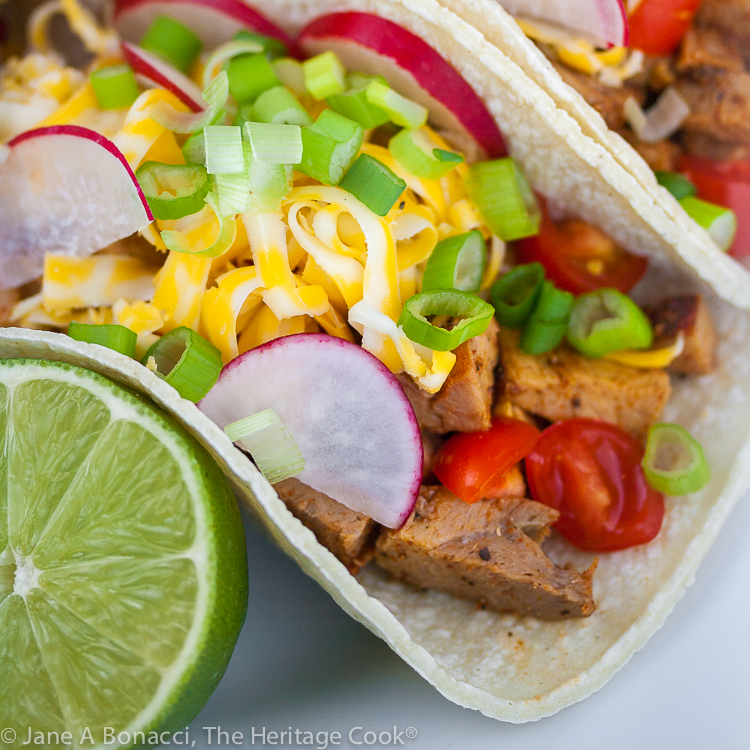 I have several taco recipes on the blog, but I've never shared Carne Asada Street Tacos with you. Well, that ends today. I know you are going to love the simplicity, easy preparation, and how fast these amazing tacos come together. You will have them on the table in no time!
If you want to get some of the preparation done ahead, you can slice and chop the meat, season with the chili powder, and set aside up to several hours in advance. Do not salt it early because it will draw the juices out and you will wind up with dry meat. Salt it once you have it in the pan and taste before you are ready to serve, adjusting the seasonings if needed.
This recipe calls for limes and oranges. Fresh fruit juices are the way to go with this recipe. Anything bottled will be much less intriguing in the final dish. There is nothing like fresh citrus to add pop and brightness to your food!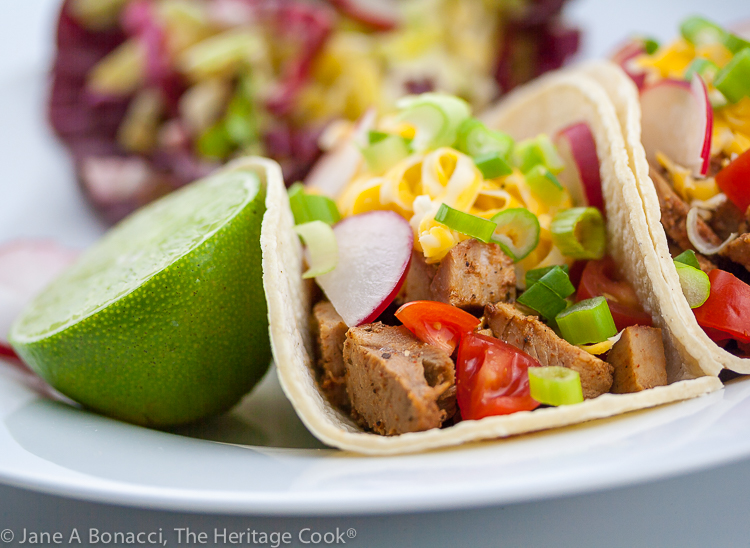 To get the most juice from your citrus, use a wooden reamer. It has a natural texture that gets every drop. There are many types of juicers, but the simplicity of this one wins in my book.
I am delighted to share with you a new #ProgressiveEats virtual progressive meal! We took a short hiatus and regrouped to bring you a wonderful collection of recipes based on this month's theme, Food Truck Fare. What a fun topic! Our hostess is Anshie of Spiceroots. Be sure to check out her website … her recipes are always intriguing and delicious!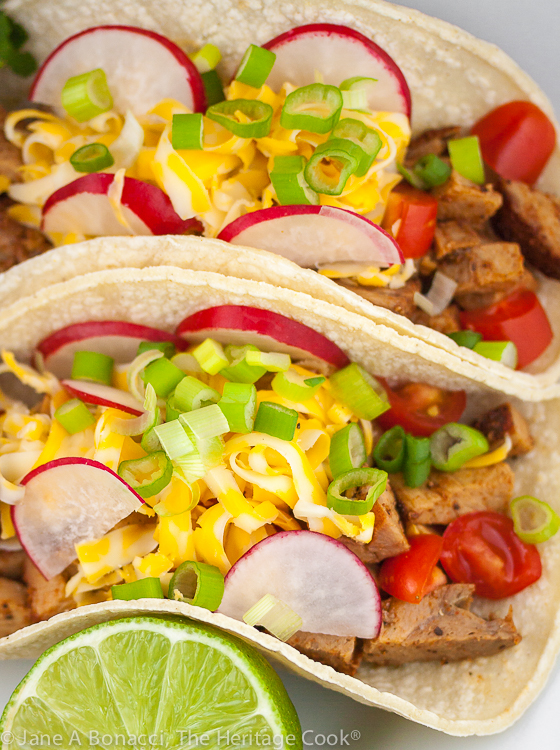 I hope you love these Carne Asada Street Tacos and that they show up on your dinner table soon – maybe for Cinco de Mayo this year. Enjoy!
Key Ingredients for Carne Asada Street Tacos
Flank steak or skirt steak

Chili powder

Small onion

Fresh limes and orange

Vegetable and olive oil

Corn tortillas (gluten-free if needed)

Toppings: lettuce, radishes, salsa, cheese, cilantro, lime wedges
Can I use a different cut of meat for this recipe?
Yes, you can use pretty much any beef you have on hand or even swap it out with chicken or pork. The cooking times may vary if you make a change. Be sure that whatever you choose, it is a fairly tender cut so it doesn't take too long to cook!
PRO Tip:
When you look at the raw flank steak or skirt steaks, you will see the fibers running along the meat – this is called "the grain". Those fibers are tough and make the meat very chewy. If you cut against the grain or in the opposite direction of the fibers, the meat becomes noticeably more tender. When working with whole tougher cuts of meat, score the meat by pre-slicing against the grain, about halfway through the piece. This will make it much more tender and easier to eat.
How to make Carne Asada Street Tacos:
Thinly slice the steak then cut into bite-sized pieces.

Sauté the meat and onions with the chili powder and lime and orange juices. Stir often until cooked through.

Warm the corn tortillas lightly in another skillet.

Fill the tortillas with the meat mixture and add your choice of toppings; serve immediately with lime wedges.
Kitchen Tools I Use to Make This Recipe
Gluten-Free Tips:
The only places where gluten might sneak in are in the chili powder, cumin, and the corn tortillas. Penzey's and McCormick's are good choices for herbs and spices – they both are very good about letting us know which ones have gluten in them. And in the case of tortillas, many makers add wheat flour to their corn tortillas to make them more flexible. Watch carefully in both cases and read the labels to be sure there is nothing hidden in there.
Yield: 4 to 6 servings
Carne Asada Street Tacos (Gluten Free)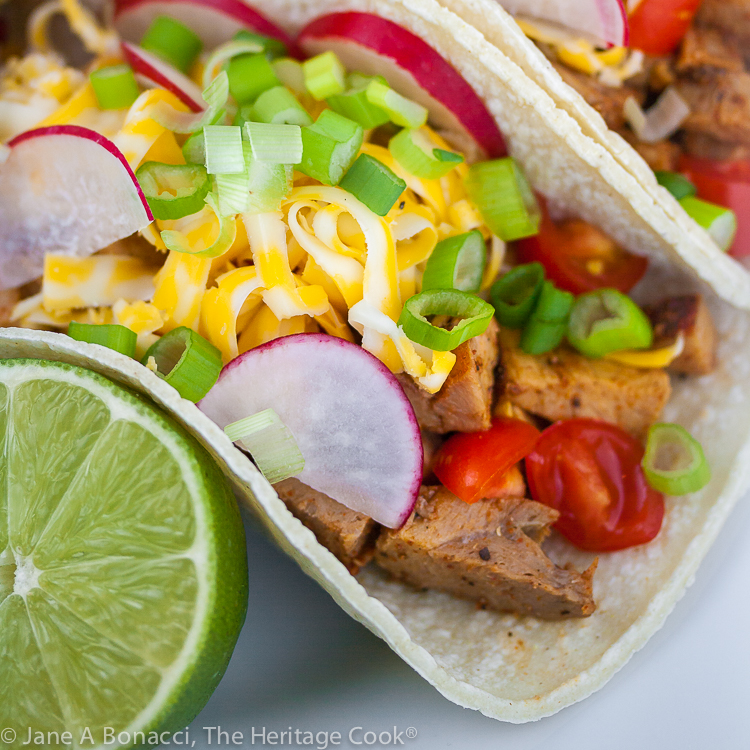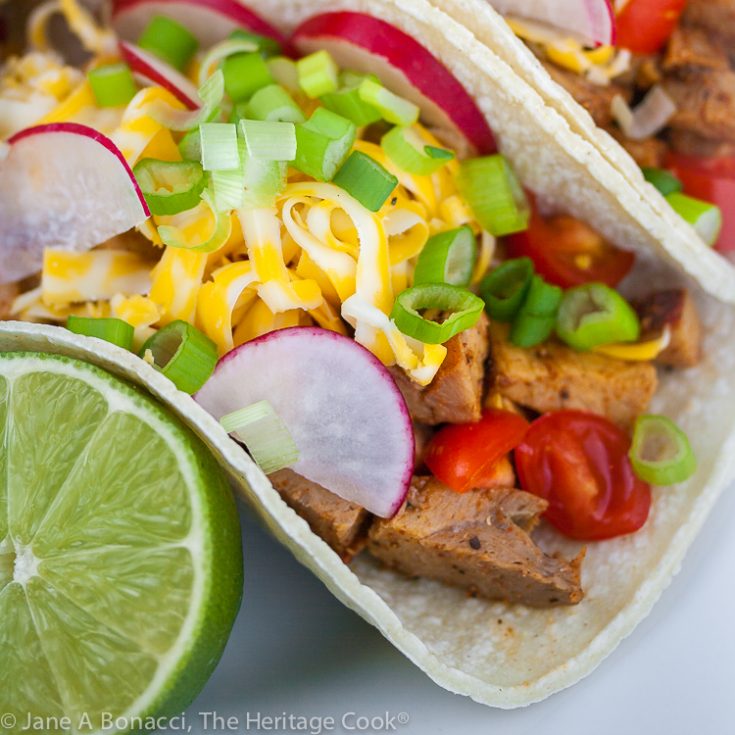 These Carne Asada Street Tacos are packed with the flavors of Mexico and so easy to make, you and your family will love them for quick weeknight dinners!
Ingredients
Meat Filling
2 to 3 lb flank steak or skirt steak, fat trimmed
1 tbsp chili powder (gluten-free if needed)
2 tsp ground cumin
1/2 tsp garlic powder (not garlic salt)
2 tablespoons vegetable oil
1 small onion, finely chopped
2 fresh limes
1/2 fresh navel orange
Kosher salt and freshly ground black pepper
8 to 12 medium corn tortillas (gluten-free if needed)
Optional Toppings (pick your favorites)
Shredded lettuce
Radishes, cut into slivers
Sliced green onions
Shredded cheese
Fresh cilantro leaves
Fresh lime wedges
Instructions
Thinly slice the steak against the grain, then cut crosswise into bite-size pieces. Toss the meat cubes with the chili powder and garlic powder.
In a large skillet, heat the oil over medium-high heat and when shimmering, add the meat. Add the onions to the skillet. Squeeze the lime and orange juices over the top. Sprinkle with salt and pepper and toss to combine. Continue cooking, stirring often, until the meat is cooked through. Taste and adjust the seasonings if needed.
Heat another skillet. Warm the corn tortillas for 1 minute on each side until they are soft.
Place 2 tortillas on each plate. Spoon the meat mixture into the tortillas. Add your choice of toppings and serve with lime wedges.

Welcome to Progressive Eats, our virtual version of a progressive dinner party where each course is held at a different home. With Progressive Eats, a theme is chosen each month, members share recipes suitable for a delicious meal or party, and you can hop from blog to blog to check them out. We have a great mix of recipes including main dishes, sandwiches, and desserts.
See the links below for more inspiration and great recipes!
Food Truck Food
Savory
Sweet
If you love this recipe, be sure to follow me on social media so you never miss a post:
| Facebook | Pinterest | Instagram | Twitter |
Create a New Tradition Today!
Welcome! Unauthorized use, distribution, and/or duplication of proprietary material from The Heritage Cook without prior approval is prohibited. The suggestions here are not intended as dietary advice or as a substitute for consulting a dietician, physician, or other medical professional. Please see the Disclaimers/Privacy Policy page for additional details. If you have any questions or would like permission, please contact me. This page may contain affiliate links. Thanks for visiting The Heritage Cook!