"The only stumbling block is fear of failure. In cooking you've got to have a what-the-hell attitude." –Julia Child
And with that quote in mind, in 2012 I dove into my very first gluten-free baking project, these wonderful cookies!
I have to admit that after decades of baking experience, my stomach was in knots at the thought of gluten-free baking. I had heard so much about needing a healthy sense of humor and to expect many failures before you achieve success that I was downright scared. I just knew that no matter what I tried to make, it was going to be a huge struggle and likely take two to three attempts before I could get a product that would be good enough to share with you.
I couldn't have been more wrong.
Of course, being the detail-oriented person that I am, I did my homework. When I was diagnosed with gluten-intolerance, I was crushed, and then I hit the Internet and read everything I could find on the disease and gluten-free baking. I knew savory cooking was going to be simple, so I didn't bother reading much about that. It was baking with all its chemistry that I feared.
I bought cookbooks, three of them specifically about baking and proceeded to do my research. After clearing out my pantry and cupboards of all wheat-containing products, I bought and ordered all of the ingredients I would need.
All of a sudden I had a huge stack of all my new flours; white rice, brown rice, sorghum, potato starch, tapioca starch, almond meal, amaranth, and of course xanthan gum. It takes a lot of ingredients to make up for the lack of gluten in traditional recipes. And a few tricks up your sleeve don't hurt!
If you are going to be doing a lot of baking, the easiest thing is to mix up a gluten-free version of all-purpose flour and use that in place of regular flour in your favorite recipes. Most of the books called for several different blends to be used and one called for SIX! The more I read though, I realized that I would need one that mimics white all-purpose flour with little to no flavor of its own. If I could find a primary blend, I could adapt it as I chose for other recipes.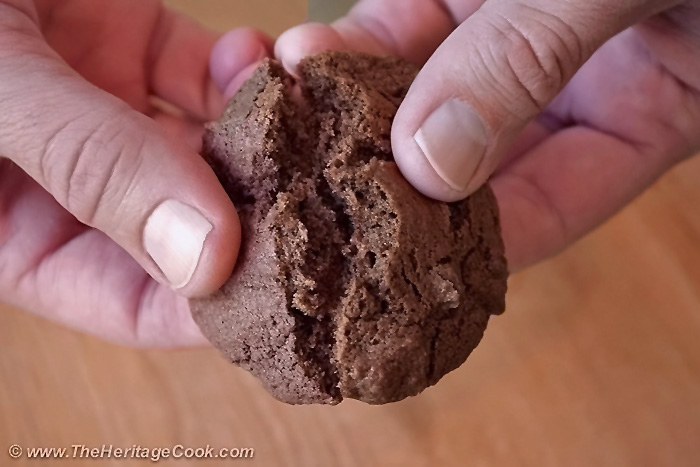 I chose Silvana Nardone's blend from Cooking for Isaiah and one of her recipes for my first project. A smart choice if I do say so myself because I would proudly put these cookies up against any I have made with regular flour in the past!
I first met Silvana at the annual IACP conference in a presentation on regular and gluten-free bread baking. At the time I didn't pay much attention to the gluten-free recipes, but when they passed around the mini corn muffins that Silvana had baked for us, I couldn't stop eating them. I even got up and went to the back of the room where I could sneak extras! I couldn't believe that anything that delicious could be gluten-free.
Silvana is a delightful, confident, compassionate, loving mother who took her experience as a cookbook author, food editor for Food & Wine and Every Day with Rachael Ray, and bakery owner to retool her baking, accommodating her son's dietary restrictions. Isaiah is allergic to both gluten and dairy products, so she had to completely start from scratch. Her story of what she did to make Isaiah feel "normal" is heartwarming.
She didn't want him to have to give up any of his favorite foods and she wanted to heal Isaiah with foods that wouldn't hurt him. As a mother she knew she needed to be able to get breakfast, lunch, and dinner on the table quickly and easily without cooking separate meals for different family members. She wanted to create foods that were just as delicious and great to look at as their gluten-full counterparts.
After reworking all of her family's favorites, she expanded her repertoire and eventually wrote her cookbook in honor of her son. You can make any recipe from this book, serve it to your family and friends without telling them it is gluten-free and they won't know the difference. It is a remarkable feat of ingenuity, skill and patience.
Silvana covers the whole spectrum of recipes, from appetizers through breakfast, salads, soups, rice and pasta, sandwiches and pizza, main dishes, sides, baked goods, and of course desserts. There is certainly something for everyone.
With these delicious cookies under my belt, I strode into the world of gluten-free baking with a lot more confidence. If you are new to GF baking or know someone who is making the transition, start with this recipe and get your own success story. Your family will love your efforts!
Jane's Tips and Hints:
The original recipe made just enough cookies to tease me so I doubled it for you. If you don't want to bake the whole batch at once, chill the dough about 20 minutes to firm it up, roll it into a log and wrap tightly with parchment paper. Notate the required oven temperature and baking time on the parchment and then wrap with plastic wrap. Freeze logs of dough up to 3 months. When ready to bake, slice logs into disks and bake about 12 to 15 minutes or until done.
Gluten-Free Tips:
You can use a purchased gluten-free flour blend (such as King Arthur's) or make your own using the recipe provided. Always check the labels to be certain there are no gluten ingredients. If in doubt, contact the manufacturer.
If you are gluten-intolerant, have celiac, or are cooking and baking for people with sensitivities, I would highly recommend you buy Cooking for Isaiah. It is easy to substitute Silvana's all-purpose blend for the flour in any of your favorite recipes. Just measure 120 grams for every 1 cup of regular flour. The only thing I would recommend is to make up a large batch of the blend, store it in an airtight container with a tight lid, and make sure you shake it well before each use. Some of the gluten-free flours have a tendency to clump a bit and with the xanthan gum included in the mix, you want to be sure everything is well blended.
Chewy Double Chocolate Chunk Cookies (Gluten-Free)
2015-06-19 11:37:20
Ingredients
1 cup all-purpose flour or Silvana's All-Purpose Gluten-Free Flour blend
1/4 cup unsweetened cocoa powder * (gluten-free)
1 tsp baking powder
1/2 tsp baking soda
1/2 tsp salt
1/2 cup (1 stick) unsalted butter or vegetable shortening, at room temperature
1/2 cup firmly packed light brown sugar
1/4 cup granulated sugar
1 large egg, at room temperature
1 tsp pure vanilla extract
1 cup chopped semisweet chocolate chunks (gluten-free)
Instructions
Preheat the oven to 375°F. Line two baking sheets with parchment paper. In a small bowl, whisk together the flour, cocoa, baking powder, baking soda, and salt. Set aside.
In a large bowl and using a fork, beat together the shortening, brown sugar and granulated sugar until fluffy, about 2 minutes (I used my stand mixer). Beat in the egg and vanilla. Gradually add the flour mixture and blend until totally incorporated. Scrape the sides and bottom of the bowl with a flexible spatula. Stir in the chopped chocolate.
Using a 1-1/2 inch scoop or a rounded tablespoon, drop the dough 1 to 2 inches apart onto the prepared baking sheets.
Bake in preheated oven, swapping and spinning the trays front to back and top to bottom halfway through, until just slightly firm when you gently press the top, 10 to 12 minutes (my oven took about 14 minutes). Let cool for about 2 minutes on the baking sheet. Using a spatula, transfer to a wire rack to cool.
Notes
Yield: about 2-1/2 dozen 2-inch cookies
* Replace cocoa powder with 6 tbsp additional flour or GF flour if you want regular chocolate chip cookies
Adapted from Silvana Nardone's "Cooking for Isaiah"
The Heritage Cook ® https://theheritagecook.com/
Create a New Tradition Today!
Let's connect! If you love The Heritage Cook, you can follow me on Pinterest, Facebook, and Twitter. If you ever need any entertaining or cooking advice, need to alter a recipe for gluten-free, or want recipe suggestions, don't hesitate to email me ([email protected]). Thanks for reading!
Unauthorized use, distribution, and/or duplication of proprietary material from The Heritage Cook without prior approval is prohibited. This includes copying and reprinting content and photographs. If you have any questions or would like permission, I can be contacted via email ([email protected]). Feel free to quote me, just give credit where credit is due, link to the recipe, and please send people to my website, www.theheritagecook.com. Please see the Disclaimers page for additional details.
This site is not intended to provide medical advice. The suggestions here are not intended as dietary advice or as a substitute for consulting a dietician, physician, or other medical professional. It is the reader's sole responsibility to determine which foods are appropriate and safe for their family to consume. Always consult your doctor. The author makes no claims regarding the presence of food allergens and disclaims all liability in connection with the use of this site.
Thank You!