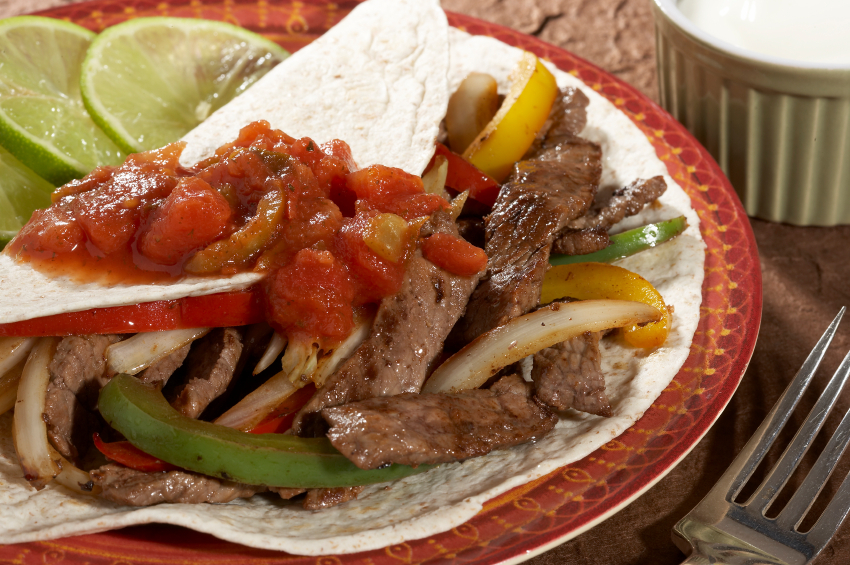 The Artist and I usually take short holiday vacations, staying three or four days within easy driving distance. We live in the San Francisco Bay Area and there are so many wonderful places to visit, we have a long list of local favorites. In the 2001 we decided to have a true vacation and planned a 10-day visit to New Mexico. It was our first trip to this part of the Southwest. Santa Fe had fascinated both of us, with its vital art community and intriguing history so different from where we grew up. I made the plans and off we went.
We arrived late in the day and went to a local restaurant for dinner. While being serenaded by a mariachi band, we ate true New Mexican food for the first time. After scalding our mouths on the chips and salsa, we quickly learned that what we considered hot was mild to the locals. A bowl of steaming posole was eye opening for me. I had never tasted anything like it. Rich flavors exploded in a perfectly balanced soup. It was incredible. The entire meal awoke taste buds I never knew I had, with each course better than the one before. By the time we left the restaurant, we were both in love with the cuisine and determined to experience as much of it as possible during our vacation.
The next day we drove to Santa Fe, fascinated by the undulating, brilliantly colored landscape around us. When you look up you see the most vivid blue with bright white clouds moving across the sky. This contrasts with the red soil, as if an artist has come through and painted the entire area. Within minutes of leaving the city limits, you are in the middle of the high dessert. The hills are layered with golds and reds, blending into the distance as you look out on the broad vistas. There are surprising areas of intense green grass and trees growing alongside the rivers and streams. The Chama River is enchanting, flowing quickly and yet smoothly along its path, cutting a swath among the mesas.
It was the first time we ever saw "dry rain," a phenomenon in the Southwest. You can see the rain falling from the dark clouds, but then it evaporates before it hits the ground! As a result their annual rainfall is quite low and residents often have to deal with drought conditions. It made us appreciate the area even more – here are people who choose to live in a somewhat hostile environment, and they are passionate about it. After spending 10 days there, we are completely enraptured with New Mexico and all the stories you hear about the "magic" are true. If you ever have the chance, plan your own trip to New Mexico!
I was captivated by everything I experienced while there and returned home with a deeper understanding of myself. The majesty of the area and the forces that created it changed me forever. The people of the area truly understand the meaning of community. They embrace their differences and celebrate their similarities. New Mexico is a blending of three distinct cultures, Native American Indian, Mexican, and Anglo. Somehow, over the course of time, they learned to live together in harmony and it is this harmony that draws people from around the world to their doorstep.
The native foods exhibit the same blending of cultures. You may have experienced Mexican, Tex-Mex, and Americanized Mexican food, but unless you have visited New Mexico, I doubt you have ever eaten this incredible cuisine. They have what many consider the finest chiles in the country and once you've tasted them, you will recognize their unique flavor immediately. When served raw or lightly cooked, they have a bright, almost citrusy quality. But they are most often served grilled, often over open fires, creating an addicting smoky heat. When we arrived in New Mexico we were uninitiated to true chile spice, but by the time we left, our palates had become accustomed to the searing heat and now we crave it. We dream of going back someday and falling under the spell of Santa Fe and New Mexico all over again!
The Artist and I love Mexican food, and living in California we are lucky to have some wonderful restaurants available to us. We are well versed in the traditional menu offerings and were comfortable ordering in the Santa Fe restaurants. We had eaten fajitas at many restaurants, but the plates we were served weren't like anything we'd ever had before. The meat had been marinated with a seasoning that blended perfectly with the grilled vegetables served alongside. The tortillas were the freshest we had ever had and were made with blue corn. We became addicted to them and are always on the lookout for mail order sources. If you know of any good ones, let me know!
Today's recipe comes from the Santa Fe School of Cooking.Taking a class at the local cooking school is a tremendous way to learn about the native ingredients used by the regional chefs. These classes give you the skills and knowledge you need to reproduce your favorite meals. I had so much fun when I took the class and learned many techniques that I still use today. .The Santa Fe school also has an online market where you can buy everything you need to recreate your dining memories.
I love fajitas, but these are extra special. The marinade makes all the difference! Fajitas are normally served with tortillas on the side so you can make your own combination of ingredients, but you can also serve them pre-assembled, stacking them open faced on top of fresh tortillas, like a flat taco. No matter how you choose to serve them, your family will make sure these are on your "Must Make Again" list!
Jane's Tips and Hints:
If all you have is previously ground spices, you can toast those in a dry skillet over medium heat. Toast just until you can smell the aroma of the spices. Be careful not to burn them.
Kitchen Skill: Toasting Whole Spices
Toasting spices releases their natural oils and enhances their flavors. Place whole spices in a dry skillet over medium heat. Cook, stirring often, until you can smell the spices. Remove from the heat and cool slightly. Transfer to a mini food processor or coffee grinder designated specifically for this purpose and grind. Use as directed in recipes.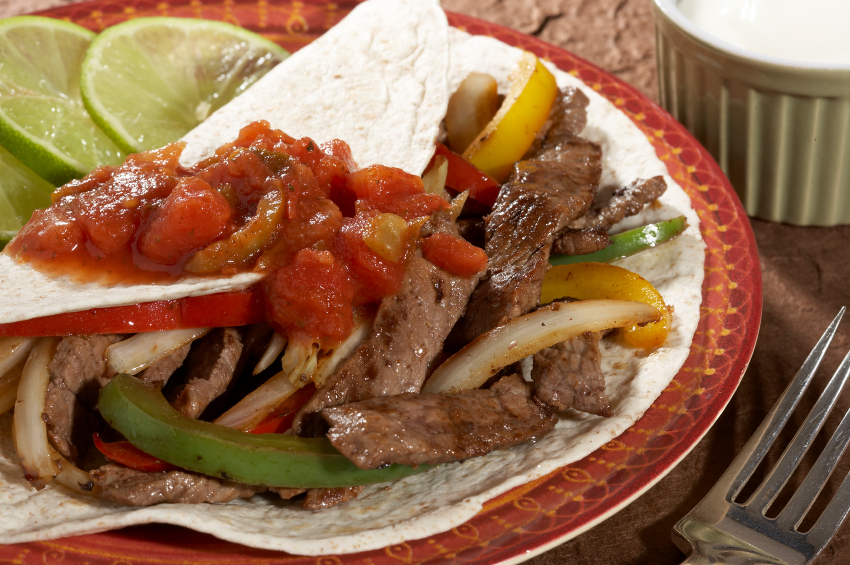 Chipotle Marinated Steak Fajitas
2015-07-19 15:09:40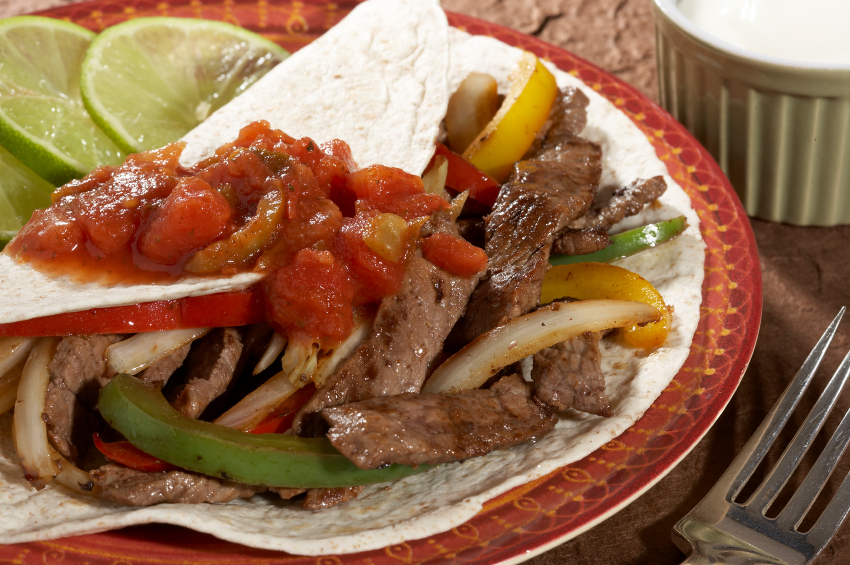 Ingredients
Chipotle Marinade
1 small white onion, peeled, cut into large pieces
6 garlic cloves, peeled
2 tbsp toasted coriander seeds, ground
2 tbsp toasted cumin seeds, ground
2 tbsp pureed Chipotle en Adobo, or to taste
2 tbsp dark brown sugar
2 tbsp olive oil, optional
Kosher salt to taste
Steak Fajitas
1-1/2 lb top round steak or flank steak, trimmed of fat
Kosher salt, to taste
Freshly ground black pepper, to taste
Freshly squeezed lime juice
6 large, thin flour tortillas
Accompaniments
Chopped fresh tomatoes
Chopped cilantro
Chopped lettuce
Grilled onions
Lime wedges
Guacamole
Sour cream
Shredded cheese
Instructions
Make the Marinade: Pulse the onion and garlic in a food processor until finely chopped. Add the ground coriander, cumin, chipotle, brown sugar and oil, and pulse to combine thoroughly. The mixture should resemble a thick paste. Season to taste with salt.
Prepare the Steaks: Rub steak with the marinade and set aside for at least 30 minutes at room temperature.
Preheat the grill 30 minutes before you want to cook the steak. Season the meat with salt, the freshly ground pepper and sprinkle with the lime juice.
Grill to medium rare over high heat, about 1 minute per side. Remove from the grill and cut into strips with the grain of the meat.
Lightly toast tortillas over a flame. Top tortillas with meat strips and serve with accompaniments.
Adapted from Santa Fe School of Cooking
The Heritage Cook ® https://theheritagecook.com/
Unauthorized use, distribution, and/or duplication of proprietary material without prior approval is prohibited. If you have any questions or would like permission, I can be contacted via email at: heritagecook (at) comcast (dot) net. Feel free to quote me, just give credit where credit is due, link to the recipe, and please send people to my website,
www.theheritagecook.com.
Thank You!