Do you love chocolate? Do you crave little bite-sized treats? Do you want the easiest cookies in the world to make that everyone will enjoy? I have the perfect recipe for you – these chocolatey, rich, decadent and gluten-free crinkle cookies are the best ones I make. I have been making a regular version of them for years, but hadn't adapted them to gluten-free until today. Yea, they are still delicious!
Gluten-free cookies are not difficult to make, and if you use a super fine ground flour, they will not have the common sandy texture of most gluten-free baked goods. I usually use my standard GF blend (found here) but I was nearly out and didn't have one of the ingredients needed to mix up another batch. So I went into my stash of goodies and found a bag of Pure Pantry All Purpose Baking Mix. I have to say I was pleasantly surprised at the quality of the cookies. The Pure Pantry has gotten good reviews from my friends and now I see why. The texture isn't quite as good as my normal blend (I use Authentic Foods Superfine Rice flours) but it is darn close. It is perfect in a pinch like today and if you only occasionally need to bake gluten-free.
The original recipe calls for pecans to be ground into the flour, but I decided to use almond meal instead – it is already ground and saved me a step! The almonds are a wonderful source of protein and fat, adding richness to the finished cookies as well as some texture. It is one of my favorite additions to gluten-free baked goods.
For the best texture, eat these cookies the day you bake them. While good the next day, the texture changes and the cookies get denser. They're still delicious, just not quite as perfect as the first day. I like to bake off only what we want for a single day and save the rest of the dough for later. Make sure to stir the batter well after it has been sitting to incorporate any accumulated liquid in the bottom of the bowl. It keeps in the refrigerator for two to three days or in the freezer for up to one month.
Unless I am baking for a large crowd, I usually portion out the dough and roll it into logs. Wrap the logs first in parchment. I write the oven temperature and how long to bake them on the parchment and then wrap the logs in plastic for airtight storage. That way I can slice and bake fresh from the oven cookies anytime.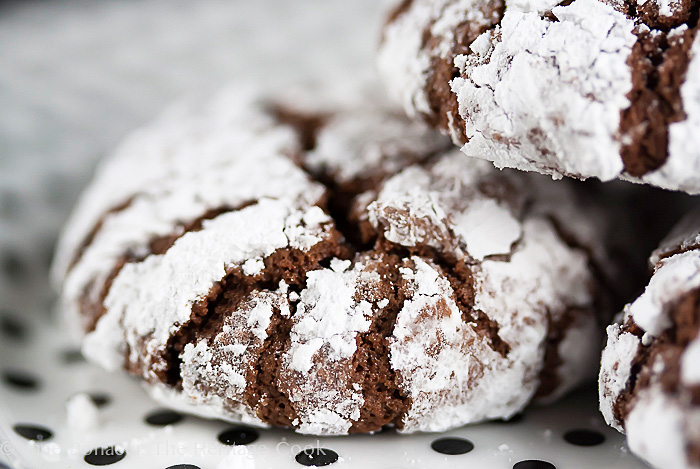 The Artist gets into the act when he rummages through the freezer and finds cookie dough. He is like a child on Christmas day – thrilled to have fresh cookies just a few minutes away! You do not have to let the dough thaw before using. Use a very sharp knife and cut into 1/4-inch thick slices. You can dip both sides of the slices in powdered sugar, or leave it off. The cookies will not crack on top as much if the dough is sliced versus being rolled into balls but they will be just as delicious.
If someone you know is having a down day, these are guaranteed to lift their spirits. You will probably find that they become one of your most requested baked items.
"There are four basic food groups: milk chocolate, dark chocolate, white chocolate and chocolate truffles." – Author Unknown
Have a wonderful week and Happy Chocolate Monday!!
Jane's Tips and Hints:
While you can use regular powdered sugar, there is a kind that doesn't melt called Snow White Topping sugar from King Arthur. You will have no frustration from cookies that don't look like they have been powdered. Even days later the cookies look they were just baked without the need to re-roll them. It is perfect for these cookies, lemon bars, gingerbread, or any other moist baked items that usually absorb the sugar. It was one of my tricks when I was doing competition baking. The cakes and cookies I made with a sprinkling of powdered sugar looked as though I just applied it even a day or two later!
Gluten-Free Tips:
Use your favorite gluten-free all-purpose flour blend, baking soda, and chocolate for this recipe. As always, make sure you read the label before including any ingredient if you are baking for someone with severe reactions to allergens.
Gluten-Free Chocolate Crinkle Cookies
2015-06-24 16:30:46
Ingredients
1/2 cup (1 stick) butter, cut into cubes
8 oz unsweetened chocolate, coarsely chopped
1 cup almond meal/flour
2 cups gluten-free all-purpose flour blend
2 tsp baking powder (gluten-free)
1/2 tsp kosher or sea salt
2 cups granulated sugar
4 large eggs
2 tsp vanilla extract
About 2 cups sifted powdered sugar, for coating
Instructions
In a heatproof bowl set over a medium saucepan with about 1 inch of simmering water. Melt the butter and chocolate together, stirring occasionally. When the chocolate is nearly all melted, remove from heat and stir until smooth. Set aside to cool.
In a mixing bowl, combine the almond meal, flour blend, baking powder and salt. Whisk together to thoroughly blend, Set aside.
In the bowl of your standing mixer, combine the sugar, eggs and vanilla. Beat on medium speed until smooth and creamy. With the mixer on low speed, blend in the butter/chocolate mixture. Beat until completely incorporated. Add the flour mixture and beat on low until no white streaks remain.
The dough will be quite soft at this point. Cover the bowl with plastic wrap and refrigerate until the dough is firm to the touch, about 1 hour.
Set racks in the center of the oven and preheat to 325 degrees F. Line two baking sheets with parchment paper or Silpats. Sift the powdered sugar into a shallow pie plate and set it next to the baking sheets.
Scoop balls about 2 table spoons each. Put the balls into the plate of sugar and roll each ball until heavily coated. Place them at least 2 inches apart.
Bake the cookies for about 12 minutes, spinning the baking sheet and alternating from the top to bottom halfway through baking. The cookies will crack as they bake creating deep crevices in the white sugar. They are done when they have a slight crust on top with a little resistance when you gently press them.
Remove the baking sheets from the oven and leave the cookies on the sheets for a couple of minutes before transferring them to a wire rack to completely cool. Store in an airtight container.
Notes
Yield - about 4 to 5 dozen 2-inch cookies
The Heritage Cook ® https://theheritagecook.com/
Create a New Tradition Today!
Unauthorized use, distribution, and/or duplication of proprietary material from The Heritage Cook without prior approval is prohibited. This includes copying and reprinting content and photographs. If you have any questions or would like permission, I can be contacted via email at theheritagecook (at) comcast (dot) net. Feel free to quote me, just give credit where credit is due, link to the recipe, and please send people to my website, www.theheritagecook.com. Please see the Disclaimers page for additional details.
This site is not intended to provide medical advice. The suggestions here are not intended as dietary advice or as a substitute for consulting a dietician, physician, or other medical professional. It is the reader's sole responsibility to determine which foods are appropriate and safe for their family to consume. Always consult your doctor. The author makes no claims regarding the presence of food allergens and disclaims all liability in connection with the use of this site.
Thank You!