These Chocolate Chip Cookie Sundaes are delightful. They are rich and indulgent, just what I want to help ease my way into a new week!
The cookies are rich, chewy, and packed with flavor from the browned butter, brown sugar, and molasses. The toffee bits enhance the caramel and the chocolate chips make these clearly near the top of the list of chocolate chip cookies I've made. I could have eaten the whole batch, but it was late and we were headed out early the next morning so I wrapped them up and would photograph the finished cookies later.
When I portioned the dough, I used a medium ice cream scoop and as they baked, they flattened out into 4-inch-wide but thin cookies. While absolutely delicious, they weren't the most attractive cookies I've baked. This is where creativity kicked in.
As The Artist and I drove up to Napa for the day, my mind was spinning … how could I plate the cookies to make them appealing in photographs? I've learned a lot of tricks in the 8+ years of doing Chocolate Mondays and gotten pretty good at making my chocolate creations fun and festive. But flat, lumpy cookies are fairly challenging.
While we chatted about other things and ran our errands, my mind was working on my photography challenge. It is remarkable how the brain works even when we aren't aware of it. How many times have you gone to sleep trying to figure something out and you wake up with the perfect solution? It always amazes me.
That happened to me yesterday. Somewhere during our day out, I came up with an idea … why not turn the flat cookies into the base of an ice cream sundae? Bingo! These are like an open-faced ice cream sandwich, but one with fudge sauce to make it look like a sundae without a bowl.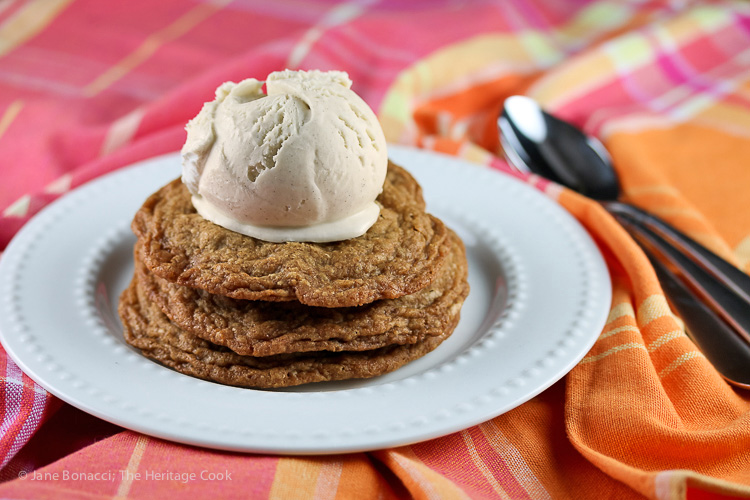 I stacked 3 cookies, dropped a scoop of ice cream on the top and finished it with warm chocolate sauce. Doesn't it look scrumptious! This is one dessert that everyone in your neighborhood will love – kids and adults alike. And I have to tell you … these cookies were born to be served with ice cream. This is a winner combo!
Have a delicious week, enjoy these Chocolate Chip Cookie Sundaes, and have a very happy Chocolate Monday!
Jane's Tips and Hints:
Always use a light colored stainless steel saucepan when you are browning butter. A dark pan will not let you see the color as it changes and you may end up with burned butter instead. If you are using heavy-duty pans that conduct heat well, take it off the heat earlier than you think you should, allowing the residual heat in the pan to finish the browning for you. You can always put it back on the burner if you need to.
Gluten-Free Tips:
Use a gluten-free flour blend and be sure the toffee bits and chocolate you use are gluten free.
Yield: about 24 cookies
Chocolate Chip Cookie Sundaes (Gluten Free)
Ingredients
3/4 cup (1-1/2 sticks / 6 oz) salted butter, cut into chunks (preferably European-style)
2-1/3 cups (280g) all-purpose flour or gluten-free flour blend
1 tsp baking soda
1/2 tsp kosher or fine sea salt
3/4 cup firmly packed brown sugar
1/2 cup granulated sugar
1 large egg + 1 egg yolk
1 tbsp molasses (not blackstrap)
1 tbsp pure vanilla paste or extract
1 to 2 tsp water, if needed
1 cup toffee bits (Hershey's brand is gluten-free) or similar product
1 cup semisweet chocolate chunks or chips
Vanilla ice cream
Hot fudge sauce (gluten-free if needed), warmed
Instructions
Preheat the oven to 350°F. Line two baking sheets with parchment. Set the bowl from your standing mixer next to the stove.
Melt the butter in a saucepan over medium-low heat. When it starts to foam and sputter, swirl the pan often, keeping the butter moving. Swirling the pan moves the foam aside and lets you watch what is happening beneath it. The sputtering is from the water in the butter. Once that has boiled off, watch more carefully. When the butter turns deeper golden, starts to smell a little nutty, and you see brown bits at the bottom of the pan, remove from the heat and pour into the bowl of your stand mixer. Set aside to cool.
While the butter is cooling, in another bowl, whisk together the flour, baking soda, and salt. Set aside.
Add both the sugars to cooled melted butter. Beat until well combined and you can comfortably hold your hand on the bottom of the bowl, about 3 to 5 minutes. The butter needs to be cool enough that it won't scramble the egg! Add the whole egg, the yolk, molasses, and vanilla, and beat until well combined and smooth, about 1 minute. Add the dry ingredients, a little at a time, and beat on low until fully incorporated. Scrape the bowl often to be sure you have all the ingredients fully incorporated. Add the toffee bits and chocolate chips and beat until just combined.
If you want rounder, softer cookies, chill the dough for about 1 hour before baking. For flatter, wider cookies, bake immediately.
Use a spring-loaded ice cream scoop to portion the dough onto the prepared baking sheets, leaving at least 2 inches between to allow for spreading. Bake for 10 to 12 minutes or until the cookies are golden brown, spinning and swapping the sheets, front to back and top to bottom about halfway through.
Remove from the oven, leave the cookies on the pan for a couple of minutes to firm up before transferring to a wire rack to cool thoroughly.
Place 1 or 2 cookies on each serving plate, top with a scoop of ice cream and drizzle with warmed chocolate sauce. Serve immediately.
Create a New Tradition Today!
Welcome! Unauthorized use, distribution, and/or duplication of proprietary material from The Heritage Cook without prior approval is prohibited. If you have any questions or would like permission, please contact me. The suggestions here are not intended as dietary advice or as a substitute for consulting a dietician, physician, or other medical professional. Please see the Disclaimers/Privacy Policy page for additional details. This page may contain affiliate links. Thanks for visiting The Heritage Cook!