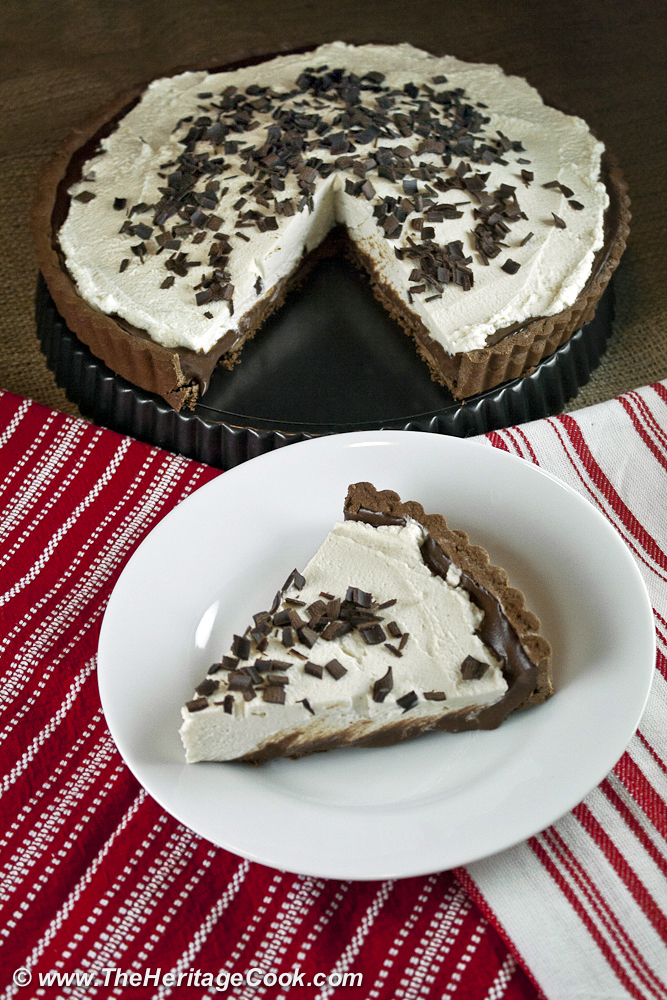 Tiramisu (tehr-ah-mees-oo) is a dessert found in nearly every Italian restaurant in the United States, but it is a relatively newcomer to Italian cuisine. It is usually made by layering espresso-soaked sponge cake or Lady Finger cookies with sweetened custard and topped with grated chocolate or sifted cocoa powder. The use of sweetened mascarpone cream is a relatively new ingredient.
Because it is made ahead and may sit for several days in the refrigerator before serving, the dessert you get at restaurants is seldom outstanding. As a matter of fact, I usually avoid it because I am so often disappointed. If you want a traditional Italian dessert, try a plate of biscotti (cookies) with an espresso. Today's recipe is a delightful departure from the traditional soggy mess I usually see served. The only commonality with a traditional tiramisu is the use of mascarpone cream and the influence of a coffee-flavored liqueur or espresso.
Starting with the crunchy chocolate crust, this tart is a chocoholic's dream dessert. It is similar to a chocolate cream pie, but oh so much more decadent. The primary difference between pies and tarts is the type of crust. Pies usually are made with a flaky crust. A tart often has more of a cookie crust. Also pies remain in their baking dishes but with tarts you remove the outside ring and serve them on their round metal inserts.
The color of your baking pans makes a difference in how they perform in the oven. If your tart pan is shiny aluminum, it will reflect some of the heat and create a lighter crust. A dark surface will absorb more heat, resulting in a darker crust. When you are baking chocolate desserts in dark-colored pans, be extra careful to avoid burning.
The silky chocolate filling is flavored with Kahlua and rum, mimicking the espresso in original tiramisu recipes. Because there are no eggs in this filling, you don't have to worry about cooking it. But it is made with cream so keeping it well chilled is essential to avoid spoilage. And it will melt quickly if left out of the refrigerator very long. Don't let this dessert sit on a buffet table for hours – serve it fresh from the refrigerator for best results.
If it seems that there is a high percentage of alcohol in the filling and topping, don't forget that flavors are somewhat suppressed when you serve any item chilled. If you don't want to use alcohol, substitute an equal amount of brewed espresso or strong coffee. I keep espresso powder on hand to enhance the flavor of all my chocolate desserts.
Instead of rum today I used a very special treat brought to The Artist by our friend Tarek from France to flavor the tart filling. It is a plum-infused liqueur that is absolutely addicting. Thank you again Tarek, the Andre Thuet Vieille Prune made this an incredibly special dessert!! I told you I would figure out a recipe where this would be the perfect addition 😉
If you think you can simply top this tart with sweetened whipped cream, you will be disappointed. The mascarpone cream in the topping adds a luxury that you don't want to skip. The mascarpone adds extra butterfat that is unmistakable on your tongue. You may have heard the term "mouthfeel" in food and wine writing. It refers to the physical sensation that a food or drink creates in the mouth and on the tongue. If you made two tarts, one with the mascarpone and one with plain whipped cream, and ate a bite of each the difference would be astounding.
All the components of this dessert can be made ahead and stored separately overnight. Then an hour or two before serving, you can assemble the tart, helping to keep the crust as crunchy as possible. If you are transporting the dessert, do not top the filling with the mascarpone cream. Whip it up and place it in a plastic container. It is much easier to pack up the chilled tart on its own and then spread the topping over the filling when you arrive at your destination. And don't forget to take your grated chocolate and curls for decorating!
When you are working with chocolate recipes, they will often contain a percentage listed next to the chocolate. This is an indication of how much cocoa mass or chocolate liquor is contained in the chocolate. The higher the percentage, the darker the color, more intense the flavor and lower sugar content. If a chocolate has 70% cocoa mass, it will contain 30% sugar.
Unfortunately, a higher percentage on the label does not guarantee a high quality chocolate. Some less reputable manufacturers will use lower quality beans, roasting them longer to mimic the deeper flavor of high quality beans. This results in a strong bitterness and sometimes a soapy flavor. Don't waste your money – always buy from a well respected chocolatier. Some of my favorites are Scharffen Berger, Guittard, Valrhona, Cocoa Berry and Callebaut.
If you have a local chocolatier whose products you love, ask them which chocolate they use. Most are happy to share the brand name but not the actual techniques they use. If you cannot find the chocolate in your neighborhood, you can buy online from these sources:
Sweet Earth Organic Chocolates
Enjoy this outstanding dessert that is perfect for any special occasion. The chocoholics in your life will thank you!
Some historical information was sourced from What's Cooking America, written by the talented Linda Stradley – one of my favorite sites on the Web!
Jane's Tips and Hints:
Gluten-free dough is easier to work with at room temperature. If you are using gluten-free flour, roll out dough between two sheets of lightly floured parchment paper until it is 1/2-inch larger than your tart pan. Set the pan next to your dough, remove the top piece of parchment and flip dough into tart pan. Gently fit into pan, pressing into the corners and edges. Brush off any excess flour with a dry pastry brush.
Fix any tears that happen by pressing a little of the extra dough as needed to patch. Use your rolling pin to cut off excess dough by rolling it over the edges. Wrap pan in plastic and then chill about 15 minutes. Once chilled, remove the plastic wrap, prick the bottom crust with a fork and bake as directed above. The remaining elements are naturally gluten-free.
This gluten-free crust is very crumbly but delicious. Letting it sit overnight after pouring in the filling will actually transfer some of the liquid to the crust and improve its texture. This makes it the perfect make-ahead dessert, especially good for busy days during the holidays!
Chocolate Mocha Tart with Kahlua Mascarpone Cream
2015-07-02 17:30:23
Ingredients
Chocolate Tart Shell
1/2 cup (1 stick) butter, softened
1/2 cup confectioner's sugar
3/4 tsp vanilla
2 large egg yolks
1-1/4 cups flour (gluten-free option, see below)
1/4 cup cocoa powder, sifted
Chocolate Cream Layer
1-1/4 cup whipping cream
1-1/4 cup finely chopped high quality semisweet chocolate (about 65%)
1 tbsp rum, optional
Kahlua Mascarpone Cream
1 cup whipping cream
1-1/2 cups mascarpone cheese, at room temperature
3 tbsp confectioner's sugar
2 tbsp rum, optional
Garnish
5 oz high-quality semisweet chocolate, grated, plus chocolate curls (see Kitchen Skill, above)
Instructions
Chocolate Tart Shell: Cream the butter and sugar together. Add the vanilla and the yolks, scraping down the bowl as needed. Add the flour and cocoa, mixing on low just to combine.
Form dough into a flattened round disk, wrap in plastic and chill for at least an hour before rolling. (If using the gluten-free option, see Tips and Hints above.)
Set a rack in the center of the oven and preheat to 350°F.
Roll out dough and ease into an 11-inch diameter tart pan with a removable bottom. Press the dough into the edges of the pan and use the rolling pin to trim off excess from the top. Prick the bottom of the tart all over with a fork and bake for approximately 20 minutes, or until firm when pressed lightly in the center and starting to pull away from the sides of the pan. As with any chocolate baked goods, be careful not to overcook and burn the crust - trust your nose to know when it is done!
Remove from the oven and set on a wire rack to cool.
Chocolate Cream Layer: Place the chocolate in a heatproof bowl. Set aside.
In a medium saucepan, heat the cream to boiling over medium-high heat.Pour over the chocolate. Stir with a whisk until the chocolate is completely melted. Stir in the Kahlua (or espresso) and rum. Set aside to cool.
Pour slowly into the cooled tart shell (to avoid air bubbles) and refrigerate until set and firm, at least 4 hours or overnight if you have the time.
Kahlua Mascarpone Cream: Using the whip attachment on your standing mixer or whisking by hand, whip the cream to medium peaks. Transfer the whipped cream to a bowl and set aside.
In the now empty mixing bowl, beat the mascarpone cheese just until smooth; do not overbeat. Reduce speed to low, beat in the sugar, then the rum and Kahlua. Fold in half the whipped cream by hand to lighten the mascarpone, and then add the rest folding it in until completely incorporated.
Using an offset spatula, gently spread mascarpone cream on top of the chocolate layer in the tart shell, mounding it in the center. Sprinkle grated chocolate over the top, and then garnish the center with chocolate curls if desired.
Keep refrigerated until serving.
Notes
Yield: 8 to 10 servings
Allow adequate time for chilling
If you are transporting this dessert, make the whipped cream topping and store it separately from the tart. Once at your location, spread cream over the tart, garnish with chocolate shavings and curls, wrap in plastic and refrigerate again before serving. The chocolate shavings will help keep the plastic wrap from sticking to the cream topping. You can also use toothpicks to help suspend the plastic wrap above the topping.
Adapted from Bernard Chocolates
Adapted from Bernard Chocolates
The Heritage Cook ® https://theheritagecook.com/
Gluten-Free Flour Blend
2015-07-02 17:31:05
Ingredients
6 cups white rice flour, preferably Bob's Red Mill
3 cups tapioca flour, preferably Shiloh Farms
1-1/2 cups potato starch, preferably Bob's Red Mill
1 tbsp salt
2 tbsp xanthan gum, preferably Bob's Red Mill
Instructions
In a large bowl, whisk together all the ingredients. Transfer to an airtight storage container with a tight lid and store in a cool, dry place or in the refrigerator.
Whisk or shake thoroughly before each use to redistribute all the ingredients.
Adapted from Silvana Nardone's Cooking for Isaiah
The Heritage Cook ® https://theheritagecook.com/
Unauthorized use, distribution, and/or duplication of proprietary material on The Heritage Cook without prior approval is prohibited. If you have any questions or would like permission, I can be contacted via email: theheritagecook (at) comcast (dot) net. Feel free to quote me, just give credit where credit is due, link to the recipe, and please send people to my website, www.theheritagecook.com.
The intention of the content on this site is for your inspiration and enjoyment. It is not a substitute for advice given by a licensed health-care professional. You are responsible for medically confirming any dietary restrictions and ingredient safety with product manufacturers before consuming or using any product. If you have dietary restrictions, always read the labels before including any ingredient in your cooking.
As an affiliate member, if you click on links in my posts and purchase a product, I may receive a small percentage of the sale. Any commissions received will be used to offset a portion of the costs of running The Heritage Cook. If I have received products for review or had travel expenses covered, I will disclose that in the content of each article where applicable.
Thank You!
Do you have any questions or comments? I love to hear from you!