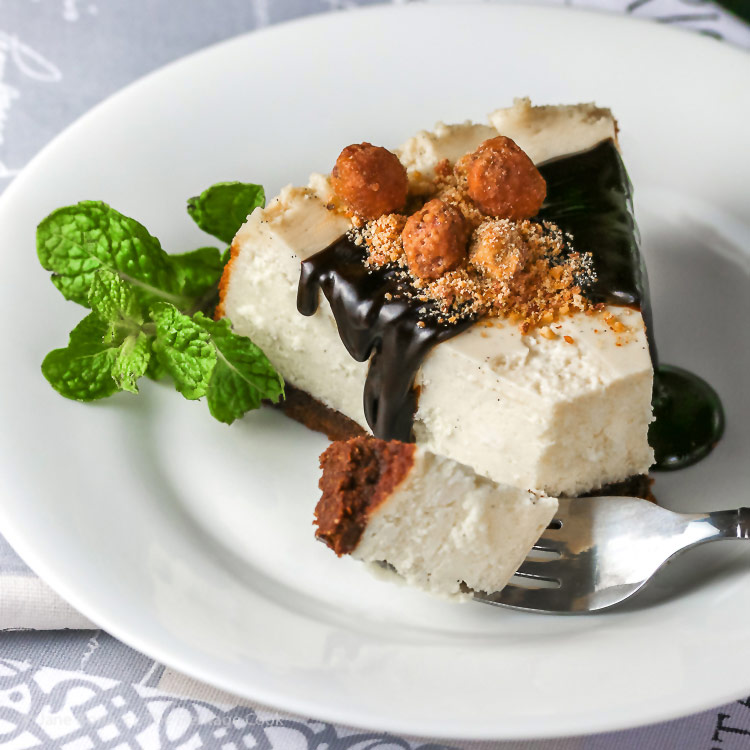 Today's Coconut Cheesecake with Chocolate Sauce is a dream come true. Rich and creamy with a subtle coconut flavor, luscious almond crust, and chocolate sauce poured over the top, you will savor every bite!
I have always loved coconut and chocolate together, especially when combined with nuts. Today's Coconut Cheesecake with Chocolate Sauce has a chocolate gluten-free almond meal crust that is so delicious you that it just might make you choose it over traditional graham crackers.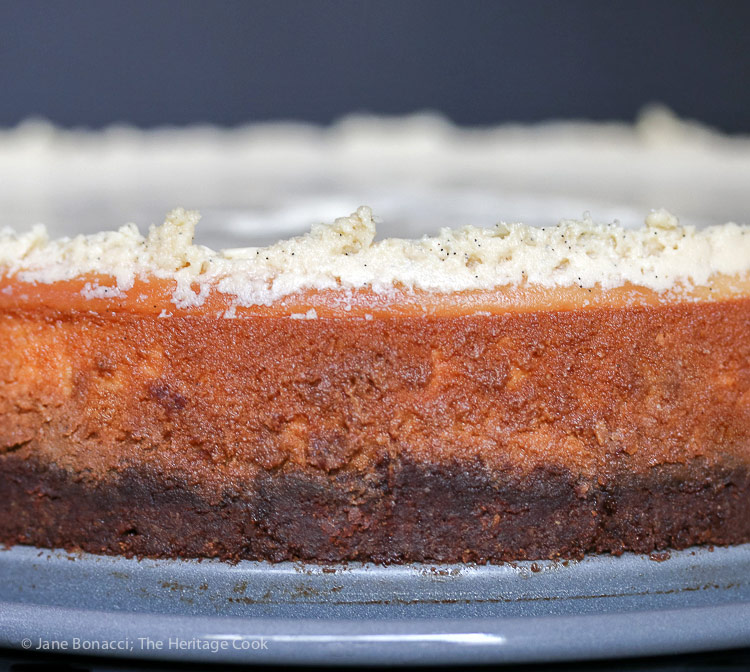 I adore cheesecake, but I really hate baking it in a water bath because it is hard to keep the container waterproof and my cheesecake crusts always get soggy. I would rather use either a springform without the water bath like today's recipe or a regular solid cake pan.
Just don't try to rush the baking and be sure that your cream cheese is very soft before you start beating it. That way it will be creamy and smooth!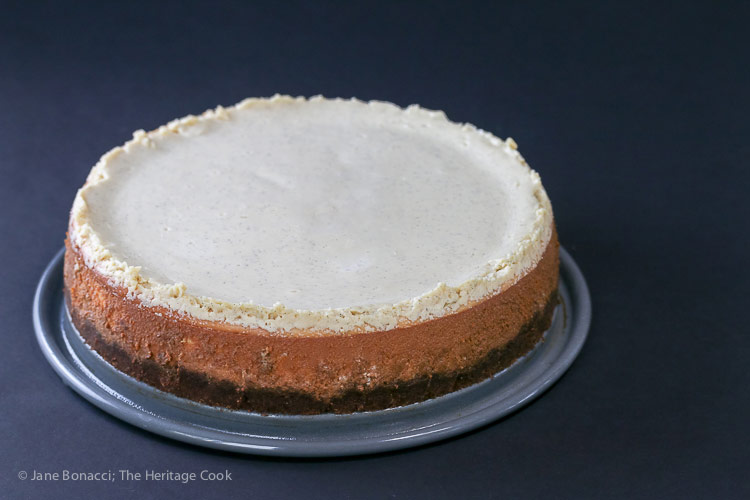 I started with a recipe from the Little Dairy on the Prairie. I made a couple of changes, switching the traditional graham cracker crust to a chocolate almond meal one, and then I added a sweetened sour cream layer on top. The contrast of the sweetened sour cream with the coconut filling was perfect! And just in case the top of your cheesecake cracks as it cools, the sour cream topping covers up any irregularities – no one needs to know it isn't perfect!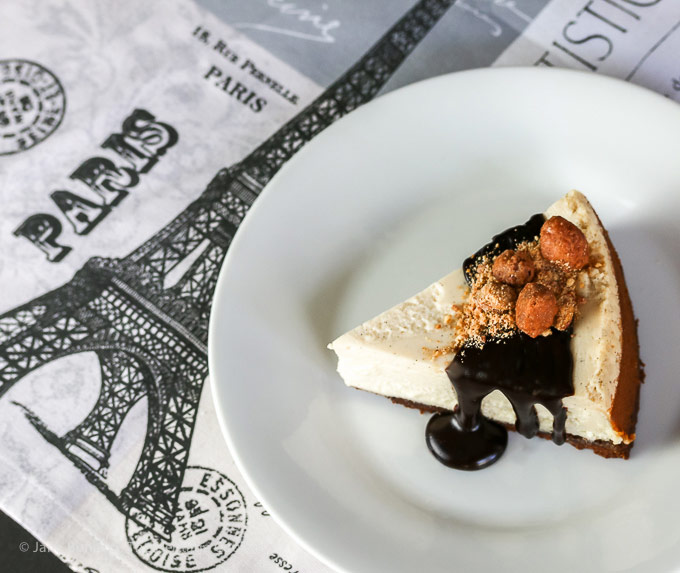 There is cocoa powder in the crust for a pop of chocolate flavor. And to add more chocolate to the dessert, pour a generous amount of hot fudge sauce over the top of each slice. You can buy a jar at the grocery store, but I recommend you make a sauce from scratch such as this recipe from Pastry Chef Online, her Best Hot Fudge Sauce in the World.
This is no exaggeration, it is seriously good! Pastry chef extraordinaire and the author of Pastry Chef Online, Jenni Field is truly amazing. If you don't know about Jenni, she is the most adorable, funny, talented, and sweetest person on the planet! And oh my goodness, this sauce is simply the best!
I hope you love this Coconut Cheesecake with Chocolate Sauce as much as The Artist and I do. Happy Chocolate Monday my friends!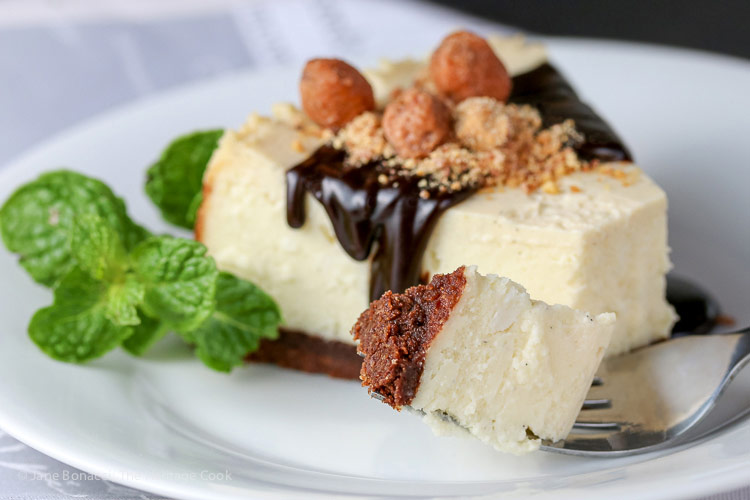 Key Ingredients for Coconut Cheesecake with Chocolate Sauce:
Almond meal, cocoa powder, brown sugar, butter

Unsweetened coconut, cream cheese, sugar, vanilla, coconut extract, salt, eggs, sour cream

Hot fudge sauce, candied almonds, fresh mint sprigs
PRO Tip:
For the creamiest cheesecakes, always use room temperature ingredients, don't overmix the filling, and be sure to let the cake bake until the center is still a little jiggly – then leave it in the oven with the door propped ajar for an hour before letting it cool completely on the counter. And the final step, letting it chill thoroughly is critical for the best flavor and texture … overnight is the best, but you can get away with 4 to 6 hours. I know, this is incredibly difficult to wait to dive into this beautiful dessert, but it is worth every moment!!
How to make Coconut Cheesecake with Chocolate Sauce:
Make the Crust: Mix the almond meal, cocoa, brown sugar, and salt. Drizzle in the melted butter and stir together; press into a springform pan and bake for 10 minutes
Prepare the Filling: Process the coconut in a food processor to make it finer

Beat together the cream cheese, sugar, cornstarch, vanilla, coconut extract, and salt on low until smooth; add eggs one at a time then the coconut, mix on low

Bake Cheesecake: Pour filling into crust and bake about an hour until the center is just a little jiggly; cool in the turned-off oven for an hour with the door ajar then cool on a wire rack until completely cool; chill in refrigerator 4 to 6 hours minimum or up to overnight
To Serve: Cut into wedges, drizzle with chocolate sauce, sprinkle with crumbled candied almonds and add a sprig of mint; serve immediately and keep leftovers refrigerated
Recommended Tools (affiliate links; no extra cost to you):
Gluten-Free Tips:
Using almond flour in place of graham crackers for the crust gives us the most delicious gluten-free crust that is lower in sugar and much higher in protein. Tastier and perfect for many applications, this is one crust you can use in any recipe that calls for graham cracker crumbs.
Yield: 10 to 14 servings
Coconut Cheesecake with Chocolate Sauce (GF)
This cheesecake is a dream come true. Rich and creamy with a subtle coconut flavor, luscious almond crust, and chocolate sauce poured over the top, you will savor every bite. Top it with some chopped candied almonds for the perfect crunch and you'll be dreaming of this dessert long after it is gone.  
Cook Time
1 hour
10 minutes
Total Time
7 hours
30 minutes
Ingredients
Chocolate Crust
140g (1-1/4 cups) almond meal
22g (1/4 cup) cocoa powder
1/4 cup firmly packed brown sugar
Pinch of kosher or fine sea salt
5 tbsp butter, melted
Filling
1/2 cup unsweetened shredded coconut, pulsed in a food processor until finely ground
2 (8 oz) packages cream cheese, softened
1 (8 oz) package Neufchatel cheese (lower fat cream cheese), or another regular cream cheese package, at room temperature
3/4 cup granulated sugar
1 tsp vanilla paste or extract
1/2 to 1 tsp coconut extract, optional
Pinch kosher or fine sea salt
3 large eggs
Sour Cream Topping
1-1/2 cups sour cream (do not use non-fat; low fat is fine)
3 to 5 tbsp granulated sugar, to taste
1-1/2 tsp vanilla paste or pure extract
Pinch salt
Garnishes
Best Hot Fudge Sauce in the World from Jenni Field or a store-bought thick chocolate sauce, such as Fran's brand, lightly warmed
Chopped candied almonds, plus some whole nuts for garnish, optional but delicious
Fresh mint sprigs, for garnish
Instructions
Set an oven rack in the lower third of the oven and preheat to 325°F.
Prepare the Crust: In a bowl, stir together the almond meal with the cocoa, brown sugar, and salt. Slowly drizzle the melted butter over the almond meal mixture and stir until evenly incorporated and it has a sandy texture.
Press the crumb mixture onto the bottom of a 10-inch springform pan, flattening and compacting it with the bottom of a drinking glass, measuring cup, or your fingers. Bake for 10 minutes. Remove from the oven and set aside while you make the filling.
Make the Filling: In a food processor, process the coconut until finely chopped. Transfer to a bowl and set aside.
To the bowl of your standing mixer, add the cream cheeses, sugar, cornstarch, vanilla, coconut extract if using, and salt. Beat on Low just until combined, trying not to add too much air to the mixture. With the mixer running on Low, add the eggs, one at a time, mixing after each one until it is fully incorporated, stopping the mixer and scraping the bowl and beater, before adding the next one. Add the finely minced coconut and mix on Low until evenly distributed.
Bake the Cheesecake: Pour the filling slowly into the prepared crust to avoid creating excess air bubbles. Bake at 325°F for 55 to 60 minutes, or until the center is almost set - it will be slightly jiggly in the center.
In a bowl, whisk together the sour cream, sugar, and vanilla until smooth. Carefully pour over the top of the baked cheesecake and return to the oven. Bake an additional 10 minutes. Turn the oven off and leave the cake in the oven (with the door propped open with the handle of a wooden spoon) for 1 hour and then set on a wire rack to cool to room temperature. Run a knife inside the rim of the pan to loosen the cake.
Chill the Cheesecake: When cooled, cover the pan with plastic wrap or foil (not letting it touch the top of the cheesecake) and refrigerate for at least 4 to 6 hours to fully set and chill the cake before serving. Chilling overnight is preferable if you have the time. If there is any liquid on the top when you uncover the cake (like I had), just use some paper towel to absorb it.
To Serve: Cut the cheesecake into wedges, drizzle the top liberally with the lightly warmed fudge sauce, sprinkle with some of the chopped candied almonds, decorate with a few whole candied almonds if desired, and tuck in a sprig of mint. Serve immediately.
The cheesecake will hold in the refrigerator, covered, for up to 1 week.

Nutrition Information:
Yield:
14
Serving Size:
1
Amount Per Serving:
Calories:

314
Total Fat:

18g
Saturated Fat:

10g
Trans Fat:

0g
Unsaturated Fat:

6g
Cholesterol:

79mg
Sodium:

139mg
Carbohydrates:

35g
Fiber:

1g
Sugar:

32g
Protein:

4g
Create a New Tradition Today!
Welcome! The suggestions here are not intended as dietary advice or as a substitute for consulting a dietician, physician, or other medical professional. Please see the Disclaimers/Privacy Policy page for additional details. Unauthorized use, distribution, and/or duplication of proprietary material from The Heritage Cook without prior approval is prohibited. If you have any questions or would like permission, please contact me. We participate in the Amazon Services LLC Associates Program, an affiliate advertising program designed to provide a means for sites to earn advertising fees by advertising and linking to amazon.com. This page may contain affiliate links. This post was first shared in April 2018. The article was updated in 2021.