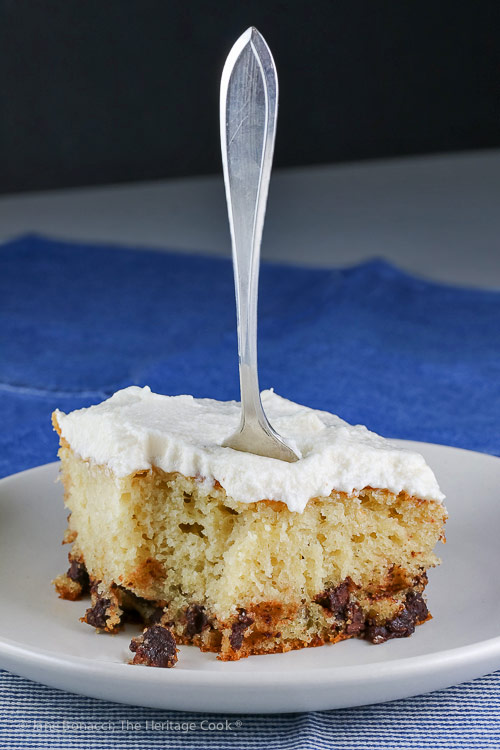 I love dogs and I called this cake, with its spots of chocolate chips, a Dalmatian Sheet Cake. It is a beautiful cake that will have your family and guests swooning!
Sheet cakes have all the flavor and enjoyment of a layer cake with none of the hassle of trying to even the layers and frosted cleanly. They also are much, much easier to transport making them an excellent choice to take to potlucks and picnics!
Another bonus is how simple they are to make. Mix everything in one bowl, bake and serve all in one pan! These are perfect recipes for beginning bakers to try and they help build their confidence and experience.
Using room temperature ingredients like the eggs and buttermilk in this recipe helps guarantee a light and tender cake. For more information on why you should use room temperature ingredients in baking recipes, take a look at this Craftsy article.
If you noticed in the photos that most of the chocolate chips settled toward the bottom of the cake, it is because I didn't dust them with gluten-free flour before stirring them into the batter. I forgot, but the cake tastes just as good this way – just not as attractive as I would have liked.
You could use the base recipe (without the chocolate chips) as the foundation for any number of flavors … think coconut, pecan, lemon, orange, your favorite booze, blueberry, cherry, etc. So many options!
On these hot August days, I prefer to bake earlier in the day then frost the cooled cake in the evening, avoiding the hottest hours. You can easily bake the cake a day ahead and frost before you are ready to serve.
I hope you enjoy this Chocolate Chip Dalmatian Sheet Cake with Vanilla Buttercream and a very happy Chocolate Monday to you!
Jane's Tips and Hints:
This is a subtly flavored cake so feel free to boldly use the vanilla flavoring. You may need more than you think to stand up to the chocolate chips.
Gluten-Free Tips:
Use your favorite gluten-free flour blend, such as Bob's Red Mill 1-to-1 or Pamela's, or make a blend from scratch which will save you money if you bake often.
Dalmatian Sheet Cake with Vanilla Buttercream (Gluten-Free)
2018-08-08 22:05:38
Ingredients
Cake
3 cups gluten-free flour blend (360g), or regular cake flour (300g) *
1/2 tsp xanthan gum or 1 tsp psyllium husk powder (add only with gluten-free flour blend)
1 tsp baking powder
1 tsp baking soda
1/2 tsp salt
4 large eggs, at room temperature
1-1/2 cups (300g) granulated sugar
2 tsp vanilla extract
3/4 cup (180 ml) canola or vegetable oil
1 cup (240 ml) buttermilk or soured milk, at room temperature
2 cups (340g) semisweet or milk chocolate chips
Frosting
4 cups (500g) confectioners' sugar
1 cup (2 sticks; 226g) butter, at cool room temperature
2 tsp pure vanilla extract or vanilla paste
2 to 3 tablespoons milk, as needed
Instructions
Make the Cake: Preheat the oven to 350°F. Butter a 13x9-inch pan. In a large bowl, whisk together the flour, baking powder, baking soda, and salt. Set aside.
In the bowl of your stand mixer, beat the eggs and sugar together until combined. Add the vanilla extract and vegetable oil, mixing until blended. Beat in 1/3 of the dry ingredients, 1/2 of the buttermilk, another third of the dry ingredients, the remaining half of buttermilk and the final dry ingredients. When fully incorporated, stir in the chocolate chips. Pour into the prepared pan, smooth the top pushing the batter into the corners of the pan.
Bake for 28 to 32 minutes, or until a toothpick inserted in the center comes out clean. Allow to cool completely in the pan on a wire rack before frosting.
Prepare the Frosting: In the bowl of your stand mixer, beat together the butter and sugar on low speed until light and fluffy, about 2 minutes. Increase to medium speed and beat in the vanilla extract and enough milk to become smooth and spreadable. Do not overbeat. Spread the frosting over the top of the cooled cake, then slice and serve.
Notes
* To make your own cake flour, measure 3 cups (360g) of all-purpose flour into a bowl, remove 6 tablespoons flour and whisk in 6 tablespoons cornstarch.
Yield: about 12 servings
Adapted from Marsha's Baking Addiction
The Heritage Cook ® https://theheritagecook.com/
Create a New Tradition Today!
Welcome! Unauthorized use, distribution, and/or duplication of proprietary material from The Heritage Cook without prior approval is prohibited. If you have any questions or would like permission, please contact me. The suggestions here are not intended as dietary advice or as a substitute for consulting a dietician, physician, or other medical professional. Please see the Disclaimers/Privacy Policy page for additional details. This page may contain affiliate links. Thanks for visiting The Heritage Cook!