Last year I met with a wonderful group of women for lunch and to share laughs and stories. We each brought something to contribute to the lunch, and a friend suggested I bring whatever I was making for Chocolate Monday. And today's Double Chocolate Drop Cookies are the result!
These cookies are super easy to make and bake, a flexible recipe where you can add whatever you like to them. I chose two different types of chocolate chips and pecans, but you can include anything fun you have in your pantry that your family loves.
They are packed with chocolate flavor, not too sweet, and the perfect vehicle for additions – try some dried fruits like cherries, cranberries, or apricots. A variety of nuts like hazelnuts, walnuts, pecans, and pistachios would all be fun to add. What would you choose?
To take them over the top I also brought some leftover hot fudge sauce to use as a dipping sauce. It was amazing! Dipped, slathered on top, or just using a spoon to scoop it up, this sauce is the best!
Use a spring-loaded ice cream scoop for very fast, consistently sized cookies. You will have the dough portioned in no time. After a little practice you will become your own assembly line, and the whole batch of cookies will be done before you know it.
If you want to make some now and save some for later, roll the dough into a log and wrap with parchment paper. Write the baking temperature and timing (e.g. 350°F for 10-12 minutes) on the parchment then wrap the whole thing tight with plastic wrap. Freeze and you've got your own homemade slice-and-bake cookies ready to make whenever you want!
Blogging may appear to be a dream job with the ability to run your own schedule and spend all day in your sweats, but when you work from home it can be a very busy but lonesome life. You focus on recipe development and testing, writing interesting stories, taking photos of your creations then culling and editing them, and spend countless hours on the computer to edit, write, and upload all that work. Then you put in hours doing social media shares and building your online community.
When the opportunity arises, you look for excuses to meet with people just so you can have some live interaction. What a change from my career in big business where we were packed into a cubicle-loaded building five days a week and had the weekends for recharging our batteries. These days we have to find ways to recharge because it is far too easy to just keep working 7 days a week.
A big thank you to the lovely ladies I was lucky to meet from this group and who helped me recharge my batteries. We thoroughly enjoyed these cookies dipped in the leftover hot fudge sauce – heavens, the two together are sooooo good! These Double Chocolate Drop Cookies definitely are an indulgence and are so rich you are satisfied with just a couple – unless you "need" to eat the whole bunch, LOL.
Happy Chocolate Monday!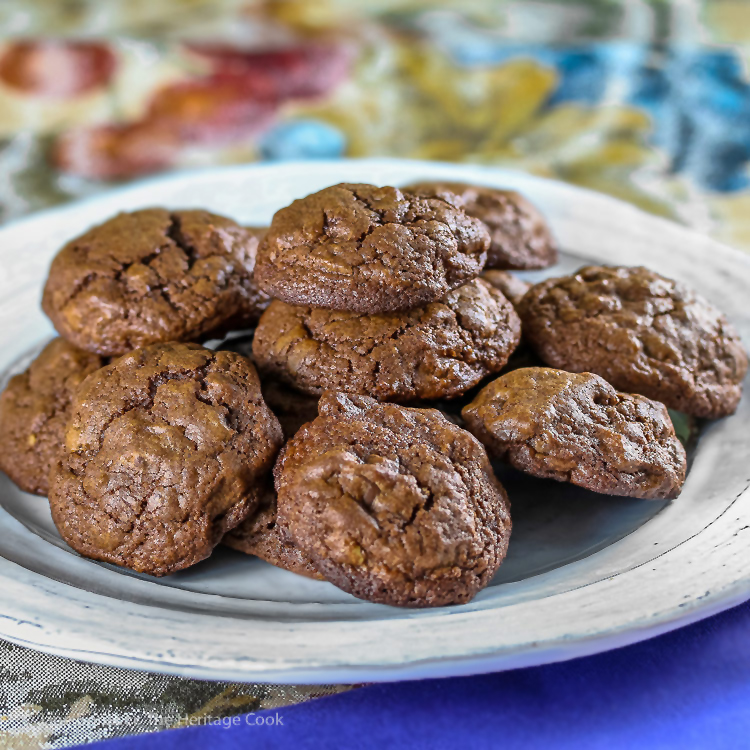 Key Ingredients for Double Chocolate Drop Cookies:
Butter
White and brown sugar
Unsweetened cocoa powder
Salt, baking powder, baking soda
Vanilla, egg, and milk
AP flour or GF flour blend
Chocolate chips
Chopped nuts and/or dried fruits, optional
What is the best way to get evenly sized cookies?
By far the easiest and quickest way to portion cookie dough is by using a spring-loaded scoop. Your pieces will all be the same size, bake evenly, and give you beautiful consistent results. I have several different sizes depending on the various tasks that I use them for.
PRO Tip:
You can use any flavor of chocolate chips that you like, white, milk, semisweet, or bittersweet. They would all be great in these cookies!!
How to make Double Chocolate Drop Cookies:
Beat together the butter, sugars, cocoa, leaveners, and vanilla

Add the flour, mixing until blended then stir in the chocolate chips and nuts or fruit if using them

Scoop dough onto baking sheets and bake 10 to 12 minutes

Cool cookies on wire racks

Optionally, serve with Homemade Hot Fudge Sauce as a dipping sauce
Kitchen Tools I Use to Make This Recipe (affiliate links):
Gluten-Free Tips:
Use a gluten-free all purpose flour blend to make the cookies! I keep a bucket of the blend on my counter so there is always plenty when I need to bake something. Always read all labels carefully and if you have any question, contact the manufacturer. They can change formulas without notification at any time.
Yield: about 30 cookies
Double Chocolate Drop Cookies (Gluten-Free)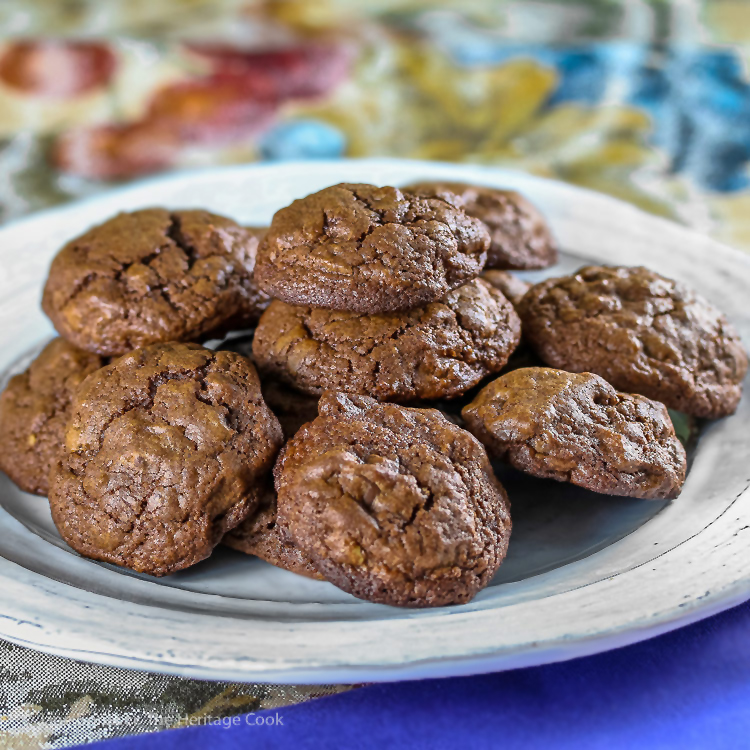 Rich and decadent, a true chocoholic's dream, these Double Chocolate Drop Cookies will be the hit of any party!
Additional Time
10 minutes
Ingredients
1/2 cup (1 stick; 113g) butter, at room temperature
1/2 cup (99g) granulated sugar
1/3 cup (71g) firmly packed brown sugar
1/3 cup (28g) unsweetened cocoa powder
1/2 tsp kosher salt
1/2 tsp baking powder
1/4 tsp baking soda
1 tsp vanilla extract
1 large egg
2 tbsp milk
1 cup + 2 tbsp (135g) all-purpose flour or gluten-free flour blend
1 cup (175g) chocolate chips (any flavor you prefer)
1 cup (113g to 170g) chopped nuts and/or dried fruit, optional
Instructions
Preheat the oven to 375°F. Line 2 baking sheets with parchment paper or use Silpats.
In the bowl of your stand mixer beat together the butter, both sugars, cocoa, salt, baking powder, baking soda, and vanilla until well blended. Add the egg, beating until smooth. Scrape the sides of the bowl and the beater blade, beating again until smooth. Mix in the milk.
Add the flour, mixing until combined with no streaks. Stir in the chips and nuts or fruits if you're using them.
Use a spring-loaded ice cream scoop to drop the cookie dough (about the size of a large walnut or generous tablespoonful) onto the prepared baking sheets about 2-inches apart.
Bake the cookies for 10 to 12 minutes, until they're no longer shiny and look set. Watch them carefully because chocolate cookies can burn easily.
Cool on the pans for a couple of minutes to help them set up and then transfer them to a wire rack to cool. If they are too delicate to move let them cool a bit longer then try again with a thin metal spatula or transfer them still attached to the parchment to the racks.
For an extra hit of chocolate goodness, serve them with Homemade Hot Fudge Sauce as a dipping sauce or frosting.
Nutrition Information:
Yield:
30
Serving Size:
1
Amount Per Serving:
Calories:

68
Total Fat:

1g
Saturated Fat:

0g
Trans Fat:

0g
Unsaturated Fat:

1g
Cholesterol:

6mg
Sodium:

69mg
Carbohydrates:

13g
Fiber:

1g
Sugar:

2g
Protein:

2g
If you love this recipe, be sure to follow me on social media so you never miss a post:
| Facebook | Pinterest | Instagram | Twitter |
Create a New Tradition Today!
This post was first shared in Jan 2018. The article was updated in 2020.
Welcome! The suggestions here are not intended as dietary advice or as a substitute for consulting a dietician, physician, or other medical professional. Please see the Disclaimers/Privacy Policy page for additional details. Unauthorized use, distribution, and/or duplication of proprietary material from The Heritage Cook without prior approval is prohibited. If you have any questions or would like permission, please contact me. We participate in the Amazon Services LLC Associates Program, an affiliate advertising program designed to provide a means for sites to earn advertising fees by advertising and linking to amazon.com. This page may contain affiliate links.