Instead of just seeing meatballs served with a plate of spaghetti, these days they are appearing in a wide variety of preparations and presentations. From Bahn Mi sandwiches to Albondigas soup, cocktail bites to turkey meatballs, they are showing up across the nation in specialty shops and corner grocers. Today's Grilled Meatball Hoagies is a perfect example of their versatility.
A classic sandwich is upgraded by simply grilling the meatballs! A touch of smoke and crunchy exterior are addicting. The sauce is spooned over the meatballs on hefty Hoagie rolls (mine was gluten-free) then cheese is melted over the top. This is a meal your whole family will be clamoring for!
The biggest challenge to cooking meatballs on the grill is having them stick. There are a couple of things that will help that. I like using a griddle or grilling pan that sets on top of the grates. It helps contain the meatballs (they have a tendency to roll around) and helps reduce the amount of sticking. And if you preheat the grill thoroughly, making sure the grates are screaming hot and clean, the meatballs will sear quickly, sealing in the juices and releasing more easily.
The good news is that once the first side is browned and loosened, the other sides do not stick nearly as badly. That allows you to move them so that all sides get a beautiful golden brown.
If your meatballs stick, use a long offset spatula to ease them off the grill. The slender metal spatula worked really well. I also used a long-handled spoon to move the meatballs around the grill and turn as needed. The spoon was the perfect tool to transfer the cooked meatballs off the grill and onto a clean platter.
If you don't feel like breaking out the grill right now, you can make these on a stove top griddle or grill pan. It won't give you quite as much smokiness, but the meatballs will still be delicious.
The sauce I made to go over the meatballs was the perfect blend of tomato and seasonings with a touch of heat from the Sriracha. You can leave that out if you like, but I think it complemented the smokiness from the fire. Feel free to add as much as you personally like – and pass more at the table!
The Artist bought a French baguette for himself and gluten-free rolls for me. Both were delicious and I was happy to have a roll that stood up to the meatballs, sauce, and cheese. Regular hot dog buns would also be fine for this, but they are very soft, so be sure to toast them to give them a little more structure. And as with most gluten-free breads, toasting them really helps keep the internal texture from becoming gummy.
The Artist and I loved these Grilled Meatball Hoagies and I hope your family does as well. Summer is in full swing and it is grilling season. Get those BBQs fired up!
Enjoy!
Key Ingredients for Grilled Meatball Hoagies:
Sauce: onions, garlic, oregano, tomatoes, hot sauce, and red wine
Meatballs: ground pork, ground turkey, breadcrumbs, Parmesan, onion powder, garlic powder, oregano, egg, hot sauce
Sandwiches: Hoagie rolls, butter, mozzarella or Monterey Jack, basil leaves or green onions (optional)
Shortcut!
If you want to save time, you can use your favorite pasta sauce. Just stir in some hot sauce if you want the same spicy kick!
PRO Tip:
Schar's has good gluten-free rolls that hold their shape and don't crumble when you bite into them. If you can't find decent gluten-free rolls, you can always wrap the meatballs in warmed gluten-free corn tortillas.
How to make Grilled Meatball Hoagies:
Tomato Sauce: Sauté onions until softened; add the garlic and oregano then the tomatoes, hot sauce, and wine

Bring to a boil, then simmer for 30 minutes to blend flavors; add a little water if the sauce gets too thick; taste and adjust seasonings

Meatballs: Mix together the meatball ingredients and form into 16 meatballs; brush lightly with olive oil

Preheat the grill or build a charcoal fire (charcoal banked on one side of the grill); preheat grill pan if using over the hot side of the grill

Cook the meatballs about 4 to 5 minutes on the first side, then turn gently and brown on all sides

Sandwiches: Split rolls lengthwise, brush with butter and toast lightly on the hot grill; fill with 4 meatballs each, spoon some sauce over the meatballs and top with cheese; melt the cheese on the cooler side of the grill, sprinkle with basil or green onions if desired and serve immediately
Kitchen Tools I Use to Make This Recipe (affiliate links):
Gluten-Free Tips:
If you can't find decent gluten-free rolls, you can always wrap the meatballs in warmed gluten-free corn tortillas. Schar's has good rolls that hold their shape and don't crumble when you bite into them.
Yield: 4 servings
Grilled Meatball Hoagies (Gluten-Free)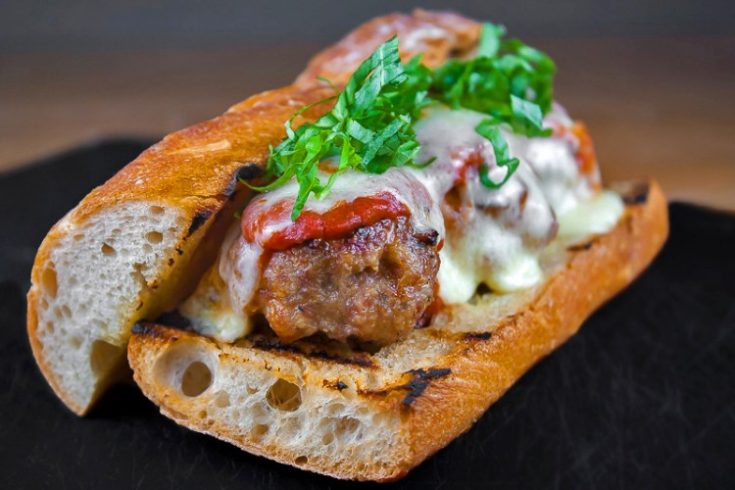 With a touch of smokiness from the BBQ, these Grilled Meatball Hoagies with Spicy Tomato Sauce are totally satisfying and perfect any time of the year!
Additional Time
15 minutes
Total Time
1 hour
25 minutes
Ingredients
Sauce
2 tbsp organic olive oil
1 small onion, peeled and finely chopped
1 clove garlic, peeled, minced
2 tsp dried oregano leaves
1 (26 to 28 oz) crushed, or pureed tomatoes
1/2 to 1 tsp Sriracha, Tabasco, or other hot sauce, optional
1/4 cup dry red wine, sherry, or water
1 tsp kosher or sea salt
1/2 tsp ground black pepper
Meatballs
3/4 lb ground pork
3/4 lb ground dark turkey (you can use all pork or all turkey)
1/4 cup dry breadcrumbs (gluten-free if needed)
1/3 cup finely grated Parmesan cheese
2 tsp onion powder
1 tsp garlic powder
3 tsp dried oregano leaves
1 tsp kosher or sea salt
1/2 tsp ground black pepper
1 egg, beaten
1 to 2 tsp Sriracha or other hot sauce, optional
Organic olive oil
Sandwiches
4 hoagie rolls, torpedo rolls, or a baguette (gluten-free if needed)
Butter
4 slices mozzarella or Monterey Jack cheese
Fresh basil leaves or green onions, chopped for garnish (optional)
Instructions
Make Spicy Tomato Sauce: In a deep, heavy-bottomed pot such as a Dutch oven, heat oil over medium heat. When the oil is rippling, stir in the onions. Cook, stirring occasionally until softened and translucent but not browned, about 3 minutes. Stir in garlic and oregano. When you can smell the garlic, but before it browns (about 30 seconds), add tomatoes, hot sauce, and wine. Add salt and pepper; stir to combine. Bring to a boil. Reduce heat to medium-low and let sauce simmer slowly for about 30 minutes. Add a little water if sauce becomes too thick. Taste and adjust seasonings. Add more hot sauce if you want a spicier sauce. Keep warm over low heat.
The sauce can be made several days in advance. Store, covered, in the refrigerator and reheat before spooning over meatballs. Extra sauce will hold in the refrigerator for several days or in the freezer for about three months. You can use it with cooked pasta for a nice change of pace from traditional sauce.
Prepare the Meatballs: While the sauce is cooking, place all of the meatball ingredients except the olive oil in a large mixing bowl. Use your clean hands to completely blend together. Divide the meat mixture into 16 portions and roll into balls about the size of large walnuts. Place the meatballs on a parchment paper-lined baking sheet and brush each one lightly with olive oil.
Preheat your gas grill over medium-high heat for 15 minutes or build a two-tiered medium-hot charcoal fire. Bank the charcoal on one side of the grill. Scrape the hot grates to remove any cooked-on foods. When the gas grill is hot, turn one side down to low. Brush the surface of your grill basket or griddle with vegetable oil to help avoid sticking and place on the hot side of the grill or over the hot coals. Add meatballs to the grill basket/griddle. Discard parchment on baking sheet.
Cook the meatballs about 4 to 5 minutes on the first side. Turn them carefully and gently. If they are sticking, leave them alone for another minute until they release on their own. Turn to brown all sides. When they are cooked through, transfer to the clean baking sheet. Tent meatballs with foil to keep warm.
Assemble the Sandwiches: Split the rolls in half lengthwise, brush the cut sides with butter and set cut-side-down on the grill. Toast lightly. Set them cut-side-up on a baking sheet. Place 4 meatballs on each toasted roll. Spoon some of the sauce over the meatballs and top with the cheese slices. Place the sandwiches back on the grill, on the cool side; cover the grill and cook until the cheese is melted and meatballs are warmed through. Sprinkle chopped basil or green onions over the top if desired. Serve immediately.
Nutrition Information:
Yield:
4
Serving Size:
1
Amount Per Serving:
Calories:

1095
Total Fat:

56g
Saturated Fat:

20g
Trans Fat:

0g
Unsaturated Fat:

31g
Cholesterol:

271mg
Sodium:

2753mg
Carbohydrates:

70g
Fiber:

5g
Sugar:

8g
Protein:

74g
If you love this recipe, be sure to follow me on social media so you never miss a post:
| Facebook | Pinterest | Instagram | Twitter |
Create a New Tradition Today!
This post was first shared in Feb 2018. The article was updated in 2020.
Welcome! The suggestions here are not intended as dietary advice or as a substitute for consulting a dietician, physician, or other medical professional. Please see the Disclaimers/Privacy Policy page for additional details. Unauthorized use, distribution, and/or duplication of proprietary material from The Heritage Cook without prior approval is prohibited. If you have any questions or would like permission, please contact me. We participate in the Amazon Services LLC Associates Program, an affiliate advertising program designed to provide a means for sites to earn advertising fees by advertising and linking to amazon.com. This page may contain affiliate links.