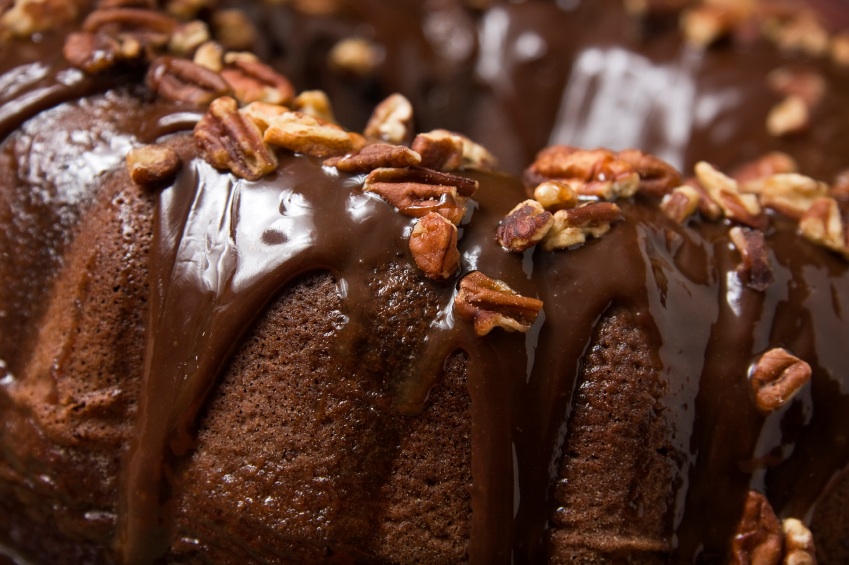 Chocolate cake should be declared a food group – there, I've said it. Maybe we should start a petition? Whether it is a layer cake, sheet cake or bundt, we all love them. When they are paired with chocolate frosting or a glaze, it just adds to the appeal and pleasure.
One of the easiest cakes to bake is a bundt cake. Dense, moist, and tender, a chocolate bundt epitomizes comfort food. I remember many of these at luncheons, showers, and similar events. Bundt cakes are named for the pan they are baked in. Chances are you grew up eating many treats made in bundt pans. These aren't fussy cakes, don't take a lot of time, and are easy to decorate. You don't have to fuss with layers or making the perfect frosting swirls.
Bundt is a German word meaning banded or bundled and this refers to the decorative design on the pan. The first mentions of "bund" or "bunt" cakes were in Jewish-American cookbooks of the late 1800's and early 1900's. The bundt pan is really a lighter weight version of the traditional European kuglehopf pan. Created by Nordic Ware in 1950, the cake didn't become nationally known until the 1960's when the new Good Housekeeping Cookbook showed a pound cake that had been baked in one of them. Suddenly every woman wanted a pan just like it.
What really put the Bundt pan on the culinary map of America, however, was the Tunnel of Fudge Cake, which made the finals of the 1966 Pillsbury Bake-Off Contest. By 1972 the grand prize winner in the Pillsbury Bake-Off Contest was a Bundt Streusel Spice Cake and eleven top winners also called for a Bundt pan; that same year Pillsbury sold $25 million worth of its new Bundt cake mixes.
If you don't already own a bundt pan, you can probably borrow one from a neighbor. But if you decide to purchase your own, buy a substantial one. The less expensive pans are usually very thin and do not conduct heat well. They can give you unevenly baked cakes or even burned areas. It is worth it to spend a little more money – if you buy a cheap one you will probably have to replace it and two or three of them will cost more than the expensive one initially would have. Consider it an investment in something that you will use for the next 20 to 30 years.
One of The Artist's favorite cakes that his mother used to make for him is a marbled chocolate and pistachio bundt cake. To this day he loves it, even if it isn't the best chocolate cake I make … such is the strength of loving memories!
Because of the decorative fluting, you typically serve bundt cakes with just a sprinkling of powdered sugar over the top. But today's recipe is a little over the top and calls for a ganache glaze. Additionally, you can add decorations on top of the ganache if you like; chopped toasted pecans, flaked coconut, or even sprinkles can add a touch of whimsy just right for a celebration!
The next time you have a special occasion, are asked to make a birthday cake for friends at the office, or have company visiting, consider making this decadent bundt cake. You will love how quickly and easily it comes together, and they will love the intense chocolate flavor. I call that a win-win!!
Happy Chocolate Monday. Have a wonderful week!
Double-Chocolate Bundt Cake with Ganache Glaze
2015-07-03 14:34:50
Many Bundt cakes are heavy and buttery, but this one is surprisingly light and incredibly moist under its silky chocolate glaze. Strong-brewed coffee in the batter intensifies the chocolate flavor while cutting the sweetness.
Ingredients
Cake

Vegetable oil spray
2 oz bittersweet chocolate, chopped
3/4 cup canola oil
1 cup sugar
1 large egg
2 cups all-purpose flour
1/2 cup Dutch-process cocoa powder
1 tbsp baking soda
3/4 tsp salt
1 cup strong-brewed coffee
1 cup buttermilk

Ganache Glaze

3 oz bittersweet chocolate, chopped
1/3 cup heavy cream
1-1/2 tsp corn syrup
1-1/2 tsp unsalted butter
Instructions
Set a rack in the lower third of the oven and preheat it to 350°F. Spray a 12-cup Bundt pan with vegetable oil spray.
Make the Cake: In a small saucepan, melt 2 oz of the chopped chocolate over low heat, stirring constantly. Scrape the chocolate into a medium bowl and let cool slightly. Whisk in the oil and sugar until smooth, then whisk in the egg.
In a small bowl, whisk together the flour, cocoa powder, baking soda and salt.
Add half of the dry ingredients to the chocolate mixture along with 1/2 cup of the coffee and 1/2 cup of the buttermilk; whisk until smooth. Add the remaining dry ingredients, coffee and buttermilk and whisk until smooth.
Pour the batter into the prepared pan and bake in the lower third of the oven for about 45 minutes, or until a toothpick inserted in the center of the cake comes out with a few moist crumbs attached. Let the cake cool on a rack for 10 minutes, then turn it out of pan and let cool completely, rounded side up.
Make the Glaze: In a small saucepan, bring the cream to a boil. In a heat-proof bowl, combine the remaining 3 oz of chopped chocolate with the corn syrup and butter. Pour the hot cream over the chocolate and let stand until melted, about 5 minutes. Whisk until smooth. Let the ganache glaze cool until thick but still pourable, about 5 minutes.
Pour the ganache over the cooled cake. Start at the tallest part of the cake and pour glaze around the top of the cake. Add a little extra in spots to help it cascade over the sides if needed. You can even nudge it a little with a spatula. If you like, you can sprinkle the top with chopped toasted pecans, flaked coconut or sprinkles! Let the cake stand until the glaze is set, at least 30 minutes, before slicing and serving.
Notes
Yield: 10 to 12 servings
Adapted from Food & Wine
Adapted from Food & Wine
The Heritage Cook ® https://theheritagecook.com/
Unauthorized use, distribution, and/or duplication of proprietary material without prior approval is prohibited. If you have any questions or would like permission, I can be contacted via email: theheritagecook (at) comcast (dot) net. Feel free to quote me, just give credit where credit is due, link to the recipe, and please send people to my website,
www.theheritagecook.com.
Thank You!