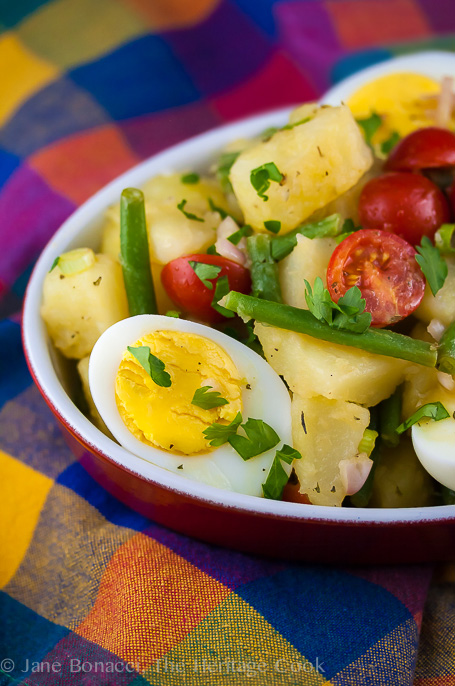 Today's theme for the Food Network's #SummerSoiree is potato salad, one of this Irish gal's favorite dishes in all the world. I can't wait to see all the different variations that everyone shares!
I have shared my old-fashioned version of potato salad on the blog, so I thought I would make another of my favorite varieties for you today. It is bright, beautiful and packed with flavor, just perfect for a vegetarian meal or side dish with your preferred meats and poultry.
If you think you hate potato salad, based on the ones you've had at restaurants and school cafeterias, give it another chance. Most of those are manufactured in large factories and canned. It makes it very economical and easy for the restaurants, which I understand, but when you make it from scratch you will be amazed at how wonderful it can taste!
Haricot vert (air-ih-coh vehr) is a fancy French term for very slender, tender green beans. Whenever I see them in the store I buy them. They have all the flavor of bigger beans, but are so much better. Even your pickiest eaters will love them. Use them just as you would Blue Lakes or other varieties, cooking just until crispy tender, no more than a few minutes over steam. If you want to use your microwave, put them in a bowl with a little water in the bottom. Cover and microwave in 30 second bursts until done.
This time I tossed in some cherry tomatoes because we had them and they look pretty for the pictures 😉 but you can use any vegetables that are in season. Add some asparagus in the spring, boiled sweet potato chunks in the fall, roasted beets in winter. Anything goes!
When I went to my cupboard and refrigerator to get the ingredients, I noticed that I am out of red wine and champagne vinegars, my go-to options for this recipe. I did a little refrigerator diving and low and behold, I have a partially used bottle of Boyajian's Maple Vinegar! In it went. It gave the dressing a touch of sweetness (from the maple syrup) that was a lovely counterpoint to the bite of vinegar. Improvisation is the name of the game in my kitchen!
Thank goodness we had some eggs on hand. I don't know what I would have tossed in the bowl in their place, LOL. If you think hard boiling is the way to cook eggs, stop. The best and most consistent way to get beautiful hard cooked eggs every time is to start them in cold water. Bring it to a boil, cover the pan and remove it from the heat. Let the eggs sit in the hot water for about 10 minutes and then pop them in an ice water bath. Perfectly cooked eggs, not rubbery and no green ring around the yolk!
For tonight's dinner, I think I had everything cooked, assembled and plated in less than 30 minutes. It is the summer meal that The Artist asks for regularly and is always thrilled to have whenever I make it. I'll bet your family will beg for it too.
Have a wonderful weekend. See you right back here for Chocolate Monday!
Jane's Tips and Hints:
If all you have at home are Idaho Russet potatoes, they are fine too. Peel and cut into chunks, then boil in salted water until tender but firm.
Gluten-Free Tips:
This dish is naturally gluten-free!
Kitchen Skill: Shocking Foods
Shocking is a cooking term for plunging hot foods (usually vegetables) into ice cold water to stop the cooking process and help set the color. This prevents them from over cooking and getting too soft. Normally you just throw them into the bowl of water and ice. Then you have to fish around to find them all and not get any ice cubes in your dish. But here's a tip: when you set up the bowl of ice water, set a colander or wire basket in the center, moving the ice cubes around the outside. Toss the cooked beans into the colander and shock them. Lift the colander, capturing all the beans and none of the ice cubes!
French Haricot Vert and Potato Salad (Gluten-Free)
2015-06-19 15:01:12
Vinaigrette
1/4 cup red wine or Champagne vinegar (or Boyajian's Maple Vinegar)
1 tbsp water
1/3 cup organic extra virgin olive oil
2 tsp Dijon mustard
2 tbsp minced shallots
1/2 tsp kosher salt
1/4 tsp freshly ground black pepper
Salad
Large bowl of cold water with ice cubes
2 lb thin-skinned small red or Yukon Gold potatoes, scrubbed clean
2 tsp kosher or sea salt
1/4 lb haricot vert, trimmed and cut into bite-sized pieces
1 green onion, trimmed and finely chopped
1 cup cherry tomatoes, halved or quartered
Fresh Italian parsley, about 1 handful of leaves, chopped, stems discarded
4 hard cooked eggs, peeled and sliced in half lengthwise, optional
Make the Vinaigrette
In a small jar with a tight lid, combine the vinaigrette ingredients. Tighten the lid and shake vigorously until emulsified.
Prepare the Potatoes
In a large saucepan, place the potatoes and fill the pan with water to cover by at least 1-inch. Add the salt and bring to a boil over high heat. Reduce the heat to medium to medium-high, keeping the water at a low boil. Cook just until barely tender. Use a slotted spoon to transfer potatoes to a large bowl.
Place the beans in the same pan of water and boil until just tender. Strain and drop into the icy water. This stops the cooking process and helps keep them nice and crunchy. Strain again and place on a clean kitchen towel to dry. Discard the ice water.
As soon as the potatoes are cool enough to handle, cut them into 1/4-inch thick slices or cubes if you prefer. Add the cooked beans to the same bowl. Shake the vinaigrette again and drizzle half of it over the potatoes, tossing gently until everything is evenly coated and set aside. The hot potatoes will absorb the dressing, adding tremendous flavor to the dish.
Assemble the Salad
Add the green onions and most of tomatoes to the potatoes and beans. Sprinkle with most of the parsley and toss gently to thoroughly coat and mix everything. Taste and adjust the seasonings as needed. Transfer to a large serving bowl.
Arrange the egg halves around the outside of the bowl and garnish with the reserved tomatoes. Drizzle eggs lightly with a little of the remaining dressing and sprinkle top with remaining parsley. Pour any remaining dressing over the salad.
Serve the salad warm, at room temperature or chilled. Store any leftover salad, covered, in the refrigerator.
The Heritage Cook ® https://theheritagecook.com/
Create a New Tradition Today!
This recipe is part of Food Network's weekly Summer Soiree. See the links below for more inspiration and great recipes and check out the Pinterest page for all the recipes from each week!
Chez Us: Baked Potato Salad
The Heritage Cook: French Potato Salad with Haricot Vert (Gluten-Free)
Weelicious: Blue and White Potato Salad
Napa Farmhouse 1885: Mom's Potato Salad (the Best Ever!)
Red or Green: Spicy Potato Salad with Jalapeno and Vinegar Vinaigrette
Feed Me Phoebe: Healthy Greek Potato Salad
Elephants and the Coconut Trees: Creamy Potato Salad with Mint
In Jennie's Kitchen: Warm Smashed Roasted Potato Salad
Domesticate Me: Warm Roasted Potato Salad with Pancetta, Sun-Dried Tomatoes and Arugula
FN Dish: 10 New Ways to Do Up Potato Salad
Let's connect! If you love The Heritage Cook, you can follow me on Pinterest, Facebook, or Twitter. If you ever need any entertaining or cooking advice, need to alter a recipe for gluten-free, or want recipe suggestions, don't hesitate to email me ([email protected]). Thanks for reading!
Unauthorized use, distribution, and/or duplication of proprietary material from The Heritage Cook without prior approval is prohibited. This includes copying and reprinting content and photographs. If you have any questions or would like permission, I can be contacted via email ([email protected]). Feel free to quote me, just give credit where credit is due, link to the recipe, and please send people to my website, www.theheritagecook.com. Please see the Disclaimers page for additional details.
This site is not intended to provide medical advice. The suggestions here are not intended as dietary advice or as a substitute for consulting a dietician, physician, or other medical professional. It is the reader's sole responsibility to determine which foods are appropriate and safe for their family to consume. Always consult your doctor. The author makes no claims regarding the presence of food allergens and disclaims all liability in connection with the use of this site.
Thank You!