Hallelujah, football season is back! The men in my life are thrilled and I am happy to see the smiles on their faces. When you grown up with three older brothers and a father who are all sports fanatics, a little of it is bound to rub off. I love watching sports, just not as attentively. I am never happier than when I am napping in front of the fire with the game on and everyone yelling!
Today for the Food Network's #SummerFest, we are all creating recipes that highlight potatoes, my favorite root vegetable! When my mind put two and two together (football and potatoes) there was only one recipe that I wanted to create for you – an improved and more flavorful platter of potato skins just perfect for game day!
We have all had the traditional version – and I didn't stray too far from the classic – but I wanted to make them a little healthier by including some fresh tomatoes from my garden. I am always looking for ways to utilize them and they are so tasty in these appetizers!
I love potatoes. What can I say, I'm Irish. 😉 Potatoes are extremely good for us but so often get a bad rap because we tend to heap on the extras that send the calorie count skyrocketing. If you are watching your weight, you can still use the toppings, just cut back on the amount you add and use alternates that give you great flavor without the weight gain. Potatoes are packed with Vitamin C; have more potassium than bananas, spinach or broccoli; contain B6; they have no fat, sodium or cholesterol; and potatoes are a complex carbohydrates a great source of energy!
Mexican flavors might not be the first thing you think of when you hear that potato skins are on the menu, but the combination of ingredients is really great. I love the subtle heat of the chiles and if you can find them, use the one from Hatch, New Mexico. Each year I order fresh chiles from Hatch and keep them in my freezer for dishes just like this. If you don't have access to fresh chiles, the canned version is just fine. I always have a can in my pantry just in case!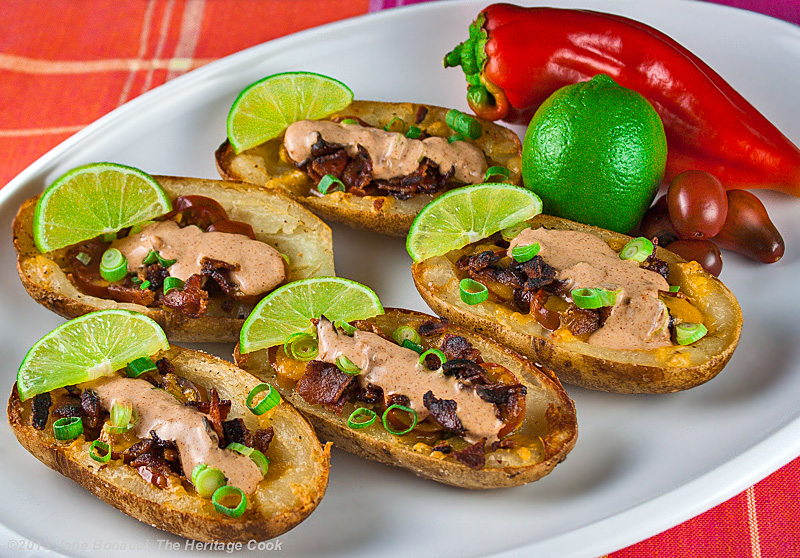 I didn't have any fresh cilantro, but it would be great as a sprinkling on the top of these. Anything green will always add a nice touch of bright color on the plate, but try to use the same items as you used in making the dish.
The combination of fresh tomatoes, chiles, green onions and cheese was amazing, but what really made these potato skins special was the Taco Sour Cream topping. It couldn't be simpler to make or more delicious. Use your favorite taco seasoning mix and add it along with a little fresh lime juice to sour cream, whisking until smooth. The creaminess blended with the seasonings from the mix make a dip that would be perfect for chips, nachos, taquitos, as well as these potato skins.
The next time you are hosting game day at your home or getting ready to watch the World Series (who says great apps have to be reserved for football) or Super Bowl Sunday, put these on your menu list.
Make sure you check out all of the amazing recipes from the talented food writers below and follow our page on Pinterest!
Jane's Tips and Hints:
You may be tempted to use a different type of potato, but Russets are the perfect variety for this application. They bake up light and fluffy giving you exactly the kind of texture that you want!
Gluten-Free Tips:
Naturally gluten-free!
Fully Loaded Green Chile Potato Skins
2015-06-29 19:26:22
Ingredients
Potato Skins
6 slices bacon
8 medium-sized Russet potatoes, scrubbed thoroughly
4 tbsp (1/2 stick) melted butter
Kosher salt and freshly ground black pepper, to taste
1-1/2 cups shredded cheddar cheese
1/4 finely chopped, mild or hot green chiles, such as Hatch chiles, (http://www.newmexicanconnection.com/) or to taste
3 medium ripe tomatoes, cored, seeds removed, finely diced
3 green onions, trimmed and very thinly sliced
Taco Sour Cream Topping
1/2 cup sour cream
2 tsp freshly squeezed lime juice
1 to 2 tbsp taco seasoning mix, such as Lawry's, McCormick or Old El Paso brands
Lime wedges, for garnish
Instructions
Preheat oven to 375°F.
In a large skillet, cook bacon over medium-heat until crispy. Transfer to a plate lined with paper towels to drain. When cool enough to handle, crumble into small pieces. Set aside.
Prepare the Potatoes: Place the scrubbed potatoes on a baking sheet and slide into the hot oven. Bake until potatoes are soft, about 1 hour. Depending on the size of the potatoes it may take a bit longer. Alternately, you can microwave them on high, flipping them over halfway through cooking. Set aside to cool until you can comfortably handle them.
Turn the oven's broiler on and set a rack about 4-inches from the broiler.
Slice each potato in half lengthwise and, using a spoon, scoop out some of the flesh from the center of each half, leaving about 1/2-inch of potato in the skins. You can eat the scooped out potato with a little butter or use it in another recipe such as gnocchi.
Place the potato halves cut-side down on the baking sheet and brush with about half of the melted butter. Sprinkle lightly with salt and pepper. Place back in the oven with the door ajar and cook until the butter starts to bubble, about 2 minutes. Watch them carefully so they don't burn. Don't over cook or the skins will get tough.
Pull the baking sheet out of the oven and using tongs, turn all the potato halves over so the cut-sides are up. Brush with remaining melted butter, sprinkle lightly with salt and pepper, and return to the oven. Cook until potatoes being to brown and get a little crispy on the edges. Watch carefully to avoid burning. Remove from the oven.
Distribute the bacon, chiles and tomatoes down the center of each potato and sprinkle the cheese evenly over the tops. Broil just until the cheese is melted and bubbling. Remove from the oven and sprinkle the green onions over the top. Set aside to cool slightly while you make the topping.
Make Topping: In a small bowl, whisk together the sour cream, lime juice, and taco seasoning mix. Taste and adjust seasonings.
To Serve: Place two potato halves on each serving plate and garnish with lime wedges. Drizzle some of the topping on each potato and serve while hot, passing additional topping at the table.
The Heritage Cook ® https://theheritagecook.com/
Create a New Tradition Today!
Make sure you check out all of these remarkable recipes from my blogging friends!
Blue Apron Blog: Red, Orange, Purple and White: Your Guide to the Potato Rainbow
Devour: 5 Ways to Prepare Sweet Potatoes
Feed Me Phoebe: Basque Tuna Stew with Peppers and Potatoes
Weelicious: Broccoli Cheese Patties
Domesticate Me: Potato Rosti with Pancetta and Mozzarella
The Sensitive Epicure: Salt Encrusted New Potatoes with Mustard-Mayo Dip
Napa Farmhouse 1885: Sweet Potato and Russet Pancakes with Chipotle Mayo
Red or Green: Roasted Sweet Potato Fries
And Love It Too: Sweet Potato Souffle
Taste With The Eyes: Ensalada de Papas a la Huancaina (Peruvian-Style Salad with Potato Cake, Egg and Yellow Chile)
What's Gaby Cooking: Parmesan Roasted Potatoes
Dishin & Dishes: Southern Green Beans and New Potatoes
FN Dish: Ease Out of Summer with Potatoes
Unauthorized use, distribution, and/or duplication of proprietary material from The Heritage Cook without prior approval is prohibited. This includes copying and reprinting content and photographs. If you have any questions or would like permission, I can be contacted via email at theheritagecook (at) comcast (dot) net. Feel free to quote me, just give credit where credit is due, link to the recipe, and please send people to my website, www.theheritagecook.com. Please see the Disclaimers page for additional details.
Thank You!