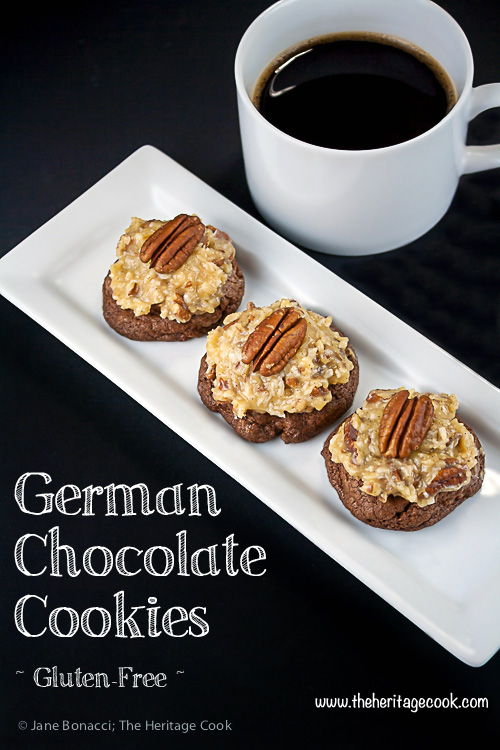 One of my favorite cakes of all time is German Chocolate, but one made with a luscious dark chocolate cake instead of the typical milk chocolate one (like this incredibly flavored bundt cake). With those flavors in mind, I created these German Chocolate Cookies just for you!
I thought I had a great original idea to combine one of my favorite cookies with one of my favorite cake frostings. And then I took a look on the Internet. There are dozens of versions, so I'm certainly not the first. But that doesn't take anything away from these cookies. I love them. They are packed with chocolate flavor, rich and deep, and the sweet coconut and pecan frosting provides the perfect complement. I could eat a dozen in one sitting!
There is delightful contrast between the crunch of the cookies, the creaminess of melted chocolate chips, the nutty goodness of the pecans, and the chewiness of the coconut in the frosting. It is pretty perfect for me. And when the baking cookies fill your house with the most amazing aromas, you will definitely agree with me, LOL.
If many coconut desserts are too sweet for you, you can easily fix that by using unsweetened coconut. Sometimes called desiccated (meaning dried), it gives you all the flavor of coconut without adding any sweetness. You can usually find it at Whole Food and other gourmet grocers or online. This also makes it a wonderful choice for savory dishes. Because it is dried, expect it to expand when added to liquids. I rarely use sweetened coconut anymore; I can control the sweetness of my dessert much more easily with desiccated coconut.
Some people like the flavor of coconut but don't like the chewiness. To help that, you can put your coconut in the food processor and grind it a little. The smaller pieces will be easier to eat than long strands and your coconut naysayers may change their minds!
These cookies have cocoa powder and chips for a double chocolate hit, just like we love. I've lowered the sugar content of the frosting by using less sugar and unsweetened coconut. The crunchiness of the cookies perfectly balances the soft and gooey frosting.
The dark spots that look like ground pepper are actually the seeds from vanilla beans. If you use vanilla paste, all the work is done for you. It is lightly sweetened and the vanilla seeds are suspended in a gel-like mixture. It is pretty much all I use these days and it adds tremendous flavor to all your baked goods!
You can make these cookies all year long and they travel well. That makes them a good choice for potluck suppers, church gatherings, or picnics. I would wait to frost and decorate them until the day you will be serving them. The frosting will set up and hold the pecans on the top if you decide you want to decorate them – or leave off the pecans if you choose.
Happy Chocolate Monday ~ have a fabulous week!
Jane's Tips and Hints:
I didn't flatten my cookies, but they would be easier to frost and eat if they were less mounded. It isn't hard to do, just dip the flat bottom of a glass in a bowl of water and press down on the top of each dough ball before popping the tray in the oven.
Unless you really load it on, there will be a little frosting left over. If you're like me, it is perfect for a little snack, straight off a spoon. If you double the number of cookies, you can use the frosting as filling for a sandwich cookie. Twice the fun!
Gluten-Free Tips:
Using Authentic Foods superfine flours guarantees a grit-free cookie. There is nothing else even close to the texture of their flours. You can't tell these cookies are gluten-free!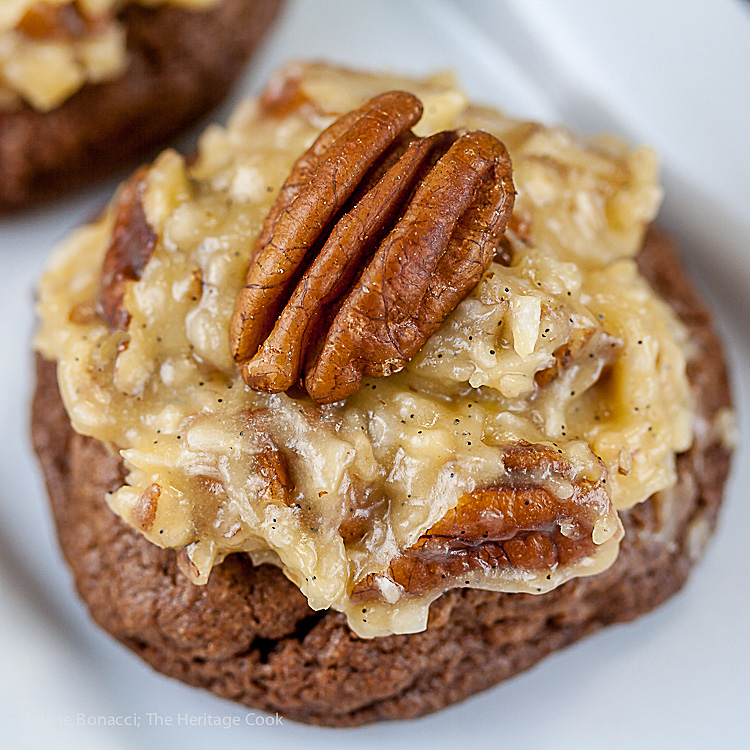 German Chocolate Cookies (Gluten-Free)
2016-03-27 23:15:49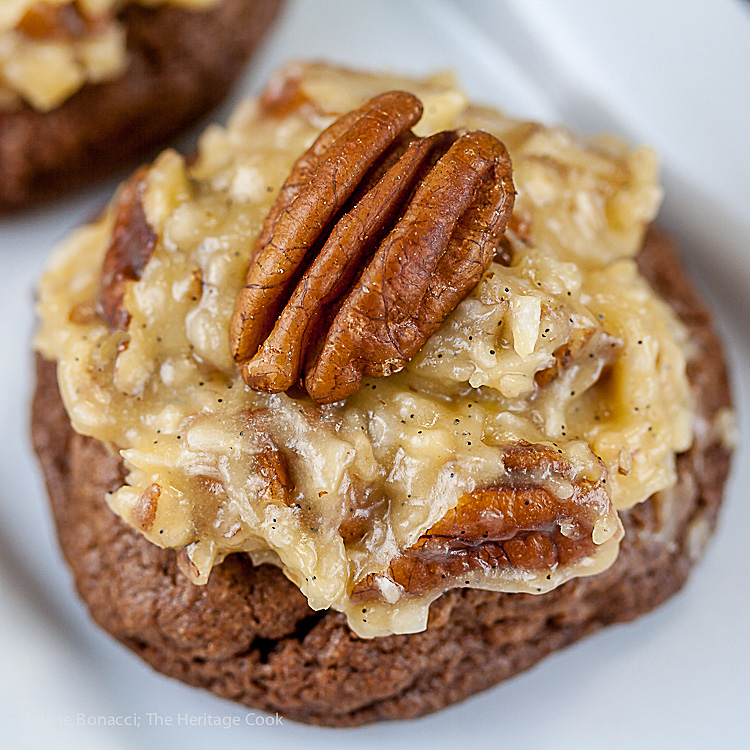 Ingredients
Cookies
1 cup (120g) all-purpose flour or gluten-free flour blend
1/4 cup unsweetened cocoa powder (gluten-free if needed)
1 tsp baking powder (gluten-free if needed)
1/2 tsp baking soda
1/2 tsp salt
1/2 cup (1 stick) unsalted butter, at room temperature
1/2 cup firmly packed brown sugar
1/4 cup granulated sugar
1 large egg, at room temperature
1 tsp pure vanilla extract
1 cup chopped semisweet chocolate (about 66%) or chocolate chips
Coconut-Pecan Frosting
1 cup evaporated milk (not sweetened condensed milk)
3/4 cup sugar
3 egg yolks
1/2 tsp kosher salt
1/2 cup butter, cut into chunks
2 tsp vanilla paste or pure organic vanilla
1 cup unsweetened shredded coconut
1-1/2 cup chopped pecans
Pecan halves, for garnish, optional
Instructions
Bake the Cookies: Preheat the oven to 375°F. Line two baking sheets with parchment paper.
In a small bowl, whisk together the flour, cocoa, baking powder, baking soda, and salt. Set aside.
In the bowl of your standing mixer fitted with the paddle attachment, beat together the butter, brown sugar, and granulated sugar until fluffy, about 2 minutes. Beat in the egg and vanilla. Gradually add the flour mixture and blend until totally incorporated. Scrape the sides and bottom of the bowl with a flexible spatula, making sure there are no unincorporated ingredients in the bottom. Stir in the chocolate pieces.
Using a 1-1/2 inch scoop or a rounded tablespoon, drop the dough 1 to 2 inches apart onto the prepared baking sheets.
Bake in preheated oven, spinning the trays front to back and switching them top to bottom halfway through baking. Cook until just slightly firm when you gently press the top, 10 to 14 minutes. Let cool for about 2 minutes on the baking sheet. Using a spatula, transfer to a wire rack to cool completely.
Make the Frosting: In a large saucepan, place the evaporated milk, sugar, egg yolks, salt and butter. Whisk to combine ingredients, place over medium-high heat, and bring to a boil stirring constantly. Reduce to medium or medium-low to hold at a low boil, whisking often until thickened and reduce by about half, 7 to 8 minutes. Don't walk away from the stove while this is cooking.
Remove from the heat and transfer to the bowl of your standing mixer. Beat with the paddle attachment on medium until cooled and thick enough to spread. The bottom of the bowl will be no more than warm; this can take up to 10 minutes depending on the strength of your mixer. Mix in the vanilla, coconut and pecans.
Set frosting aside. As it cools it will continue to thicken. Spread some of the frosting on each cookie and place on the parchment-lined baking sheet. Set a pecan half on top. Allow frosting has set up before serving. Best on the day they are baked and frosted. Store in an airtight container in the refrigerator.
Notes
Yield: about 2 dozen 2-inch cookies
The Heritage Cook ® https://theheritagecook.com/
Create a New Tradition Today!
Let's connect! If you ever need any entertaining or cooking advice, need to alter a recipe for gluten-free, or want recipe suggestions, don't hesitate to email me . Thanks for joining the Heritage Cook Family!
Unauthorized use, distribution, and/or duplication of proprietary material from The Heritage Cook without prior approval is prohibited. This includes copying and reprinting content and photographs. If you have any questions or would like permission, I can be contacted here. Feel free to quote me, just give credit where credit is due, link to the recipe, and send people to my website. The suggestions here are not intended as dietary advice or as a substitute for consulting a dietician, physician, or other medical professional. It is the reader's sole responsibility to determine which foods are appropriate and safe for their family to consume. The author makes no claims regarding the presence of food allergens and disclaims all liability in connection with the use of this site. Please see the Disclaimers page for additional details.
Thank You!