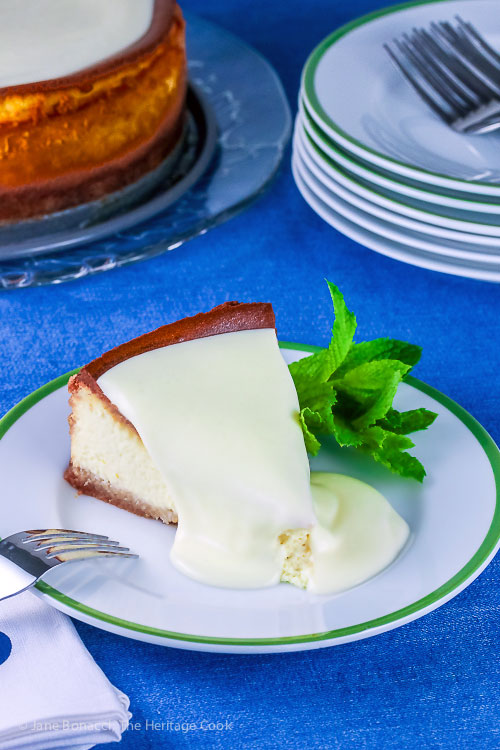 This is the inaugural event for a new group called Gluten-Free, Pass It On! We are a collection of gluten-free bloggers from around the country who love to share our passion for delicious gluten-free foods! Follow the fun at #PassItOnGF. We are just getting ramped up, so keep an eye on us as we grow!
Each month we challenge our fellow gluten-free bloggers to come up with a recipe using a specific ingredient or topic. This month we are focused on using non-grain flours in our cooking and baking. I can't wait to see what everyone comes up with!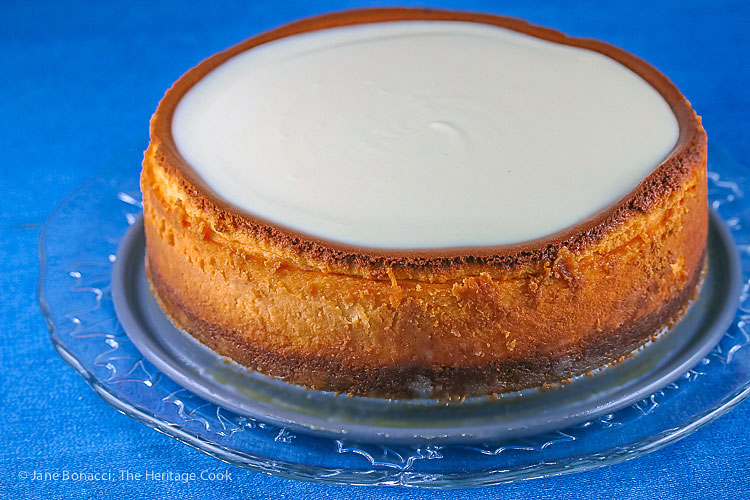 For my recipe, I chose to work with almond flour for its flavor, natural oils, and flexibility. As long as you don't have nut allergies, it is a great option. Today I used it as the base for my cheesecake – yes folks, you do not have to use graham crackers! As a matter of fact, The Artist prefers this crust and gladly enjoys it as the base for all of my cheesecakes.
The thing I love about subbing almond flour for graham crackers is that all the ingredient measurements stay the same – it is a 1:1 swap. Any cheesecake can be made with this crust!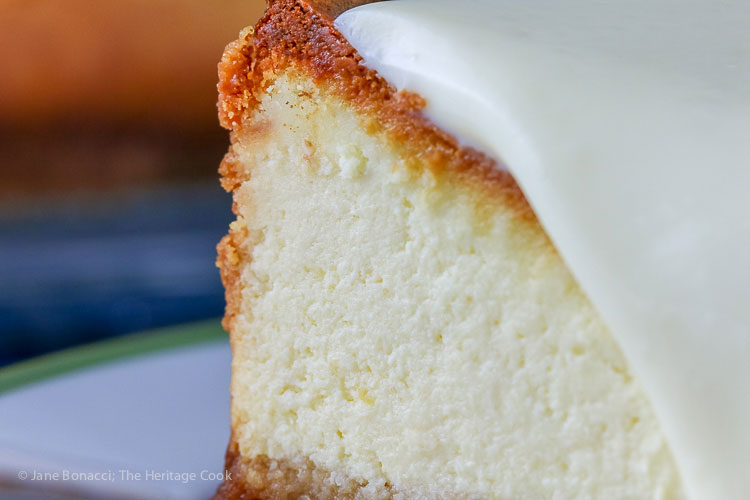 I will admit it is a touch more delicate than a regular crust, but the flavors are outstanding and I think it is worth it to be able to offer a fully gluten-free dessert that everyone loves.
When you read the recipe you will see that I do not use a waterbath with my cheesecakes. I am one of those people who can never get my springform pan covered tightly enough with foil to stop the water from leaking in. I know, blasphemy, but it is a hassle, and if I have to fuss with it, it is enough to keep me from regularly baking cheesecakes all year long. So I bake mine naked and if needed, use a sour cream layer or fruit sauce on top to cover any cracks – voila! Perfection!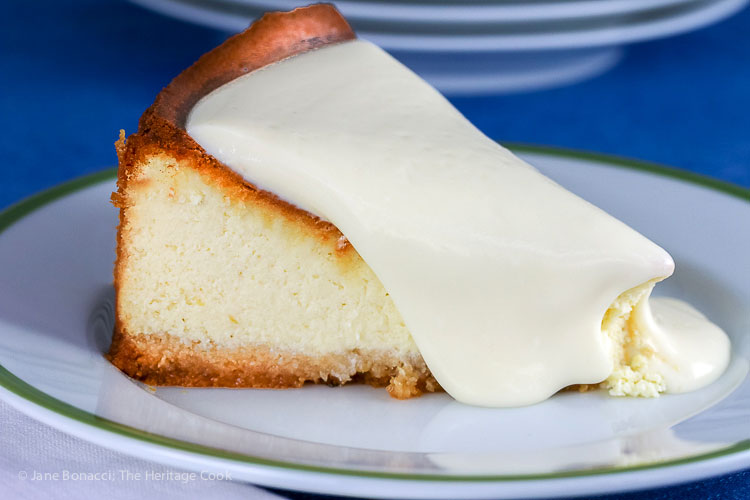 You definitely need a springform pan, so don't try this without one. If you don't already own one, this is one item I would not buy from Goodwill or a similar place. You need a really tight seal and the older models likely are not as strong as a new one – and you run a serious risk of them being contaminated with gluten. Just not worth the risk.
Be sure you don't make the same mistake I did … I grabbed my 9-inch springform instead of the 10-inch and wound up overfilling the pan by mistake. It puffed up really tall and stood at least an inch over the top of the pan. To try to get it cooked all the way through and not jiggle, I overcooked mine. It still tastes great, but if I had used the correct size pan, it would have been perfect.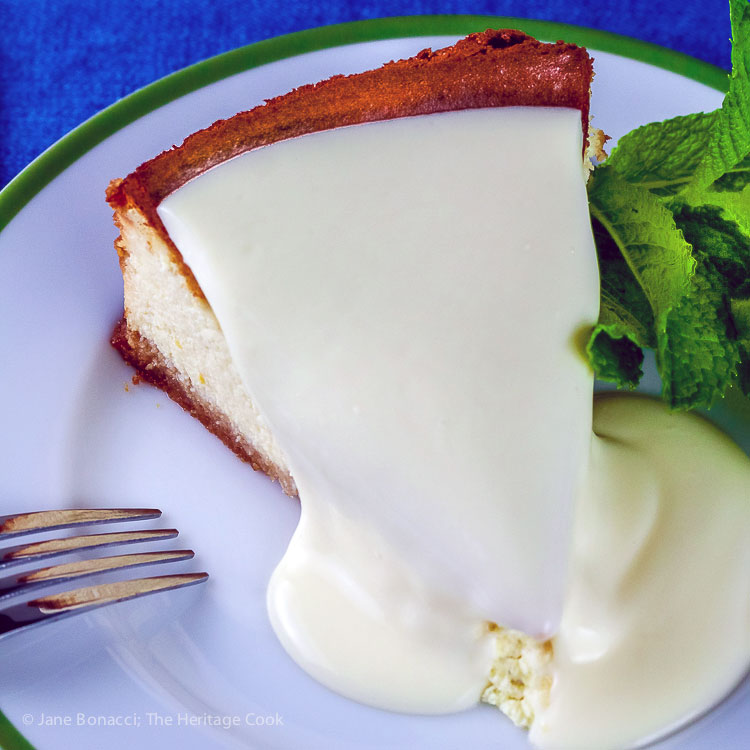 The second thing I did was start making this too late in the day. By the time it came out of the oven The Artist was starving and I needed to make dinner. That means that the center of the cake sank and it cooled off too much by the time I could make the sour cream topping. So I poured the topping into the center and put it in the refrigerator, hoping it would firm up as it cooled.
The Artist told me to embrace my mistakes, so I am sharing shots of the lava flow that happened when I cut the first slice. Yep, the topping never fully set so it was very soft and flowed down as I pulled the piece from the cheesecake. Oh well, it may not be beautiful in the traditional way but it still tastes great!
Head to the grocery store, buy some cream cheese and sour cream, pull out the springform pan and dive in. This is an indulgence that is worth every bite! Enjoy this non-traditional cheesecake with almond crust. You may just find that you prefer it like The Artist does!
Jane's Hints and Tips:
If you or your family members cannot have almonds, you can use hazelnut meal or any ground nut that you love in place of graham crackers.
Gluten-Free Tips:
The almond crust is tasty with a lovely texture – the perfect substitute for a traditional graham cracker crust!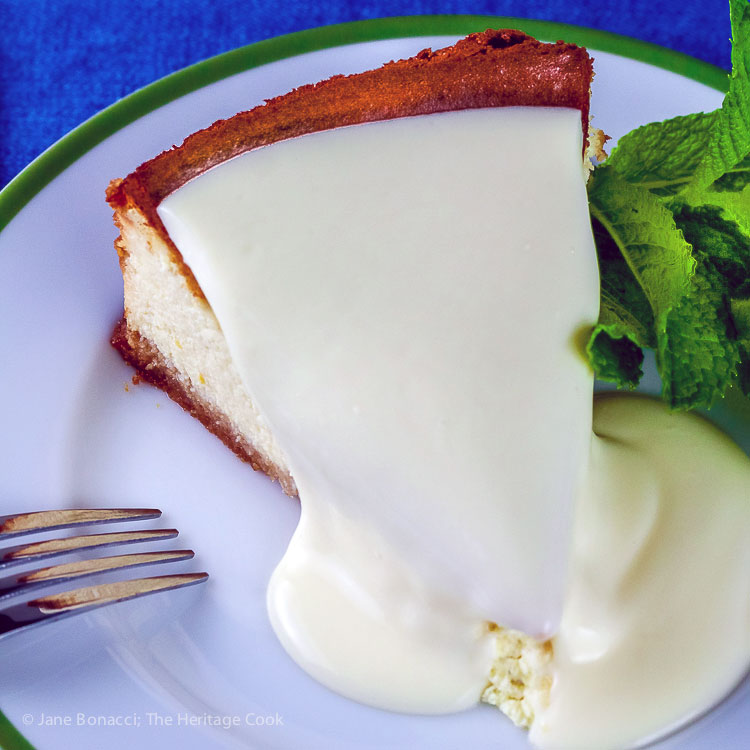 Gluten Free Classic Cheesecake with Almond Crust
2017-05-22 22:44:41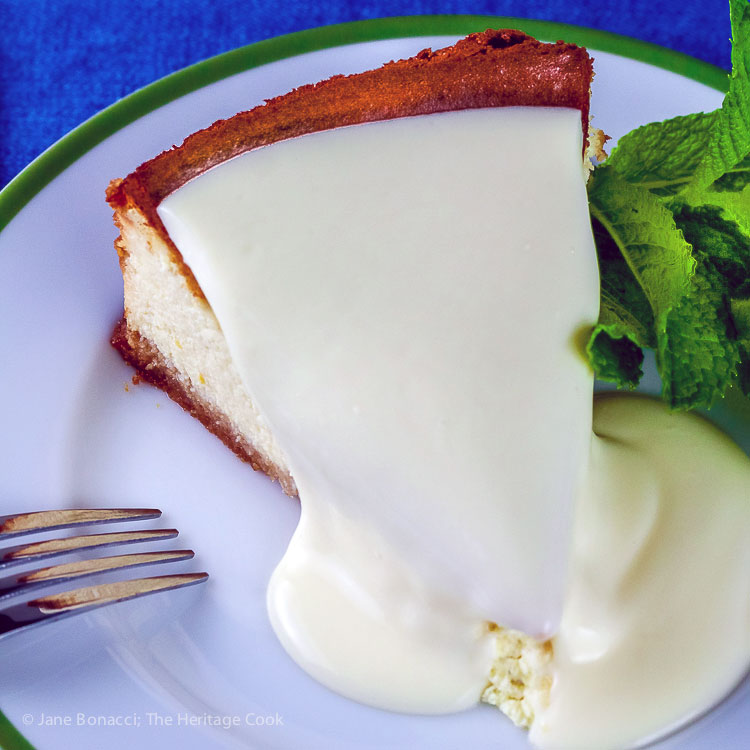 Ingredients
Crust
1-1/4 cups almond meal
2 tbsp firmly packed brown sugar
1/2 tsp grated lemon zest
6 tbsp butter, melted
Filling
5 (8-oz) packages cream cheese, softened
1/3 cup sour cream
1-1/2 cups sugar
3 large eggs
2 large egg yolks
1 tbsp freshly squeezed lemon juice
1 tbsp grated lemon rind
2 tsp pure vanilla extract or paste
Sour Cream Topping
1 pint (2 cups) sour cream
1/4 to 1/3 cup granulated sugar, to taste
2 tsp freshly squeezed lemon juice
1 tsp pure vanilla extract or vanilla paste
Mint sprigs, for garnish
Instructions
Bake the Crust: Preheat oven to 375°F. Combine almond meal, sugar, and zest in medium bowl. Stir in melted butter. Press into the bottom (not up the sides) of a 10-inch springform pan. Bake 10 minutes. Set aside to cool while you make the filling. When the pan is cool, butter the inside surface above the level of the crust.
Reduce the oven temperature to 325°F.
Filling: Using your heavy-duty stand mixer, beat the cream cheese until fluffy. Beat in the sour cream. Add the sugar and beat until thoroughly combined. Add the eggs, yolks, lemon juice, and zest, and beat just until smooth. If you overbeat the filling, it will become more like a soufflé. Beat just until the ingredients are combined. Pour filling into the prepared crust.
Bake at 325°F. until the center is just set, with the barest jiggle in the very center, about 1 hour. The jiggly section should be no larger than a dime. Transfer to a rack to cool slightly.
Prepare the Sour Cream Topping: Increase the oven temperature to 425°F. In a bowl, whisk together the sour cream, sugar, and vanilla until smooth and creamy with no lumps. Once the cheesecake has cooled for about 10 minutes, pour the sour cream topping onto the center of the cake. Use an offset spatula to gently nudge it to the edges, smoothing the top with the back of the spatula.
Return the cheesecake to the oven and bake for 10 minutes to set the topping. Remove from the oven and place on a wire rack. After about 5 minutes, run a long knife or offset spatula around the cake to loosen it from the pan, but do not release the springform. Cool to room temperature, about 3 hours. Wrap in plastic (still in it's pan) and refrigerate at least 3 hours and better still, overnight. Can be made up to 4 days in advance.
To Serve: Wrap a hot kitchen towel around the outside of the pan to gently warm the cake. Carefully release the springform and use an offset spatula or table knife to loosen the crust from the pan and ease the sides away from the cake. Let the cheesecake sit at room temperature for about 30 minutes before slicing. Cut the cake into wedges and garnish with mint sprigs before serving.
Notes
Yield: 12 to 14 servings
The Heritage Cook ® https://theheritagecook.com/
See the links below for more inspiration and great recipes from our talented Gluten-Free, Pass It On team and you can find our recipes on Pinterest too!
Create a New Tradition Today!
Welcome! If you ever need any entertaining or cooking advice, need to alter a recipe for gluten-free, or want recipe suggestions, don't hesitate to ask. Unauthorized use, distribution, and/or duplication of proprietary material from The Heritage Cook without prior approval is prohibited. If you have any questions or would like permission, please contact me. The suggestions here are not intended as dietary advice or as a substitute for consulting a dietician, physician, or other medical professional. Please see the Disclaimers page for additional details. Thanks for visiting The Heritage Cook!