These Gluten Free Italian Sausage Meatballs with Homemade Marinara Sauce are a meal that is great for your family all year long. Satisfying and filling, everyone will have smiles on their faces when they hear what's for dinner!
Spaghetti and meatballs is a childhood favorite across the country. Warm and filling, moms can feed a large family on a small budget with meals like this. And that's exactly what my mom did. With three hungry boys, my dad and me, she had to get very creative to keep us happy and fed.
Now that I have to eat gluten-free, I find myself searching for safe versions of my favorite meals, reinventing them to fit my required diet. And with The Artist being Italian and growing up with all homemade meals, I have perfected a marinara sauce and how to make meatballs without any bread filler.
I like to use bulk sausage from my butcher. They have done the grinding and preliminary seasoning for us, giving us the base for many delicious dishes. Just be sure that it is gluten-free! Being pre-seasoned it also helps me reduce the amount of ingredients needed in the meatballs – always a good thing! When I'm making a dish like these Italian sausage meatballs, I usually double the recipe and freeze whatever we aren't using immediately. This helps on those stressful days when I get home late and have to get dinner on the table quickly – most of the work is done and I can pull the whole meal together easily!
The beauty of making your own pasta sauce is that once you find out how simple it is, you'll never buy bottled again. Canned tomatoes are perfect all year long and are less watery than fresh tomatoes. I like to combine the two when we have a garden filled with fruit ripe on the vine.
The real trick to making Italian meatballs is to cook them most of the way through by either frying or baking and then finish them gently in the sauce. This infuses the sauce with the sausage flavor and helps keep the meatballs moist and tender.
This time I made the meatballs with all pork sausage, but if you want to reduce the fat ratio, feel free to replace up to 3/4 of the total weight with dark turkey meat. Remember that turkey has very little fat, so add a tablespoon of olive oil to the meat mixture to help keep it moist and to hold the meatballs together.
When I was little, my mother would serve us a pile of cooked spaghetti topped with a spoonful of sauce and a few meatballs. It wasn't until I met The Artist that I learned to toss the pasta with a little of the sauce to fully coat it before serving. Then if you want, you can add a little more on the top, but don't add too much – you want to be able to taste the pasta and not have it swimming in sauce!
Have fun with these Gluten Free Italian Sausage Meatballs and Homemade Marinara Sauce. This classic comfort food is an absolute favorite of The Artist and me all year long!
How to make Gluten Free Italian Sausage Meatballs and Homemade Marinara Sauce:
Make the marinara sauce and keep it warm on a low burner

Make the meatballs and bake until done, about 20 minutes

Finish the meatballs in the sauce

Cook the pasta of your choice, drain and toss with a little of the sauce

Scoop the pasta into bowls, add meatballs and more of the sauce

Garnish with Parmesan cheese and torn basil, and serve
How do I test raw meats for seasonings?
If you were wondering exactly how you were supposed to "add salt and pepper to taste" in a recipe containing raw meats, here's the trick. Pinch off a little of the meat mixture (after mixing really well to evenly distribute seasonings!) and fry it in a skillet over medium heat. When cooked through, taste and adjust seasonings as needed.
PRO Tip:
Feel free to double or even triple the sauce recipe. I always make a huge pot and then freeze portions for future meals. The best way to do this is to use resealable plastic bags, add about 3 ladles of sauce, press out the excess air and lay them flat on a sheet tray. Then you freeze them on the tray and you'll wind up with beautifully flat frozen packets that stack perfectly!
Key Ingredients for this Recipe
Crushed canned tomatoes

Onion, garlic, basil, oregano

Red wine or water

Gluten-free bulk Italian sausage or ground dark turkey

Eggs

Parmesan cheese

Gluten-free or regular pasta of your choice
Kitchen Tools I Use to Make This Recipe (affiliate links)
Gluten-Free Tips:
Be sure to ask your butcher if they have any added fillers in their sausages and check the packaging for a gluten-free certification to be sure they are safe for you and your family.
Yield: 4 to 6 servings
Gluten Free Italian Sausage Meatballs with Homemade Marinara Sauce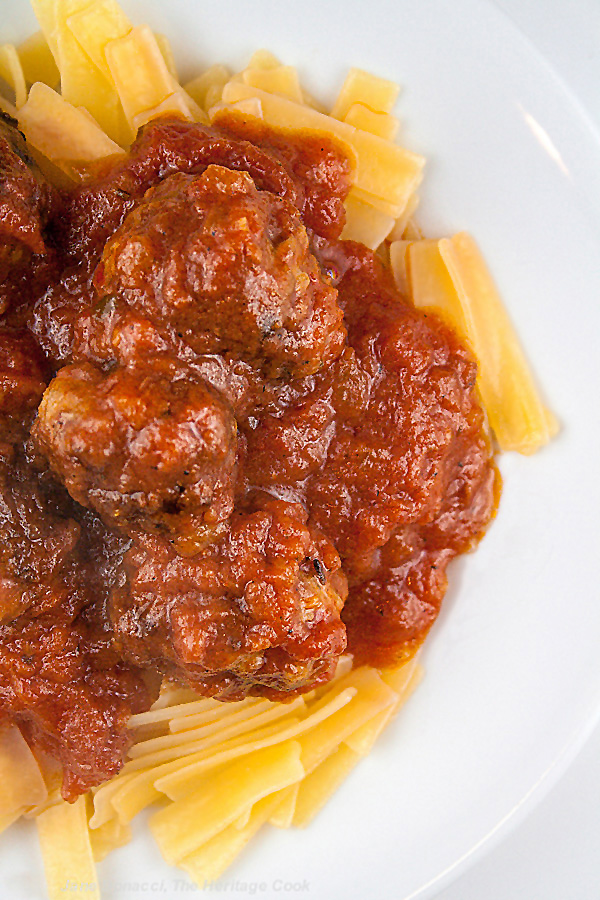 These Gluten Free Italian Sausage Meatballs with Homemade Marinara Sauce is a meal that is great for your family all year long. Satisfying and filling, everyone will have smiles on their faces when they hear what's for dinner!
Total Time
1 hour
30 minutes
Ingredients
Marinara Sauce
2 tbsp olive oil
1 small onion, minced
1 clove garlic, minced
1 tsp dried basil
1 tsp dried oregano
1 (24 to 28 oz) container crushed tomatoes such as Pomi brand
3/4 cup red wine or water
1/2 tsp each salt and freshly ground black pepper
1/2 tsp sugar
6 to 8 fresh basil leaves
Meatballs
2 large eggs
1/4 cup grated Parmesan cheese, plus more for garnish
3 tbsp chopped fresh basil
2 lb gluten-free bulk Italian pork sausage (casings removed if using links)
2 cloves garlic, peeled and minced
Kosher or fine sea salt and ground black pepper to taste
For Serving
Your favorite gluten-free pasta or regular pasta
Additional Parmesan cheese
Fresh basil leaves, torn, for garnish
Instructions
Make the Marinara Sauce: In a large heavy-bottomed pot or Dutch oven, heat oil over medium heat. When the oil is shimmering, add the onions. Stir to coat evenly with the oil. Cook, stirring occasionally until softened and translucent but not browned, about 3 minutes. Stir in the basil, and oregano to infuse their flavor in the oil. Add the garlic and when it becomes fragrant (about 30 seconds), add tomatoes and wine. Add salt, pepper and sugar; stir to combine. Bring to a boil. Reduce heat to medium-low or low and let sauce simmer slowly for at least 30 minutes and up to 1-1/2 hours. Add a little water if sauce becomes too thick. If you like a smoother sauce use an immersion blender to purée. Taste and adjust seasonings.
Near the end of cooking, stack the fresh basil leaves and slice with a very sharp knife across into very thin strips. Stir half into the sauce and use the rest for garnish. The sauce can be made several days in advance. Store, covered, in the refrigerator and reheat before using in this recipe.
Make the Meatballs: Line 2 baking sheets with parchment paper. In a large mixing bowl, combine the eggs, Parmesan, basil, sausage, garlic, salt and pepper. Use your hands to blend everything evenly together. Pinch off a little of the mixture and fry it in a skillet until cooked through. Taste and adjust seasonings if needed.
Use an ice cream scoop to quickly portion pieces about the size of a walnut, dropping them onto the baking sheets. Use your dampened hands to roll them into round balls.
To Fry the Meatballs: Set up a plate or platter with paper towels to drain the meatballs. Place it next to the stove.
Heat a skillet over medium-high heat. Add about 1 tbsp oil to the pan. When it is shimmering, add meatballs, spacing them about 1/2-inch apart to make it easy to turn them. Cook until well browned on one side, then use tongs to roll them over to brown the second side. Reduce the heat to medium and continue cooking, turning until all the sides are browned and the meatballs are cooked through. Transfer to the paper towel-lined plate. Repeat with remaining meatballs.
To Bake the Meatballs: Preheat the oven to 400°F. Place them on the prepared baking sheets, setting them slightly apart so the heat evenly hits all sides. Bake until golden brown, firm to the touch, and cooked through, about 20 to 25 minutes. An instant read thermometer inserted in the center will register at least 160°F. Transfer to a wire rack set over a baking sheet to
drain.
Make Ahead: If you are making the meatballs in advance, leave
them on the parchment and freeze for about 30 to 45 minutes or until the outside is fairly solid. Then place in an air-tight container and freeze for up to a couple of months. When you are ready to use them, leave them at room temperature until you can easily separate them. Place on a parchment-lined baking sheet and bake in the oven at 350°F until cooked through. You can also make the sauce ahead and reheat when ready to serve.
To Serve: Place the meatballs in the sauce to reheat fully, about 10 minutes at a low simmer. Meanwhile, cook your favorite pasta al dente in salted water according to package directions, drain thoroughly, and toss with about 1/4 cup of the sauce.
Scoop portions of the cooked pasta into serving plates, top with several of the meatballs, and add a little more sauce on top. Garnish with additional Parmesan cheese and torn basil. Serve immediately.
Nutrition Information:
Yield:
6
Serving Size:
1
Amount Per Serving:
Calories:

709
Total Fat:

49g
Saturated Fat:

17g
Trans Fat:

0g
Unsaturated Fat:

37g
Cholesterol:

152mg
Sodium:

1474mg
Carbohydrates:

25g
Fiber:

3g
Sugar:

5g
Protein:

35g
If you love this recipe, be sure to follow me on social media so you never miss a post:
| Facebook | Pinterest | Instagram | Twitter |
Create a New Tradition Today!
First Published: 17 Feb 2017
Last Updated: 1 Nov 2019
Welcome! The suggestions here are not intended as dietary advice or as a substitute for consulting a dietician, physician, or other medical professional. Please see the Disclaimers/Privacy Policy page for additional details. Unauthorized use, distribution, and/or duplication of proprietary material from The Heritage Cook without prior approval is prohibited. If you have any questions or would like permission, please contact me. We participate in the Amazon Services LLC Associates Program, an affiliate advertising program designed to provide a means for sites to earn advertising fees by advertising and linking to amazon.com. This page may contain affiliate links.