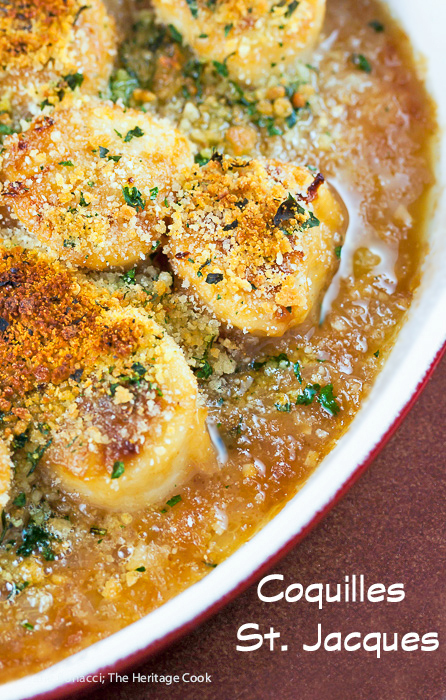 This New Year's Eve, the Artist and I celebrated with a French-themed dinner. Ever since we got back from our trip to France, we've been missing the lovely accents, beautiful scenery, wine and food. While we dream of returning, why not see if I can recreate some of our favorite dishes?
When we moved to our neighborhood, there was a tiny French restaurant run by a Parisian family. The husband and son were the chefs and the wife ran the front of the house. Dominique always made everyone feel special and it quickly became our favorite special occasion destination. We happily celebrated many birthdays, anniversaries, and holidays there.
Claude and his son made stunning food, filled with love and a passion for ingredients – the same passion we saw all over Paris, in every vendor, chef, and server we met. In hindsight it was remarkable to have the quality of meals in our neighborhood. We knew it was special and were crushed when they decided to retire.
We had many favorites on their menu … Steak Marchand de Vin, Coq au Vin, pate, and their wonderful chocolate mousse. But my personal favorite was their Coquilles St. Jacques. It is a luscious dish of sauteed scallops with a creamy sauce.
Because the sauce is so rich you only need a few scallops to completely satisfy your guests, helping keep the cost down. This is worth the splurge every once in a while. Take one bite and you will never be the same again – it is that memorable!
Scallops are sweet and delicate, often prepared simply with a butter sauce or a touch of cheese, just enough to enhance their flavor without overpowering them. You can use them in any recipe that calls for shrimp or clams. For this recipe I chose to top them with gluten-free breadcrumbs mixed with Parmesan and parsley for an exquisite crunchy texture that complemented their seductive tenderness.
I had planned a sumptuous New Year's Eve dinner for us, starting with the scallops and ending with Chocolate Pot de Crème, with a lovely roasted chicken in the middle. I had planned on making the scallops early and finishing them at the last minute. But as they were cooking and filling the house with incredible aromas, the Artist "needed" to eat them right away. 🙂
We wound up taking several hours to eat our dinner, taking long breaks between each course. It was the perfect pace and helped us stay awake and entertained until midnight. And with each bite, we were reminded of the many meals we enjoyed at our local French bistro and those remarkable dining adventures in Paris.
I hope you give these a try soon. They make any day special!
Gluten-Free Tips:
Breadcrumbs are easy to make from GF bread; toast slices and grind them in a food processor. It is much less expensive than buying packaged crumbs.
Gratinéed Coquilles St. Jacques (Gluten-Free)
2015-06-18 15:00:50
Ingredients
Breading
1 cup sifted all-purpose or rice flour, seasoned with salt, pepper, and a touch of paprika
Sauce
1 tbsp butter
1/3 cup very finely minced onions
2 tbsp finely minced shallots
3/4 cup dry white wine or dry vermouth
1 small bay leaf
2 tsp fresh thyme leaves
2 tbsp heavy cream or crème fraîche
Freshly squeezed juice from about 1/2 lemon
Scallops
1-1/2 lb sea or bay scallops, well rinsed and patted dry
1 tbsp butter
2 tbsp olive oil
Assembly
6 tbsp fresh breadcrumbs (use gluten-free bread if needed)
1/4 cup grated Parmesan cheese
1 tbsp melted butter
Fresh lemon wedges, for garnish
Instructions
Set up your Kitchen: Butter 6 scallop shells or ovenproof baking dishes such as au gratins or ramekins with about 1/3 cup capacity, and set on a baking sheet.* Set out a 1-quart saucepan and a 10-inch nonstick skillet. Place seasoned flour in a shallow dish and place it next to the stove. Set a clean plate next to the dish.
Start the Sauce: In the small saucepan, melt the butter over medium heat and cook the onions slowly for about 5 minutes, or until tender and translucent but not browned. Reduce the heat to low, stir in the shallots and garlic, and cook for 1 minute more. Remove from the heat and set aside.
Prep the Scallops: Dry the scallops with paper towels. Lightly sprinkle with salt and pepper, dredge in the seasoned flour, and shake off excess flour. Set onto a plate.
Melt the butter with the oil in the skillet over medium-high heat. When the butter/oil is very hot, use tongs to add the scallops to the pan, making sure that there is room between them so the butter can cook the sides. Sauté quickly for 2 minutes per side to brown them lightly. Use tongs to flip them. Pull smaller ones out a bit ahead of the bigger ones.
Finish the Sauce: Pour the wine into the skillet with the scallops. Add the herbs, cream, lemon juice, and the cooked onion mixture, stirring to blend into the sauce. Cook for 3 minutes, or until scallops are barely cooked through - the carryover heat & broiling will finish them.
Use the tongs to transfer the scallops to the prepared baking dishes. Discard the bay leaf. Taste the sauce and adjust seasonings if needed. If not thickened, boil for about 1 minute then turn off the heat.
Spoon the sauce over the scallops. If making ahead, cover and refrigerate. If serving right away, set aside.
When you are ready to serve, set a rack about 8-inches below the top and preheat the broiler on High.
In a small bowl, combine the parsley, breadcrumbs, and Parmesan, stirring to blend. Stir in the melted butter and sprinkle mixture over the tops of the scallops. Slip the scallops (on the baking sheet) under the broiler and cook for 4 to 5 minutes or until the scallops are heated through and the top is golden brown.
Serve immediately with lemon wedges.
Notes
* If using scallop shells, line the baking sheet with a Silpat, a layer of crumpled aluminum foil, or a thick layer of raw rice. Any of these will help keep the shells from bobbling or sliding around. Using a bed of rice or other grains on your serving platter is not only beautiful, but it also stabilizes the scallop shells.
The Heritage Cook ® https://theheritagecook.com/
Create a New Tradition Today!
Disclosure: This is a sponsored post. I received compensation and products for recipe development.
Let's connect! If you ever need any entertaining or cooking advice, need to alter a recipe for gluten-free, or want recipe suggestions, don't hesitate to email me. Thanks for reading!
Unauthorized use, distribution, and/or duplication of proprietary material from The Heritage Cook without prior approval is prohibited. This includes copying and reprinting content and photographs. If you have any questions or would like permission, I can be contacted via email. Feel free to quote me, just give credit where credit is due, link to the recipe, and please send people to my website, www.theheritagecook.com. Please see the Disclaimers page for additional details.
This site is not intended to provide medical advice. The suggestions here are not intended as dietary advice or as a substitute for consulting a dietician, physician, or other medical professional. It is the reader's sole responsibility to determine which foods are appropriate and safe for their family to consume. Always consult your doctor. The author makes no claims regarding the presence of food allergens and disclaims all liability in connection with the use of this site.
Thank You!