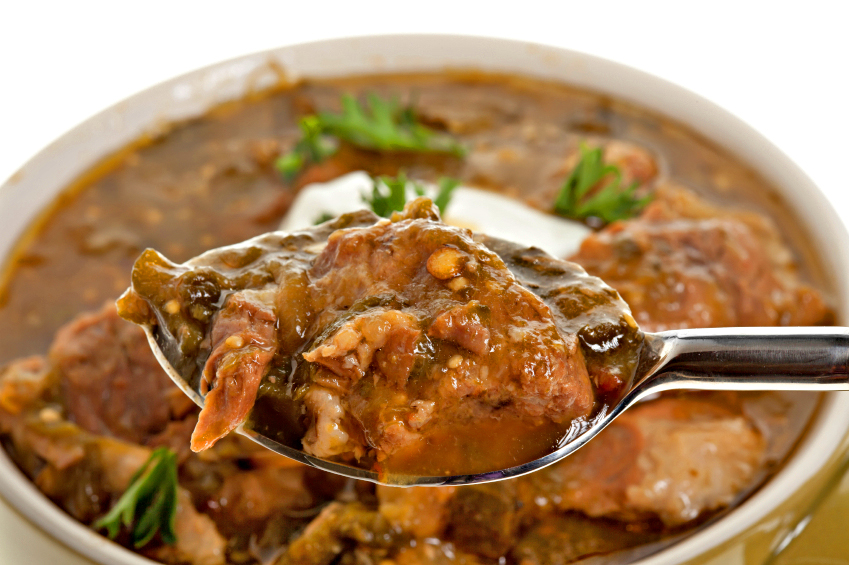 Do you remember when we used to have old-fashioned butcher shops in every town? I always ran errands with my mother when I was little. We had the most wonderful butcher in our town. He was kind and laughed a lot, probably flirting a little with the women shoppers, but I was too young to notice.
Whenever we went there I would run in ahead of my mother, and stand with my nose pressed against the glass case, marveling at all the different cuts and types of meats. I loved how excited the butcher was to talk about what was freshest and what he had just gotten in that morning. He would tear of big sheets of butcher paper with great flourish and wrap up our ingredients for dinner. I would "help" by carrying the tidy package out to the car, being very careful not to drop it.
The days of the independent butcher are waning, but a few artisan butchers are springing up. We are incredibly fortunate to have one in our area that we love. Called The Fatted Calf, their primary location is in Napa and they have a second storefront in San Francisco. With an intense dedication to preserving heritage breeds and supporting local and sustainable farming, The Fatted Calf sells some of the finest meats and poultry I've ever seen. They have a huge glass case full of handmade sausages, cured and smoked pork, duck, organic chicken, confit, pates, chops, steaks, and roasts of all shapes and sizes. The first time I walked in the door I nearly fainted with delight. Now they know us and we never walk away without our cooler stuffed with amazing products just ready to turn into something wonderful. I urge you to support your independent food artisans. They are working hard to preserve a way of life that is quickly being forgotten.
Pork used to be a totally different product than it is today. There was no rush to fatten pigs, they weren't fed by-products to reduce costs, and they weren't bred to produce a leaner product. Pigs used to be left on their own to live a pigs life, enjoying their days until it was time to visit the butcher. Pork was much fattier then, with plenty of flavor and was tender and moist. Not anymore. Follow this country's phobia about weight gain, pork producers started breeding for leaner and leaner pigs. Now we definitely have a lean product, but it has lost so much flavor that it barely resembles what I grew up eating.
When you have the opportunity, buy heritage pork. You will hardly recognize it. It is a deep red, nearly as red as beef, not the pasty white that we are used to, with an intense pork flavor you never knew existed. Rich and satisfying, you suddenly realize how much we have lost in our rush to streamline meat production. We would all be much happier, as would the pigs, if we went back to the old ways.
One of the easiest ways to prepare a pork shoulder is by slow cooking it until it falls apart. Using a flavorful liquid adds intense character and produces an incredible stew that needs little else. I use either my big Dutch oven or slow cooker to give the meat time to turn tender. One of my favorites is today's recipe. I used a canned enchilada sauce to make it really easy, but you can certainly make your own from scratch.
I used Vidalia onions for this batch and they add a huge boost of flavor to the recipe, but any onion will work. If you like more heat, add a minced jalapeno chile, red chile flakes, or a dash of hot sauce. Fresh tomatillos are fantastic and their astringency is a terrific balance for the richness of the pork.
On days when you have a ton of things to do and no time to spend making dinner, this is the perfect recipe. In about 20 minutes you will have the entire dish assembled, then put it in the oven or slow cooker and forget about it for a few hours. Dinner will be ready when you get back to the house.
Have a wonderful day!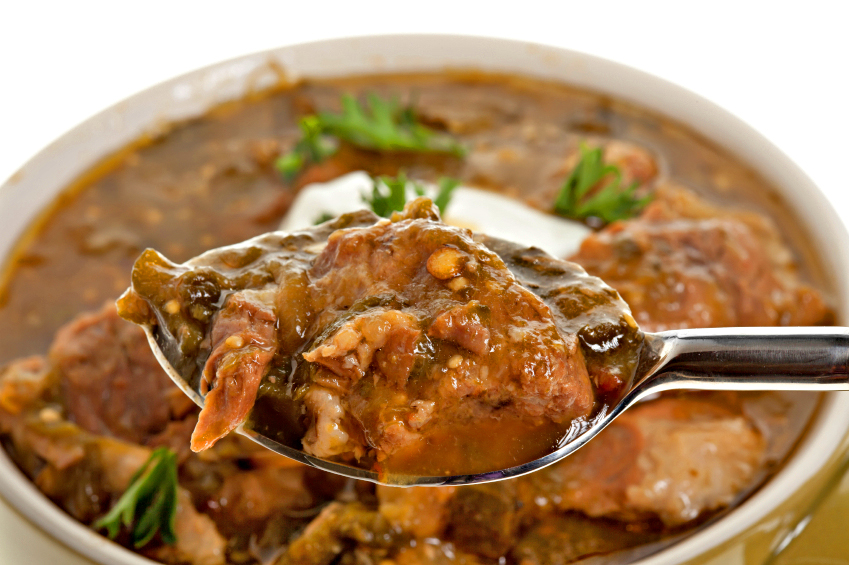 Green Chili Pork Stew
2015-07-15 15:08:01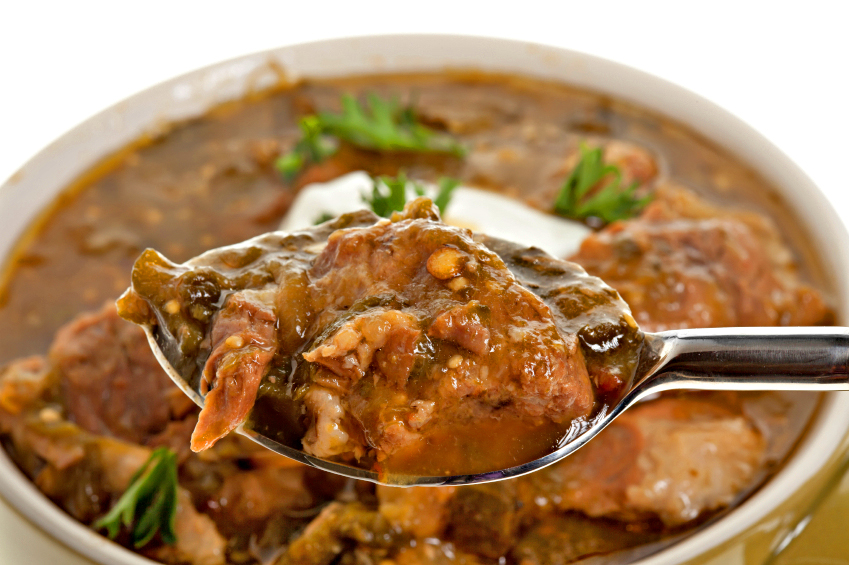 Ingredients
2 to 3 lb boneless pork shoulder or boneless country ribs
1 large onion, sliced thinly
3 stalks celery, roughly chopped
3 carrots, roughly chopped
1 yellow bell pepper, seeded and cubed
Salt and freshly ground black pepper
1 (19 oz) can Green Chile Enchilada Sauce - preferably Las Palmas brand
2 tsp ground cumin
1 tsp ground ancho chili powder
1/2 tsp garlic powder
1 tsp onion powder
1/2 tsp sugar
1 (14.5 oz) can fire roasted tomatoes - preferably Muir Glen
1/4 cup water
1/2 bunch fresh cilantro, washed well, patted dry and leaves chopped, divided
Fresh tortillas
Instructions
Trim pork of excess fat and connective tissue, and then cut into 1 to 2-inch cubes. Spread sliced onions, celery, and carrots over bottom of a 9x13-inch baking pan and top with cubed pork. Sprinkle with salt and pepper.
In a large bowl or an 8-cup Pyrex cup, combine the enchilada sauce with the cumin, chili powder, garlic powder, onion powder, and sugar. Stir with a whisk until smooth. Stir in tomatoes and water. There will be about 4 cups of liquid.
Pour over pork and onions. Cover pan tightly with foil. Bake in the center of oven at 350°F for about 2-1/2 hours or until meat is falling apart. Remove foil, spoon off accumulated fat, and return to oven for about 15 minutes or until pork begins to brown. Stir in half of the chopped cilantro.
Ladle into bowls and sprinkle with remaining cilantro. Serve immediately with fresh tortillas.
Serving suggestion: Serve over cooked white, brown, or Mexican rice for a filling meal.
To Use a Slow Cooker: Layer meat and onions in slow cooker. Pour enchilada sauce mixture over and cover with the lid. Cook on low for about 7 hours or on high for about 4 hours or until the pork is meltingly tender and falls apart easil
Notes
Yield: 4 to 6 servings
The Heritage Cook ® https://theheritagecook.com/
Unauthorized use, distribution, and/or duplication of proprietary material without prior approval is prohibited. If you have any questions or would like permission, I can be contacted via email at: heritagecook (at) comcast (dot) net. Feel free to quote me, just give credit where credit is due, link to the recipe, and please send people to my website,
www.theheritagecook.com.
Thank You!