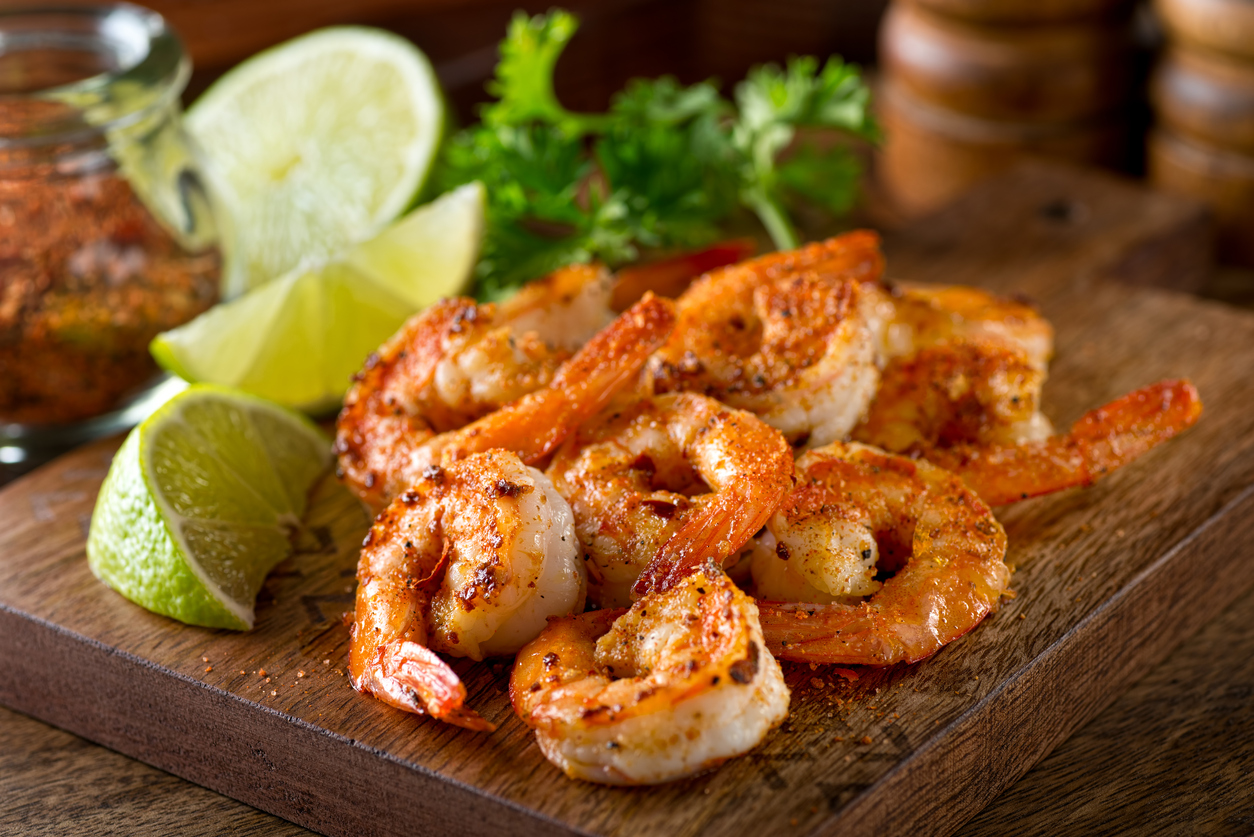 These Grilled Cajun Shrimp Skewers are truly a dream to make and serve. Bold flavors from the seasonings blend with the smoke from the grill to make a delightful beginning to any meal or make more and turn them into a main course!
Barbecued shrimp are a real treat. I think they are the perfect appetizer for parties and everyone loves them. They are quick to prepare and cook in a snap so dinner can be on the table in under 30 minutes.
Shrimp are versatile and can be prepared in a wide variety of ways. Steamed, grilled, sautéed, or deep-fried, I love them any way I can get them!
Shrimp are one seafood option that does not suffer from being frozen – as long as they are handled properly. Always look for transparent packaging and avoid any that have ice crystals inside the bag or shrimp with discolored spots which may be a sign of freezer burn.
Defrost them in the refrigerator overnight, or if time is tight, leave them in their sealed plastic bag and submerge the whole bag in a bowl of cold water in the sink. They should be ready in less than an hour. Don't soak the shrimp directly in water or they'll lose a lot of their flavor.
When using direct dry heat methods such as grilling, always cook shrimp in the shell, if possible, to help protect the delicate meat and keep them moist. They cook extremely quickly and will overcook in an instant. They start out white or grey and translucent, and are done when they turn pink and opaque. When overcooked, they become tough and rubbery. They should always be the last things you cook before serving.
When you are buying fresh shrimp, they are sold by the size. It sounds like a code and it is … 21-25 means that there are 21 to 25 pieces per pound. It is a much more accurate way to order than asking for medium or jumbo shrimp. See the chart below for more details on sizing.
If you are cooking on a charcoal grill, please do yourself and the environment a huge favor and stop using lighter fluid. It is unhealthy to inhale and imparts its flavor to the foods you cook over it.
My favorite solution to lighting charcoal is a charcoal chimney, a large metal rectangular box with a cage in the bottom and a handle on one side. You fill it with your coals, place some wadded up paper in the bottom, set it in your barbecue, and light the paper. In a few minutes the coals catch and become red hot. You pour them out of the chimney into the grill, top with the grate and you are ready to cook.
With the charcoal chimney you will need to make sure you have a protected heatproof, non-flammable area to place it while it cools off. Make sure no one, especially little kids, can accidentally bump into or step on it.
While the best choice is to cook all foods separately, if you prefer threading the skewers with a combination of veggies and shrimp, you need to precook the veggies most of the way in either the microwave or by steaming, and then when they are cool enough to handle, thread them on the skewers with the shrimp.
Cajun cuisine is peppery and full of flavor. The spices can transform an unremarkable meal into something special. If you've gotten in a rut and need a kick-start, try adding some Cajun seasoning to your cooking. Your family will thank you!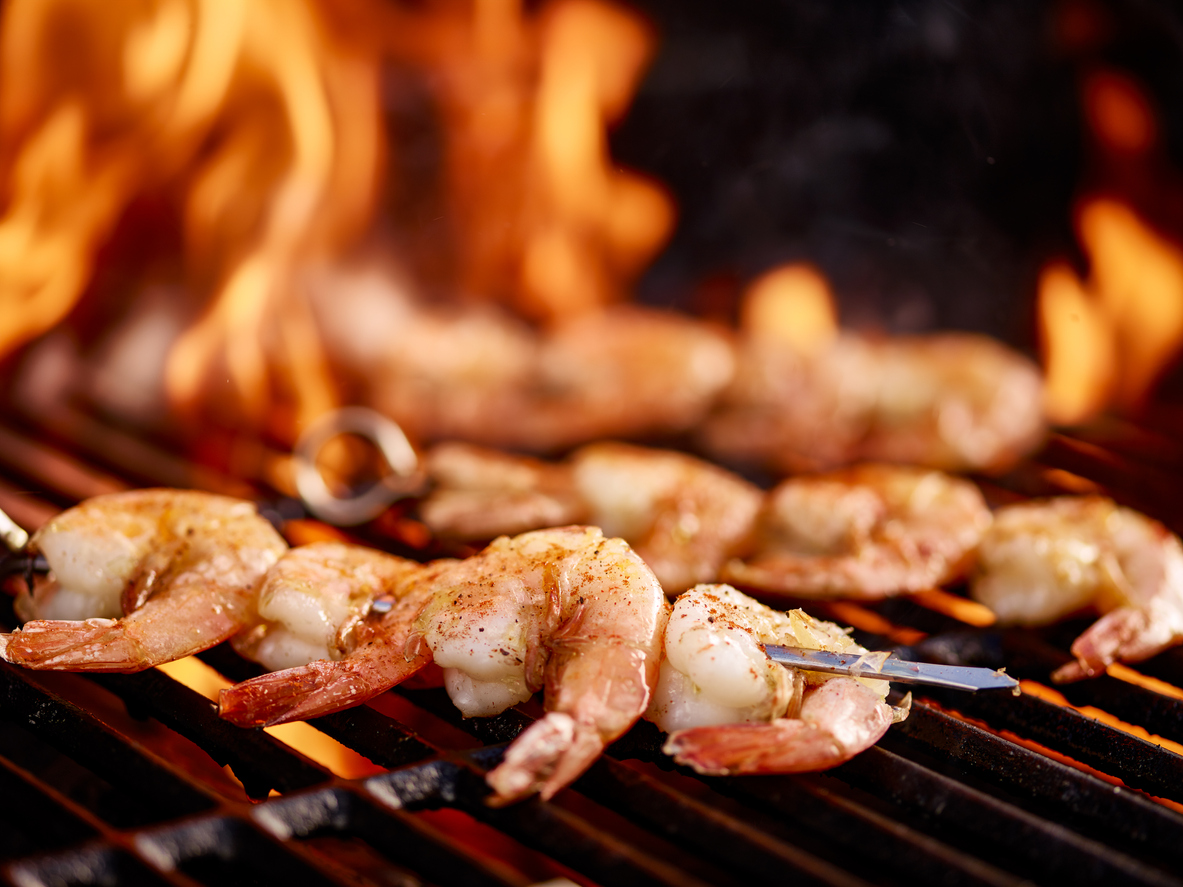 This is one of my favorite go-to dinners. I can have it on the table in about half an hour and you know what a lifesaver that can be when you have a hungry family anxiously waiting, LOL!
I hope you enjoy these Grilled Cajun Shrimp Skewers, maybe as part of your Labor Day weekend celebrations. If you want to make them all year long, you can sauté the shrimp instead of grilling and still have a delicious meal any night of the week.
Did you enjoy this recipe? Let me know in the comments, I love hearing from you!
Key Ingredients for Grilled Cajun Shrimp Skewers:
Paprika, kosher salt, Old Bay seasoning, garlic powder

Onion powder, cayenne, thyme, sugar, olive oil

Uncooked medium shrimp, cooked rice (for serving)
Why do you cook the shrimp with the shells on?
Leaving the shells on helps protect them from the heat and gives you more succulent shrimp. Your guests will have to use their fingers to peel the cooked shrimp, so make sure you have lots of napkins on hand!
PRO Tip:
You can serve these skewers over rice or with fresh pico de gallo, tuck the shrimp into tacos, serve over a tossed salad, or toss with hot pasta!
PRO Tip:
Deveining shrimp is one step that you shouldn't skip. The "vein" is actually the intestinal tract and removing it improves the flavor of the shrimp. With a very sharp knife gently slice down the rounded outside of the shrimp. Pull the two sides apart and pull out the vein. Working under running water or in a bowl of water makes this easier.
How to make Grilled Cajun Shrimp Skewers:
Build a medium charcoal fire or heat one side of a gas grill to medium-high; combine the seasoning ingredients in a small bowl, add the oil and stir to make a paste

Rub the seasoning paste all over the cleaned shrimp, refrigerate for 15 to 20 minutes; wash your hands

Place 3 shrimp on each skewer, leaving some room between each shrimp; place the shrimp over the hot side of the grill and cook 1 to 2 minutes

Flip over and move to cool side of the grill, cooking 1 to 2 minutes until the shrimp are opaque and pink

Remove from the heat and serve over cooked rice if desired
PRO Tip:
Here is a chart of shrimp counts (per pound) and their common names:
Name = Count (per pound)
Extra Colossal = U-10 (under 10)
Super Colossal = U-12 (under 12)
Colossal = U-15 (under 15)
Extra Jumbo = 16 to 20
Jumbo = 21 to 25
Extra Large = 26 to 30
Large = 31 to 35
Medium Large = 36 to 40
Medium = 41 to 50
Small = 51 to 60
Extra Small = 61 to 70
Recommended Tools (affiliate links; no extra cost to you):
Gluten-Free Tips:
Make sure that all of your seasonings are gluten-free. I like Penzey's and McCormick because they clearly label all of their products and sell single ingredient herbs and spices to make your own blends.
Yield: about 4 servings
Grilled Cajun Shrimp Skewers
These Grilled Cajun Shrimp Skewers are truly a dream to make and serve. Bold flavors from the seasonings blend with the smoke from the grill to make a delightful beginning to any meal or make more and turn them into a main course!
Additional Time
20 minutes
Ingredients
1 tbsp paprika
1/2 tsp kosher salt
2 tsp Old Bay seasoning
1/4 tsp garlic powder
1/2 tsp onion powder
1/4 to 1/2 tsp cayenne pepper, to taste
1 tsp dried thyme leaves or rosemary, crumbled
Pinch sugar
1 tbsp olive oil
1-1/2 lb uncooked medium shrimp, deveined, shells left on
Cooked rice, for serving, optional
Instructions
Build a medium fire on one side of a charcoal grill. If using a gas grill, heat one side to medium-high. Line a baking sheet with two layers of aluminum foil. If you are using wooden skewers, soak them in water.
In a small bowl, combine paprika, salt, Old Bay, garlic, onion, cayenne, thyme, and sugar. Stir until evenly mixed. Stir in oil to make a paste.
Place cleaned and deveined shrimp in a medium bowl. With your hands, rub the spice paste all over the shrimp, getting some under the shells if possible. Set shrimp in the refrigerator for 15 to 20 minutes. Carefully wash your hands to remove all the pepper. If you don't and you rub your eyes, you'll be sorry!
Preferably using flat metal skewers (which don't burn and keep the food from spinning), thread several shrimp on each skewer, piercing through the tail and the body so that they are in a crescent shape. Make sure you leave space between them so they cook evenly. Place skewers on the prepared baking sheet.
Using tongs, oil the grill with a paper towel. Place skewers over the hot fire and cook for 1 to 2 minutes. Turn each one over and move it to the cool side of the grill. Cook for another 1 to 2 minutes or until shrimp turn pink and are firm to the touch. Err on the side of removing them slightly before they are done. The residual heat will finish cooking them.
While the skewers are cooking remove the used foil layer from the baking sheet so you are placing the cooked shrimp on a clean surface. Serve immediately. You can serve them slipped off the skewers, laid across a mound of rice if you like. Dig in and enjoy!
Recipe Source: The Heritage Cook
Nutrition Information:
Yield:
4
Serving Size:
1
Amount Per Serving:
Calories:

403
Total Fat:

8g
Saturated Fat:

2g
Trans Fat:

0g
Unsaturated Fat:

5g
Cholesterol:

479mg
Sodium:

2615mg
Carbohydrates:

25g
Fiber:

2g
Sugar:

0g
Protein:

55g
If you enjoyed this recipe, be sure to follow me on social media so you never miss a post:
Create a New Tradition Today!
Welcome! The suggestions here are not intended as dietary advice or as a substitute for consulting a dietician, physician, or other medical professional. Please see the Disclaimers/Privacy Policy page for additional details. Unauthorized use, distribution, and/or duplication of proprietary material from The Heritage Cook without prior approval is prohibited. If you have any questions or would like permission, please contact me. We participate in the Amazon Services LLC Associates Program, an affiliate advertising program designed to provide a means for sites to earn advertising fees by advertising and linking to amazon.com. This page may contain affiliate links. This post was first shared in Aug 2011. The article was updated in 2021.