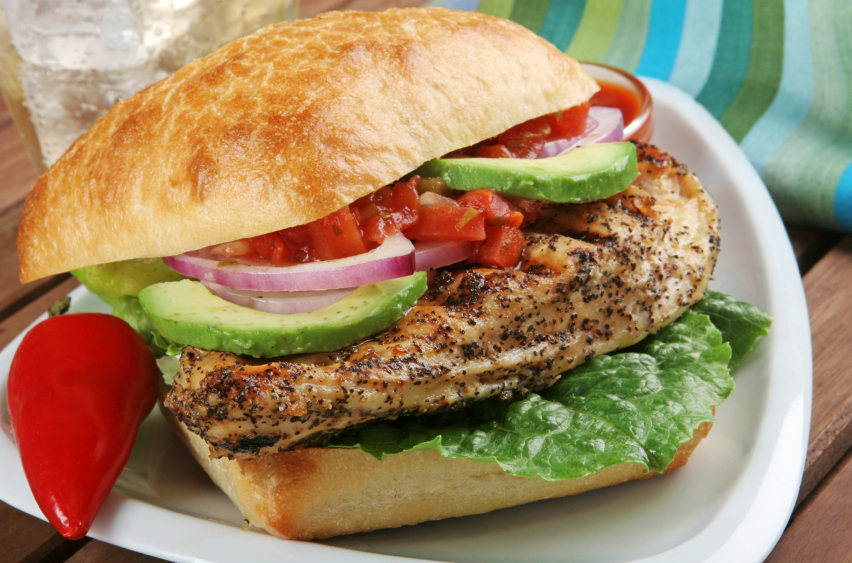 A few years ago we had some friends coming over for dinner and I wanted something casual, easy to make, and that everyone would be able to assemble to their individual tastes. I had never cooked for these folks before so I wasn't sure of their preferences. I figured you can't go wrong with chicken, LOL! So I headed to my cookbook library and began the search for the perfect recipe.
I browsed for a while and then saw the Gotham Bar and Grill Cookbook. Chef Alfred Portale always has wonderful recipes and as soon as I saw this one, I knew it was exactly what I was looking for. There is a simplicity to it, with an emphasis on the quality of the ingredients. A very simple marinade of fresh lemon juice and olive oil does wonders for chicken, giving it flavor and helping to keep it moist during cooking. Chicken and pork, in particular, truly benefit from marinating. I think it makes the difference between a mediocre dish and an outstanding one.
One of the directions in the ingredients is to pound the chicken breasts to slightly flatten them. The reason you do this is to make sure the meat cooks as evenly as possible. If half of the breast is 2 inches thick and the other half is only 1/2 inch thick, half will be either over or under done. To do this take a zip-top plastic bag and cut off both ends and cut down one side to open up the bag. Set the chicken about 1 inch in from the side and cover with the rest of the plastic. By the way, the reason you use a zip-top bag is because if you use any plastic less thick, it will tear as you try to work with it. Use the smooth side of a meat pounder or you can even use the bottom of a heavy skillet if you want. Start at the fat side and pound it until it is fairly evenly thick.
Instead of pounding, I usually cut chicken breasts in half horizontally. I learned this when I was working in a professional kitchen. It makes each piece more even and you can feed more people with less protein, saving you money. The time it takes to cook these chicken pieces will vary depending on the thickness, the temperature of the meat, and the heat of the fire. Rather than depending on time, I always press on the meats, judging the degree of doneness by the firmness. When you first put the meat on the grill, press on it with a pair of tongs. As it cooks it will become firmer. Try not to cut into the meats because that releases the juices. If you pull them off the heat too soon, you can always finish them in the oven or microwave. And don't forget to let the meats rest after you remove them from the heat. This allows the juices to redistribute back into the center, increasing the moistness.
There are a lot of fancy-sounding words in cooking, a result of absorbing techniques from many different cultures, predominately French. It can be intimidating, but once you know what they mean you discover that they are just regular tasks or ingredients that you use every day. For example, Aioli, pronounced ay-oh-lee, and is simply a garlic-flavored mayonnaise. For this sandwich you make your own aioli by whisking egg yolks and oil together until it emulsifies. I would never do this by hand now that I have a food processor – it makes this nearly foolproof. If you want a shortcut that I use all the time, see my Tips and Hints below. I use store-bought mayonnaise and flavor it instead of starting from scratch. This also works for those people with compromised immune systems that should not risk eating raw eggs.
The best bread for this sandwich is a loaf of artisan or rustic bread that you slice yourself. That way you can cut slightly thicker slices that will stand up to the chicken and all the toppings. I also like a split baguette, French, torpedo or hoagie rolls. If you like pita pockets, slice the chicken into thin strips which makes it easier to stuff inside. You can also use large flour tortillas and create wraps.
Use this recipe as a base to start from and see how far you can take these sandwiches. You can serve typical toppings or give your guests some more unusual options. A spicy salsa would be fun, or maybe a little chutney in place of the aioli. I always love grilled pineapple with a splash of teriyaki sauce, or maybe an array of interesting mustards to choose from. Any combination is fair game and you can present anything that you like. My guests always enjoy having an assortment to choose from and mixing and matching their own favorites.
As you plan your meals for the upcoming holiday weekend, make sure you include some really easy ones like this so that you don't spend the entire time in the kitchen. Get outside and have fun with the people you love!
Jane's Tips and Hints:
For an easier and pasteurized form of aioli, use store-bought mayonnaise. I prefer Hellman's (on the East Coast) or Best Foods (on the West Coast). Combine 1-cup mayonnaise with the chopped basil and 1/4 to 1/2 tsp garlic paste (see Kitchen Skill), and 1/2 tsp freshly squeezed lemon juice, or to taste. Whisk until thoroughly blended, taste, and adjust seasonings.
Kitchen Skill: How to Make Garlic Paste and How to Roast Garlic

Peel garlic cloves and split in half lengthwise. Remove any green sprouted center (it is bitter), if present. Finely mince garlic with a sharp chef's knife. Sprinkle minced garlic with a little coarse salt, and using the side of the knife blade, smash the garlic to a paste. To do this, draw the nearly flattened knife toward you (dull side of knife facing you), pressing down on the garlic. Scrape the garlic back to the top of the cutting board and draw the knife blade across the board, smashing the garlic into a paste. The salt helps break down the garlic. This sounds more complicated than it really is.
If you want a milder and easier garlic paste, use roasted garlic. Preheat the oven to 400°F. Cut off the top quarter of the whole head of garlic, exposing the cloves. Place it on a piece of foil, drizzle with a little olive oil, and wrap the foil around the head of garlic, completely enclosing it. Bake for about 30 to 35 minutes or until it feels soft when gently squeezed. Remove from the oven carefully and let cool so you don't burn yourself. Squeeze the cloves out of the paper covering and smash as directed above.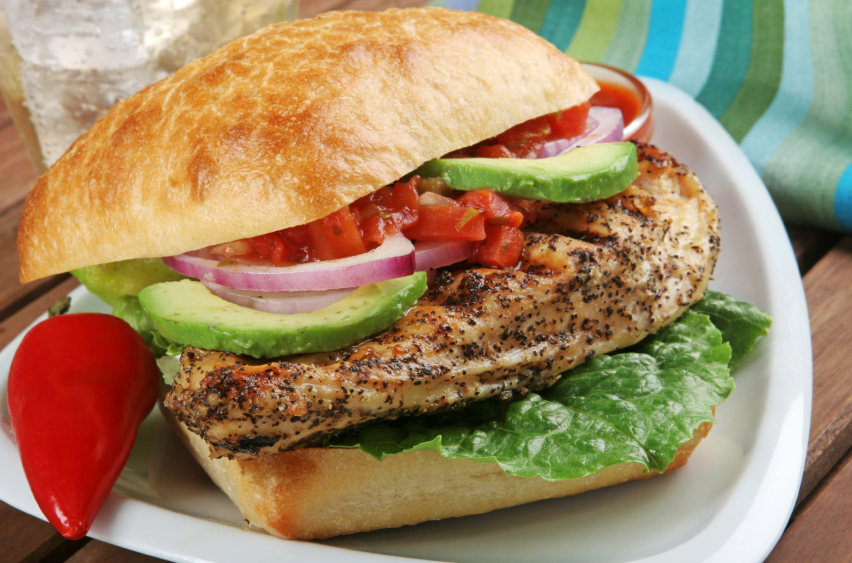 Grilled Chicken Sandwich with Fontina and Basil Aioli
2015-07-17 10:14:44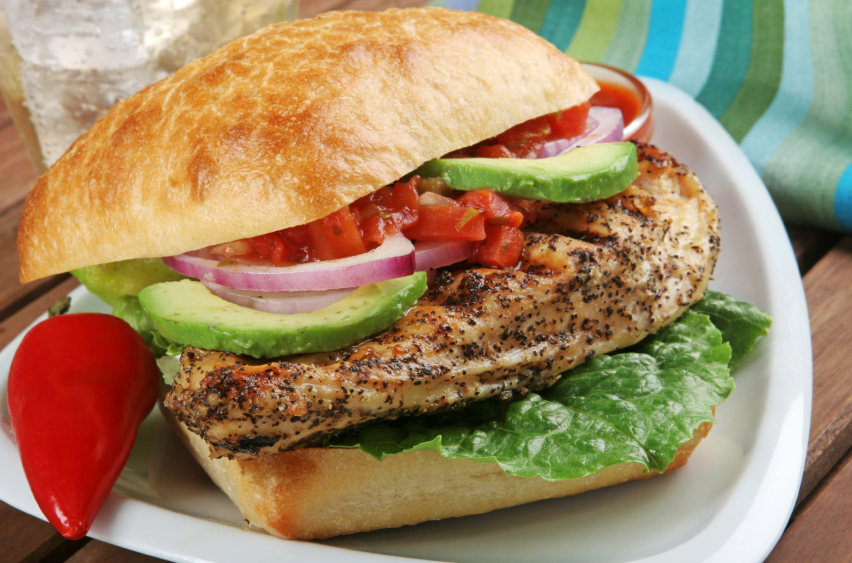 Ingredients
Chicken
2 tbsp extra-virgin olive oil
3 tbsp freshly squeezed lemon juice
4 (6 oz) boneless, skinless chicken breasts, lightly pounded to even thickness
Freshly ground pepper to taste
Aioli
2 large egg yolks at room temperature
2 large garlic cloves, mashed to a paste with a sprinkle of coarse salt
1 tsp fresh lemon juice, or more as needed
1/4 tsp Dijon mustard
1/4 tsp cayenne
1 cup canola oil
1/2 cup olive oil
6 tbsp heavy cream
Coarse salt to taste
1/4 cup finely chopped fresh basil
Sandwich and Garnishes
8 slices of crusty Italian bread, artisan French rolls, or your favorite brand
6 oz Fontina d'Aosta cheese, rind removed, thinly sliced
2 ripe tomatoes, thinly sliced
Thinly sliced red onion, optional
1 avocado, thinly sliced, optional
1 bunch arugula, thick stems discarded, or lettuce leaves, washed and dried
Instructions
To Prepare the Chicken: In a small bowl, combined the extra-virgin olive oil and lemon juice. Add the chicken breasts and season with pepper. Turn to coat, cover, and refrigerate for 4 hours. Make the aioli while the chicken is marinating.
To Make the Aioli: Place the egg yolks in a medium bowl. Drape a kitchen towel in a medium saucepan and place the bowl on top of the towel to steady it. (This saves you from needing another person to hold the bowl!) Whisk in the garlic, lemon juice, mustard, and cayenne.
Combine the canola and olive oils in a measuring cup. Drop by drop, very slowly whisk in the oil. This will take at least a couple of minutes. If the aioli gets too thick to whisk, you can add a little of the cream to thin it slightly.
When all the oil is incorporated, whisk in the cream. Season with salt and balance the acidity with more lemon juice if needed. Stir in the finely chopped basil, cover and refrigerate. This can be prepared up to 1 day in advance. Let stand at room temperature for 30 minutes before serving.
To Cook Chicken: Build a charcoal fire in an outdoor grill, letting the coals burn until covered with white ash.** Push the coals to one side of the barbecue. Lightly oil the grill. Season the chicken breasts with coarse salt. Starting on the hotter side, grill the chicken, turning once and moving them to the cooler side, until the breasts feel firm when pressed in the center, about 8 minutes total cooking time. When the chicken is almost done, lightly toast the bread over the coals.
Spread the basil aioli on all of the bread and build the sandwiches with the chicken, Fontina cheese, tomatoes, and arugula, plus onions and avocado if using. Season with salt and pepper. Top with remaining bread. Cut each sandwich in half and serve.
Notes
Yield: 4 sandwiches
*Use a charcoal chimney (see picture above) instead of dousing the charcoal with lighter fluid. Your food will taste better and your neighbors and the environment will thank you for not using polluting petrochemicals.
The Heritage Cook ® https://theheritagecook.com/
Unauthorized use, distribution, and/or duplication of proprietary material without prior approval is prohibited. If you have any questions or would like permission, I can be contacted via email at: heritagecook (at) comcast (dot) net. Feel free to quote me, just give credit where credit is due, link to the recipe, and please send people to my website,
www.theheritagecook.com.
Thank You!