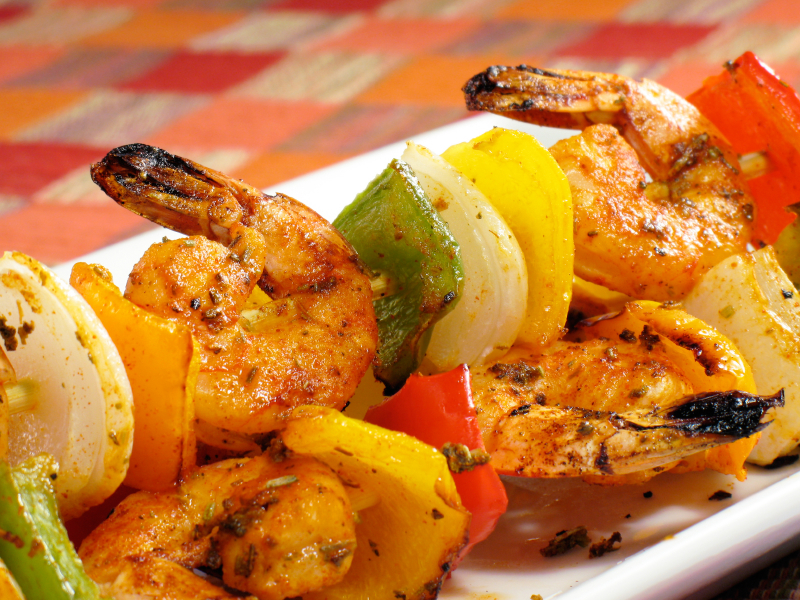 Barbecued shrimp are a real treat. I think they are the perfect appetizer for parties or serve them as your entree and everyone loves them! They cook in only a couple of minutes so dinner can be on the table in under 30 minutes. They are versatile and can be prepared in a wide variety of ways. Steamed, grilled, sautéed, or deep-fried, I love them any way I can get them!
Grilling foods adds smokiness to all foods and enhances their natural flavors. One challenge with cooking small items like shrimp is not having them fall through the grate. There are two ways to accomplish this. You can use a grill "skillet" or basket and stir them with a long handled spoon, or you can thread them onto skewers. For many years I used bamboo skewers just like everyone else and always struggled to get the food cooked without burning the sticks. Wrapping the ends with foil does help, but the other problem is the food spins on round skewers making them really hard to flip and cook the other side. After years of struggling, I finally bought myself a set of metal skewers that are flat. They work like a charm!
One of my favorite cuisines is Creole/Cajun. The French-speaking Acadians from Canada, deported by the ruling British, traveled south until they reached the mouth of the Mississippi river and settled in current day Louisiana. They applied their French cooking techniques to local foods such as rice and crawfish, creating a new cuisine.
A hallmark of French cooking is mirepoix (meer-pwah) a combination of finely diced onion, celery, and carrots used as the base for nearly all sauces. Utilizing vegetables they could find in the area, they combined bell peppers, onions, and celery to create what is known as the "holy trinity" of Creole and Cajun cooking. And like mirepoix it is the foundation of most dishes. The influences of African, Spanish, and Native American cuisines are also evident, especially with the use of smoked meats. Grilling Cajun-seasoned foods adds that final ingredient, smoke, that takes the flavor over the top.
Cooking shrimp is a lesson in speed and attention to detail. The primary mistake that people make is over cooking them. Shrimp take just a minute or two to cook and leaving them on the heat any longer results in tough, rubbery, flavorless morsels. Leaving the shells on helps protect them from the heat and gives you more succulent shrimp. Your guests will have to use their fingers to peel the cooked shrimp, so make sure you have lots of napkins on hand. If you choose to use peeled shrimp, be prepared to stand right next to the barbecue as they cook. Don't wander away or they will be overdone.
One of the frustrations of kabobs is that usually some of the food cooks quickly while other ingredients take longer. There are two ways around this and either works great. The first trick is to partially precook those items that take longer, such as onions. You can do this in a saute pan, the oven, or microwave. You want to just start cooking them so that all they need to do is finish on the grill. If you are using a very quick cooking protein like shrimp, cook everything else virtually all the way because they will spend so little time on the grill.
The second way to get perfectly cooked skewered foods every time is to make skewers with just one ingredient on them and cook them according to the requirements of that ingredient. For example, if I wanted to serve shrimp kabobs with onions, zucchini, and pineapple, I would make a skewer of just pieces of onion, another with only zucchini, and one stacked with pineapple. Then each one goes on the grill, and I cook them as needed, removing them as they are done. If you do it this way, cook all of the vegetables first and remove them from the skewers. Toss them all together in a bowl. Keep them warm by covering the bowl with foil. Then thread the shrimp or whatever else you are cooking and grill those as well. When you are ready to serve, scoop a pile of the grilled vegetables onto serving plates and top with the grilled skewers and let your guests slide the food off of them. Make sure you have a plate on the table to hold the skewers.
If you have a charcoal grill, do yourself and the environment a favor and stop using lighter fluid. If you use a charcoal chimney you absolutely don't need it and your food will taste much cleaner. The difference is remarkable and once you realize how good your food tastes without the petrochemicals, you'll never go back.
You can serve these shrimp over rice, tuck them into tacos, serve with a tossed salad, or toss with hot pasta. Cajun cuisine is spicy and full of flavor. The seasonings can transform an unremarkable meal into a memorable feast. If you've gotten in a rut and need a kick-start, try adding some Cajun spices to your cooking. Then you can let the good times roll or as they say in New Orleans, laissez les bon temps rouler!
Jane's Tips and Hints:
When cooking foods on skewers, leave room between each item so that the heat can get to all sides. This allows the food to cook more evenly and quickly.
Kitchen Skill: How to Devein Shrimp
Deveining shrimp is one step that you shouldn't skip. The "vein" is actually the intestinal tract and removing it improves the flavor of the shrimp. With a very sharp knife gently slice down the rounded side of the shrimp. Pull the two sides apart and pull out the vein. Working under running water or in a bowl of water helps.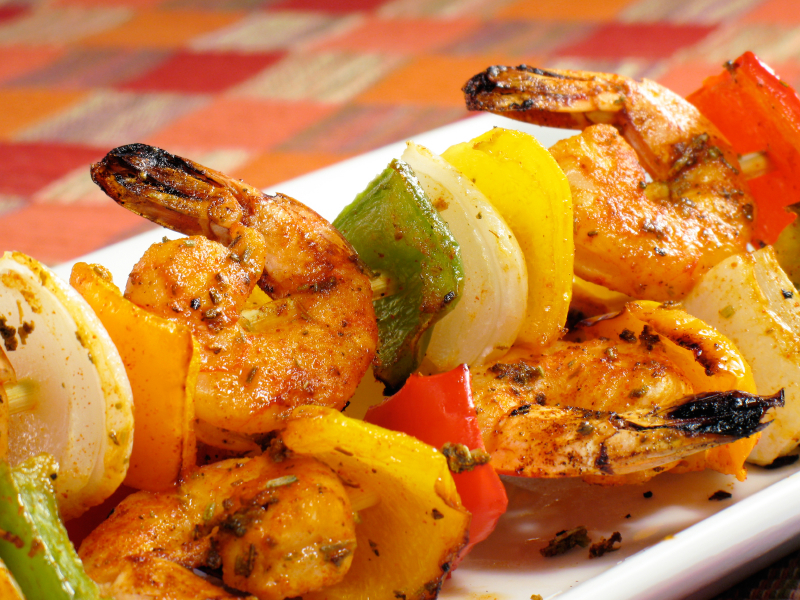 Grilled Cajun Shrimp Kabobs
2015-07-17 10:24:27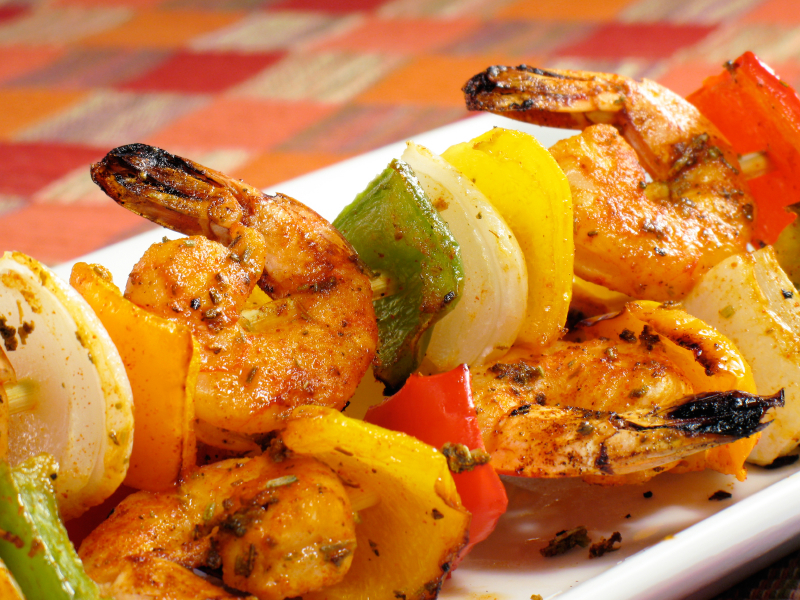 Ingredients
Spice Rub

2 tbsp paprika
1 tsp salt
4 tsp Old Bay seasoning
1/2 tsp garlic powder
1 tsp onion powder
1/2 tsp cayenne pepper
2 tsp dried thyme leaves or 4 sprigs fresh thyme, leaves stripped
1/4 tsp sugar
2 tbsp olive oil

Kabobs

1-1/2 lb uncooked medium shrimp, deveined, shells left on
1 large red onion, peeled and cut into chunks
2 to 3 young zucchini, washed and cut into 1/2-inch thick "coins"
2 red or yellow bell peppers, stems and seeds removed, and pepper cut into chunks
1 pineapple, peeled, cored, and cut into chunks, or 2 cans of chunk pineapple well drained
Cooked rice pilaf, for serving (such as Wild Rice Pilaf)
Instructions
In a small bowl, combine the dry spice rub ingredients. Whisk until thoroughly blended. Place half of this mixture into another bowl and set aside. Add the oil to the remaining spice rub and mix to make a paste.
Place cleaned shrimp in a medium bowl. With your hands, rub the spice paste all over the shrimp. Set shrimp in refrigerator for 15 to 20 minutes or until the charcoal is ready. Carefully wash your hands to remove all the pepper. If you don't and you rub your eyes, you'll be sorry! Place the vegetables and pineapple chunks into a large bowl. Add the remaining half of the spice rub and toss until everything is evenly coated. Set aside.
Build a medium fire on one side of a charcoal grill. If using a gas grill, heat one side to medium-high. Line a baking sheet with 2 layers of foil. If you are using wooden skewers, soak them in a pan of water, weighting them down with a dinner plate or other flat object to keep them submerged. They should soak about 30 minutes, which is about the time it takes for the coals to be ready to cook on.
Preferably using flat metal skewers (which don't burn and keep the food from spinning), thread 3 shrimp on each skewer, piercing through the tail and the body so that they are in a crescent shape, with pieces of the vegetables and pineapple in between them. (Or make skewers of individual ingredients as explained above.) Make sure you leave space between them so they cook evenly. Place skewers on the prepared baking sheet.
Rub the grill with a wad of paper towel dipped in vegetable oil (use tongs). Place skewers over hot fire and cook for 1 to 2 minutes. Turn each one over and move it to the cool side of the grill. Cook for another 1 to 2 minutes or until shrimp turn pink and are firm to the touch. If you are unsure, err on the side of under-cooking, removing them slightly before they are done. The residual heat will complete cooking them or you can finish them in the oven.
While kabobs are cooking remove the top layer of foil from the baking sheet so you are placing the cooked shrimp on a clean surface. As each skewer is ready, remove it from the heat and place on the clean baking sheet. If you have other things to finish before serving dinner, cover the kabobs with foil and place in a low oven (150°F to 200°F) to keep warm. The foil cover will help the food keep from drying out.
I like to serve these skewers laid across a mound of rice to catch all the spicy juices. Serve immediately then dig in and enjoy!
The Heritage Cook ® https://theheritagecook.com/
Unauthorized use, distribution, and/or duplication of proprietary material without prior approval is prohibited. If you have any questions or would like permission, I can be contacted via email at: heritagecook (at) comcast (dot) net. Feel free to quote me, just give credit where credit is due, link to the recipe, and please send people to my website,
www.theheritagecook.com.
Thank You!