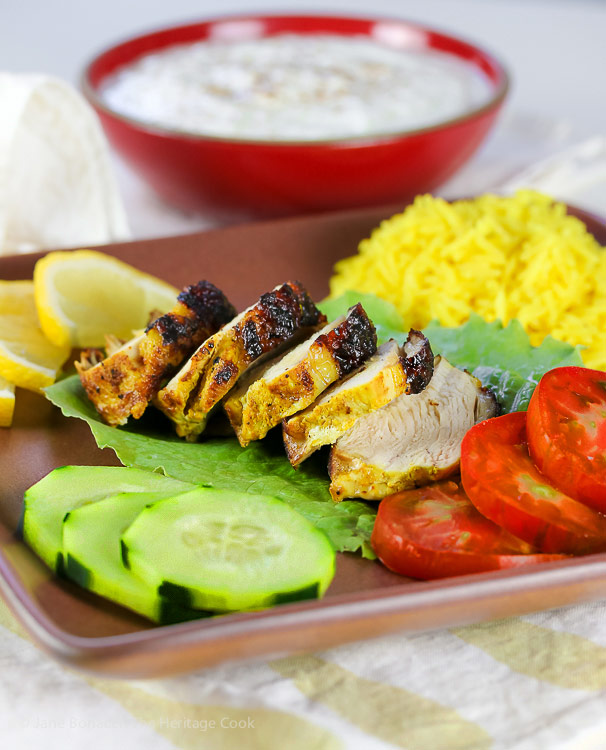 Have you ever had Grilled Tandoori Chicken? It is moist, tender, and absolutely delectable. Once you try it, you'll want to make it over and over again for your family and friends.
The first time I made this I a young single woman, hosting work friends for an after-work party. It was my way of giving myself an opportunity to try new recipes and cook for a crowd, one of my favorite things in the world. No one really knew what tandoori chicken was but they were all good sports, willing to try my experiments. This one was a huge hit with the gang, everyone loved it and asked for the recipe – always a good sign!
A tandoor oven is one of the main cooking tools in many Asian cuisines. Traditionally made from clay or bricks and these days sometimes metal, it is a vertical cylindrical oven with the fire in the bottom and foods suspended over the heat. Kebabs, tikka dishes, and samosas are often cooked in tandoor ovens.
Flatbreads such as naan and roti are slapped against the walls of the oven giving them the blistering we love. Tandoori chicken, originally from India and Pakistan, is marinated in a seasoned yogurt mixture and usually has red food color added. I chose not to add it to mine, so instead of the brilliant red color you will find in restaurants, it is lightly colored by the turmeric.
If you like spicier foods, feel free to add hot sauce to the marinade and pass it at the table. The chicken can take a lot of heat with the yogurt/cucumber sauce to balance and cool it.
Our own barbecues are the best commonly available option, adding the heat, charcoal flavor and smoke to the foods we cook. You just want to build a medium hot fire. The marinade can burn if the fire is too hot. Keep the chicken moving, flipping it often to keep it from getting too dark.
I hope you enjoy this Grilled Tandoori Chicken and consider making it when you need a change of pace from your ordinary chicken dinners. It is really easy to throw everything together and let it marinate in the refrigerator for up to a day. Then it comes together really quickly when it is time to eat! Be sure to check out the rest of the #ProgressiveEats recipes below!
Have a wonderful day!
Jane's Tips and Hints:
If you are using Greek yogurt, add a tablespoon of water to loosen the marinade and make it easier to spread over the chicken pieces. Pounding the boneless chicken pieces to an even thickness helps them all cook at the same time.
Gluten-Free Tips:
This recipe is naturally gluten-free. Gluten can sometimes hide in ground spices, so be sure they are pure. Penzey's is a good mail order source, and McCormick is easily found across the country in grocery stores. In both cases their products are well marked.
I am hosting this month's Progressive Eats party where we are celebrating the last long holiday weekend of the summer. We have something for everyone, from appetizers and main courses, to side dishes and desserts. Make sure you check out the links below.
Holiday Weekend Favorites
Cocktail
Appetizer
Main Course
Grilled Tandoori Chicken with Cucumber Yogurt Sauce (Gluten-Free) from The Heritage Cook
Vegetable/Side Dish
Desserts
And now, here is my recipe for Grilled Tandoori Chicken with a lovely cucumber yogurt sauce, the perfect accompaniment!
Grilled Tandoori Chicken with Cucumber-Yogurt Sauce (Gluten-Free)
2017-08-28 06:46:12
Ingredients
6 boneless chicken breasts, lightly pounded to even the thickness (leave the skin on to protect while cooking)
Marinade
1 cup plain yogurt
1 medium onion, peeled and grated
3 cloves garlic, peeled and minced
2 tsp peeled and grated fresh ginger
2 tsp ground cumin
2 tsp ground turmeric
1 tsp ground coriander
2 tsp paprika
1/2 tsp ground cardamom
1 tsp kosher or fine sea salt
1 tsp chipotle powder
Juice of 2 lemons
Pinch saffron threads, crushed
Cucumber Yogurt Sauce
1 cup plain yogurt *
1 tsp salt
6 to 8 fresh mint leaves, very finely minced
1 cucumber, peeled, seeded, grated, and squeezed to remove as much liquid as possible
1/2 tsp fine lemon zest
* If using Greek yogurt, add 1 tbsp water
Instructions
Rinse chicken and pat dry with paper towels. Place in a very large resealable plastic bag or container with a tight-fitting lid.
Marinate Chicken: In a medium bowl, whisk the yogurt with all the marinade ingredients. When smooth, pour over the chicken. Seal the bag, pressing out as much air as possible. Massage chicken to make sure the marinade completely coats all the pieces. Marinate for a minimum of 4 hours in the refrigerator, turning occasionally. The recipe can be made to this point up to a day ahead.
Make the Yogurt Sauce: In a bowl, whisk together the yogurt, salt, mint, squeezed cucumber, and lemon juice. Cover and refrigerate at least 2 hours to allow the flavors to blend. Taste and adjust seasoning before serving. Will hold in the refrigerator up to a week.
Cook the Chicken: Drain the chicken, discarding the marinade, and patting excess off each chicken breast.
Build a 2-tiered charcoal fire LINK to Glossary in your charcoal barbecue or heat one side of a gas grill on High. Barbecue chicken pieces approximately 13 to 18 minutes or until tender, starting them on the hot side of the grill to sear and get grill marks, and then finishing them on the cooler side of the grill. Turn frequently to avoid burning.
Serve, passing the cucumber yogurt sauce at the table. You can also cook the chicken in advance and serve at room temperature if you prefer. Store chicken in the refrigerator.
Note: Frequent turning of the chicken pieces helps prevent burning. If the fire starts to flame up, cover with the lid to extinguish. Try not to spray charcoal with water – that often puts the fire out entirely and makes cooking difficult. If needed, you can always finish the chicken in the oven.
Adapted from the Ship to Shore Cookbook II
Adapted from the Ship to Shore Cookbook II
The Heritage Cook ® https://theheritagecook.com/
This recipe is part of our monthly progressive dinner party, Progressive Eats, our virtual version of a progressive dinner party where each course is held at a different home. With Progressive Eats, a theme is chosen each month, members share recipes suitable for a delicious meal or party, and you can hop from blog to blog to check them out. To see our upcoming themes and how you can follow or participate, please check out the schedule at Creative Culinary or contact Barb for more information.
Create a New Tradition Today!
Welcome! If you ever need any entertaining or cooking advice, need to alter a recipe for gluten-free, or want recipe suggestions, don't hesitate to ask. Unauthorized use, distribution, and/or duplication of proprietary material from The Heritage Cook without prior approval is prohibited. If you have any questions or would like permission, please contact me. The suggestions here are not intended as dietary advice or as a substitute for consulting a dietician, physician, or other medical professional. Please see the Disclaimers page for additional details. Thanks for visiting The Heritage Cook!