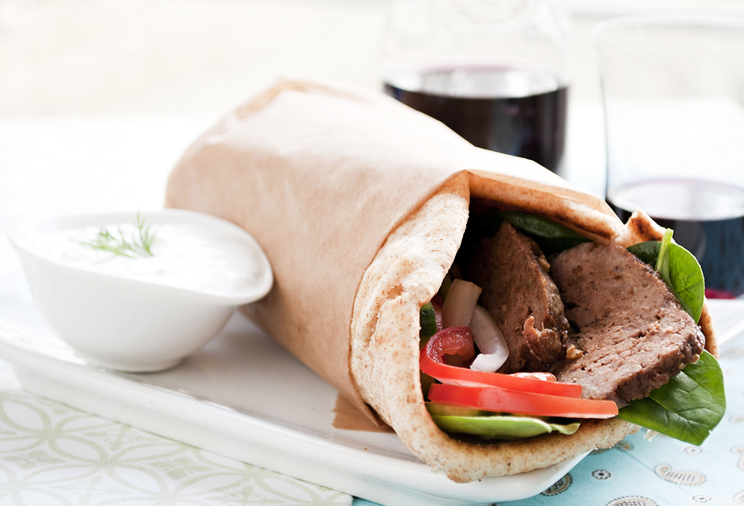 Today's guest post is from Rhonda of The Kitchen Witch blog, a fun loving lady that I know you will enjoy meeting as much as I have! With a nickname like "Giggles" how could you not love her! Rhonda is a featured food columnist in "The Best of Great Falls Magazine: Winter 2011." Check out her blog and make sure you wander through her fabulous collection of recipes. I personally would love to dive into a vat of her lobster risotto!!
One of the key ingredients in this recipe is Greek yogurt. This yogurt is popping up in recipes all over the place these days, making it one of the hottest on the market. The primary difference between regular yogurt and Greek-style is the thickness. Greek-style yogurt is quite thick and creamy, slightly thicker than sour cream, which gives you the impression it is much higher in fat than it actually is. Incredibly versatile, once you taste it you may find yourself looking for excuses to use it in many dishes.
Thank you Rhonda for your wonderful article – it would be a blast to party with you on the streets of England, or anywhere for that matter!
Ladies and Gents, I give you Rhonda!
Hi I'm Rhonda from The Kitchen Witch blog. I am so pleased to be doing a guest post for Jane, she has a great site! I especially love her "wines-day"; I'm a bit of a wino so I love anything to do with wine. I really learned to love wine when I lived in Europe. It started in England, it seemed all my English friends loved French wine (and French vacations) even though they claim to despise the French, which I found ironic.
It was while I was living in England that I also discovered the great pub life. I wasn't drinking wine at the pubs, I knew better than that; I was more of a hard cider girl at the pubs. My friends and I would sometimes do a pub crawl, which is exactly like it sounds. Going from pub to pub, drinking at each one, well, until you were crawling to each one rather than staggering. We would play darts, which I would get better and better at as I drank…"180 baby!" sorry, I was channeling my British announcer (180 is a perfect throw).
I lived in the Mildenhall/Lakenheath area (I was stationed there with the U.S.A.F.), they are small villages and everything would close up by 6:00 pm, except the pubs, which closed at midnight. After a good row of drinking, food is a must and the salt and vinegar crisps and pickled egg you get in the pub just isn't enough to satisfy a drunken hunger. The problem with everything closing so early is when you are finished getting a good drink on, there aren't any places to get something to eat, no Denny's, no quickie mart, nada, nothing.
Or so I thought…
Late one Friday night, I went out with a different friend, we closed the pub and I lamented on my hunger and that there was no place to get anything to eat. My friend said, indeed there was a place to eat and then he led me to a little cart where they sold döner kebabs (kebaps is also correct). The street light shining on the white cart looked like a beam from heaven, I was sure that God had brought me to this place.
That night I had, what I thought was the best food ever. And it was at the time. Although I haven't since had a döner kebab that tasted that good, I had found a new dish that I love. Unfortunately now that I am back in the states, I haven't had a döner kebab since leaving Europe. Have you ever had one? Do they have them in your area? Do you know what they are? A Döner kebab is the Turkish version of the Greek gyro. Traditionally it is composed of thin slices of leg of lamb, ground lamb patties and lamb fat. It is then roasted on a vertical spit; when it's done the meat is cut off into thin slices and eaten in flat bread.
If you can't have a döner kebab cart in your neighborhood, there is only one thing to do, make your own. Making traditional döner kebabs would be very difficult to manage at home as they require special equipment and fresh untrimmed leg of lamb. My version is much easier and tastes just as good.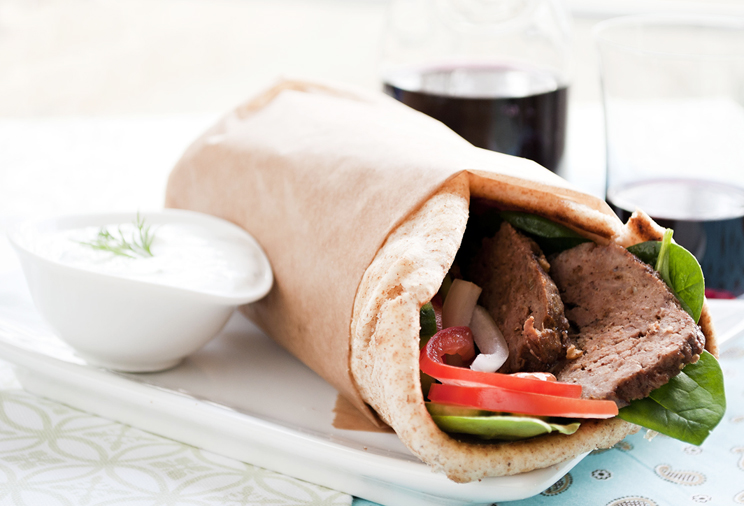 Döner Kebab (Turkish Lamb Sandwiches)
2015-07-07 09:58:11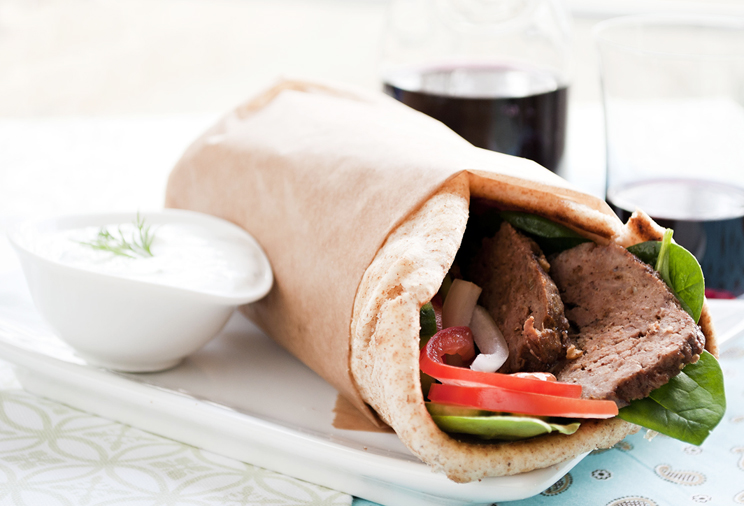 Ingredients
Meat
1/2 tbsp olive oil
1/2 onion, finely minced
2 cloves garlic, finely minced
1 tsp cumin
1/4 tsp ground coriander
1 tsp chili powder
1/2 tsp salt
1/4 tsp white pepper
1/8 tsp cayenne
1 to 2 tbsp milk
1/4 cup fresh breadcrumbs
1 lb ground lamb (can also use ground beef if you prefer)
Yogurt Sauce
1/2 cup plain Greek yogurt
1 or 2 cloves garlic, finely minced
1/4 tsp salt
1 tbsp fresh dill, minced (or 1 tsp dried)
1 tbsp ground cumin
1 tbsp fresh squeezed lemon juice

Toppings and Bread

4 flatbreads
Lettuce or Spinach leaves, rinsed and patted dry
Cucumber slices (peel first if you prefer)
Tomato slices
Instructions
Prepare the Lamb: Heat olive oil over medium heat in a non-stick sauté pan. Cook the onions until tender, about 2 minutes. Add the garlic and cook for another 30 seconds. Add cumin, chili powder, coriander, salt, white pepper and cayenne, cook for 1 minute, stirring frequently, to allow the spices to bloom. Remove from heat and set aside to cool.
In a medium sized bowl, pour 1 tbsp of the milk over the breadcrumbs; let sit for a couple of minutes. If the crumbs still look dry add more milk, but only enough to moisten the crumbs. Add the ground lamb and cooled onion mixture to the breadcrumbs. Blend well with your hands, don't be gentle, mix it really well to ensure there won't be any air pockets.
Place the lamb mix into the center of a piece of heavy-duty aluminum foil (or double thickness regular foil). Shape lamb into a loaf, roughly 6x3-inches. Wrap the foil around the loaf; refrigerate for 1 hour or up to 24 hours.
Prepare the Yogurt Sauce: Place the minced garlic on a cutting board and sprinkle with salt. Using the edge of a knife, mash the salt and garlic together creating a paste. Mix the yogurt, garlic paste, dill, lemon juice and cumin in a small bowl. Refrigerate for at least 30 minutes before use to allow the flavors to bloom.
To Cook the Lamb: Prepare the grill for indirect cooking. (Heat one side of the grill or bank the coals on one side.) Place the wrapped lamb on cool side of grill and cook for 30 minutes (this step can also be done in a 350°F oven). Remove the foil from the lamb and continue cooking the lamb over direct high heat for 15 to 20 minutes, turning every 5 minutes with tongs. Let lamb rest at least 15 minutes before slicing.
Assemble the Kebab: Slice the lamb thinly and place 3 or 4 slices in the middle of a flatbread, top with the yogurt sauce, lettuce, tomato and cucumber. Wrap the bread around the fillings and enjoy.
The Heritage Cook ® https://theheritagecook.com/
Unauthorized use, distribution, and/or duplication of proprietary material without prior approval is prohibited. If you have any questions or would like permission, I can be contacted via email at: theheritagecook (at) comcast (dot) net. Feel free to quote me, just give credit where credit is due, link to the recipe, and please send people to my website, www.theheritagecook.com.
Thank You!