When I was growing up, we had a large, boisterous family that always gathered around the table for dinner no matter how busy anyone was. That was the one time of the day when everyone was together. There was always lively discussion, lots of jokes and laughter, as we discussed our days. It was a wonderful time and still some of my favorite childhood memories.
We didn't have a lot of money so our meals were cheap and filling. Lots of potatoes and bread filled us up without having to spend a lot of money on meats. One of my favorites to this day is old-fashioned Pot Roast. My mom wasn't the greatest cook, but she could make a fantastic pot roast! The meat was meltingly tender and the vegetables full of the flavor of the braised beef. This is real comfort food for me.
Pot roast is traditionally made out of chuck, which comes from the shoulder. There are two major types of chuck roast, a 7-bone which is named because the shape of the bone running through it resembles the number "7", and a thicker boneless roast. Because of the fat marbling and connective tissue, the chuck is one of the most flavorful cuts.
The trick to getting a tough, cheap cut of meat to be meltingly tender is slow, low braising (cooking in liquid). Tough cuts like chuck, sirloin, and brisket benefit from this method. Brown them in oil first to develop flavor and then add seasonings and liquids, cover, and bake in a slow oven. Even the cheapest cuts will taste like top dollar when cooked this way.
This recipe is easily adapted to slow-cooking if you prefer. Place the meat on the bottom of the pot and surround it with the vegetables. Sprinkle with the seasonings, cover with liquid (you won't need as much), and cook on low all day. Your house will smell wonderful when you walk in at the end of the day!!
Jane's Tips and Hints:
A Dutch oven is the workhorse of my kitchen. I use it for everything. From pasta sauce and pot roasts, to roast chicken and soups, it is extremely versatile. You can cook on the stovetop and in the oven. Because it is covered with enamel, it is naturally fairly nonstick, especially when you add a little moisture, and very easy to clean. I recommend that you invest in a good quality enamel-covered Dutch oven as soon as you can because it will make your life much easier!
Kitchen Skill: Making a Slurry
Why: To thicken liquids without getting lumps
How: The easiest way to make a slurry is to combine flour or cornstarch with cool water in a small jar. Shake vigorously until flour is dissolved and there are no lumps. (Note: Cornstarch will give you a clearer gravy.) Whisking constantly, slowly pour slurry into hot liquids. Still stirring, bring liquids to a boil to activate the starch, and cook until thickened. Cook at least 5 minutes to cook-off any raw flour flavor.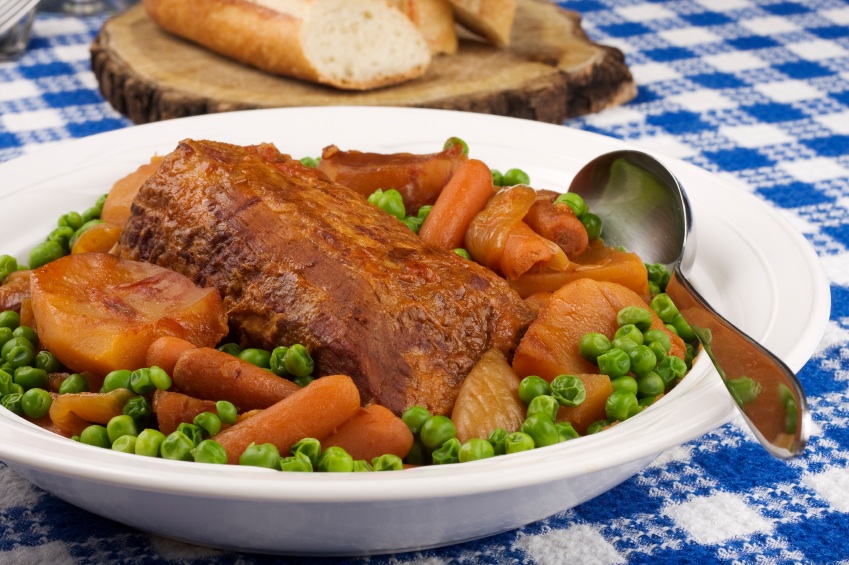 Heritage Pot Roast
2015-07-24 17:38:16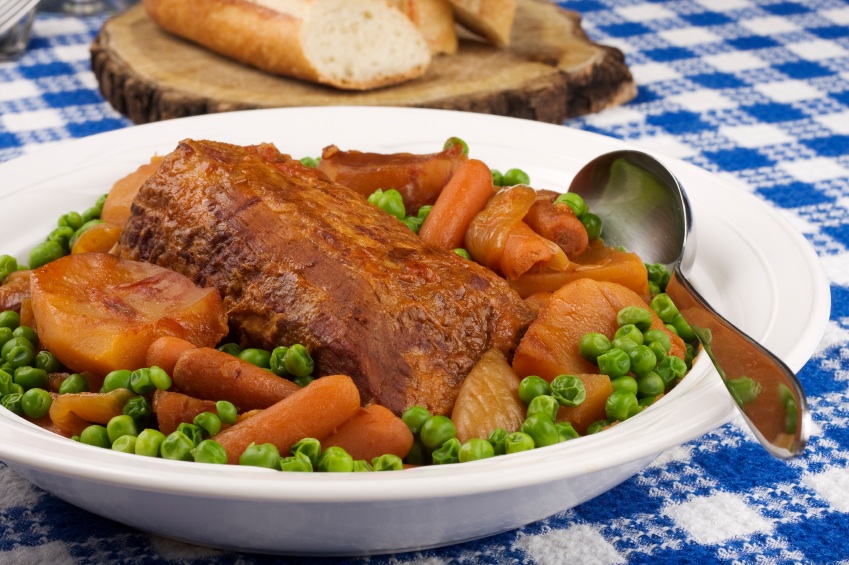 Ingredients
3 tbsp olive oil
2 large onions, sliced thickly
2 cloves garlic, sliced
1 chuck beef roast, preferably a flat, bone-in "7-Bone" roast
1/2 tsp ground allspice
Salt and freshly ground black pepper
1 quart beef stock
1/2 cup vermouth, white wine, or red wine
Hot water
1 bay leaf
1 sprig fresh rosemary or 1 tsp dried rosemary
8 to 10 carrots, scrubbed and cut into chunks
4 large Russet potatoes, scrubbed and sliced in half lengthwise
2 tbsp all-purpose flour
2 tbsp cold water
Instructions
Preheat the oven to 350°F.
Heat oil in a large Dutch oven over medium-high heat. Saute onions and garlic until softened and translucent, about 3 to 5 minutes. Using a slotted spoon, transfer vegetables to a bowl and reserve.
Brown the beef in hot oil until well browned on all sides. Sprinkle with allspice, salt, and pepper and top with cooked onions. Pour in beef stock and wine, and add water, if needed, until liquid comes about 2/3 up the sides of the meat. Tuck in bay leaf and rosemary. Cover with a tight lid and place in hot oven and reduce heat to 325°F. Cook for 1-1/2 hours.
Remove from oven, carefully remove lid and add carrots and potatoes to pan. Cover pan with lid and return to oven for another 30 to 45 minutes, or until meat is tender and vegetables are cooked through. Transfer meat and vegetables to a serving platter and keep warm.
In a small jar combine flour and water. Shake vigorously until flour is completely dissolved and no lumps remain; this is called a slurry. Spoon a little of the pan juices into the slurry and then slowly pour it into the Dutch oven, stirring constantly. Be careful to use a pot holder with the hot Dutch oven! Bring to a boil over medium heat, stirring, until juices are slightly thickened. Taste and add salt or pepper as needed.
If you have a flat roast, separate into pieces and discard bones. If you have a boneless roast, remove strings and slice into thick slabs. Serve in warmed wide, shallow bowls with carrots, potatoes and some of the gravy. Adding steamed green peas gives a nice bright color to the plates.
Notes
Yield: about 6 servings
The Heritage Cook ® https://theheritagecook.com/
Please be nice. Unauthorized use and/or duplication of proprietary materials without prior approval are prohibited. Feel free to quote and link, just give credit where credit is due and please send folks to my website,
www.theheritagecook.com.
Thank You!