Today's Recipes: Cold Poached Salmon, Cucumber-Lemon-Dill Sauce, Dill-Dijon Whipped Cream, Lemon Dill Butter Sauce, and Pesto Creme Fraiche.
When I was in the sixth grade my father got transferred to Portland, Oregon. My family moved up and for most of a year we got to live in one of the most beautiful places in the country. It was one of the coldest winters in recent memory, and we loved every minute of it. My father had a friend who loved to go deep-sea fishing in Alaska. He brought back freshly caught Coho salmon and for the first time in my life I experienced how delicious fresh fish can be. A few years later I went to a Sunday Brunch and was served cold poached salmon. I fell in love all over again – this time with the cold presentation.
Very simply prepared with lemon, salt, and pepper, I could not get enough of it. I ate as much as they would let me and still wanted more. It was the beginning of my love affair with fresh salmon. Full of vitamins, protein, and cancer-fighting Omega-3 fatty acids, it is one of the best foods for us.
When you are cooking salmon filets, they usually have a thicker portion in the center and are quite thin on the edges. To make sure everything cooks at the same rate, fold the thin section under to double its thickness.
Dill and cucumber complement any seafood but especially salmon. You can make any of the sauces to accompany the poached fish, or serve several. People love to have choices. Salting the cucumber isn't required, but it does remove a lot of the cucumber's natural moisture giving you a drier sauce. If you want, you can skip that step. Just be prepared for the sauce becoming wetter as it sits.
One of the big topics in food circles today is the protection of wild and sustainable seafood. The decline in spawning salmon is well documented and a serious concern. One way you can help is to purchase sustainably harvested wild Alaskan salmon from a reputable fishmonger. Another way is to follow the guidelines of the Monterey Bay Aquarium's Seafood Watch program when you purchase your seafood.
Seafood Watch encourages restaurants, distributors, and seafood purveyors to purchase from sustainable sources. Their recommendations are based on extensive scientific research and are designed to help sustain wild, diverse, and healthy ocean ecosystems. The viability of the oceans is something we can improve, and with perseverance, reverse our destructive practices. Seafood Watch puts out pocket guides each January that are regionally based, which breaks down the available fish into three categories; Best Choices, Good Alternatives, and Avoid. Keeping this card with you when you shop will help you make the best decisions.
As of May 2010 the Best of the Best List includes Salmon (wild-caught, from Alaska). The Seafood Watch website is full of interesting and useful information and items you can download. Take a few minutes and check it out.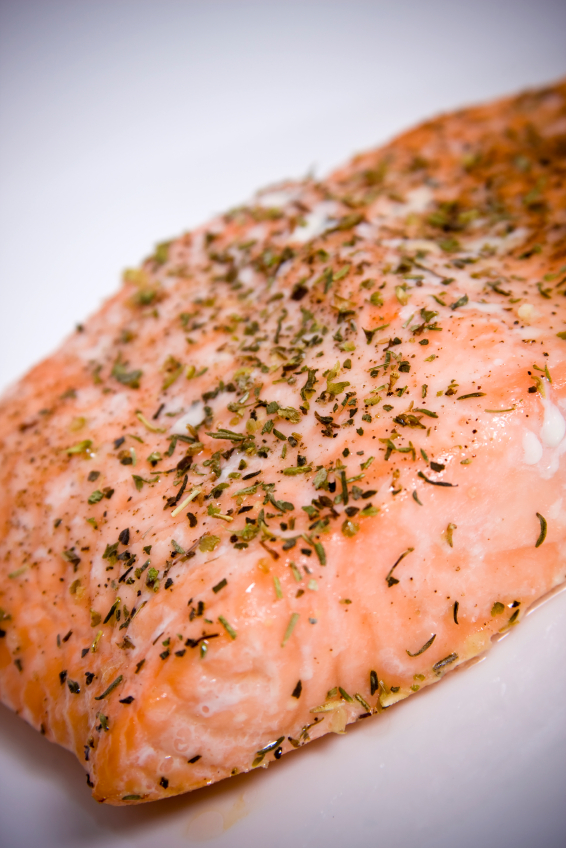 Jane's Tips and Hints:
When you are buying seafood, look for whole fish with the heads still on. You want the eyes to be clear and not cloudy which increases the older the fish is. Ask you fish monger what they got in fresh that day and choose from those offerings. It should never smell fishy, but like the ocean.
Kitchen Skill: Poaching
Why: To cook foods in a slow and gentle liquid bath
How: Create a flavorful liquid by infusing water or broth with fresh herbs and aromatics. Simmer it lightly for about 10 minutes then add the food to be poached. Cover and let is cook gently until just done. Your protein will be tender and moist, perfectly cooked.
Cold Poached Salmon with a Variety of Sauces
2015-07-22 13:38:29
Ingredients
Court Bouillon
2 cups dry white wine
2 cups water
4 lemon slices
1 small onion, peeled and quartered, and studded with 2 whole cloves
5 sprigs parsley
1 bay leaf
10 whole peppercorns
Salmon
1 (3 lb) salmon fillet, skin on, scaled and pin bones removed, about 1/2 inch thick at the thickest point
Salt and freshly ground pepper
Garnishes
Fresh dill sprigs
Fresh lemons
Instructions
Combine all ingredients in a medium skillet or saucepan. Bring to a boil then reduce to a simmer. Let simmer for 3 to 5 minutes to develop flavors.
Sprinkle the salmon with salt and pepper on both sides, add to simmering liquid, and cover. Cook for 5 to 8 minutes or until just done. Transfer carefully to a platter using large spatulas. Cover and chill thoroughly. Discard the poaching liquid.
Serve salmon, skin-side down, chilled or at cool room temperature with your choice of sauces and fresh lemon wedges. Garnish with fresh dill sprigs and lemons.
Notes
Yield: about 6 to 10 servings
The Heritage Cook ® https://theheritagecook.com/
Unauthorized use and/or duplication of proprietary material without prior approval is prohibited. I can be contacted via email: heritagecook (at) comcast (dot) net. Feel free to quote me, just give credit where credit is due, link to the recipe, and please send people to my website,
www.theheritagecook.com.
Thank You!