A few years ago my husband and I were having friends over for dinner. I went to my library of cookbooks to come up with a fun new menu. Everyone loved my choices, but the one that got me the standing ovation was dessert. One of my favorite cookbook authors is Alfred Portale, executive chef of Gotham Bar and Grill in New York City. The dessert I made that night, poached pears, was from his Twelve Seasons Cookbook. It was the first time I had tried the recipe and has since become one of my favorites for special events.
These are incredibly easy to make and yet they look like something Wolfgang Puck would create for his post-Oscars bash. I was surprised and how well the flavor of the pears comes through the poaching liquid. I would have thought it would be overwhelmed, but it isn't. I hope you will enjoy these as much as I do.
The recipe calls for chopped pistachio nuts. They are a festive green and ideal for the holidays, but you can substitute any nuts you have on hand. I think candied pecans would be fantastic with the mascarpone and pears. And don't limit these to just the holidays. They would be perfect for Valentine's Day too, don't you think?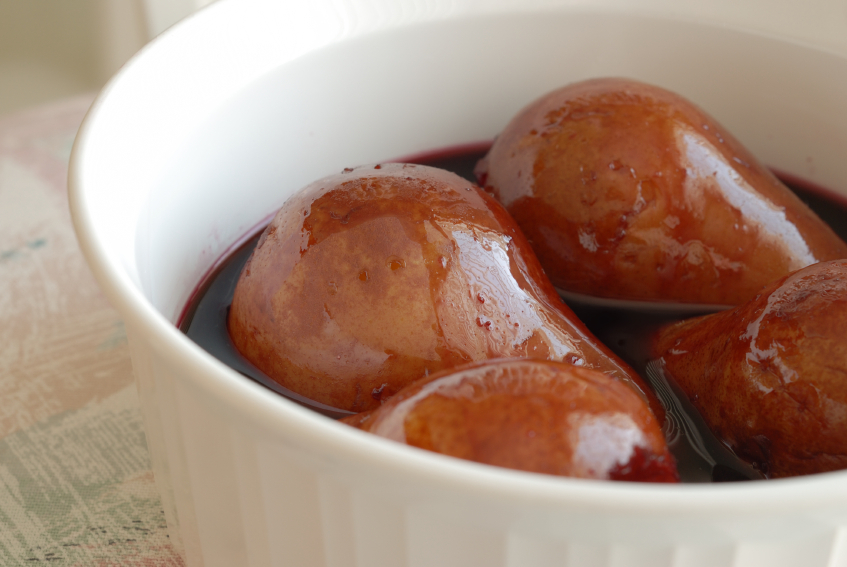 The first time I made these I had an opened bottle of wine, and didn't want to open another one, so I used what I had available and increased the orange juice to make up the 5-1/4 cups total liquid needed in the recipe. You could also use apple juice or even cranberry juice instead of the wine. With cranberry you may want to increase the sugar slightly to offset the tartness. And if white wine is more to your liking, you could certainly use that too – a nice clean Sauvignon Blanc or a sweet Moscato would be wonderful.
Many recipes for wine poached pears tell you to leave them whole and use a melon baller to scoop out the core and seeds from the bottom. You can use this technique if you like too, and it certainly makes a grand presentation when you stand the pears upright in some of the poaching liquid. But I like Alfred's method because they are so much easier for your guests to eat. Even though they are fork tender, serve them with a knife so everyone can cut bite-sized pieces easily.
Making the granita (flavored ice crystals) is totally optional, but it is a great way to use the extra poaching liquid. You can make this separately and use for another dessert or even as a palate cleanser between courses. I would also consider using it to make a seasoned jam like the one I serve with smoked duck – fantastic flavors!
After stews, braises, and other heavy winter dishes, this light dessert is delightful. Elegant, refreshing, and just sweet enough without being cloying, it is the perfect ending to any meal. And just think, it qualifies as one of your daily servings of fruit too, LOL!
Jane's Tips and Hints:
Poach the pears and make the mascarpone a day ahead. Hold them separately in the refrigerator. Bring them out when you serve dinner and they will be at the perfect temperature when you are ready to serve dessert.
Kitchen Skill: Poaching
Poaching is simply cooking foods gently in a liquid bath, often water, milk, stock, or wine, until tender. Because it is especially effective for delicate foods, keeping the temperature at a low simmer is essential.
Red Wine Poached Pears with Mascarpone, Pistachios and Granita
2015-07-21 17:44:57
Ingredients
Pears and Granita
3-3/4 cups (one 750-ml bottle) Cabernet Sauvignon or other full-body wine
1-1/2 cups fresh orange juice
1 tbsp grated orange zest
1-1/2 tsp grated lemon zest
1 cup sugar
1/2 vanilla bean or 1 tsp vanilla extract
1 cinnamon stick or 1/2 tsp ground cinnamon
2 firm Bartlett pears, peeled, halved, and cored (Bosc or Anjou work nicely too)
Mascarpone Filling
1/2 cup mascarpone cheese
1 tbsp powdered sugar, or to taste
Assembly
2 tbsp plus 2 tsp coarsely chopped, toasted pistachio nuts
Fresh mint leaves for garnish
Granita
Instructions
In a saucepan, combine the wine, orange juice, both zests, sugar, vanilla bean, and cinnamon stick. Bring to a boil over high heat and reduce the heat to a low simmer. Add the pears and poach for about 10 to 15 minutes, until tender when pierced with the tip of a sharp knife, turning them over halfway through cooking. Lift the pears from the pan and place carefully in a bowl.
Strain the poaching liquid through a fine-mesh sieve into a bowl. Measure 1/2 cup of the liquid and pour it over the pears (reserve remaining liquid). Cover and refrigerate pears.
Pour the remaining liquid into a shallow, metal pan and set it aside to cool. When cool, freeze for about 1 hour, or until the mixture is partially frozen and icy around the edges. Using a large spoon, break up the iced edges and stir them into the center. Freeze for about 1 hour longer and repeat the process. Let the granita freeze for about 2 hours or overnight. Before serving, scrape it into large crystals with a fork.
In a small bowl, gently whisk together the mascarpone cheese and sugar. Spoon the sweetened cheese into a pastry bag fitted with a #3 plain tip (or you can use a spoon).
Remove pears from the refrigerator and place each pear half in a shallow soup plate. Pipe a little of the sweetened mascarpone cheese into the space where the cores were in the pears. Place a small scoop of the granita next to the pears. Spoon a little of the reserved poaching liquid around the bowl. Sprinkle with the chopped pistachios and garnish with mint leaves. Serve immediately.
These pears can be prepared a day in advance. Let sit out at room temperature for at least 30 minutes before assembling and serving. The granita can also be enjoyed by itself another time.
The Heritage Cook ® https://theheritagecook.com/
Unauthorized use, distribution, and/or duplication of proprietary material without prior approval is prohibited. I can be contacted via email at: heritagecook (at) comcast (dot) net. Feel free to quote me, just give credit where credit is due, link to the recipe, and please send people to my website,
www.theheritagecook.com.
Thank You!