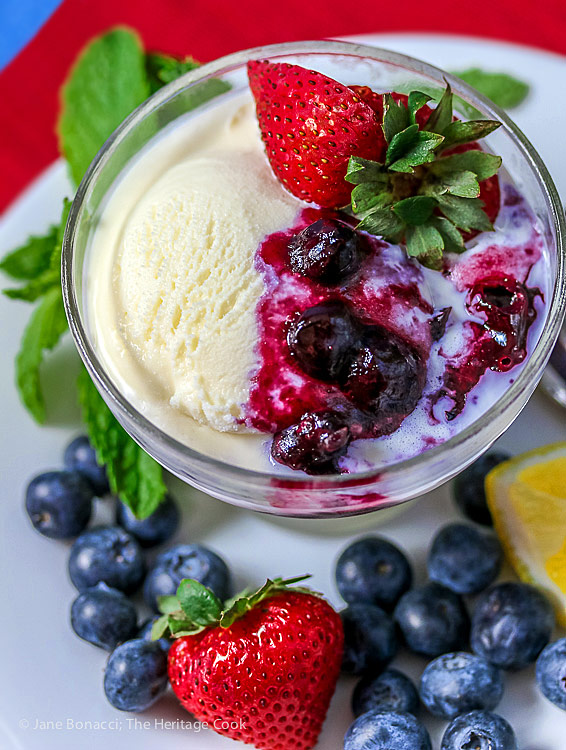 Today we are celebrating American foods, sharing a collection of amazing recipes with you that are perfect for your 4th of July parties! My Ice Cream Sundaes with Homemade Fresh Blueberry Sauce are the quintessential way to celebrate our independence!
Welcome to another edition of Progressive Eats, our virtual version of a progressive dinner party where each course is held at a different home. With Progressive Eats, a theme is chosen each month, members share recipes suitable for a delicious meal or party, and you can hop from blog to blog to check them out. This month's theme is American Foods for 4th of July Picnics hosted by Barb of Creative Culinary. You'll love all the recipes that will be perfect for your Independence Day holiday! Make sure you check out the links below the recipe.
Did you know that blueberries are one of the few fruits that are native to North America? You can get more amazing information on the history of blueberries in this country here. Revered in the Northeast where they grow wild, blueberries are a national favorite and one of my personal indulgences, especially in sauces and jams.
We don't get wonderful wild Maine blueberries here in California, but the berries they grow here are delicious and much larger. Definitely buy them when they are in season for the most luscious flavor!
While we commonly see blueberries in pancakes and muffins, but I wanted to make something different to share with you. That's when I thought it would be fun to make a blueberry sauce and serve it over vanilla ice cream creating 2/3 of our patriotic color scheme. Add some red berries, like the strawberries I did or raspberries, etc. and you've got all the colors and a burst of fresh fruit flavor!!
This blueberry sauce is incredibly easy to make. The hardest thing is being sure there are no tiny stems on any of the fruit – and your kids will love to help you with that task! You can have it made in less than 30 minutes and store it in the refrigerator. You can use the same syrup over pancakes and waffles too – I keep sneaking spoons of it, so beware if you have others around who may get into the bowl like I am, LOL.
The sauce is perfectly sweetened, full of blueberry flavor with pops of the berries adding delectable texture. This is one sauce that can be made all year because you can also use frozen berries when fresh are not in season. Trust me, you are going to want to have this on hand often. It is so good that I am going to give it as gifts to my friends and family!
Being able to make this sauce ahead and available to whip together a quick and delicious dessert in minutes is one key to a fun and relaxing party. Use this Homemade Fresh Blueberry Sauce to create the perfect red,white, and blue palate for your 4th of July celebration next week!!
Jane's Tips and Hints:
An old-fashioned potato masher is the perfect tool for smashing the berries to release more of their juices. A simple tool that works wonders!
Gluten-Free Tips:
This syrup is naturally gluten-free! Just a few ingredients and you have a dessert sauce that you entire family will love!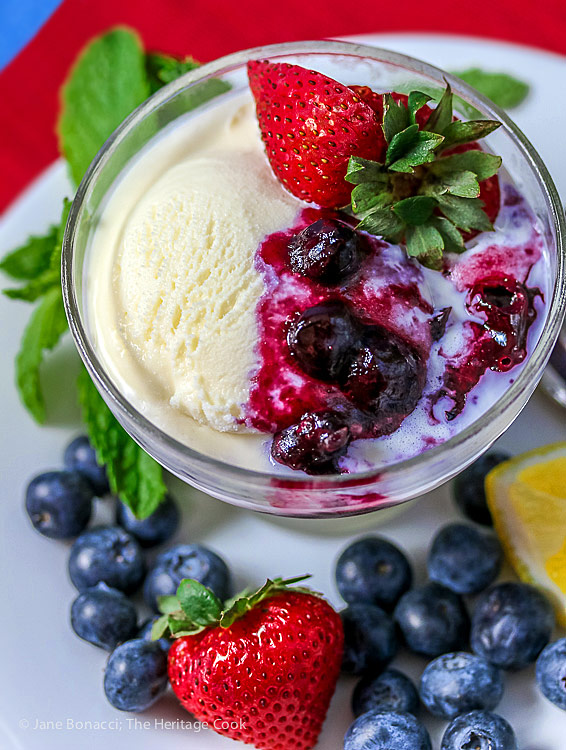 Homemade Fresh Blueberry Sauce
2017-06-27 06:34:35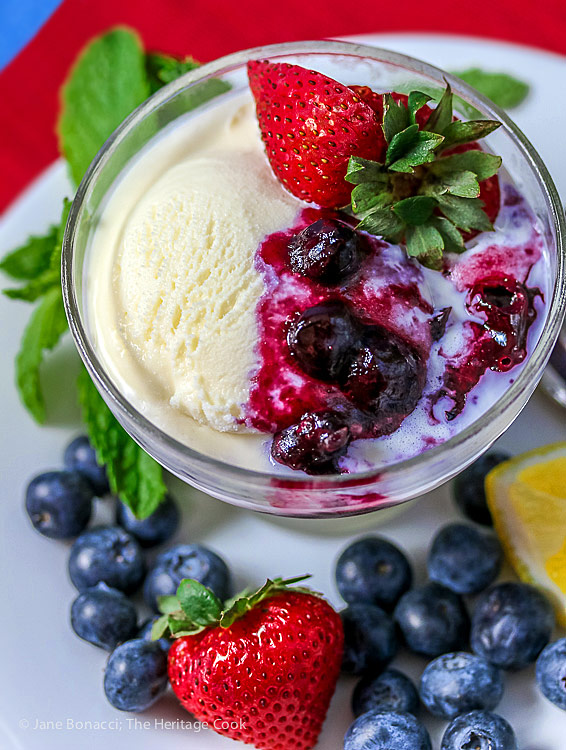 Ingredients
3 cups blueberries, fresh or frozen, picked over and rinsed
6 tbsp granulated sugar
2-1/4 tsp cornstarch (use tapioca starch if you cannot have corn)
1-1/2 tbsp cold water
1-1/2 tbsp freshly squeezed lemon juice
1 tbsp Cassis, Framboise, or Chambord, optional
Instructions
In a medium, nonreactive saucepan, heat the blueberries and sugar until the berries begin to release their juices. If you want more syrup, you can use a potato masher to smash the berries, releasing even more juice.
Mix the cornstarch with the cold water and lemon juice, stirring until it is smooth with no lumps. Stir the slurry into the blueberries.
Bring to a boil, and then reduce the heat to a simmer and cook for 1 minute more. Remove from the heat and stir in the liqueur if using. Pour into a heatproof bowl and set aside to cool.
Can be stored in the refrigerator, covered, for up to 3 days. Serve chilled or at room temperature.
Notes
Yield: about 3-1/2 cups
Adapted from David Lebovitz' The Perfect Scoop
Adapted from David Lebovitz' The Perfect Scoop
The Heritage Cook ® https://theheritagecook.com/
This recipe is part of our monthly progressive dinner party, Progressive Eats. See the links below for more inspiration and great recipes!
July 4th Picnic Foods
Cocktail
Main Course
Side Dishes
Desserts
To see our upcoming themes and how you can participate, please check out the schedule at Creative Culinary or contact Barb for more information.
Create a New Tradition Today!
Welcome! If you ever need any entertaining or cooking advice, need to alter a recipe for gluten-free, or want recipe suggestions, don't hesitate to ask. Unauthorized use, distribution, and/or duplication of proprietary material from The Heritage Cook without prior approval is prohibited. If you have any questions or would like permission, please contact me. The suggestions here are not intended as dietary advice or as a substitute for consulting a dietician, physician, or other medical professional. Please see the Disclaimers page for additional details. Thanks for visiting The Heritage Cook!