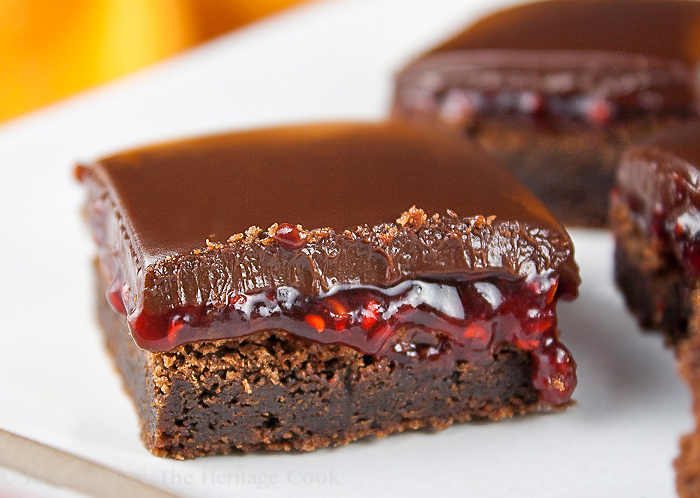 Tomorrow would have been my mother's 88th birthday. She passed away 18 years ago, just three months before The Artist and I got married, and today's post and recipe are in her honor. Thank you to Chris and Rachel Keenan of The Keenan Cookbook for providing the absolutely perfect recipe.
These brownies have a hidden layer of raspberry jam that makes them extra special and worthy of any party or holiday menu. They travel well, so consider bringing them to any parties where you are asked to bring dessert. I'm quite certain they will be making another appearance soon and probably again on Valentine's Day!
My mother loved chocolate and would treat herself occasionally to a large Hershey bar and a bottle of Coke. That was the height of sophistication when she was growing up in rural Indiana in the 30s and 40s. She would have loved these brownies and I can see her smiling face as I set the plate down in front of her. She had sparkling blue eyes that truly twinkled when she smiled and laughed, which was most of the time.
My mother radiated happiness and would holler out "Woo Hoo" when anyone arrived at our door. It always made me laugh and the memory of it still does. When you see me use this kind of expression on my Facebook comments, you know where it came from, LOL.
When she passed away, I was responsible for calling her closest friends and giving them the news. It was a remarkable experience because at least twenty of them told me she was their best friend – I am not exaggerating. Can you imagine having twenty best friends? These ladies spent time telling me how much she meant to them, how she had enriched their lives, and shared their favorite memories of their times together.
My mother hand wrote personal letters regularly to her friends and grandchildren, and never forgot a birthday. She sent holiday cards to them all every single year. When I cleaned out her house I found photo albums going back over fifty years where she had collected and saved the Christmas cards from all her friends. Most were family photos ~ it had always been a favorite pastime to see how the children were growing up, and where they had traveled during the year, even if I had never met them.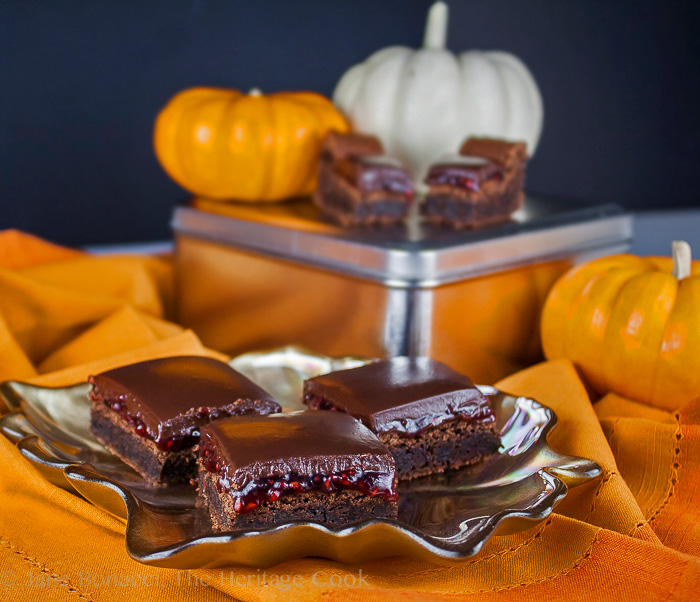 My mother always wanted to have a career, but was a stay at home 1950s housewife, raising four children. She envied and respected my business career, following my advancements with pride and a little envy. I, in turn, envied her seemingly peaceful life free from the challenges of dealing with co-workers and regular work crises. In the hindsight of adulthood, her life wasn't easy and had plenty of frustrations, but she always managed to stay positive, even as cancer was eating away at her body and mind.
I hope that my mother would enjoy reading The Heritage Cook and the documentation of our family recipes along with newer favorites. She and I were very different people, and I've always wanted to be more like her, but I know her positive nature and commitment to friendships has definitely continued to the next generation.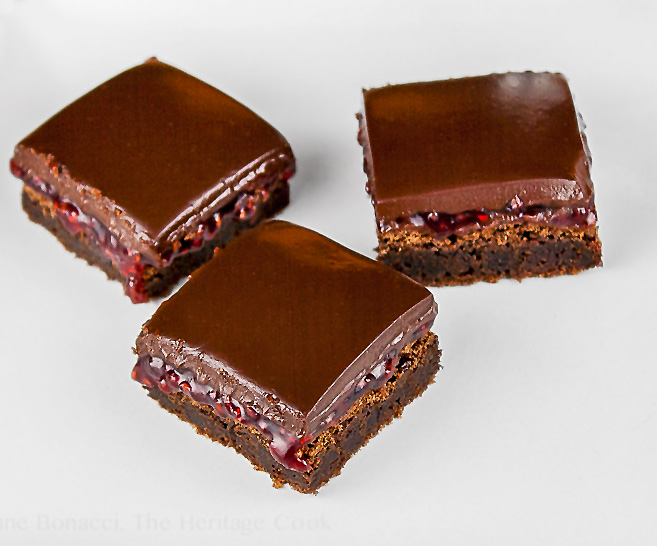 The blending of chocolate and raspberry is truly remarkable and a classic in many traditional desserts as well as being one of my mom's favorite combinations. No wonder … it has me dreaming of biting into another brownie! Thank you Chris and Rachel for helping me create a wonderful new memory and a treat that will become a tradition for our family!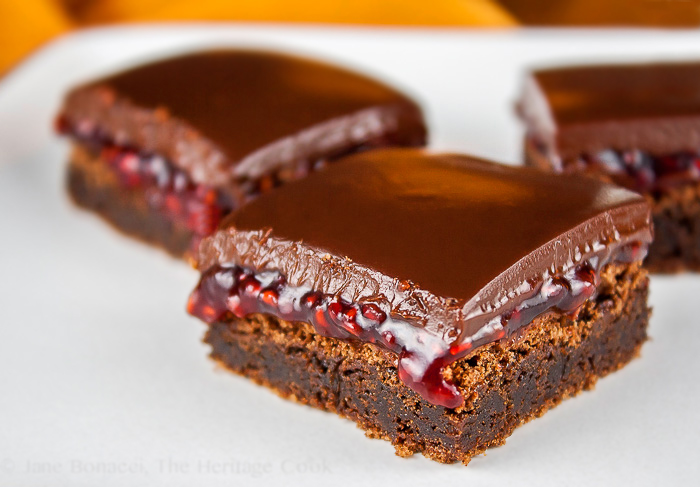 Jane's Tips and Hints:
Use an offset spatula to spread the raspberry layer – your knuckles will stay clean! I have several of the little 6-inch size and they come in handy for so many kitchen tasks. There is nothing better for spreading mayonnaise or peanut butter and jelly on sandwiches.
If you can't find seedless raspberry jam and want a smoother texture without the seeds, you can press the raspberry jam through a sieve. If you do this, start with a lot more than you think you will need – you are likely to lose a lot of volume when you remove the solids.
Gluten-Free Tips:
Use a gluten-free flour blend to make these brownies and add some baking soda (in italics).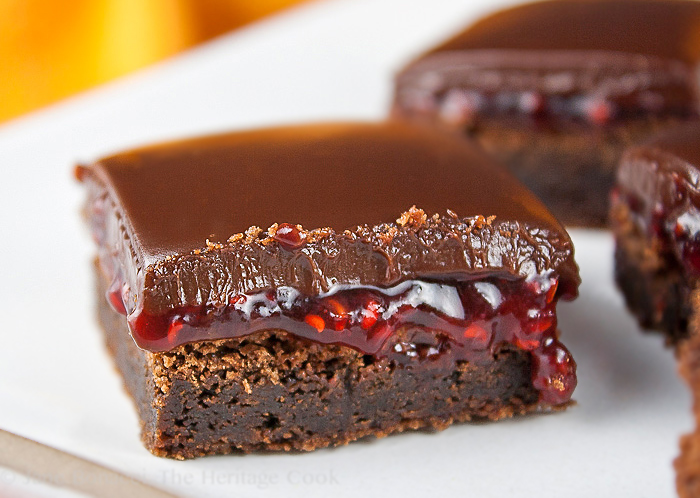 Raspberry Brownies with Chocolate Ganache (Gluten-Free)
2015-11-02 04:07:04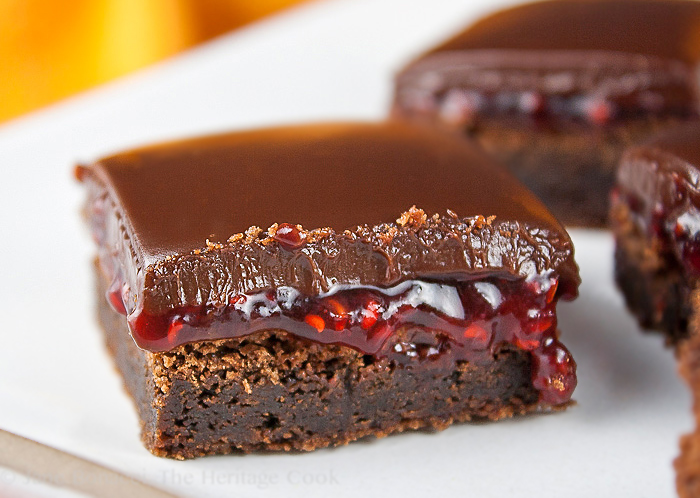 Ingredients
Brownies
4 oz unsweetened chocolate, chopped
3/4 cup (1-1/2 sticks) butter
2 cups sugar
3 eggs
1 tsp vanilla
1 cup flour (or gluten-free flour blend (if your GF blend does not contain xanthan gum, add 1/4 tsp)
1 tsp baking soda if using gluten-free flour
1/2 tsp kosher salt
Topping
1/4 cup seedless raspberry jam (see note above)
6 oz semisweet chocolate, chopped
3/4 cup whipping cream
Instructions
Preheat oven to 350°F. Line a 13x9-inch baking pan with a sheet of aluminum foil, long enough to allow the ends of the foil to extend over the ends of the pan. Butter the foil.
Place unsweetened chocolate and butter in a large glass, microwave-safe, heatproof bowl and microwave on High for 1 to 2 minutes or until butter is melted. Remove from the microwave and stir until chocolate is completely melted and mixture is smooth. Transfer to the bowl of your standing mixer.
Add the sugar to chocolate mixture and beat until well blended. Add the eggs and vanilla and beat on medium-high speed until light and fluffy. Stop the mixer, add the flour (and baking soda if using gluten-free flour) and salt. Mix on low until flour is incorporated and then increase speed to medium and beat until slightly lightened, about 30 seconds. Spread into prepared pan.
Bake 30 to 35 minutes or until a toothpick inserted in center comes out with fudgy crumbs stuck to toothpick (do not over bake). Cool in the pan.
When the brownies are cool, spread jam over the top using an offset spatula to make sure it reaches all the way into the corners. Set aside.
To make the ganache, in a heatproof and microwave-safe glass bowl, place the semisweet chocolate and cream. Microwave on High for 2 minutes or until simmering (little bubbles around the edges). Remove from the microwave and whisk until the chocolate is completely melted and the mixture is blended and smooth. To do this, start in the center of the bowl and keep whisking in small circles until the chocolate is blended into the cream. Then make progressively larger circles until the entire mixture is blended and all the chocolate is melted. Pour this chocolate over the jam layer and use an offset spatula to spread it as evenly as possible, making sure all of the raspberry jam is covered.
Refrigerate 1 hour or until chocolate layer is set. Lift the desert from pan using foil handles. Carefully peel the foil away from the brownies and transfer to a cutting board. Using a long sharp knife, cut* into squares or rectangles and serve.
Notes
Yield: about 10 to 12 servings
*For the cleanest cuts, run the knife under hot water and wipe dry between each cut. Cut straight down, wiggle the knife side to side to loosen it, slide the strip of brownies away from the rest of the slab making it easier to cut into smaller pieces. Rinse knife under hot running water and wipe dry again. Cut crosswise into squares. Use a small spatula or cake server to move each piece to a platter or individual serving plates.
Adapted from The Keenan Cookbook
The Heritage Cook ® https://theheritagecook.com/
Create a New Tradition Today!
Let's connect! If you ever need any entertaining or cooking advice, need to alter a recipe for gluten-free, or want recipe suggestions, don't hesitate to email me. I can also be found at the social media site links on this page. This post may contain Amazon affiliate links. If you purchase a product via my link, it doesn't cost you anything and I earn a tiny commission, which helps defray the costs of producing The Heritage Cook blog. Thank you for supporting me. Welcome to The Heritage Cook Family!
Unauthorized use, distribution, and/or duplication of proprietary material from The Heritage Cook without prior approval is prohibited. This includes copying and reprinting content and photographs. If you have any questions or would like permission, I can be contacted here. Feel free to quote me, just give credit where credit is due, link to the recipe, and send people to my website. The suggestions here are not intended as dietary advice or as a substitute for consulting a dietician, physician, or other medical professional. It is the reader's sole responsibility to determine which foods are appropriate and safe for their family to consume. The author makes no claims regarding the presence of food allergens and disclaims all liability in connection with the use of this site. Please see the Disclaimers page for additional details.
Thank You!